Call to professors: 'Change the way you assess your researchers'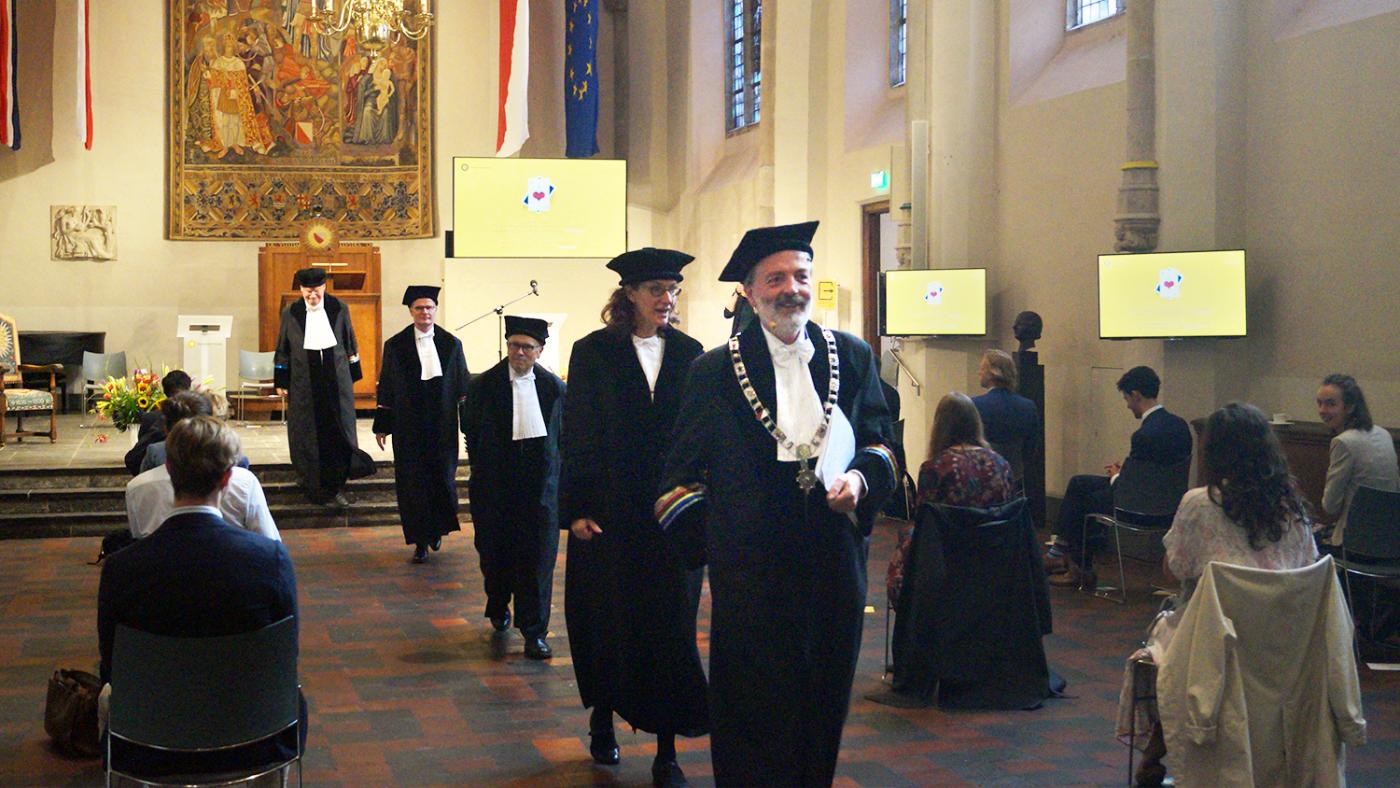 Rector Henk Kummeling at the Start of the Academic Year. Photo: DUB
The UU rector is serious about this. In his speech (pdf) at the Start of the Academic Year, he'd already emphasised that he wants the UU to stop focusing blindly on international rankings in which publishing articles in renowned journals and high impact factors are everything.
There are, after all, other ways in which scientists could be of great value, for instance through their education, or by their contribution to societal debates. Moreover, science should be seen more as a team effort, in which individual researchers shouldn't have to master all the different aspects of scientific processes by themselves.
"This way, we'll show the world what type of university we want to be, what kind of community we want to be, and how we see our role in and for society," Kummeling said in late August in the University Hall.
He added that for a change of direction towards 'open science', a different way of evaluating teachers and researchers is essential. Scientists have to be able to trust that focusing on different things than publishing articles will be rewarded, not punished.
Practice what you preach
On Thursday, an opinion piece (pdf in Dutch) was published on the university website, in which Kummeling, along with public administration expert Paul Boselie, psychologist Marieke Adriaanse, and former dean of Medicine Frank Miedema, calls for supervisors within the university to work with their employees to create a vision that's based on these principles.
Frank Miedema is the initiator of the science-critical movement 'Science in Transition', and has ensured that at UMC Utrecht, new and different evaluation procedures were established. He's now the president of the UU's Open Science Programme. In that programme, Boselie and Adriaanse are responsible for the theme 'recognising and assessing'.
The authors say there's been enough deliberation in academia about good intentions. They say everyone agrees about the value of open science and other ways to evaluate scientific success. In 2019, for instance, universities published a joint position paper about the topic. "It's time to practice what we preach," the four write.
They acknowledge that it can be tricky for scientists to demolish the building blocks of their own successful careers for a next generation of scientists. But the experiences at UMC Utrecht and trials at the faculties of Law and Geosciences, they point out, show that it's possible. "We're past the phase of exploring and navigating."