Commotion about team photo volleyball association Protos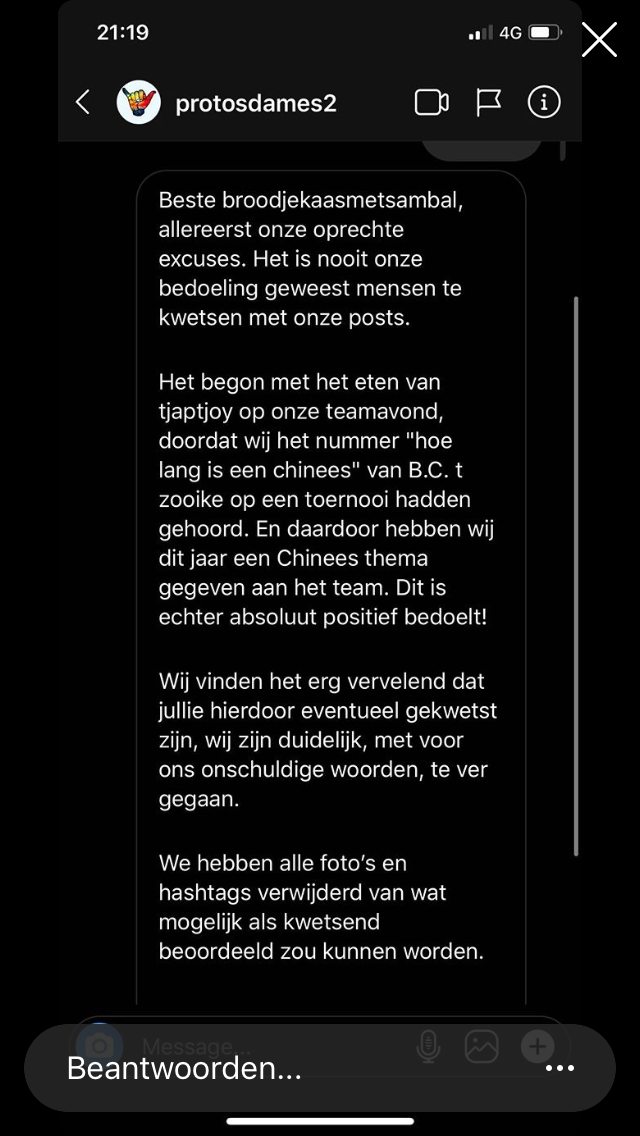 Foto: Screenshot excuses Dames 2
The photo – which has been on Instagram since July – was discovered by the Instagram account Broodjekaasmetsambal last week. This account, which aims to draw attention to racism against the Asian community in the Netherlands, shared the photo with the caption: "to get in the Halloween spirit with the Dutch."
'No one who thought: hey, this isn't such a great idea?'
On Twitter, a screenshot of the team photo is shared, along with a screenshot of a response from one of Protos' former board members, who responded as follows to Broodjekaasmetsambal's post in a private message: "Are you really this pathetic that you're digging through Instagram in search of racist Chinese stereotypes? Doesn't that just mean you're actively looking for insults you never would have noticed otherwise? If you get upset about this, you've really had any real setbacks in your life."
People on Twitter respond with disbelief. "How do people still dare do this in the year 2019?" "White girls in college towns literally do this without thinking about the consequences for a single second. It's such a weird bubble." "14 people on this photo and no one who thought: hey, perhaps this isn't such a great idea?"
'Sorry, photo was a joke'
The women's team has since taken the photo down, and has offered its apologies, according to screenshots Broodjekaasmetsambal's sent to DUB. The volleyball team writes: "It was never our intention to hurt people with this post. We've removed all photos and hashtags of anything that might be seen as hurtful." The team says the photo was a joke that started after the team heard the song 'Hoe lang is een Chinees' ('How tall is a Chinese person') by BC 't Zooike during a tournament.
The Protos board says it was quite shaken up about all the commotion caused by the Instagram post. Although the association feels like the women's team responded adequately by offering apologies and removing the photo, the board still had a talk with everyone involved. The association is not planning on taking any further measures.
The board distances itself from the words of the former board member. "We emphasise that this opinion cannot be seen as a response from Protos." They've since had a talk with the former external relations officer. "He's expressed his regrets about his response."
Revoke board grants?
People on Twitter suggested that the university and university of applied sciences should revoke the Protos board grants, because according to the subsidy rules, "no (financial) support is possible for organisations and activities aimed towards maintaining or encouraging discrimination." This academic year, Protos receives 5,950 euros in board grants.
Revoking board grants is not the intention at the moment. Utrecht University wants to have a talk with the sports association. "We want to have a culture in which everyone feels welcome, and we have to create a culture like that together. So we'll have a chat. With the association to start with, to hear how the post was meant, and what they feel about the responses to it."
Instagram user Broodjekaasmetsambal explains why the Protos team photo is hurtful: "I grew up in the Netherlands, but I've got Chinese roots. My whole life, I've been dealing with mostly white Dutch people who yell things at me on the street. Complete strangers say stuff like 'Ni hao', 'Sambal bij?' ('With sambal?', a common, not-quite correct Dutch question at Chinese restaurants in the Netherlands, ed.), and 'Happy ending?'. For these people, these are probably just innocent jokes, but for me, it's not funny to be yelled at or imitated based on my heritage. Those people generally can't imagine that. They usually don't understand that those jokes and stereotypes contribute to the humiliation of an entire population group. I understand that some people don't mean to do that, but this still is what basically happens. I acknowledge that there are levels of racism, and perhaps the Protos team photos belong in one of the lower levels, but that doesn't mean it's not still hurtful to many. With my Instagram account, I hope to show people that it's really not okay anymore to make 'jokes' about stereotypical Chinese/Asians just because this ethnic group deviates from the western beauty ideals that prevails in the Netherlands."