Covid threat doesn't hamper enthusiasm for classes in person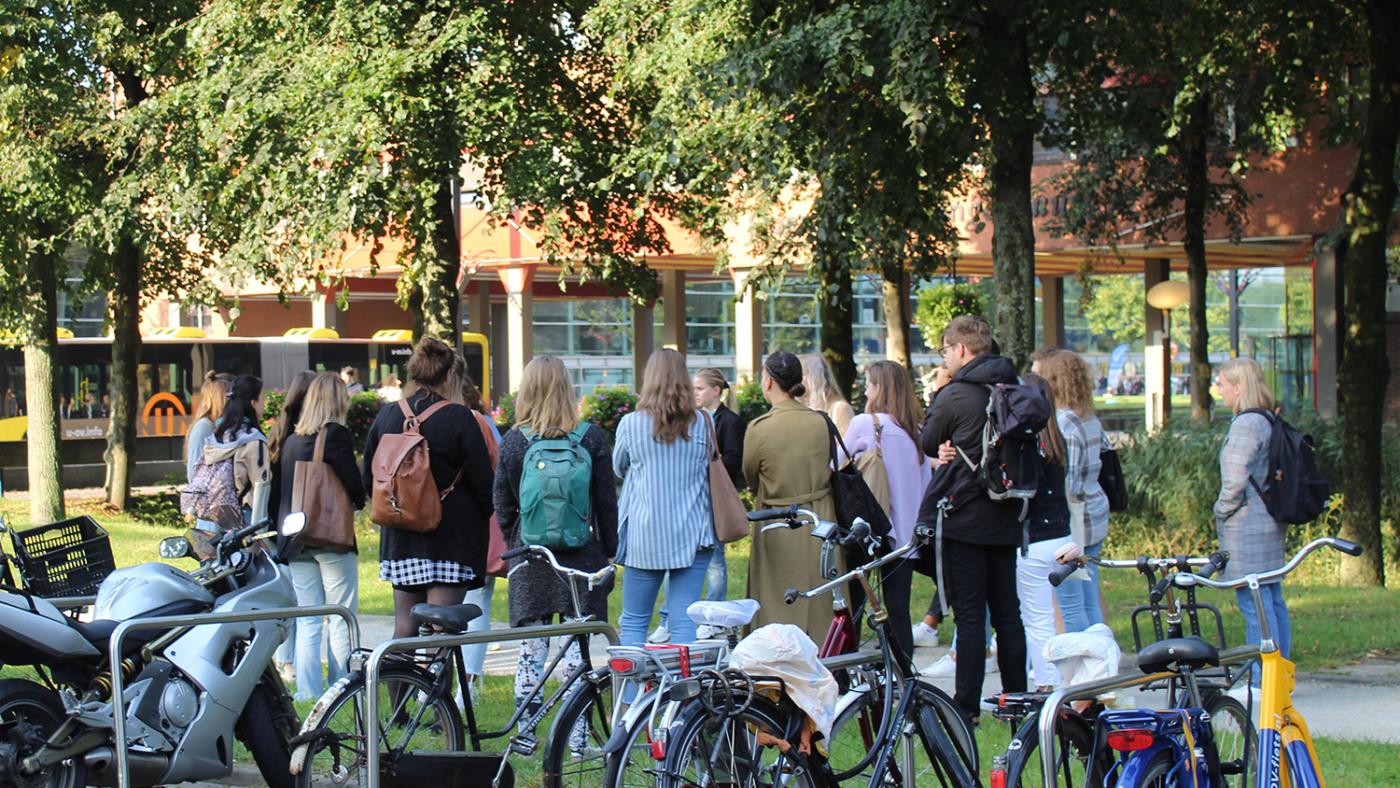 The first day of classes in the Utrecht Science Park. Photos: DUB
Early Monday morning, the first people are trickling out of the tram station to the long-abandoned campus. After two months of maintenance, it's the first day the tram connecting Utrecht Central Station to Utrecht Science Park will run again, and it turns out to be no unnecessary luxury: around 10 a.m, the trams are filled to the brink with first-year students. Outside, introduction mentors hold up signs with different programme names – Sociology, Pedagogical Sciences, Clinical Psychology. Slowly but surely, each one of them collects a circle of awkward-looking students around them.
Although"awkward" is usually the defining characteristic of introduction days, the students are happy to finally see their new peers face to face. It's to be expected – and hoped – that education will remain in-person for the entire year, says Monica, student of the Cultural Anthropology pre-Master's. "A lot of measures have been taken and a lot of students have been vaccinated, so I think things would have to get really bad for everything to close again." Fellow student Lobke nods: "The fact that some lectures are still online isn't an issue. To be honest, I've got a long commute so that's quite convenient."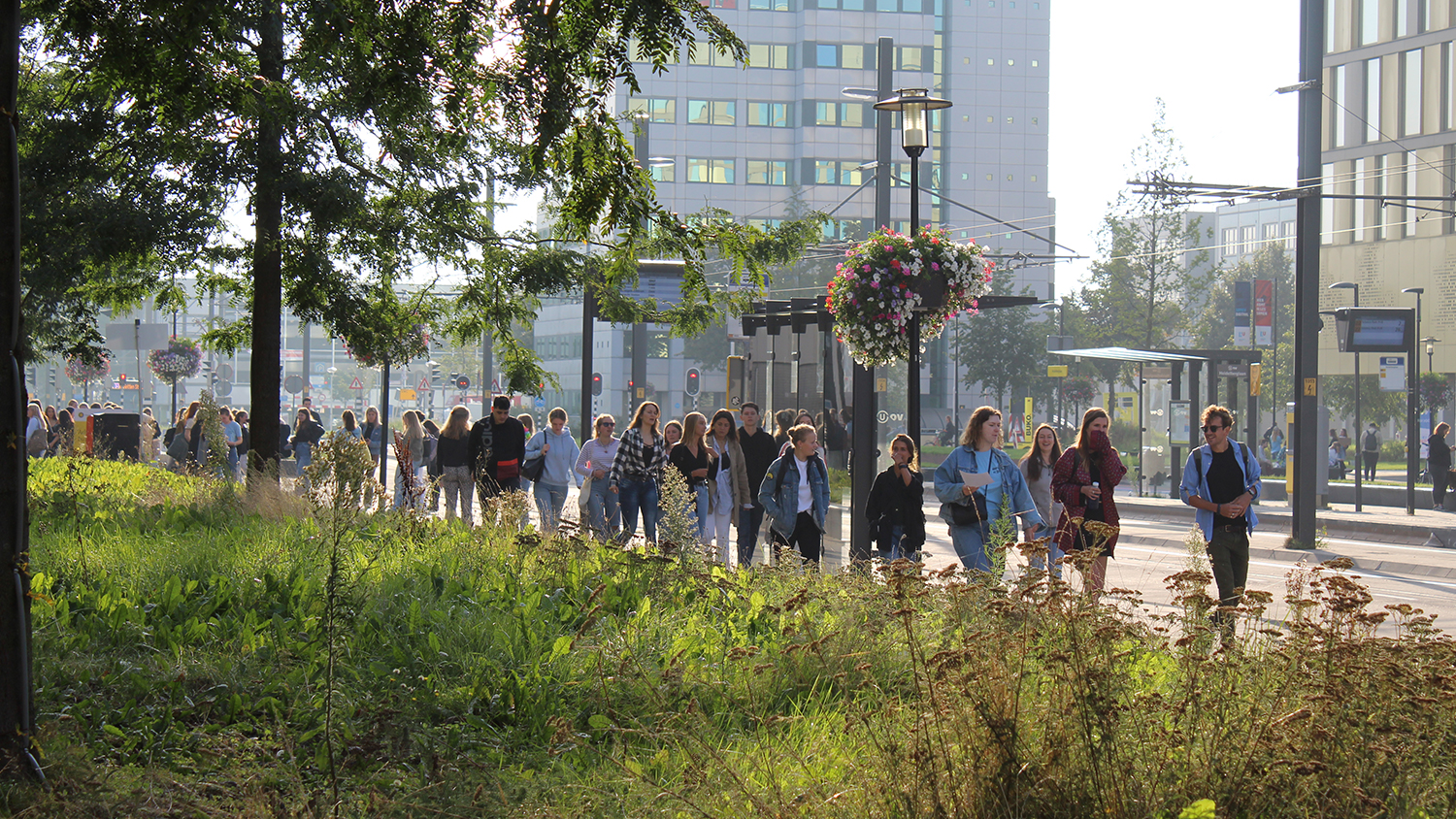 Although things may differ per programme and course, most lectures this coming term are still held online, or in hybrid form. The government says no more than 75 people are allowed to be in a lecture hall together, and many lectures would exceed that number. Work groups do take place on location, although some international students are attending those classes from abroad. Wearing face masks isn't mandatory in the classroom, neither do students have to stay 1.5 metres away from each other.
Covid concerns
The mentors lead their students across the campus and provide explanations on the programme and the buildings at Utrecht Science Park. Indoors, students wear face masks, but struggle with the prescribed walking routes in the Koningsberger building and the Educatorium. In the Ruppert building, a pedestrian traffic jam is formed, comprised of students queueing up for the bathrooms. "Straight ahead, take a left, and go outside!" a mentor who had just left a lecture hall tells her group. The students seem to be over their discomfort and chat cheerfully about their previous studies, summer holidays, hazing, and the courses they'll be taking.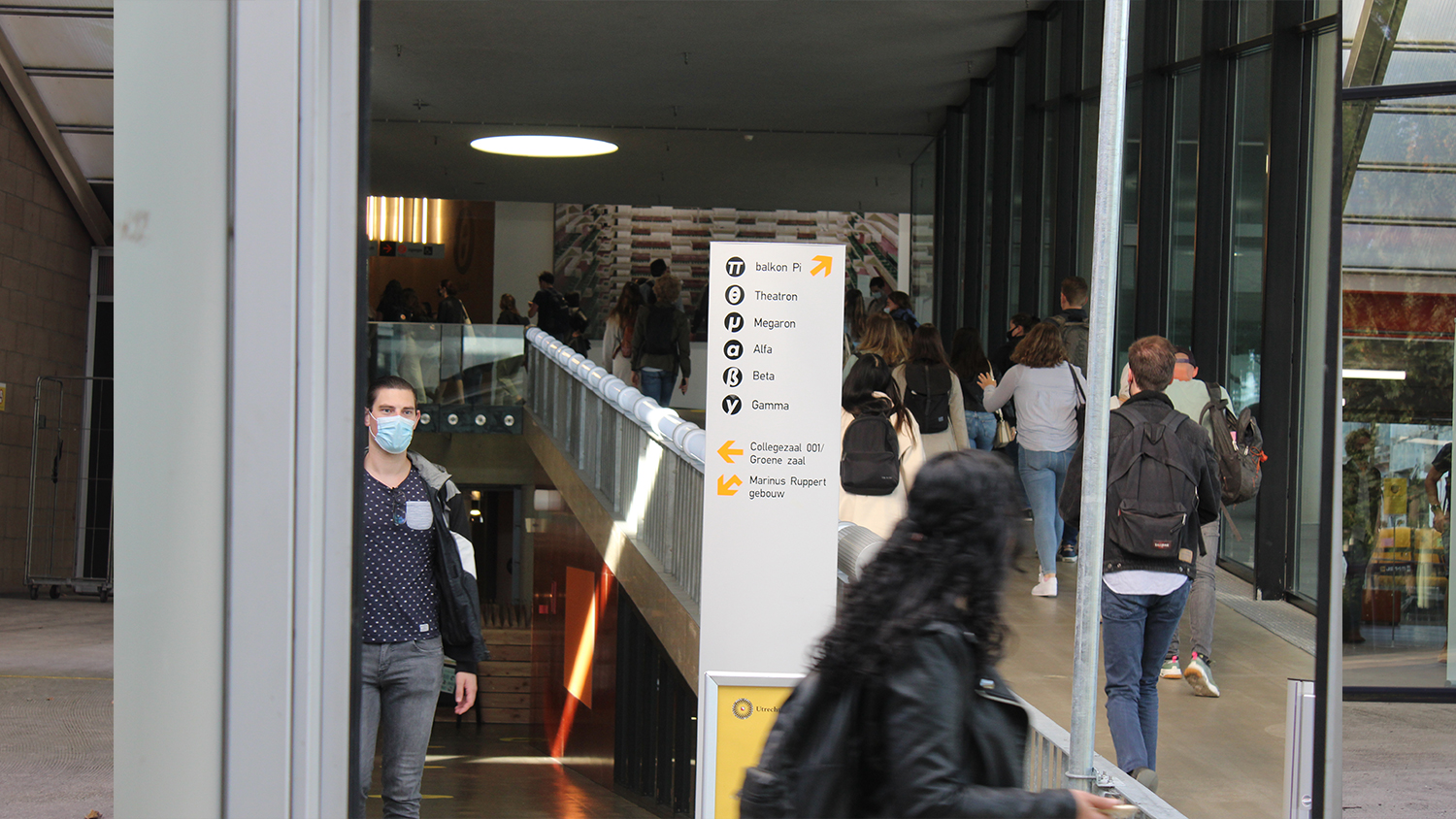 In the recently-vacated lecture hall, we find Marijn Stok, programme coordinator of the Master's in Social Policy and Public Health. "You can tell from looking at the students in the room that they're super happy to be able to interact with each other, and with us, again. It energises us teachers, too: it's great to see all those faces in front of me again". Still, Stok has noticed that some students and staff have concerns. She herself fears a rise in the number of infections. "The experts say the chance of a new wave in the autumn is fairly large."
Concerns surrounding the reopening of higher education institutions have been discussed in the media. In August, the Dutch government decided to relax the Covid measures for higher education institutions, despite the fact that the Outbreak Management Team (OMT), the team of experts advising the cabinet throughout the pandemic, advised them to wait at least until September 20. The OMT advised the government to prevent students from bringing the virus from their holidays into the classrooms, in addition to giving younger students the chance to ensure full vaccination.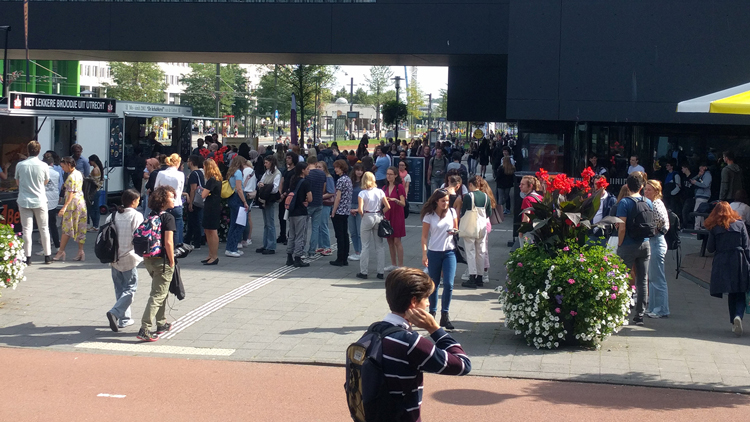 Rush hour
Rush hour comes around lunchtime. The rule limiting the number of students in a lecture hall to 75 means that the Educatorium canteen is divided into sections with dreary, undecorated partitions. However, thanks to the sunny weather, everyone's outside. On the square in front of the library, introduction groups fight their way past wide queues of people waiting for to order from the food trucks and shops. A well-timed protest by Extinction Rebellion completes the chaos. A group of four UU employees walks into the crowd feeling happily surprise. "This looks like a festival!"
A group of first-year General Social Sciences (ASW) students that has been temporarily abandoned by their mentors look around, a little dazed. "It's more crowded than I expected," one of them says. "But nice," another one adds, "it almost feels as though everything's normal again." The two students say they don't feel unsafe in the crowd – they've been vaccinated and one of them has just recovered from Covid. Like most other students, they don't see the point of testing themselves twice a week, as the university is advising.

The ASW students are looking forward to the upcoming academic year, but they're not putting too much faith into the relaxations. "I don't dare to expect that classes will remain in person," one of them says, while the other one nods. "There's just as much chance things will lock down again."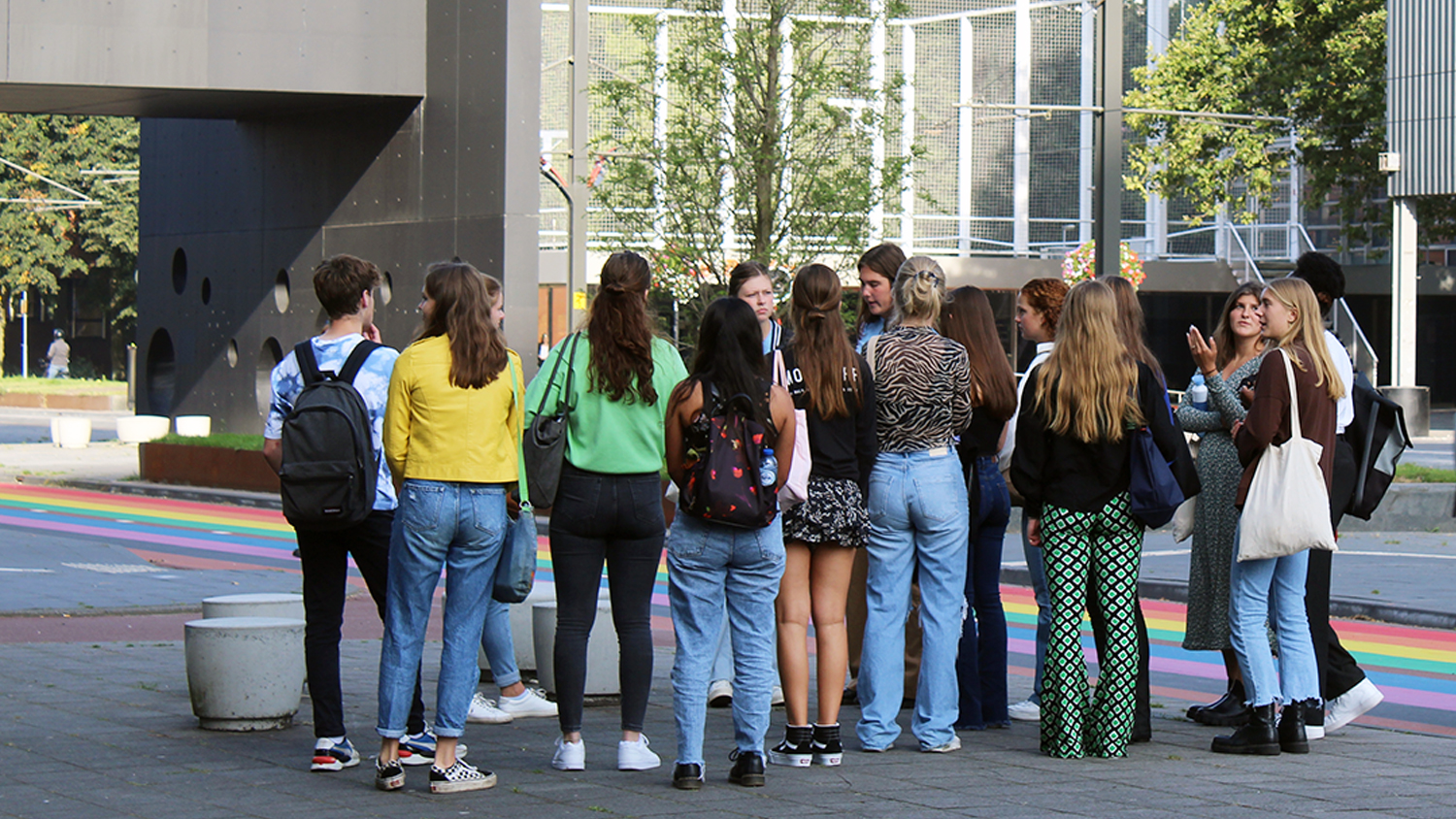 A huge improvement
Two students of Global Sustainability Sciences (GSS), Tjeerd and Rosa, share the same concerns, but are somewhat more optimistic. "I expect that this year will be better than the last anyway, because we were only allowed to go to university once a week in the first term. Now, all work groups are in person and that's a huge improvement," Tjeerd says. Both of them think that politicians have since realised how important it is for students to have classes in person. Even if infections do rise, they'd still prefer to attend classes on campus.
If it were up to the Dutch Minister of Education, Ingrid van Engelshoven, the two GSS students might just get their way. This past week, she announced that the government will not lock down higher education institutions in case of a new wave of infections. If that happens, the government might force students to show a proof of vaccination or negative test result before entering the classroom.
A tricky, hard thing to do, the GSS students say. "I've been vaccinated so it doesn't matter to me, but you also have to think of those people who can't get vaccinated due to auto immune diseases," Tjeerd says. "Those people would have to get tested every other day." Other students say it's probably not efficient or feasible to check every student's QR code before class.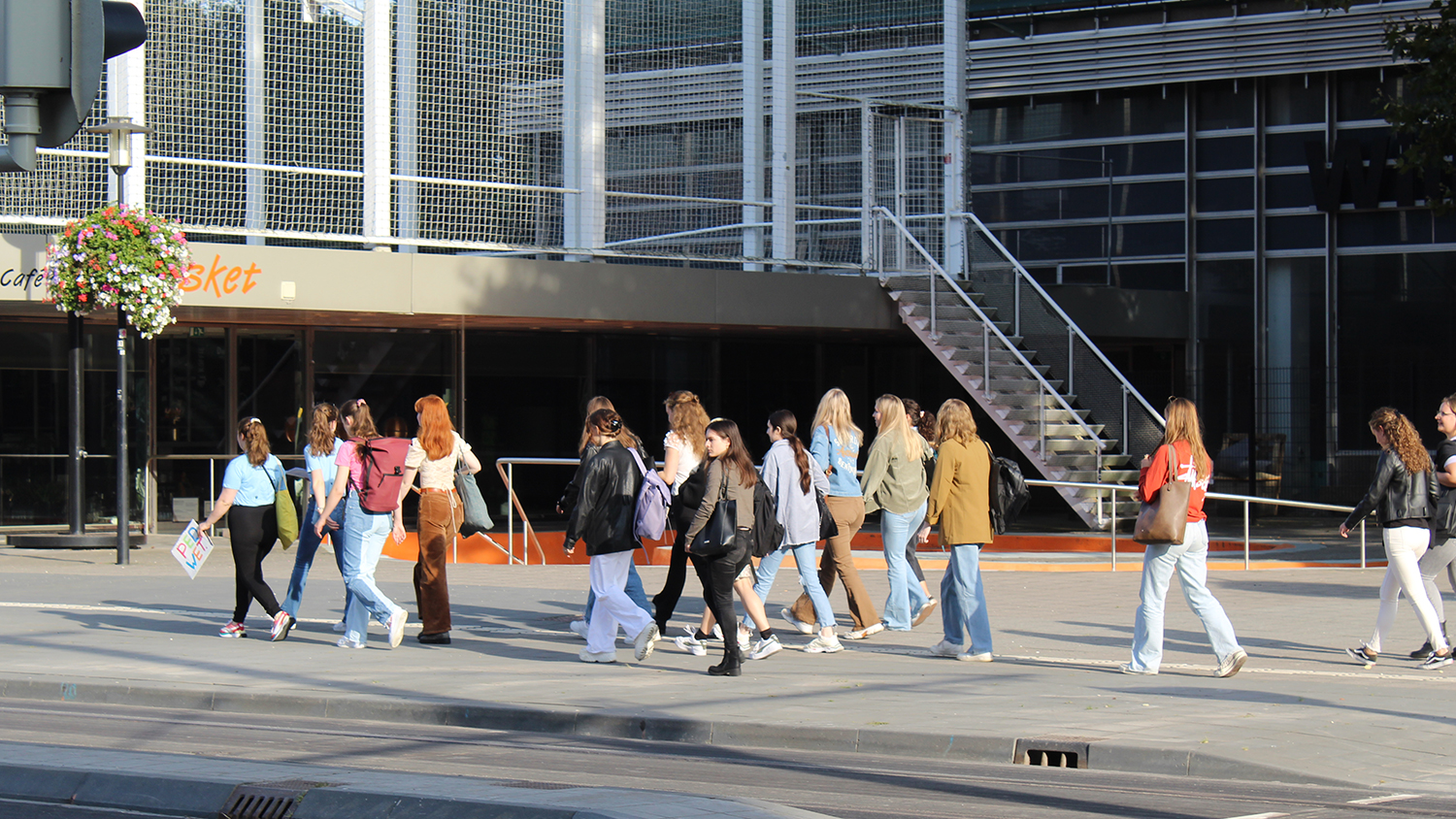 Trust
Lecturer Marijn Stok agrees that this is a tricky issue. "education on location is a great thing and I can imagine measures to keep this up will be preferred over online education," she says. She emphasises that last year's online education was of high quality, but classes in person do have added value. "You can see how people respond to one's body language, whether students think something isn't that interesting so I have to adjust my pace, or perhaps explain things a little more because I can see their questioning looks."
To secure the high expectations and enthusiasm of students and teachers on this first day, Stok hopes everyone will get vaccinated, get tested regularly, and stay home in case of symptoms. That way, the chance that Covid will affect higher education will remain as small as possible, Stok ponders. "I trust that these students will take responsibility. We need to safeguard what we've conquered here together, and everyone can contribute to that."
Advertisement