Eleven UU Master's Programmes receive excellency label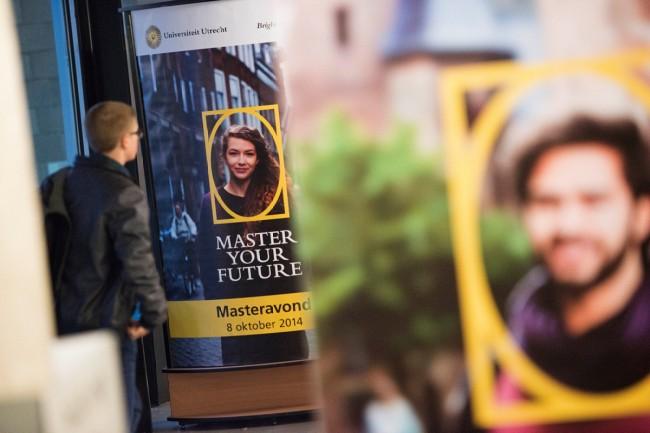 Photo UU, Robert Oosterbroek
Selective Master's programmes don't get higher scores in the Higher Education Guide than Master's programmes that are open to anyone. Being small-scale is a more accurate predictor for quality than a strict selection process. Last year, the small-scale programmes in Utrecht were highly appreciated by students as well.
Once again, Wageningen is the university that has the highest number of selective Master's programmes. More than 70 percent of the 'green' Master's programmes has requirements for, for instance, the average grades students achieved in a Bachelor's programme, or makes them do a selection interview or an assessment. Other universities, including Twente, Eindhoven, and Tilburg, are a lot less picky: 6, 9, and 15 percent of their Master's programmes, respectively, include a selection process.
That doesn't necessarily lead to lower scores in the National Student Survey or from education assessor NVAO, according to the Higher Education Guide Master 2019 that was published this week. Master's programmes with less than twenty first-year students generally get above-average scores, while programmes with more than two hundred first-year students tend to receive lower scores, whether they're selective or not.
Excellent programmes in Utrecht
The two-year research Master's do well in the Higher Education Guide as well – not thanks to their selection process, the editors suspect, but because they're simply high-quality programmes. The latter is probably also true for Wageningen University, which is once again the number 1 of the regular universities and number 1 of the universities offering Master's programmes in technology and agriculture. The University of Twente, which only selects 6 percent of its Master's students, is only slightly behind Wageningen.
The ranking of general universities is led by Maastricht and Groningen. The University of Amsterdam is at the very end of the list. Of the universities in the Randstad metropolitan area, Utrecht and VU University Amsterdam receive the highest scores. These two universities have both climbed up the ranking compared to last year. Utrecht now sits comfortably in fifth place.
Of the 77 UU Master's programmes that were assessed, eleven were granted the 'excellent study programme' label. Legal Research (Law) and Methodology & Statistics (psychology) both received the maximum score of 5 starts and can now say their education is deemed to be excellent. Nine programmes received 4 stars, which means 'very good'. At each faculty, there are many satisfied Master's students. The faculty of Veterinary Medicine is the only exception: the single Master's programme this faculty offers received only one star, a very mediocre score.
How do the hbo Master's perform?
Of the largest hbo schools that offer Master's degrees, the HAN University of Applied Sciences scores highest. Utrecht University of Applied Sciences and Amsterdam University of Applied Sciences also perform relatively well, while their Bachelor's programmes consistently face a lot of criticism.
The situation is reversed for Hanse University of Applied Sciences in Groningen: there, the Bachelor's programmes receive high marks, but its Master's students are remarkably unsatisfied. The highest grade of all regular universities and universities of applied sciences goes to art school Artez in Arnhem.
---
The 11 Master's programmes of the UU that received an  'excellent study programme' label are: