Honorary doctorates to be awarded in September this year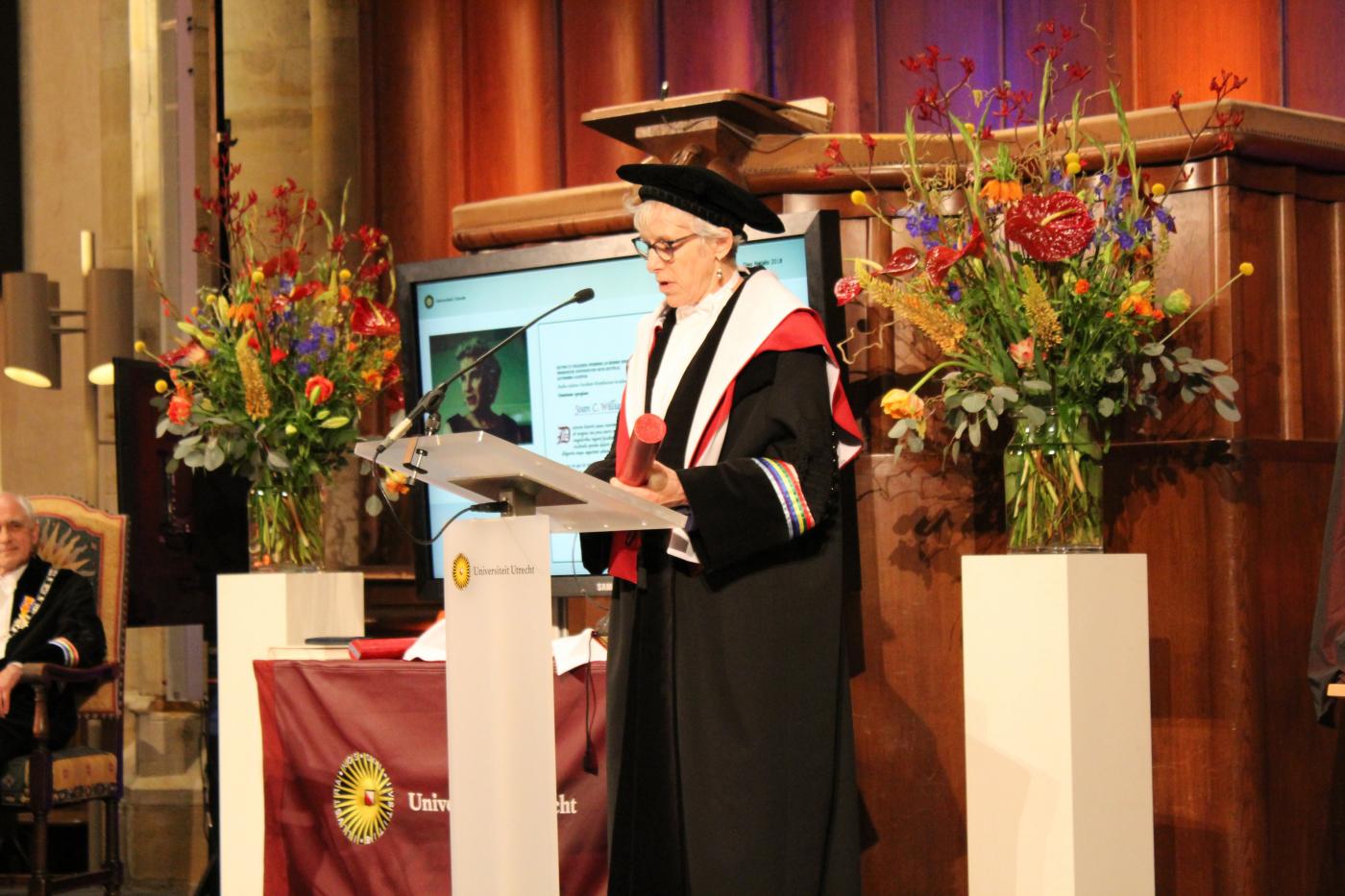 Joan C. Williams receiving her honorary doctorate in 2018. Photo: DUB
Three researchers will be awarded honorary doctorates this year: Carlota Perez, Hugo Tempelman, and Alcinda Honwana. They are being praised for their contributions to societal debates about climate change, inequality, and pandemics. During the celebration at the Dom church, the researchers will receive a red and white cappa [part of the toga, ed.] and the title of doctor honoris causa.
Utrecht University hopes that a physical ceremony will be somewhat possible by September, and that Perez, Tempelman and Honwana can be present. "But that doesn't mean the Dom church will be packed. All options depend on the developments surrounding the virus and the government's measures", clarified spokesperson Maarten Post.
The University is also planning to hold activities on location to celebrate its 77th lustrum in May: the the thesis and teacher awards will be given to the winners, and the Alumnus of the Year will give a speech.
Honorary doctorates
The Venezuelan-British Carlota Perez, currently connected to University College London, will receive an honorary doctorate for her research on sustainable technological development in historical context. She calls this "smart green growth". Listed by Forbes as one of the top five most influential female economists, Perez fights for global equal opportunities, sustainability, and democracy. She is the author of Technological Revolutions and Financial Capital: The Dynamics of Bubbles and Golden Ages, among other works.
Doctor Hugo Tempelman is getting the doctor honoris causa title for his work on infectious diseases in Africa. Twenty-six years ago, he established a small clinic there for the treatment and prevention of HIV. The clinic, called Ndlovu, has since then grown into a renowned non-profit organisation playing an important role in the local battle against the coronavirus pandemic. Between 2007 and 2012, Tempelman was a guest lecturer at UU. In 2015, UU and Ndlovu joined forces to establish the Ndlovu Research Consortium, allowing students to conduct research in and on the clinic. Tempelman was knighted in the Order of Orange-Nassau and received the prestigious Martin Buber Plaque in 2009.
Anthropologist Alcinda Honwana is being awarded an honorary doctorate for her research on the development of African youth. She introduced the term "waithood" to refer the transition from childhood to independent adulthood, which is sometimes experienced as a period of stagnation and helplessness. With her findings, Honwana built up a considerable international reputation. She currently contributes to UU research on the strategic themes Dynamics of Youth and Migration and Social Change. She was appointed by the UU to the Prins Claus Chair in Development and Equity in 2007. Honwana has also been a guest lecturer at numerous renowned universities, and serves as an advisor for the United Nations in New York.