Students and teachers struggle with public transport strike
'I booked an overnight stay in Utrecht to take an exam during the strike'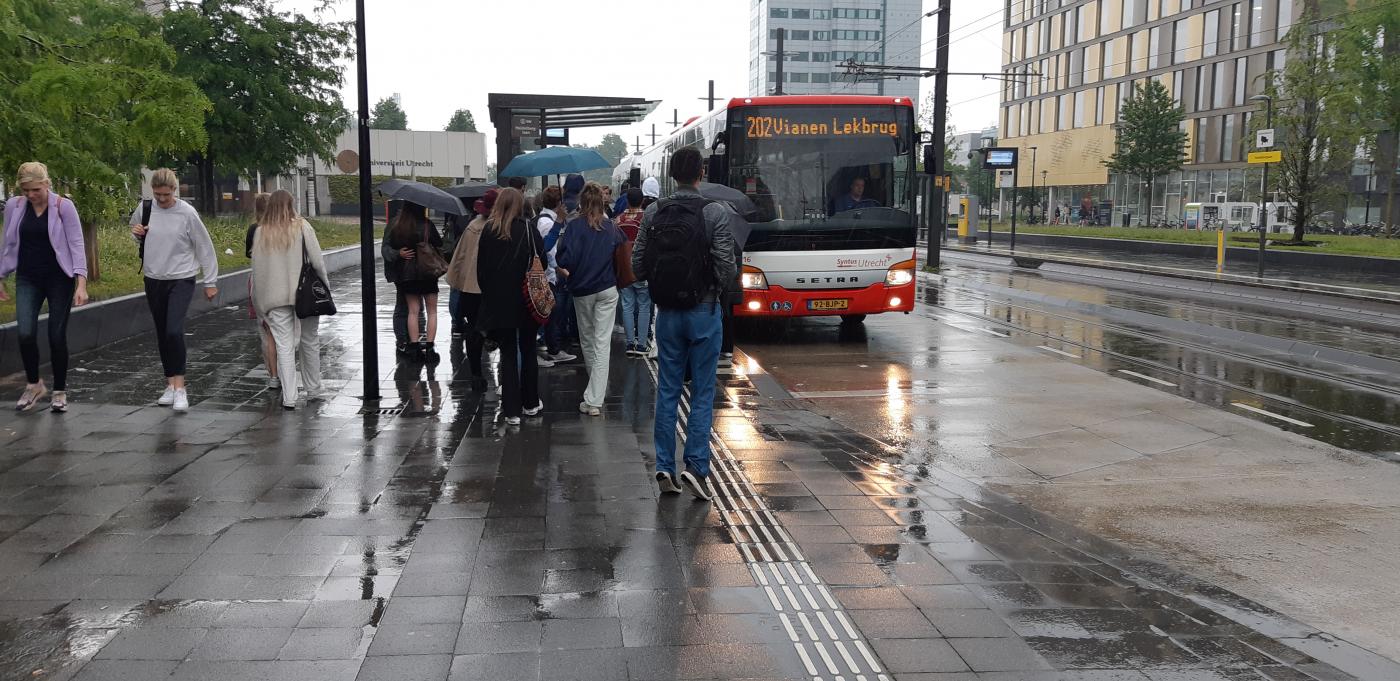 Caitriona is a first-year UU history student, living in Leiden. Public transport is her only option to get to university. She faces additional challenges due to injuries that make cycling and walking difficult. During the strikes, coming to Utrecht becomes an enormous effort. She says having to walk to the train station for half an hour when buses do not run, as well as some buildings in Utrecht being too far away to reach by foot. Her solution, like that of many other students, would be to follow the courses online. One of her teachers agreed to record lectures, another course offers no alternatives.
Caitriona is not the only student that has a problem with the public transport strike. Demanding a wage increase, the trade unions CNV and FNV announced a six week public transport strike in March and April, meaning that on some days a week most buses and trams don't drive. Today, Wednesday, there is a strike, but the unions announced that the other planned strike days are suspended until next week.
During the strike some buses, like bus 28, and some regional buses continue to run during strikes, they are often overcrowded. It is unclear which exact buses will be running during the strike period - the U-OV website states that travel planner will be less reliable on these days, as the decision to strike depends on individual drivers. The advised solution is checking the bus schedules on the same day one intends to travel - preventing the possibility for longer term planning.
Education as normal
The UU has stated that education, including exams, will continue as normal. Although some lectures are recorded, the decision is up to individual lecturers. While the strikes will not be accepted as an excuse for missing exams, this including students not being granted extra retake opportunities, the strikes can be invoked as a reason for missing mandatory classes.
The university's reasoning states that trains still drive as planned, and that students can cycle or walk to the stations. Especially for students who live outside of Utrecht, these alternatives are not always feasible options. Giulia, a bachelor student of Global Sustainability Science remarks having to walk home over 3 kilometers from the train station is too far. And she says that a lot of her classmates were also worried about missing class.
For Caitriona, the 9292 app is also not very helpful during this time. On one occasion, a bus never arrived despite being marked as on schedule in the app. Luckily, she is not too worried about missing exams, as she has a backup plan - spending a night at a hostel in Utrecht if the need arises.
Uncertain teachers
Teachers also wrestle with this topic. They see that a lot of students don't come to class. Social Geography professor Peter Pelzer has his own method on handling the strikes:  "It's so uncertain whether all students can attend the lectures. And I do not record them since it's impractical. Instead, I decided to use the lectures for interesting additional information, and not cover exclusive subjects that are essential for the exams."
Another teacher, Gert Folkers, assistant professor of Biomolecular Sciences, thinks it's not a big issue. To him, arriving at class is his students' responsibility. Folkers records his lectures, and if a class is not mandatory, he does not mind students catching up at home. He believes that the university have learned enough from the pandemic, with there being enough resources available to help students continue their studies. According to him, if students really wanted to, they should accept that they will either need to put in more effort to arrive at obligatory activities or that they have to do more self-studying.
Caitriona believes that the university could do more for students - "not everyone lives in Utrecht or can afford a night in the city". She hopes that the University could become more lenient with their exam policy, as well as make all classes to be hybrid.