Minister of Education meets UU students: "What matters is that you're back in the classroom"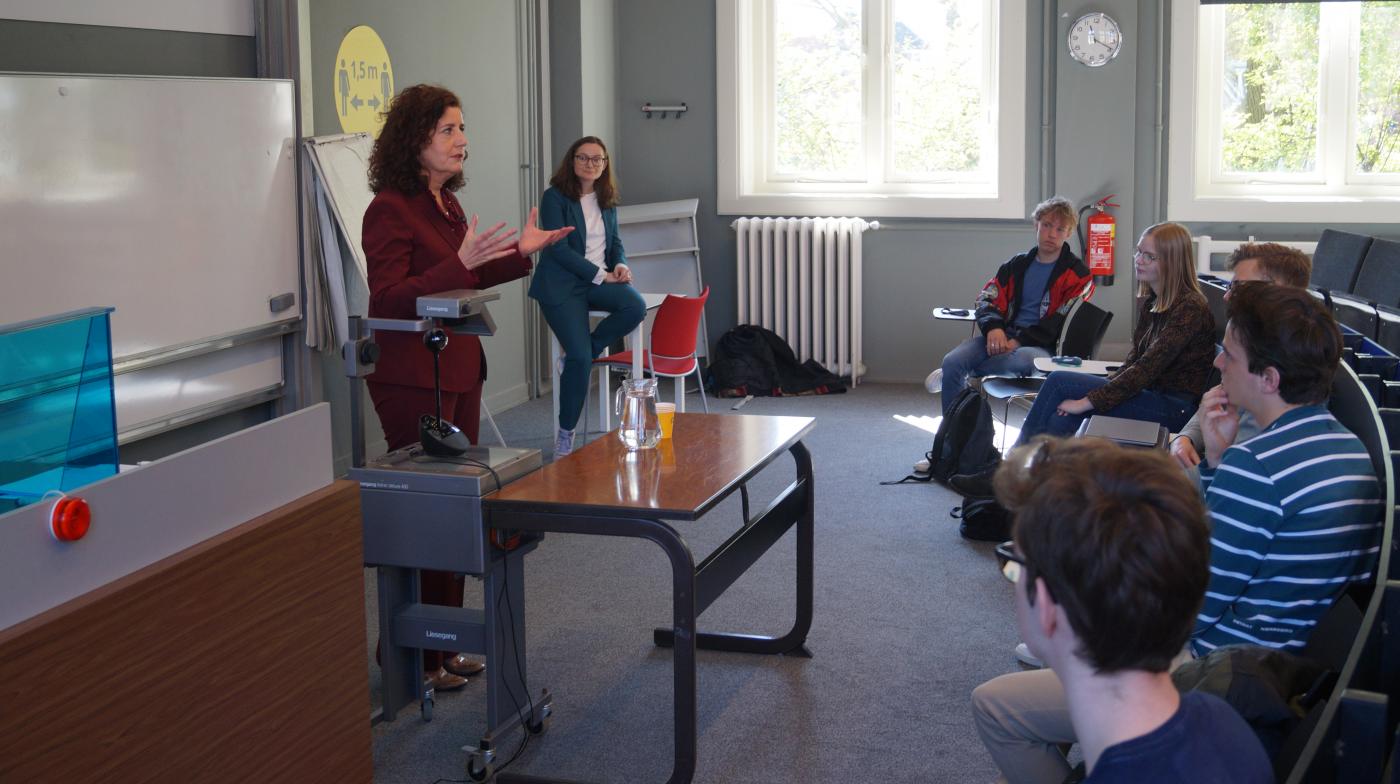 Minister Ingrid van Engelshoven visits a class at UU. Photo: DUB
It seemed like this day would never come, but higher education institutions are finally allowed to open (albeit partially) again. Last Monday, April 26th, the first day of classes on campus, first-year PAOS students attending the Economics and the Public Sector class received a high-ranking visit: the Dutch Minister of Education, Ingrid van Engelshoven.
She asked students how they were doing and most of them talked about how happy they were to be back. "I just missed talking to fellow students. I've never actually seen anyone from my study programme outside of the lectures", said one student. Another one confessed just how much they needed a bit more structure in their schedule. "You don't have a clue what day it is anymore. I often follow the lectures from my bed, in my pyjamas".
The Minister agrees that seeing each other in person is extremely important. She has recently held online meetings with students for feedback, in which they stressed how much "real contact" matters to them. Nevertheless, UU cannot guarantee that all students will actually be able to return to the campus once a week, as is now allowed. That's because lectures still have to abide to the 1.5 metre-social distancing rule and avoid causing too much traffic to and from the UU, which would result in crowded trams and buses. 
Last Friday, a student reported on Facebook that she has not seen a lecture hall since March, which she finds extremely demotivating. Van Engelshoven encourages these students to at least make use of the study facilities available now. "By working together in the University Library or another study room, for example, you keep in touch with your peers. That is very important".
Ordering free self-tests
The Minister was curious about the students' lives. She inquired whether they live in student accomodation and if they travel a lot by public transport. She also had a message for all students in the Netherlands. Soon they will receive an e-mail explaining how to order free self-tests. "The idea is that you'll use them once or twice a week, so that everyone can go to the university safely". The minister stressed that taking these coronavirus tests is not an obligation, but it is highly recommended. Then, she asked the students if they intend to use them.
A pilot scheme conducted at the Avans University of Applied Sciences showed that most students are reluctant to take self-tests. But most of the UU students present at that lecture think they will do so, but not always before going to campus. One student says honestly: "I will use it, but not to go to the university. I feel quite safe here. I will rather use them when I go out and hang out with friends".
Extra money for higher education
Because the minister happened to have joined a course on public sector financing, teacher Barbara Vis took the chance to ask her about the extra 1.1 billion euros needed for higher education. "It's a figure no one can ignore", van Engelshoven replied. "The increase in the amount of students has been higher than expected. We have commissioned a calculation on how much more the sector needs, and it has been found that 1.1 billion euros are needes to restore the balance between research and teaching. But whether the money will actually be forthcoming depends on the discussions during the formation of a new Cabinet".
Speaking of financing, the students wanted to know whether the basic student grant, abolished in 2015, will return. "That too will certainly be discussed during the formation. Almost all parties have indicated that they want change. I will tell you though that going back to the old situation would not be an improvement. For example, the rules for repayment are now far more flexible. I also said that new plans for study financing should not come at the expense of the money needed to improve the quality of education. When the basic grant was abolished, money was set aside to do just that. The sector as a whole has made plans to achieve that, so we shouldn't start scrapping that now".
Finally, the minister showed the students how decision-making works. "It is usually very complicated to get a proposal that will cost the State more money approved by the Council of Ministers. It takes a long time. But, after the Prime Minister said in a debate that money should not play a part in the post-Covid construction, I immediately set out to work with my colleague Slob (Minister of Primary and Secondary Education and Media, Ed). Within no time we made the National Education Programme to support education during the pandemic, with a price tag of 8.5 billion euros. It is really special that we got this plan through in such a short time".