A new lab for humanities scholars to brush up on digital skills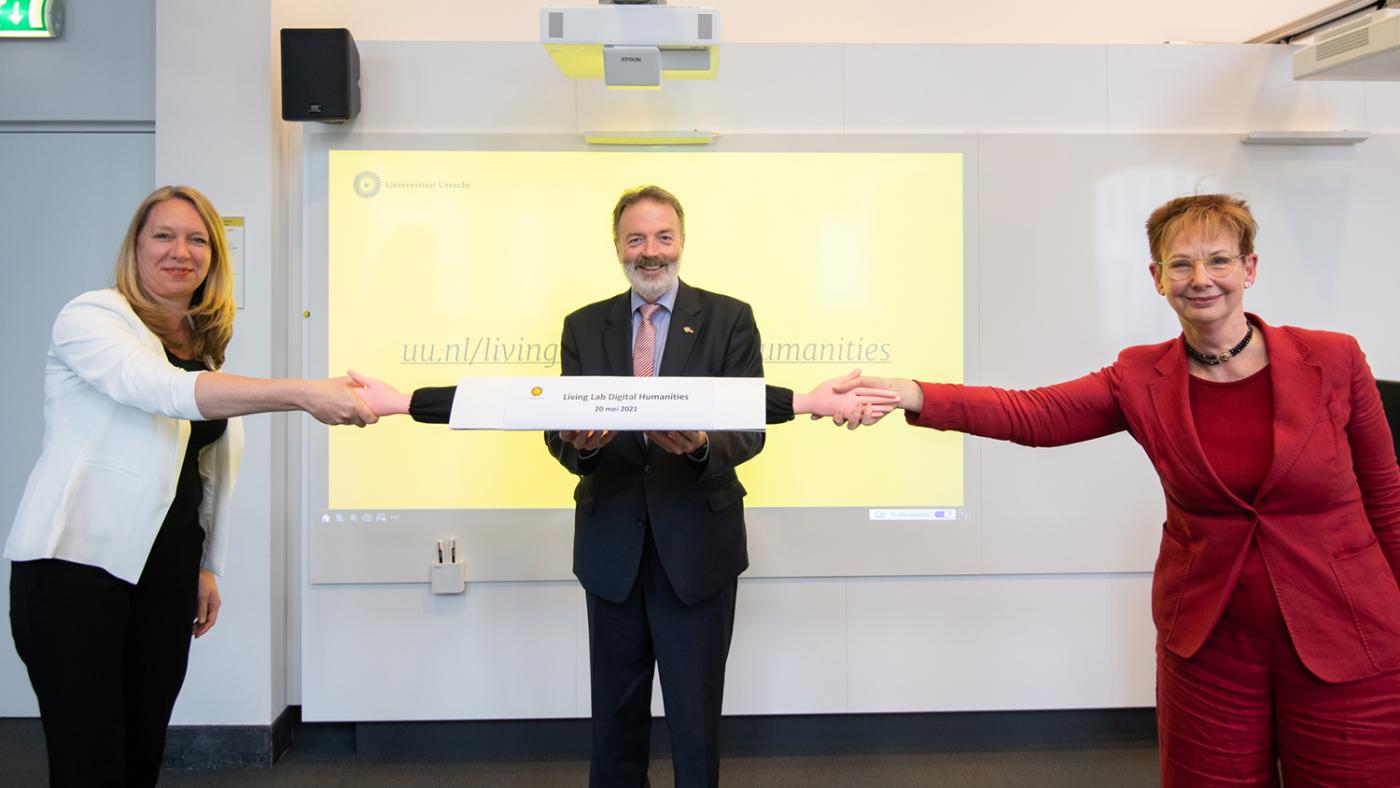 Director of Humanities Miranda Jansen and librarian Anja Smit shake hands in a Covid-proof manner to seal their cooperation. In the background, Rector Henk Kummeling officially opening the lab's doors. Photo by Robert Oosterbroek
On Thursday, the 20th of May, a hybrid event celebrated the opening of the Living Lab Digital Humanities, located in the University Library in the city centre, a space where the University Library and the Centre for Digital Humanities will work together.
The space was founded last year by Professor Hugo Quené to improve and broaden the digital literacy of humanities scholars. "Humanities is concerned with the question: 'what makes us human?' In digital humanities, we investigate how digital sources and methods can be used to answer this central research question," said his speech on the occasion.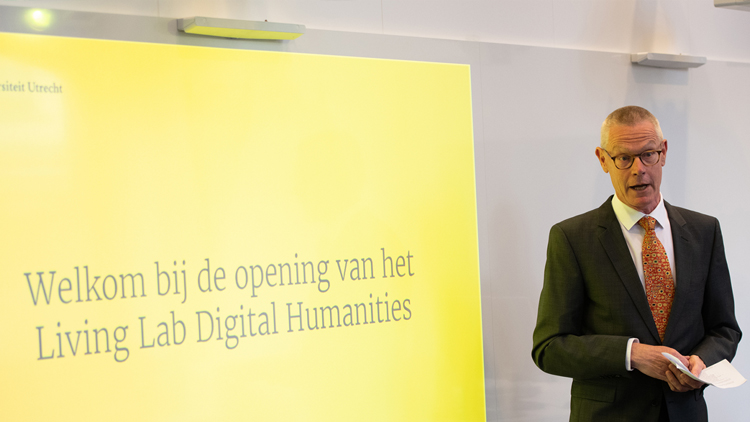 Professor Quené. Photo: Robert Oosterbroek
The lab is a physical complement to the Centre for Digital Humanities and will provide scholars with help from experts to unlock digital sources and use digital tools to obtain research data. Professor of Digital History Joris van Eijnatten said during the opening that the lab is important for the entire faculty. "We are being overtaken left and right. Other scientists can use data that actually belong to the Humanities because they are more digitally literate." Moreover, he notes, technology will keep evolving at a fast pace. "Digitisation changes the way we conduct research, which creates ambiguity, and the average humanities scholar cannot keep up with it all," he stated. In January, also wrote an opinion piece (in Dutch) for DUB about this topic in January.
According to van Eijnatten, the ambitions of the Living Lab should go beyond merely facilitating digital literacy. "Ultimately, the goal is that a number of humanities scholars from different disciplines learn technical skills like statistics, algorithms and programming techniques." Van Eijnatten also envisions a role for the lab in education. "We need to educate a new generation. The Living Lab offers a start. It could offer compulsory first-year courses or a basic training in algorithms, for example." Needless to say the professor is very enthusiastic about the lab. "The lab's strongest point is the fact that it calls for collaboration."
It is much smarter to use these tools
Katell Lavéant, senior lecturer in Humanities, also spoke at the opening. She explained how the possibilities of the digital world are changing her way of doing research, but stressed that the traditional way of doing research is still necessary. "Even if you want to do text mining, you still need the traditional skills."
She says her team consists of researchers with both traditional and new skills. "I still think that balance is crucial," says Lavéant. In this research, she started using several digital tools, including text mining - an automated method that allows researchers to extract data from large amounts of digital or digitised text material. "A practical reason why I decided to work with these tools is that I didn't get a lot of time. I can't do everything manually. It's much smarter to use this type of tool to get data faster, so then you just analyse it." Lavéant is currently creating a database of special books, and text mining is speeding up this process.
Students can also turn to the lab for help with their research
Following the festive opening, Arjan Grooters, head of communications at the University Library, explained how the Living Lab Digital Humanties will work in practice. Scientists have to schedule an appointment with a digital expert. Although the lab is primarily aimed at humanities scholars, other scientists can also use the service. "Research is becoming increasingly interdisciplinary. Researchers from computer science, for example, can also do a lot with the data from Humanities to strengthen other research." Students are equally welcome: they can turn to the lab for help with their research.
The experts in the lab can help you with a variety of digital resources, tools and methods such as text mining. "That's an example of a typical subject matter we would like to deal with," says Grooters. Moreover, the experts can assist UUers with coding and programming.
But its activities will not be restricted to personal support. The space will also host webinars showcases with examples of digital research. In fact, the programme for the next few months is already extensive. "Due to the pandemic, our activities have to be offered online now, otherwise we would organise them physically."