New student complex in the Utrecht Science Park to have nine hundred rooms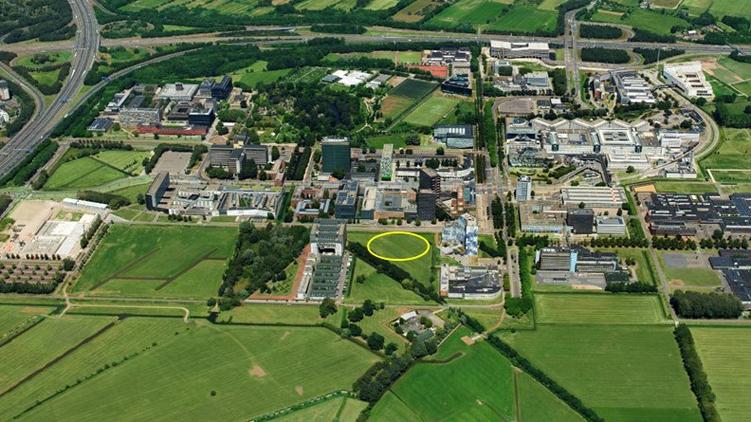 The place where High Five will be built. Photo: Jebber, the company developing the complex for the SSH
The High Five (link in Dutch) will be built on the meadow between the Johanna and Cambridgelaan student flats, where sheep currently graze. This is the fifth large-scale housing complex located on the Utrecht Science Park. Besides the two aforementioned flats, the Bisschoppen and Casa Confetti, both located on Heidelberglaan avenue, also house students.
According to the municipality's document (in Dutch) laying out its wishes for the student complex, bout seven hundred apartments in the High Five will be independent, with their own bathroom and kitchen. The remaining two hundred will have shared facilities. 
The apartments with shared facilities will be at least 14 square metres in size, and the independent apartments at least 20 square metres. The dimensions of the communal area for the non-independent residences is 17 square metres. The independent residences will also have access to a communal area of 23 square metres.
Ten of the self-contained units will be equipped for specific groups, such as students with a disability, a certain background or special housing need. These residences must also be wheelchair accessible. Their communal areas are set to be slightly larger than the others, with 23 square metres.
Other facilities
The student complex will consist of two towers that will be 74 metres high and connected at the bottom by a low-rise section. The idea is that the independent apartments will be located in the high-rise buildings, while the ones with shared facilities will be in the low-rise part.
The ground floor will be occupated by catering facilities, spaces to study and possibly a gym. Some of these facilities are intended for residents and non-residents alike, but there will also be facilities intended for residents only. All of them are set to also be accessible to the disabled.
The municipality's plan states that "the plinth will be the place where students will meet each other". According to SSH, common rooms are an important feature because more and more students indicate that they feel lonely. Moreover, the student housing provider would like to encourage students to adopt a healthy lifestyle, which is why the catering facilities will sell healthy, affordable food and drinks.
Less greenery
The Utrecht Science Park will lose a considerable green area due to the construction of the complex. SSH plans to compensate for the loss by planting bushes and trees around the complex.
It is not yet clear how much rent SSH will charge for these apartments. In principle, anyone who meets SSH's requirements will be eligible to live there. 
The construction works will start at the end of 2022. The goal is to deliver the complex in 2024.
Advertisement