Playful protest against closure of the science faculty's bike shed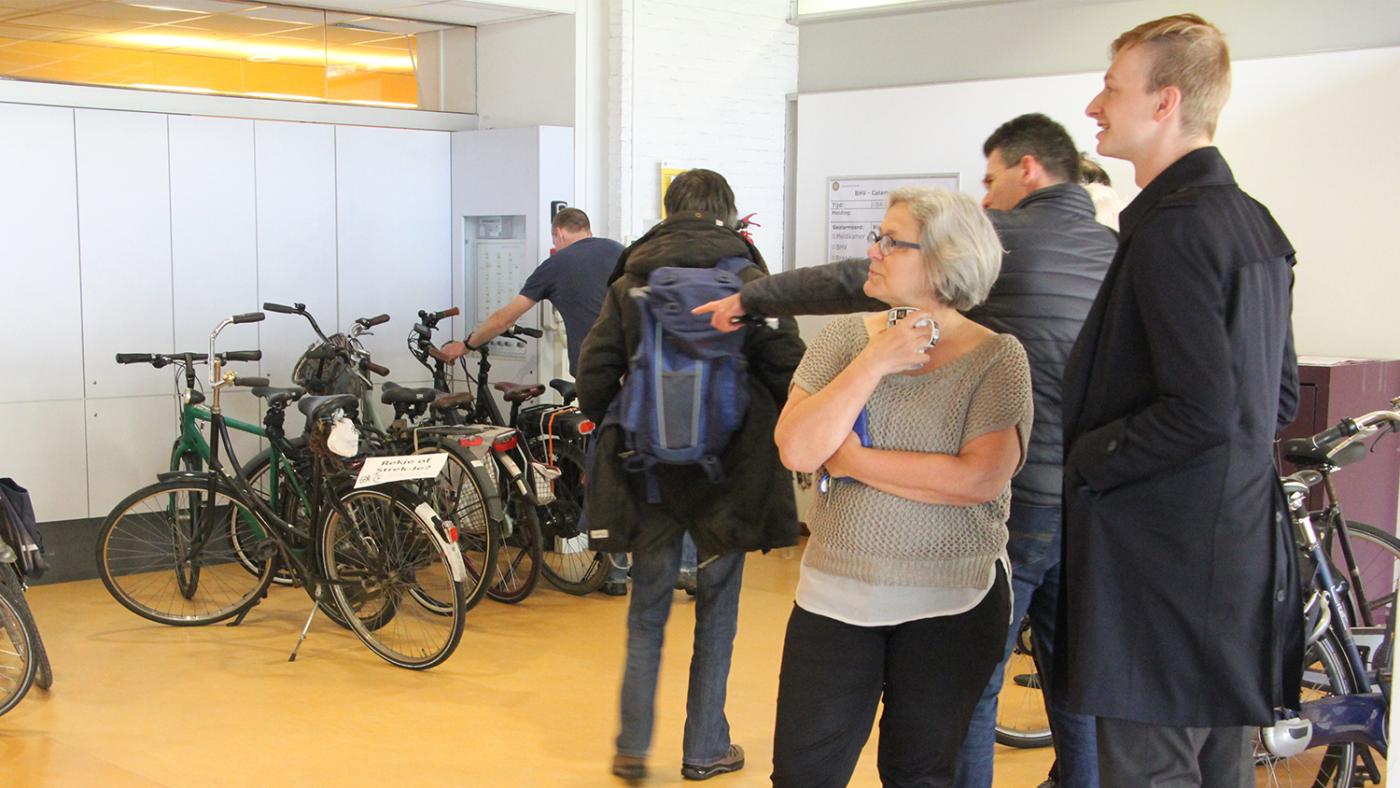 At 8:45 the first bikes were parked in de hallway. Foto's DUB
On Thursday morning, employees of the science faculty decided not to park their bikes in a bike shed, but in the hallway of the Buys Ballot building. At 9 AM, the hallway is filled with twenty bicycles. Department head of Housing & OSHA of the faculty, Ronald Oosting, looks on as more and more protesters park their bikes in the hallway. He's not taking action against the protest. "It reminds me of a high school protest."
Early this month, employees at the Faculty of Science suddenly had to deal with the fact that their secured bike shed in front of the Buys Ballot educational building was being torn down. Their bikes now have to be parked in the large bike shed at the Koningsberger building, which doesn't have a secured area: an area that you can only enter with a staff pass (an XS-card).
The employees felt blindsided by the sudden decision. The plans were not only poorly communicated, but employees saw it as the umptieth 'bad' decision taken in a short time and one in a long list of decisions that weren't communicate properly. "Closing the reception blindsided us too," protestor and member of the University Council Joke Daemen says. Many employees are left wondering where to park their more expensive bikes.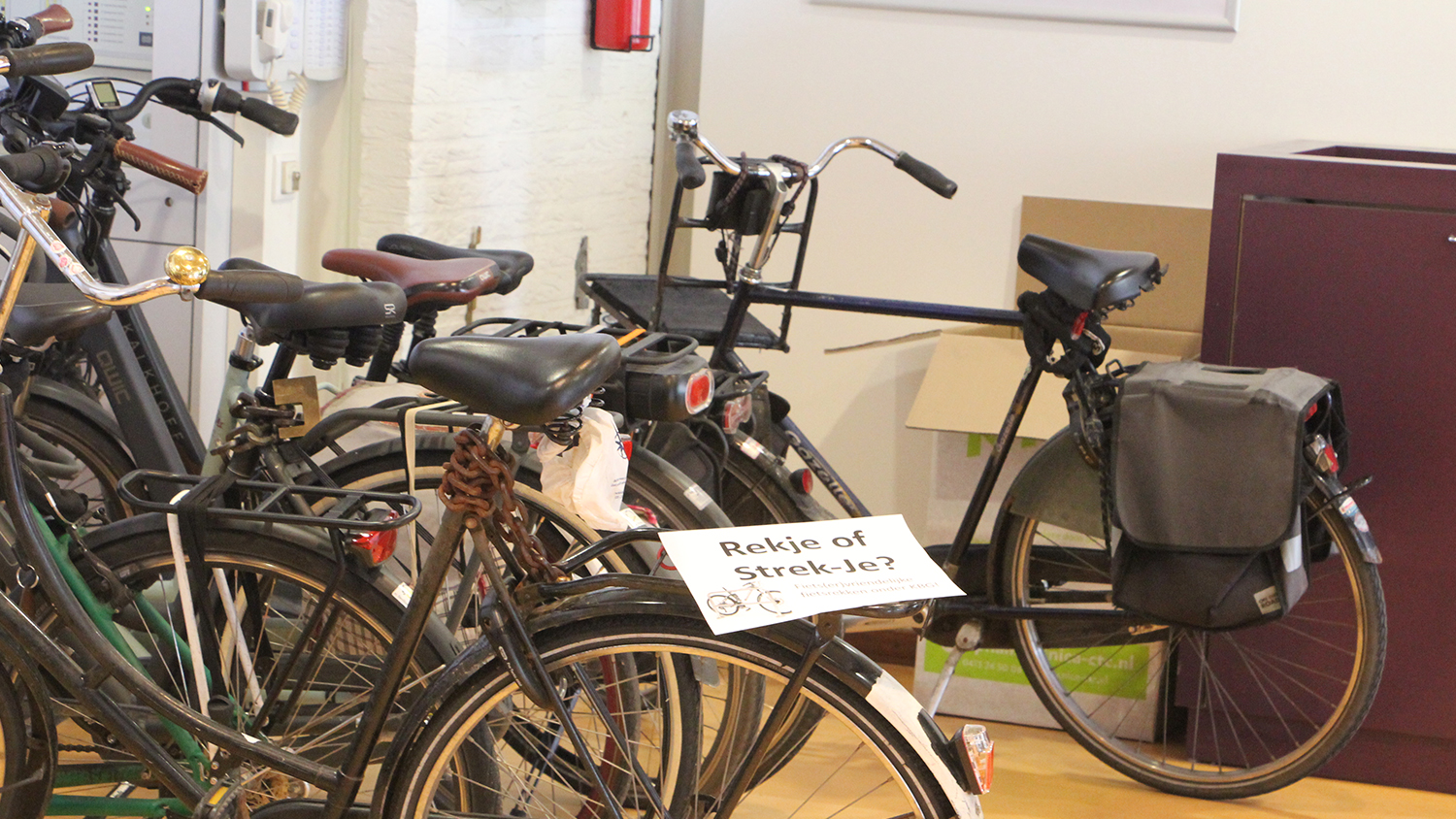 Real Estate & Campus presented a solution last week. Part of the Koningsberger building's bike shed will be reserved for staff, and will be outfitted with a door that can only be opened with an employee's XS-card. The room will house up to 150 bikes, and also has space for the bikes of different sizes, such as recumbent bikes, and bicycles with cargo crates or children's seats.
A fair enough solution, the protesters say, but one that inevitably comes with its disadvantages. The new employees' bike shed will only be finished in three months' time, to name the most important one. Until then, twenty additional spaces have been freed in the secured shed of the Freudenthal building – not nearly enough, according to the protesters. "Well, with the twenty that can fit in this hallway, we might be getting somewhere," protester Heleen Verhage laughs. She's afraid that if she's ever a little bit later at work, she'll have to park her bike in the top rack of the double-decked bike rack at the Koningsberger building. "I have a fairly heavy bike, and I'm afraid that, being rather frail myself, I'm never going to get my bike up there."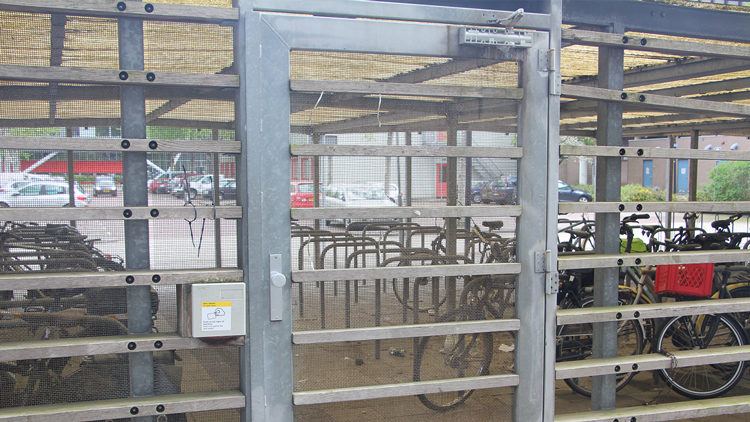 The secured bike shed looks from this side secure, but at the other side the wall already has been demolished. The intention is to repair this shed until a new secured one is being built at the Koningsberger building.
There is another secured bike shed in front of the Buys Ballot building, but it's only accessible to employees of the research institution SRON. The protesters jealously look at the half-empty shed they're not allowed to use. Right next to it, there's the remains of their own bike shed, of which parts have since been demolished.
Department head of Housing & OSHA of the faculty, Ronald Oosting, hopes he'll be able to calm some nerves of angry colleagues today. "Yesterday, it was decided that the secured part of the old bike shed that has been partially demolished, will be restored as soon as possible. People with an XS-card will be able to park their bicycles there until the secured section at the Koningsberger building parking is ready."
Translation: Indra Spronk