Questions in parliament about exorbitant travel reimbursement for UU president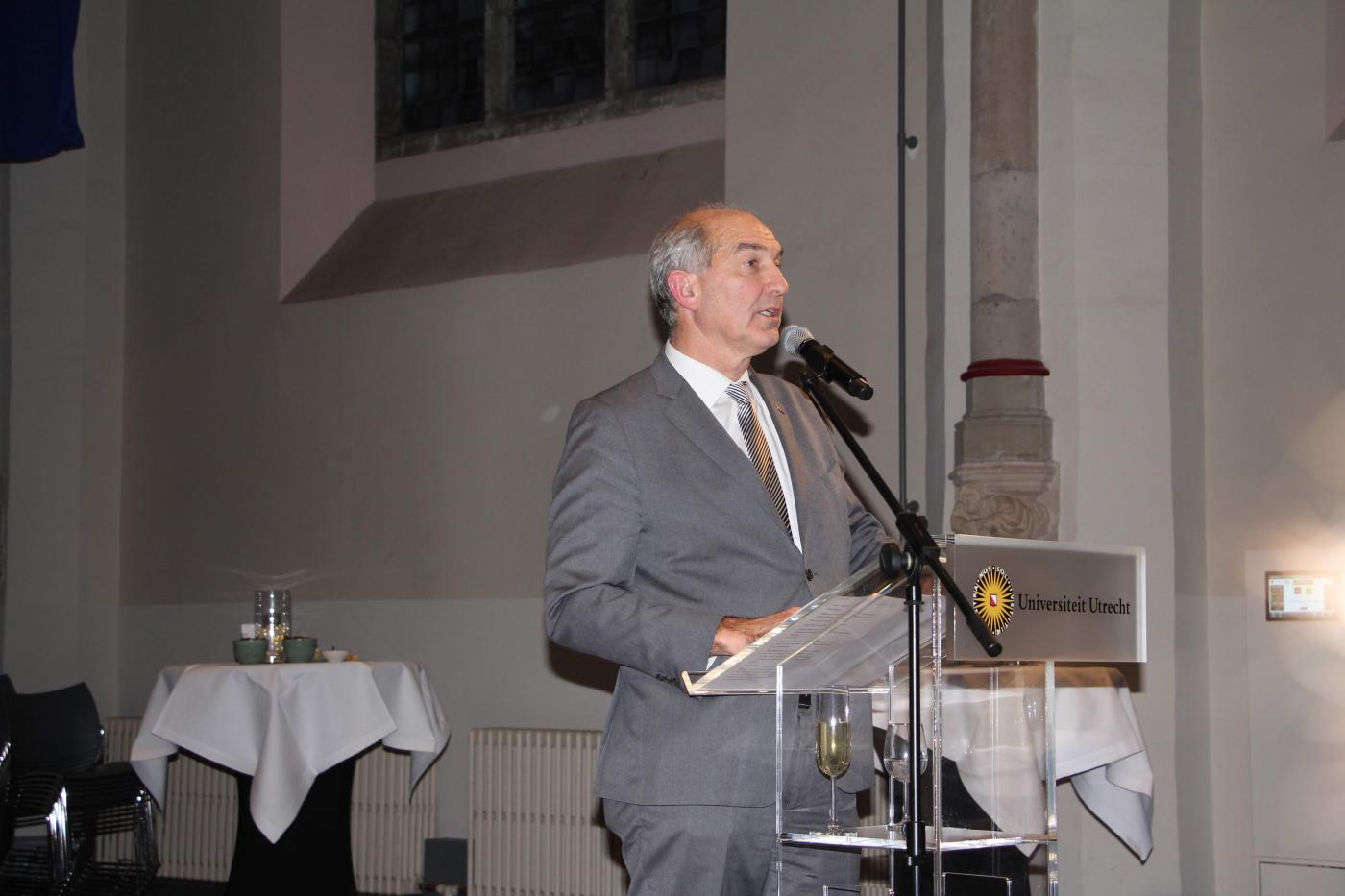 Anton Pijpers verhuist naar Utrecht. Foto DUB
The reason Anton Pijpers has such a high travel allowance is for accounting reasons. In his declaration, parts of the costs of his lease car and the salary costs for his chauffeur are included, as was agreed upon with the Supervisory Board. As Utrecht University had two lease cars in 2018, with two chauffeurs and corresponding salaries, the costs are high – especially compared to those of other university presidents in the Netherlands.
Because Anton Pijpers used the official UU car more frequently than his fellow board members did, he was the one who declared the largest share of the costs. The official car and driver are allowed by the Supervisory Board for work-related travel as well as travelling between home and work. A little over 90 percent of Pijpers' travel costs can be attributed to these salary and lease costs, says UU spokesperson Maarten Post.
Travel reimbursement
Congressman Zinhi Özdil of GroenLinks posted his questions on Twitter, writing that he felt the sum was exorbitantly high, especially in comparison to the travel costs of presidents at other universities. 'The boss of the UU gets a  € 230,000 salary, and on top of that, lets himself be chauffeured for € 124,000 of our tax money. While students, teachers, and PhDs are are stripped bare.'
He says the proportions are wrong. "Did you know that travel reimbursement for regular UU employees is 6 cents a kilometre, up to a maximum of 25 kilometres one-way?" He wants to know whether minister Van Engelshoven is willing to establish a maximum reimbursement for travel allowances of board members.
University council member Floris Boudens of party Vuur says in the Telegraaf that he pointed Pijpers' travel costs out to GroenLinks. He felt the sum was too high to not go public with this, the newspaper writes. "These are public funds we're talking about, that could also be used for research and education!" says Boudens. "Everyone should take responsibility for themselves. Including a president. He could just as easily travel by train."
Other universities
Boudens and Özdil say the travel cost declarations of other university presidents show things could very well be done differently. The two compare Pijpers' 2018 declarations with those of eight other university presidents from 2017. The president of the University of Amsterdam, for instance, is said to have declared only 4,256 euros for travel costs, and the president of Leiden University only 4,832 euros. After Pijpers, the president of the University of Groningen is said to have declared the highest amount for travel reimbursement, at 31,432 euros.
In that comparison, Boudens and Özdil have left out five universities, though: Erasmus University Rotterdam, University of Twente, Maastricht University, and the Open University. If you take these into account, you'll see that the president of the University of Twente is much closer to Pijpers' amount, at 56,809 euros. The travel reimbursements for the presidents at the other four are all below 25,000 euros. Aside from this, it's notable that Boudens and Özdil  compare Pijpers' costs from 2018 to those of other presidents from 2017. If you look at the UU president's travel reimbursement from 2017, the costs are a little lower: in 2017, Pijpers declared 98,247 euros for travelling in the Netherlands.
Lease bike
Party De Vrije Student is offering Anton Pijpers a subscription for a lease bike. Chairman Sebastian Wijnands feels it's unacceptable that president Anton Pijpers, looking at the declarations, receives around 476 euros for domestic travel every single work day. "The universities aren't exactly well off as it is. It's unacceptable that a board member lets himself be picked up at (and brought back) home, eighty kilometres away, by a chauffeur."
The university has already taken a number of measures to lower the domestic travel costs. For one thing, there's only one official car left, and one driver. Anton Pijpers will also be moving to Utrecht this year, which will cause a drastic decrease of his home-to-work travel costs, says spokesperson Maarten Post.
Pijpers' explanation
President Anton Pijpers read an explanation out loud during the university council meeting of April 23. He says he's 'bummed that Utrecht University is in the media in a negative way as a result of my travel reimbursements.' He acknowledges that his travels cost a lot of money, but says it's a part of the agreed upon conditions of employment for board members, and it's a condition for him to be able to properly do his job. He does want to have the debate on whether these expenditures are reasonable, which may lead to new decisions.
Advertisement