Second UU short tracker going to the Winter Olympics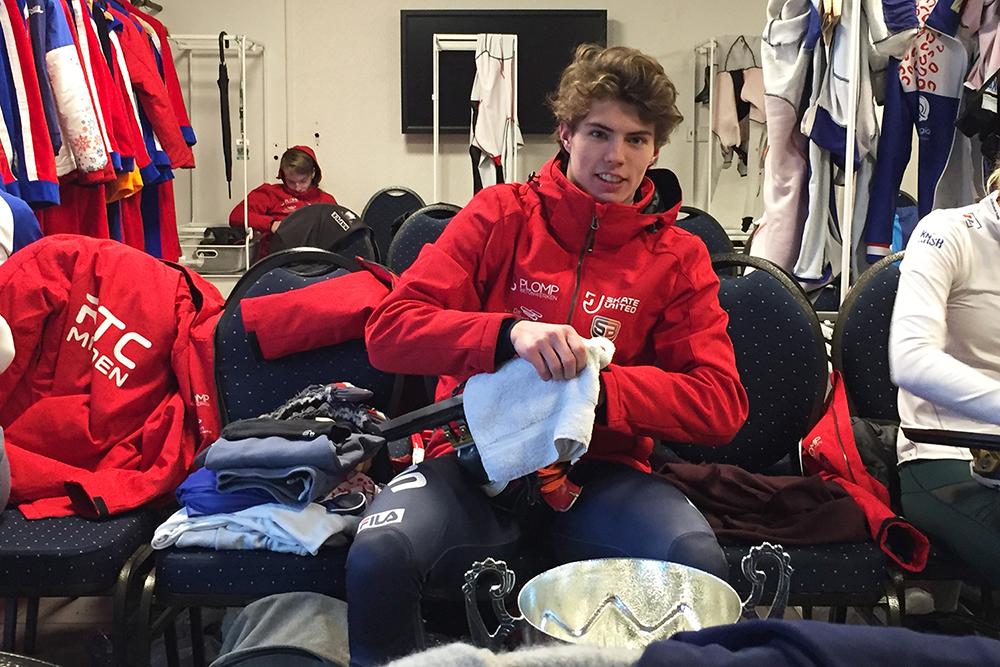 Bram Steenaart while being interviewed by DUB three years ago. Photo: DUB
Last Monday, UU student Bram Steenaart learned that he is going to China to serve as a reserve short tracker for the Dutch team. Although he has to stay outside the Olympic village and probably won't get to compete in a race, the law student is still happy to have been selected, so he tells DUB.
Understandable, as Bram (21) broke his ankle in August and thought he had to put away all his Olympic aspirations. But thanks to a strong Dutch championship earlier this month, during which he claimed the title on the 1000 metres, he will get to join the Olympic team after all.
"Of course I would rather have been one of the five athletes participating for real, but it still feels good to go. I'm sure it will be an amazing experience. I will be allowed to train with the team and hopefully also watch their races. Maybe I'll even get to go to the opening ceremony."
Medal Chances
Selma Poutsma (22) is another UUer getting to make her Olympic debut. The student, who is one of DUB's Promising Fifteen, became the Dutch short track champion for the first time earlier this month. In China, she will be competing in the 500 metres, 1000 metres, and the two relay races (women and mixed). Medal chances are especially high in the women's relay.
Previous UU participants
2002 and 2006 were the only years in which athletes with a UU connection competed in the Winter Olympics. The most famous one is speed skater Carl Verheijen. The Medicine student won bronze on the 10km in Turkey in 2006. In the upcoming Winter Olympics, he will be serving as the chef de mission of the Dutch athletes.
Just like Verheijen, bobsleigher and Veterinary student Jeannette Pennings joined the Olympics in Salt Lake City as well as in Turin. In the last tournament, unfortunately her bobsleigh crashed.
In addition, speed skaters Paulien van Deutekom and Bjorn Nijenhuis were also part of the Dutch delegation in Turin. Van Deutekom studied Educational Sciences in Utrecht and later became an analyst for Dutch public broadcaster NOS. She died of lung cancer in 2019. After his skating career, Nijenhuis studied at Utrecht's University College and completed a Master's in Neuroscience.
The Olympic Games in Beijing start on February 4 and end on February 20.
Read more: Three years ago, DUB visited Poutsma and Steenaart in the Utrecht short track centre. At that time, the Olympics were still a faraway dream.