Students frown upon increased Supervisory Board allowance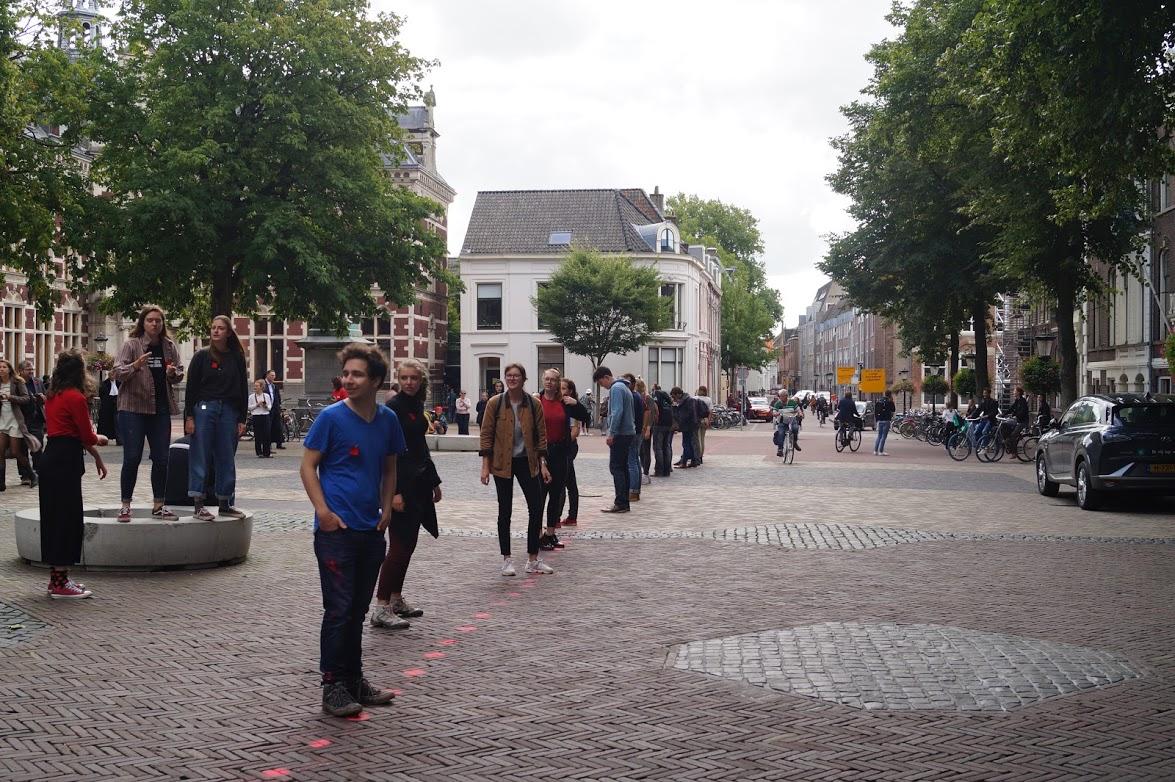 In September, students supported teachers' protest against their high workload by painting a trail of red squares across the city. Photo: DUB
Last spring, the members of the university council were informed that the allowance received by the members of the Supervisory Board will be increased: the president will receive 24,000 euros instead of 15,000 euros per year, while the other four members will see their allowance go from 10,000 euros to 15,000 euros annually.
The Supervisory Board, who is allowed to decide on its own allowance, justified the decision saying that UU's current compensation is lower than what is offered in other universities. The members of the Supervisory Board are appointed by the Dutch Minister of Education, Culture and Science for a four-year term.
In a letter to the Supervisory Board, the student members of the University Council expressed their disapproval of the adjustment, calling the increase "morally indefensible", especially considering the coronavirus crisis. Therefore, they ask the Supervisory Board to reconsider their decision.
Drafted by student members Job van den Broek and Jesse Wijlhuizen, from the previous University Council, the letter wasn't sent earlier due to a misunderstanding. The request should have been sent in July, following a conversation between the Supervisory Board and a delegation of the University Council. However, the student groups in the current council decided last month to send the letter (in Dutch, link requires your Solis ID) to the Supervisory Board anyway.
Exemplary function
In the letter, students Van den Broek and Wijlhuizen are quite harsh. They stress the exemplary role supervisors and Executive Board members play in the (semi-)public sector, and refer to the heated discussion regarding UU President Anton Pijpers' transportation costs. In summary, the two students have a hard time understanding why the allowance is being increased at a time when students and teachers are suffering the consequences of the coronavirus crisis.
"In the midst of a crisis of unprecedented proportions, in which lecturers are working unpaid overtime to keep education going, young people are becoming massively unemployed and facing educational delays, and in which government finances are taking a huge hit, the UU Supervisory Board is deciding to increase its own allowance by 60 percent", they wrote.
No salvation
The employee members of the University Council agree that the timing of the announcement was unfortunate, according to Chairman Wim de Smidt. But the members saw little point in presenting the same objection to the Supervisory Board again, considering the new allowance falls within the legal framework.
In an interview with DUB in November, the chair of the Supervisory Board, Joanne Kellerman, responded to the criticism. According to her, there are good arguments supporting the increase. "There will always be comments about it. Is that enough reason not to do it, then? The decision was made long before the corona crisis. The timing was unfortunate because the announcement came exactly when the crisis started".