Study associations' intro parties and camps to take place after all; UIT expanded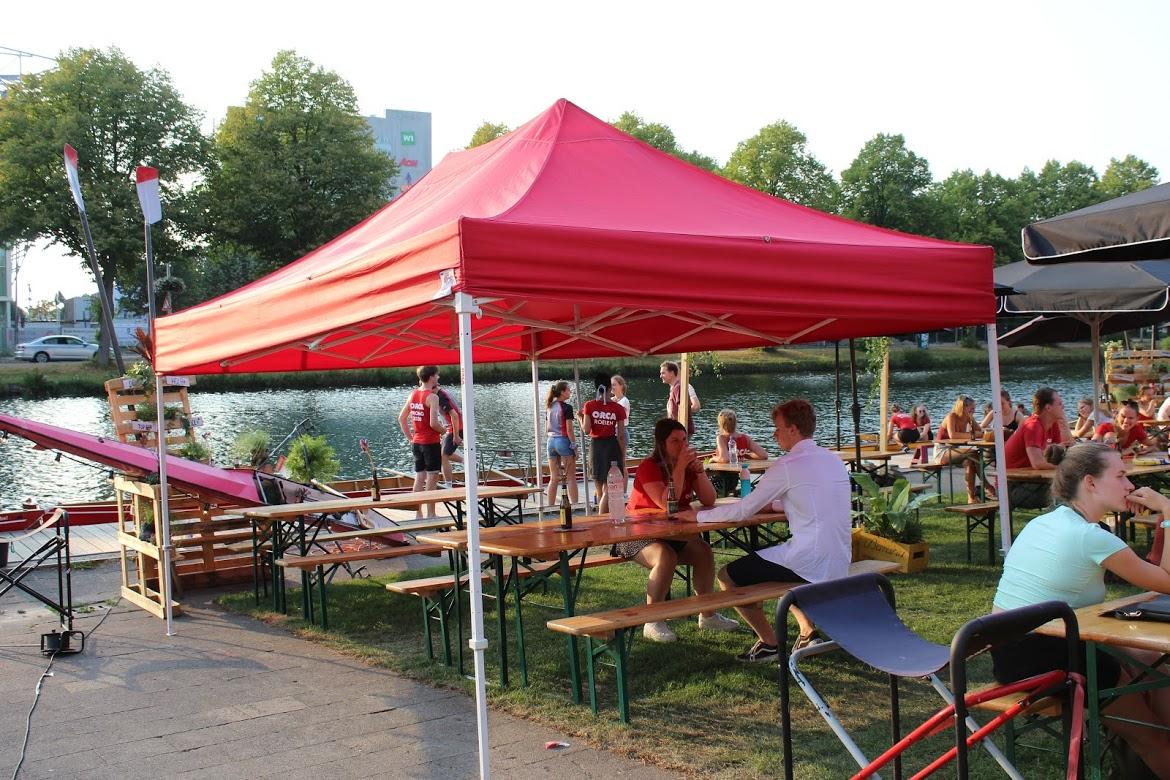 The introduction event of rowing association Orca followed the one-and-a-half-metre rule last year. Photo: DUB
Early last month, study and sports associations responded with anger to the decision to ban intro parties and camps. Around fifty associations co-wrote a letter to voice their dissatisfaction with this strict approach, considering the Covid-19 situation is developing in the right direction.
Late last week, they received positive news from the university. The Executive Board has adjusted its stance after receiving a new letter from the Minister of Education, Ingrid van Engelshoven. The letter was sent to the institutions after the press conference of June 19, in which national relaxations of the Covid regulations were announced.
In the letter, Van Engelshoven says she doesn't want to make a decision regarding the relaxation of the 1.5-metre rule in higher education. She'll do so on August 13. But the organisation of social activities like introduction camps is allowed, as long as distance is kept between attendees and possible other restrictions like maximum group size are adhered to as well. 
Following national policy
UU now writes that it's only following the national guidelines, so it now can allow study associations' camps. At the same time, the university does point out the large responsibility the associations have in organising these events. Parties and camps need to be organised in close coordination with the accommodations' owners and, if necessary, the municipalities involved.
"In the new situation that's in effect as of June 26, events like these are allowed with a 1.5-metre distance between people, but our advice would be to be restrained in this matter," the Executive Board tells the associations. "Be aware of the complexities of adhering to the Covid regulations during activities, and the responsibility you have as an organisation."
Faith in the boards
Stan Liebrand, president of student union Vidius, is happy with UU's change of heart. UU associations are happy too, he says. "The things we objected to have been solved, so our compliments go to UU because of it. The associations' boards can now decide for themselves how to organise their activities, within the boundaries of what's allowed by the government."
Liebrand acknowledges that organising a camp where participants need to keep their distance from each other isn't easy, but he has faith in the boards. "I heard, for instance, of one association that's going to create groups of members who will also sleep in a room together at night. Most of the activities they're planning are outdoors."
Director of student affairs Marieke de Bakker doesn't think UU's initial decision was rash or premature decision. "The previous decision was made based on the government's Covid regulations and the information we had at the time. We're in a pandemic and things can change quickly – they still can, as the GGD public health services often warns."
HU sticks to its ban
Remarkably, the Utrecht University of Applied Sciences (HU) is maintaining its ban of intro activities for study associations. Liebrand says HU has stated it will not change its previous decision. "There's a lot of dissatisfaction amongst the study associations of that school. We don't really understand it either, and would like to meet the HU to talk about this."
The minister's letter also mentions that organisers may, under strict conditions, request permission for events with 'test to enter' rules, where attendees don't need to keep their distance from each other. Marieke de Bakker doesn't expect this to be applicable to the activities of study associations, but will perhaps be relevant for the activities of large student associations, as well as UIT.
Advertisement