Method is being put into question
SustainaBul: UU gets mediocre score once again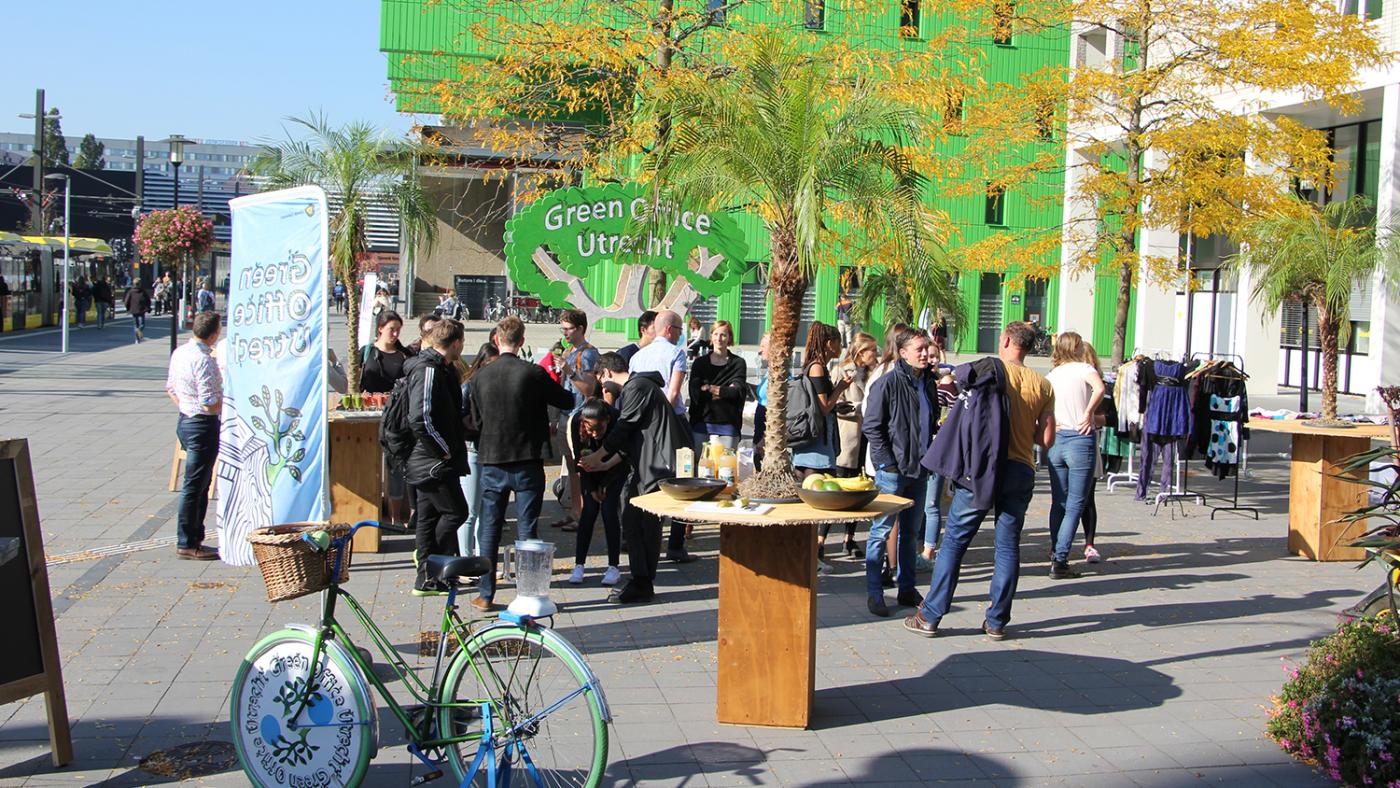 UU's Green Office promotes sustainability at the university. Photo: DUB
Since 2012, a group called Students for Tomorrow publishes a yearly list called SustainaBul, in which universities and universities of applied sciences are ranked according to how sustainable their educational activities, research and business operations are. Special initiatives and best practices are taken into account as well. The institutions in question do not participate willingly in this.
The ranking does not consider the collaborations between the institutions and the fossil fuel industry, which is the main complaint activists have in the recent occupations of university buildings. But maybe they will start doing that next year, according to Floris de Boer, who is part of Students for Tomorrow.
There have been two additions to this year's methodology. Students for Tomorrow is now also looking into universities' policies in terms of biodiversity and whether the institutions have chosen for sustainable banks and insurance companies. The two new criteria were adopted in consultation with the protest group Scientists 4 Future.
To make the list, the students first take a look at the information they can find on their own. After that, they ask universities to react to their questions. The definitive order is only defined after the institutions reply.
UU's mediocre score
Utrecht University has been getting a bad position on this list for a few years already. Last year, UU appeared on the 22nd spot, which is remarkably low for an institution that names sustainability as one of its top priorities in research, education and business operations. In the ranking, UU's research is not ranked very high. They also state that UU does not have any best practices.
Reacting to these results, UU reveals that it talked to the organisation behind the ranking a few years ago because it does not agree with the methods used. "SustainaBul bases its ranking on what we publish about sustainability on UU's website. We think that's a questionable method since it's not about our efforts in terms of sustainability but rather about the way we communicate about them," UU's Sustainability Office states. 
SustainaBul's organisers stress that the institutions do get the chance to give feedback and provide more information after the first inventory. Since UU does not agree with the methodology, the university stopped collaborating with this phase of the research.
This doesn't keep the Sustainability Office from acknowledging that UU's communication about sustainability has not been prioritised or given enough attention these past few years. One of the things the office is working on is the 2022 Sustainability Monitor, set to be published in July. This document will show which of UU's departments have been progressing when it comes to sustainability. 
A special prize for best practices
This is the third time that Van Hall Larenstein gets the first place. The university of applied sciences, which is based in Leeuwarden and Velp, also won in 2020 and 2022. Wageningen University, which won for the last time in 2021, won the award six times in total. This year, they dropped to sixth place.
The special prize for best practices was scored by Vrije Universiteit Amsterdam (VU) thanks to the project co2assistent, in which Medicine students suggest ways to make their programme more sustainable. For example, they looked into ways to reuse medicines and packaging materials. 
Groene Peper
The prize was announced last week, during Groene Peper, a festival dedicated to sustainability and education.