'Teach PhD students how to teach'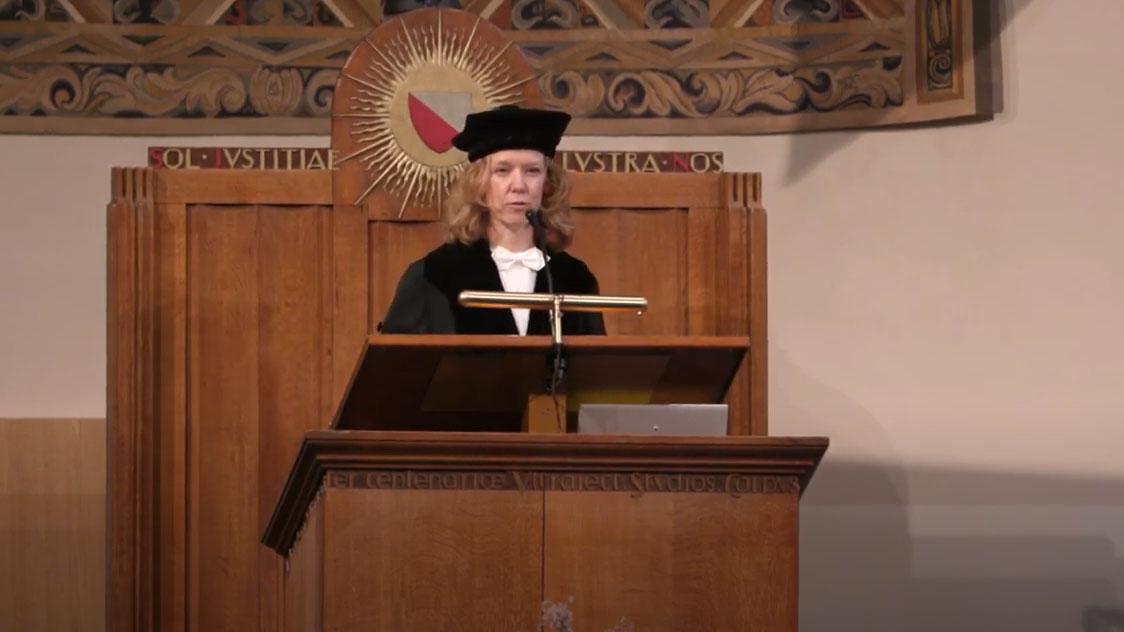 Leoniek Wijngaards -de Meij during her speech. Photo: DUB
"Receiving an education award is the kiss of death of your career". Leoniek Wijngaards – de Meij heard that during a visit to University College London, whose manager believes that such an award means you don't have your priorities – in other words, your research – in order.
Her speech totally opposed that point of view. "How can it be that scientists who spend more than half their time on education are not acknowledged and rewarded for that?" According to her, universities are the ones who should make a considerable contribution to social challenges, through their students.
First professor through the Senior Fellow programme
Since 2010, Wijngaards -de Meij serves as professor of Data Use for Innovation in Higher Education, combining teaching with research into higher education. In addition, she is the vice dean of education at the Faculty of Social Sciences. Wijngaards - de Meij is the first person to become professor at the Centre of Academic Teaching through the Senior Fellow programme. This trajectory offers scientists the chance to examine an aspect of higher education. It's also a way for UU to strengthen appreciation for education.
And the latter is necessary, Wijngaards- de Meij notes. "The attention for professionalisation of the teacher is still minimal", she said. The problem already starts with the PhD student, who spends 90 percent of the time on research and doesn't learn how to teach. "Still,  the doctorate is enough to get a permanent position at the university, which means the brand new doctor of science will be spending at least 50 percent of their time on teaching." For teachers, there are trajectories for basic and senior qualification education. But if UU seriously wants to professionalize teachers, that's not enough.
Educational innovation
And why would universities want teachers to be truly professionalised? Wijngaards- de Meij argues that professionalisation is necessary for educational innovation. At UU, there's a growing interest in Community Engaged Learning (education that focuses on a social problem) and interdisciplinary education. In order to properly integrate these themes into education, Wijngaards- de Meij defends that each teacher, coordinator, educational director, and board member should think about this and respond accordingly.
To innovate in education, the use of data also plays a vital role. According to the professor, teachers, coordinators, and board members should get more access to both quantitative and qualitive data so they can make better choices. As an example, she mentions the strict admission requirements for propaedeutic students at HBO level (university of applied sciences of hoogschool), which were changed when research showed that they did (almost) as well as university-level students in many programmes. The policy was based on the assumption that HBO students would score worse.
Diversity in influx
Wijngaards -de Meij herself has performed research into the accessibility of higher education. How can it be that students with a migrant background are less likely to go to university and how could the barriers be reduced? She performed research on this topic at secondary schools, but also set up a monitor to map out the diversity in the influx and progression of bachelors. That way, possible thresholds for prospective students can be mapped out and eliminated together with the study programmes.
The complete speech can be seen on YouTube and read through her profile page.
Advertisement