Tense times for Parnassos and Olympos: 'I don't know how long we can keep this up'.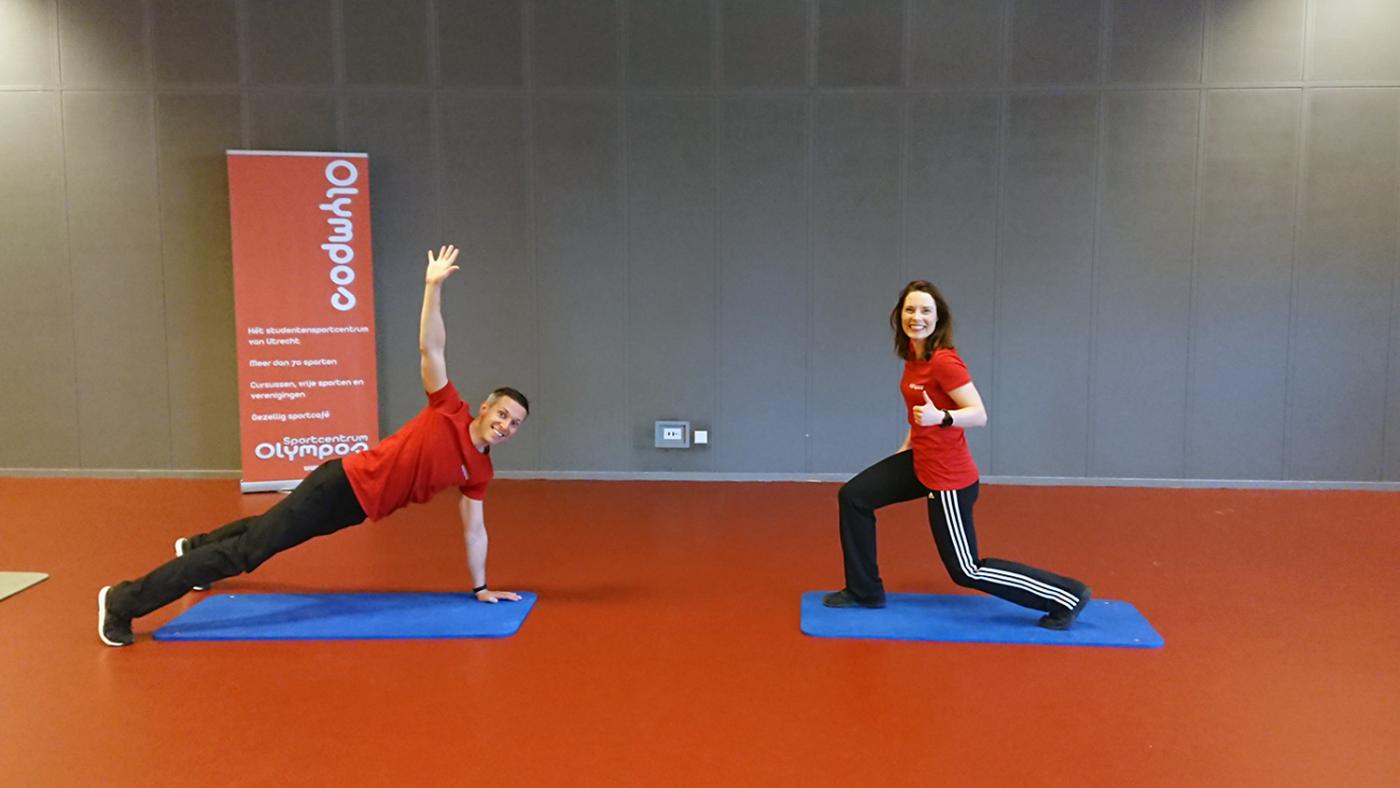 Online fitness training with Olympos
Olympos was not prepared for this, says director Cees Verhoef. On 15 March, the cabinet announced that gyms and the hospitality industry would have to close that same evening as a measure to contain the coronavirus. Verhoef and the sports instructors wanted to let themselves be heard, so from the following week the instructors made videos with short home workouts. As long as Olympos in De Uithof is closed, they will post a workout every day on the sports centre's YouTube channel and Facebook and Twitter pages. The doors of the sports centre must be kept closed at least until 28 April. The cabinet will decide on 21 April whether this lockdown will be extended or not.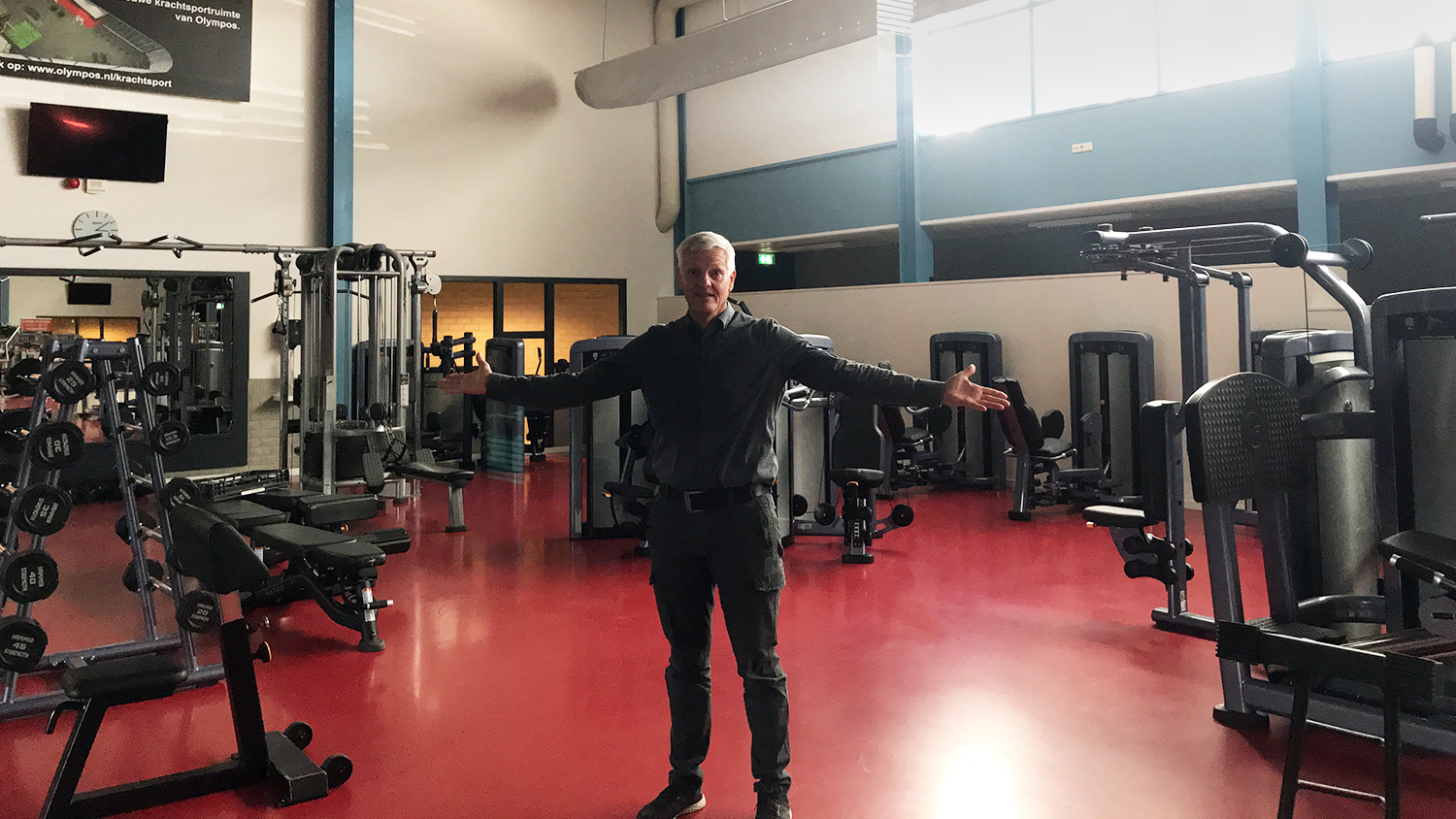 The coming weeks or months will be a tense time for Verhoef. The Utrecht student sports foundation Mesa Cosa, which includes Olympos, receives subsidies from the university, the university of applied sciences and other universities of applied sciences in the city. But that may not be enough to stay afloat after the corona crisis, he says. "Since we have closed down, no subscriptions have been renewed; so far, seven hundred subscriptions have expired. We need that money to cover all of our costs, such as rent and maintenance."
Almost all sources of income are at a standstill now, says Verhoef. "We have had dozens of emails from students who want their money back as long as the sports centre can't open, most of them are internationals who are now back in their own country. The rental of sports fields and halls has also come to a standstill, and the sports café has no turnover at all right now. We want to be able to put the freelance teachers back to work after the crisis, so we paid them until the beginning of April. I don't know how long we can last without our income. I hope that the Cabinet will be more supportive of sports centres. We can't afford for the corona measures to take months."
He is making use of the 'Noodmaatregel Overbrugging Werkbehoud' (NOW; an emergency measure for bridging work retention), the replacement for reduced working hours during the corona crisis. With the NOW, he can pay up to 90% of the salary of his permanent employees, but, according to Verhoef, this will be much less because Olympos receives a subsidy via Mesa Cosa. For the time being, the foundation has to see how long it can last on its reserves. "But those are not very large. The bad thing is, the only thing we know for certain is that everything is uncertain now".
Parnassos Cultural Centre seems less worried than Olympos. Parnassos is now focusing on the internet as well. The cultural centre on Kruisstraat has to remain closed until 1 June, so all activities have been cancelled. A number of courses will continue and will be completed online, says director Marieke van Merriënboer. "Writing, presenting and acting in front of a camera, for example, can be done through video calls as well. The teachers do have to make extra preparations for this, especially if it concerns a dance lesson, for example. "They have to have room in the house for that now that they can't do it in Parnassos."
In addition, Parnassos puts an 'inspirational ray of hope' on its website and social media pages every day: cultural tips and challenges for at home, like imitating a well-known painting. Viewers are, for example, asked to search for three objects in the house and then take a picture of them so that the result resembles the original. Two communication workers search the internet for these kinds of actions and then pick out the best, according to Van Merriënboer: "Thousands of people come to Parnassos every week, this way we can stay in touch with them".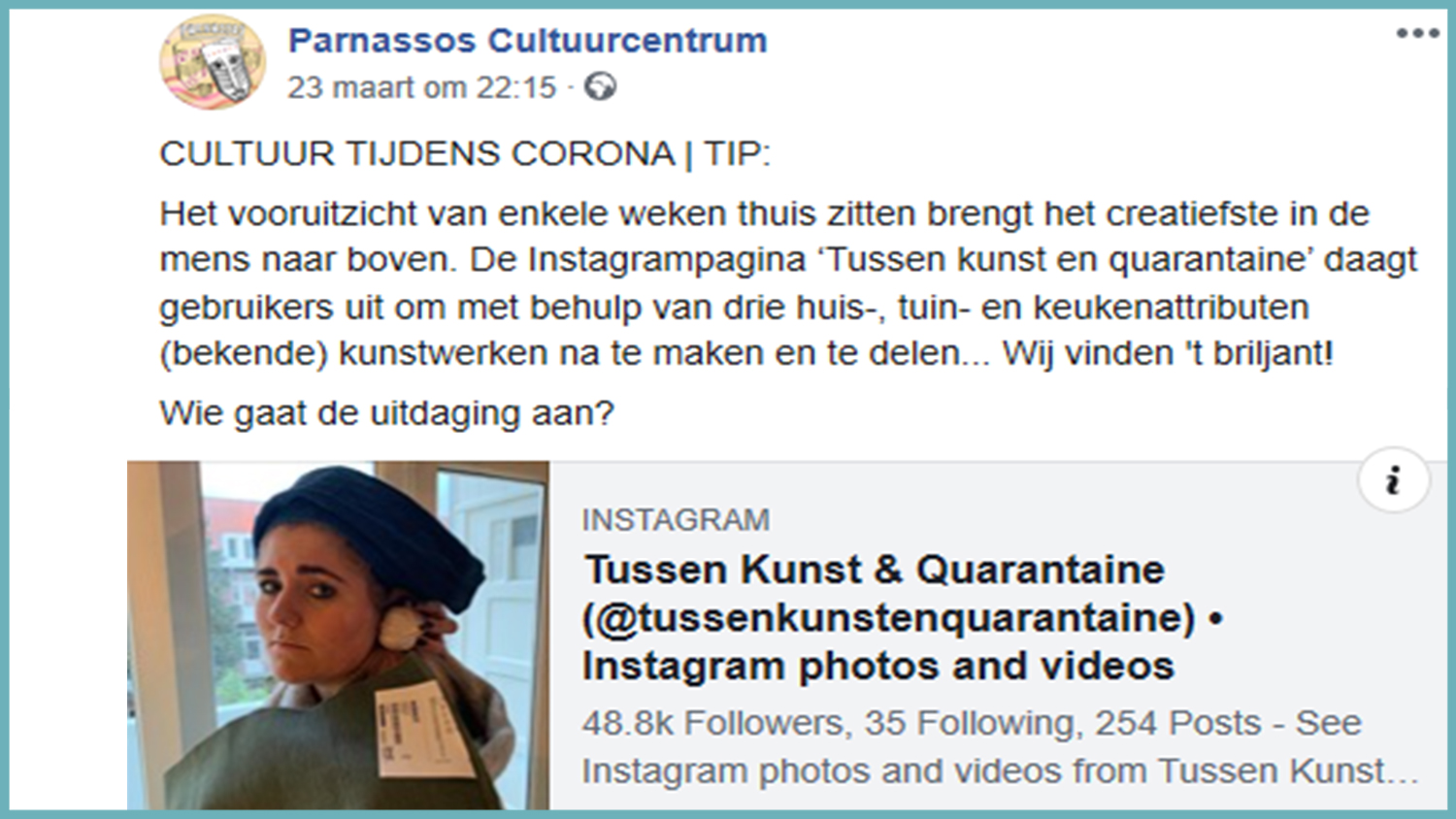 Not many worries
Although Parnassos doesn't earn anything from room hire, workshops or drinks at the bar, Van Merriënboer doesn't worry much. "Because there are also less costs. The agenda is empty, we don't need to buy any new drinks for the bar, and we don't have to pay for teachers who can't give an online course. Many teachers have chosen to keep their classes online and they get paid the same as they get for a course in Parnassos". The new online courses will start on 20 April. The cultural centre has seventy teachers, according to Van Merriënboer; they are all freelancers.
The cultural centre is part of Utrecht University and receives a subsidy from UU. Currently, Parnassos is earning extra money with the online courses. "It's hard to predict where we will be when we can reopen in June or later. But I expect us to be okay, even if things get difficult."
The subscription of students with a Parnassos Year Pass is extended for the period that the cultural centre has to remain closed. According to Van Merriënboer, about five hundred people have such a pass.