Three old acquaintances and one newcomer
These are the food trucks you'll find at the Science Park as of April 1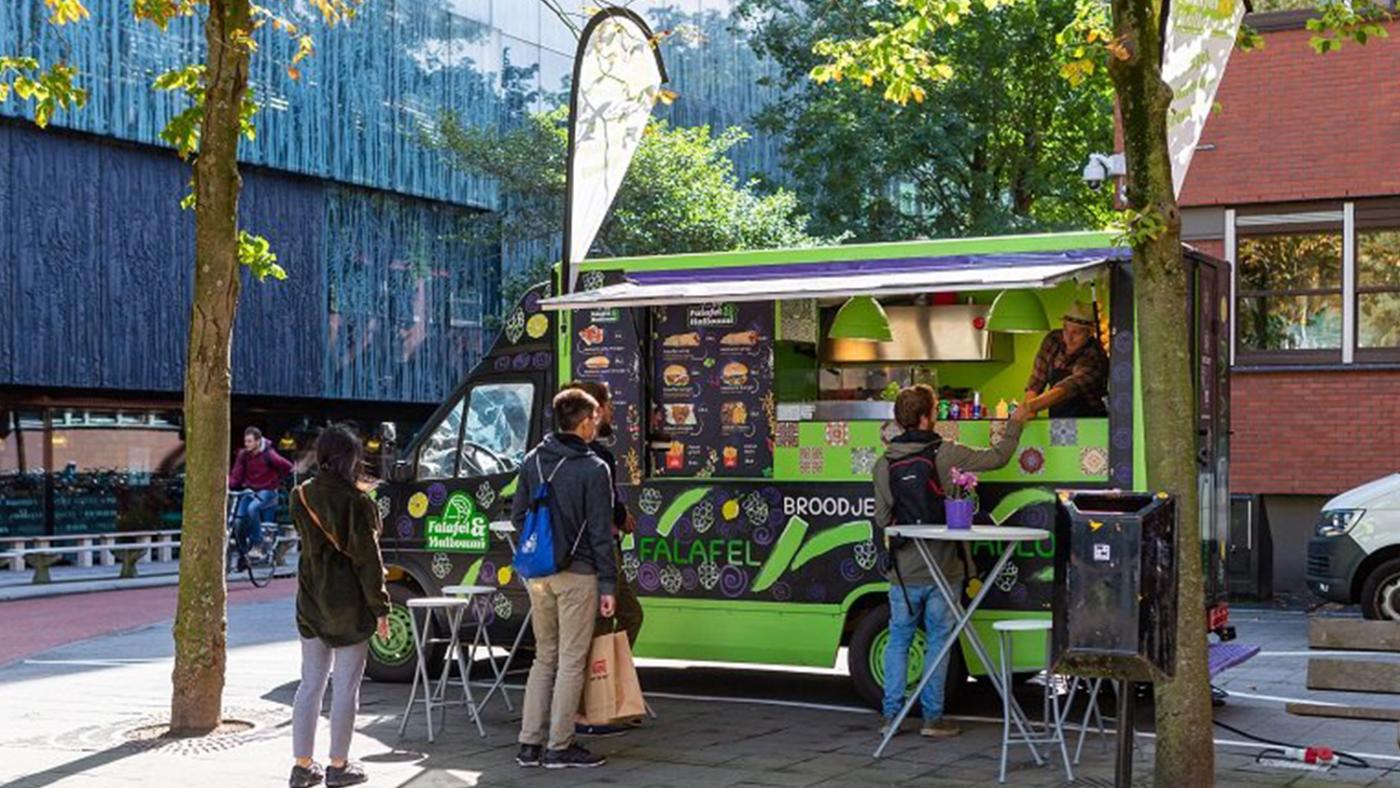 Falafel & Halloumi. Photo: DUB
Good news for Broodje Ben, Mo & Zonen and Falafel & Halloumi lovers. All three food trucks will get to keep their spots at the Science Park. The number of votes got by each food truck was not revealed. The only newcomer will be Last Vegas, a plant-based snack bar that already has a restaurant on Korte Jansstraat street and will thus expand to De Uithof in April.
Last Vegas will be replacing the french fries truck Tour de la Frite, which was not among the food trucks mentioned in the poll, so it was set to leave the campus anyway. Respondents could also vote for the Vietnamese restaurant Hoi Anh and the Surinamese truck EetHut, but these two concepts proved less popular than the other options.
As in past years, the four winners will rotate along four spots around Heidelberg Avenue. The current schedule will be maintained until March 31.
Nerve-wracking weeks
All eligible food truck concepts had to go through a selection process ahead of the poll. A judging team consisting of students and staff members verified the extent to which the entrepreneurs are committed to sustainability and corporate social responsibility. It was only in December that the candidates heard whether their food trucks would end up in the poll, which ran from January 9 to January 15.
An anxiety-inducing wait for Mo Korkmaz, the owner of Mo & Sons, who told DUB that he "would rather not think about what would happen" if his food truck did not get enough votes. As to be expected, he is "thrilled" about the results. "We will celebrate next week." but, most of all, Mo is grateful. "I want to thank all the great people for their support and votes, especially my colleagues from Pizzeria Tricolore, Eat Out and Spar, who promoted me. You guys are amazing! We are going to have some wonderful years together!"
Eid Alhadad, from Falafel & Halloumi, found the waiting nerve-wracking too. "But, fortunately, we got some good news and we will celebrate the result with our colleagues." He is excited to hear that Falafel & Halloumi has so many fans.
Advertisement