Utrecht protests to call for increased supply of affordable student housing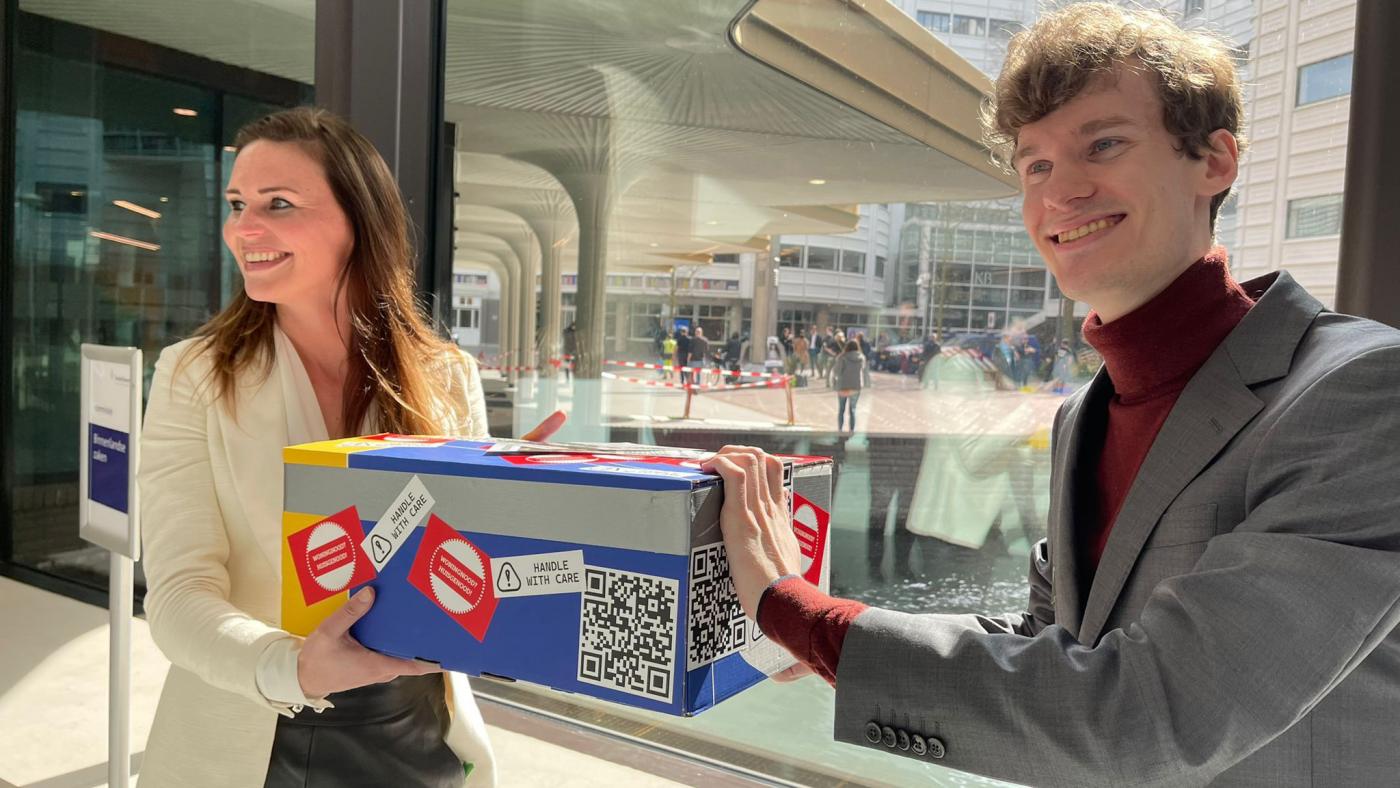 Tino van Rossum, from Boks (on the right) gives a moving box full of student stuff to MP Kiki Hagen. Photo: courtesy of SSH.
Fewer and fewer students in the Netherlands are getting the chance to live in a traditional student house where they share facilities with a number of roommates. Currently, the waiting time for an SSH room is approximately three years and that is bound to become even longer, as according to recent estimates, the shortage of rooms is set to increase to 50,000. 
Some 80 per cent of higher education students are paying too much rent for rooms on the private market. As a result, an increasing number of students will soon not be able to find an affordable room during their studies, which is an important part of university life. By sharing a home with others, students tend to feel less lonely because there is always someone around to talk to or have fun with. In addition, this teaches them to coexist with others and be more tolerant, not to mention it exposes them to other habits, cultures, norms, values, and points of view.
Looking to remind the members of parliament of the importance of student housing, eight organisations travelled to The Hague last week to offer them a symbolic moving box full of student stuff. "Student life is inextricably linked to rooms, not studios", explains Tino van Rossum of student tenant organisation BoKS. 
Housing shortage, roommate shortage
Alongside BoKS, student housing provider SSH, Utrecht University, the Utrecht University of Applied Sciences, the municipality of Utrecht, the HKU University of the Arts, the Central Netherlands Regional Education and Training Centre, Vidius, and MBO Utrecht endorse the campaign under the slogan Woningnood, Huisgenood (which translates as 'Housing shortage, roommate shortage', Ed).
They proposed two solutions to the politicians, both of which need to be implemented if the plan is to succeed. The first one is changing the points system used to calculate the rent and the second one is changing the rules surrounding the housing allowance (huurtoeslag) so that tenants who rent a room in a house are also entitled to it.
More student complexes
In the Netherlands, a point system is used to determine the maximum amount of rent one can charge for social housing. Studios score high in that system because they are equipped with a private kitchen and bathroom. Yet the building costs are only marginally higher for a studio, according to the campaigners, which is why project developers prefer to build studios nowadays.
They can charge the maximum rent allowed for those studios because they know the tenants can apply for housing allowance. As a result, students only pay slightly more for a studio apartment than for a room in a shared house, not to mention the rule makes it unattractive for developers to build new student complexes. SSH Director Ron Donninger mentioned this problem in an interview with DUB published in 2019.
Housing allowance for students renting rooms
A new points system should factor in the age of a property, its sustainability and its location as these factors are currently not taken into account. This way, the prices for older student complexes would drop somewhat, making new rooms more expensive. The prices of rooms and studios would come closer together, thus encouraging housing cooperatives and project developers to build student complexes.
However, this will only work if the second solution is implemented as well. Most of those renting studio apartments can currently apply for housing allowance (huurtoeslag) whereas students who rent one of the rooms in a house cannot. Therefore, the proposal also suggests making the allowance available to all students up to the age of 28. Students who move into a new, more expensive room can then compensate for the higher rent by applying for a housing allowance. This way, the rooms in those new student complexes would still be affordable.
Advertisement