Declaration of intent signed
Utrecht student organisations want to tackle inappropriate behaviour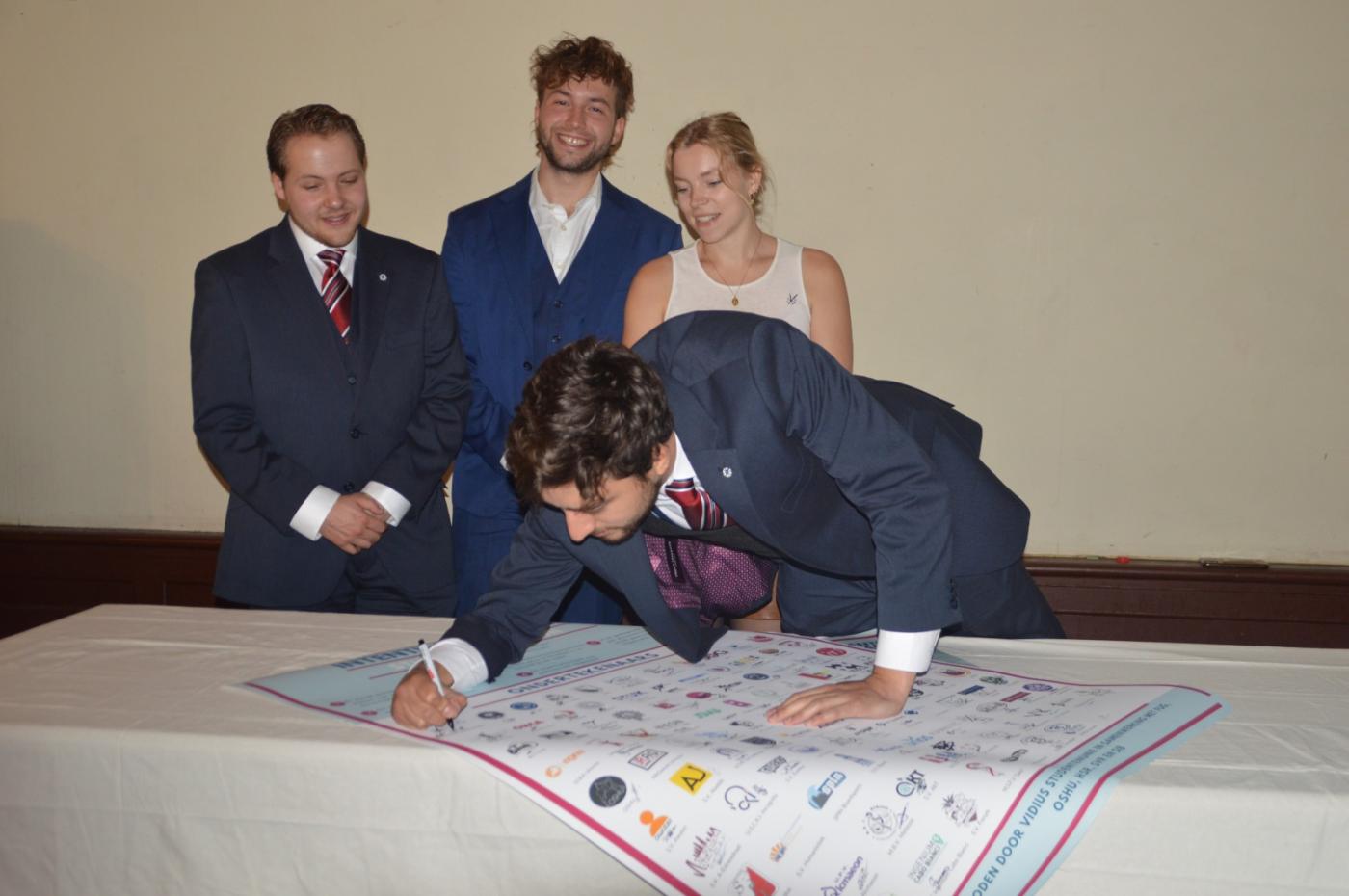 Photo: courtesy of UVSV. Pictured: Vidius secretary Kaj Meijboom and former Vidius member Melanie Pieper. Chair Yason Sinout signs the letter of intent.
With this document, student union Vidius aims "to make sure members feel safe within the associations" and "to improve the wellbeing of its members'. The 107 study, student and sports associations have pledged to work on the points addressed by the document. They signed the declaration of intent (document available in Dutch only) last Thursday, September 22, at UVSV's building.
The document states that students should be able to bring uncomfortable or unpleasant experiences up. "A safe association is an association where people are not just talking, but also listening". But how can the associations make sure that people are more open to having these types of conversations? The document suggests a compulsory presentation for first-year students or a course on how to react if you witness an abusive situation.
Code of conduct
Additionally, students should be able to contact a confidential advisor within the association. If the association does not have such a person, students must be able to rely on an advisor from an umbrella organisation or another affiliated institute.
Finally, student organisations must have a code of conduct that explicitly states that abusive behaviour will not be tolerated.
Student wellbeing
In this way, Vidius and the student associations are looking to tackle inappropriate behaviours (of a sexual nature or not). The statement of intent was inspired by a report published by Amnesty International in 2021, which showed that one in ten female students in the Netherlands is raped during their studies. One percent of male students go through the same. 
The measures must protect students against sexual misconduct, bullying, aggressiveness, and drugging, among other intolerable behaviours. "Not feeling safe can have a negative impact on a student's mental health. In other words: an environment free of abuse is intrinsically connected to students' mental health. Safeguarding means safeguarding the other," according to Vidius' vice-chair Marik Eijgenstein and former board member Melanie Pieper.
Safe base
Vidius stresses that this statement of intent does not intend to forbid associations from hazing or prevent them from getting drunk. All the student union wants to do is establish a "safe base" the associations can rely on "when something goes wrong". Moreover, the statement of intent is not binding. If the associations end up not doing what the document says, there will be no consequences.
This is not the first time that the student associations of Utrecht have manifested the intention to tackle inappropriate behaviours. Last year, Vidius had 58 associations sign the same declaration of intent. This new round gives the associations that didn't join last year the opportunity to do so. As for the ones who already had signed the document, the new boards could reinstate the intent.
Advertisement