UU speed dating: an event for UU's singles ready to mingle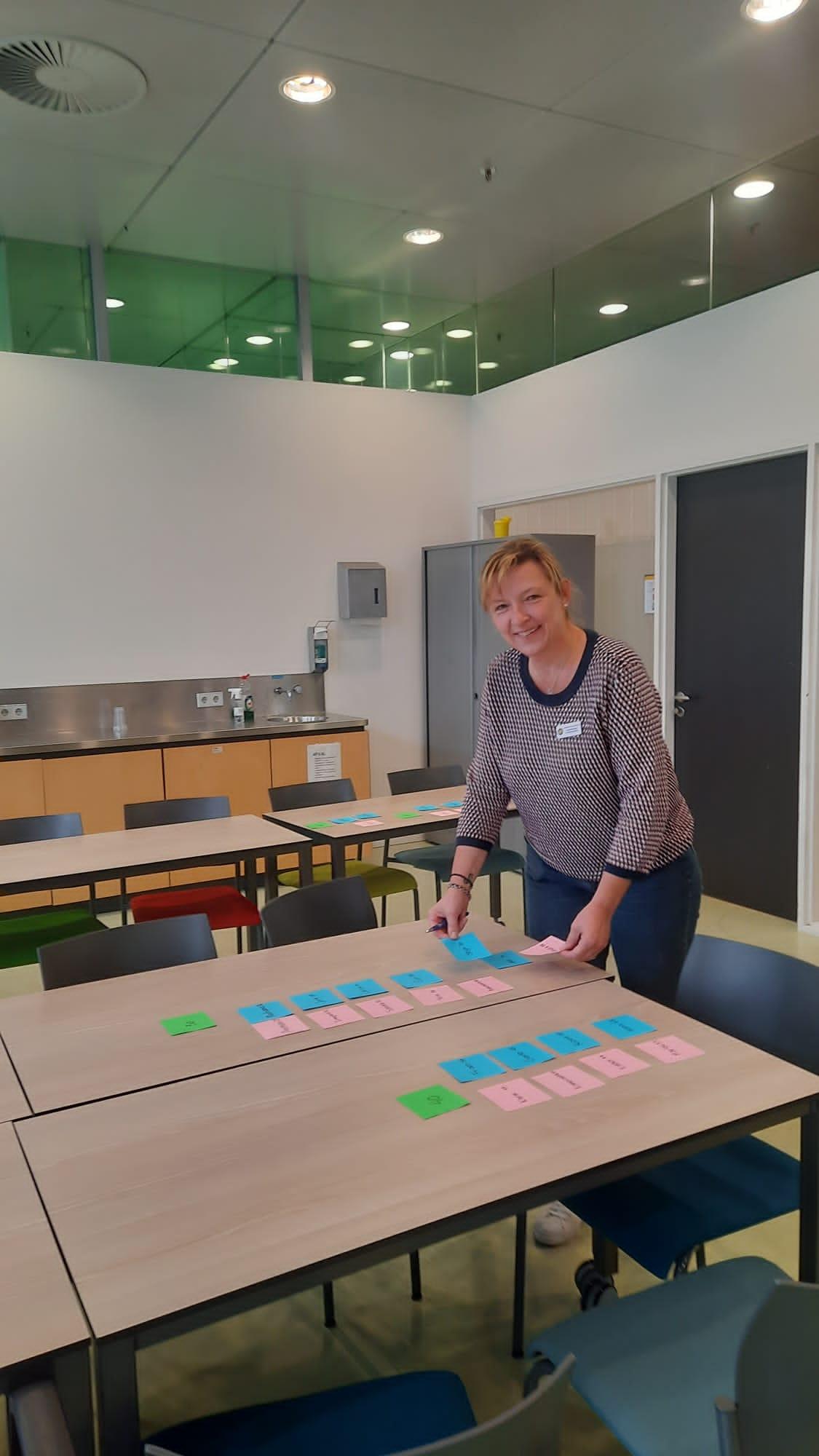 Angela Wisman preparing the room for the speed dating event. Photo: courtesy of the organisers.
Nowadays, love at first sight with someone you met at the pub or on the street seems rare. The Covid-19 pandemic didn't help, either. Singles swipe and chat for hours on end on dating apps and websites, but are less and less likely to ask out the people they come across in real life, according to Wisman. Fed up with this situation, she and a colleague put into practice an idea they had been talking about for a while: a speed dating event for students and staff of Utrecht University.
The two organizers have plenty of experience with dating websites, but unfortunately most of them are negative. Chatting for a long time does not necessarily mean you're going to have a date, not to mention that maintaining an account can be expensive. Why would you keep putting yourself into awkward situations when you could meet colleagues or fellow students in real life instead? After all, UU employs 8,000 people and educates 30,000 students. There must be plenty of fun singles in this group, the duo figured.
Let's do it
Wisman and her colleague did not waste any time posting a message on the bulletin board of the online platform for UU staff, Intranet. They also put up posters at the Faculty of Veterinary Medicine and advertised via word of mouth. Participants had to be affiliated with UU to keep the event small, familiar and accessible.
The news quickly spread through the university grapevine. "At some point, it really became the talk of the town." The idea was received with lots of enthusiasm and 23 students and employees of different faculties and departments registered to participate in the initiative. It just so happened that for every participant there was a potential match present.
This last Friday, October 1, the 23 participants took a chance. The speed dating afternoon took place in the Jeannette Donker-Voet building, which belongs to the Faculty of Veterinary Medicine. Angela Wisman and two of her colleagues decorated the tables with flowers and heart-shaped candy. According to the organisers, any awkwardness the participants might have felt while waiting in the queue seemed to fade away in no time.
Before the speed dating could commence, everyone was divided into groups according to their age: early twenties, mid-twenties, thirties (the most well-represented group), and forties and older. Within these age categories, participants were allowed to speak with each date for ten minutes. The organizers ensured that everyone was able to talk to a couple different dates. Anything else was left to the speed daters themselves.
According to Wisman, who received a lot of positive reactions, the event was surprisingly fun. The participants even gave the organisers a chocolate bar as a token of appreciation. All in all, it was a very successful event: there were no awkward silences and everyone spoke to one another.
...And? 
Now, the million-dollar question: were any of the speed dates successful? The organisers had a strategy to figure this out: they asked participants to write the name of their crush on a piece of paper. There were three matches!
Though the evening was a triumph, the organizers are not planning a sequel just yet. "Maybe in five years", says Angela Wisman, who wants to encourage everyone to carry out their fun ideas. After all, who knows what wonderful things can come from them?
Advertisement