'UU's lactation rooms sometimes look like prison cells'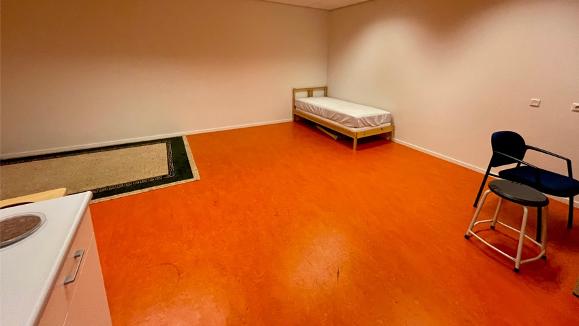 Lactation room with no windows. Photo: DUB
This is not the first time women working or studying at UU complain about the lactation rooms. In 2013, Philosophers working at Janskerkhof criticised the lactation rooms available there, asking for a warmer and less business-like room, which they compared to a "broom closet, with flaking walls full of cracks and lights that are too bright". The room in question ended up being refurbished, but the lactation rooms in the Utrecht Science Park remained the same.
Furnishing
Recently, PhD candidate Savannah Turner sent an e-mail to DUB to complain about the lactation rooms in the Utrecht Science Park. She wrote that they looked like a prison cell. "The lactation room I feel most uncomfortable in is the one in the Androclus building. That room is used to store bins and looks extremely neglected. But that is not an exception at the Science Park, most lactations rooms are pretty filthy. The one in the David de Wied building is clean but it has no windows, the chair is bad and sometimes 'random' flipflops are lying around."
Turner took to Human Resources to complain about it. After that, she got her own room. "That's great, but unfortunately it has glass walls, which doesn't offer much privacy. Relaxation is a must for a woman pumping breastmilk, otherwise, it just doesn't work."
University council
The lactation rooms are often also meant to serve as quiet rooms or prayer rooms. In a note to the Executive Board, the University Council has requested for the quiet rooms to be improved.
According to the council, only five of the fourteen existing quiet rooms are suitable for prayer and meditation, not to mention most of the rooms are too small, offer no comfort and have 'no aesthetic value' with their fluorescent lights and white walls. They don't offer enough separation between men and women either, which is an issue for some religious people. Furthermore, the information on UU's website about the availability of quiet rooms is often incorrect. As a result, it is often unclear whether the rooms are only available for lactation and resting, or also for prayer.
New policy
Brigitte Prieshof, project manager of Diversity, Inclusion and Equality, is also talking to the university to improve the quiet rooms and resting rooms, both in terms of quality and quantity. According to her, there is a significant difference between a quiet room and a lactation room: "A quiet room is an open and accessible room for everyone. It can be used for prayer and other activities that require peace and quiet. For lactation, we need a room that can be locked and it should be reserved."
As it turns out though, that information is not clear for everyone and is not properly mentioned on UU's website. The Facility Service Centre is responsible for furnishing the rooms. They say they are currently waiting on the Executive Board to give them guidelines to see what can be changed.
Lack of understanding
Although the PhD student who contacted DUB about the issue has gotten her own room, her problems have not yet been solved. "Lactation takes two hours of your day, which means you have to skip coffee breaks and lunch. But, even then, I have to go get the key at the reception first and sometimes the room is occupied already. My body doesn't hold any of that into account. I was hoping there would be more understanding. All my colleagues who are mums have the same problems. They have either gotten their own room or unfortunately have stopped breastfeeding."