A very small group of UU'ers may sit in lecture halls again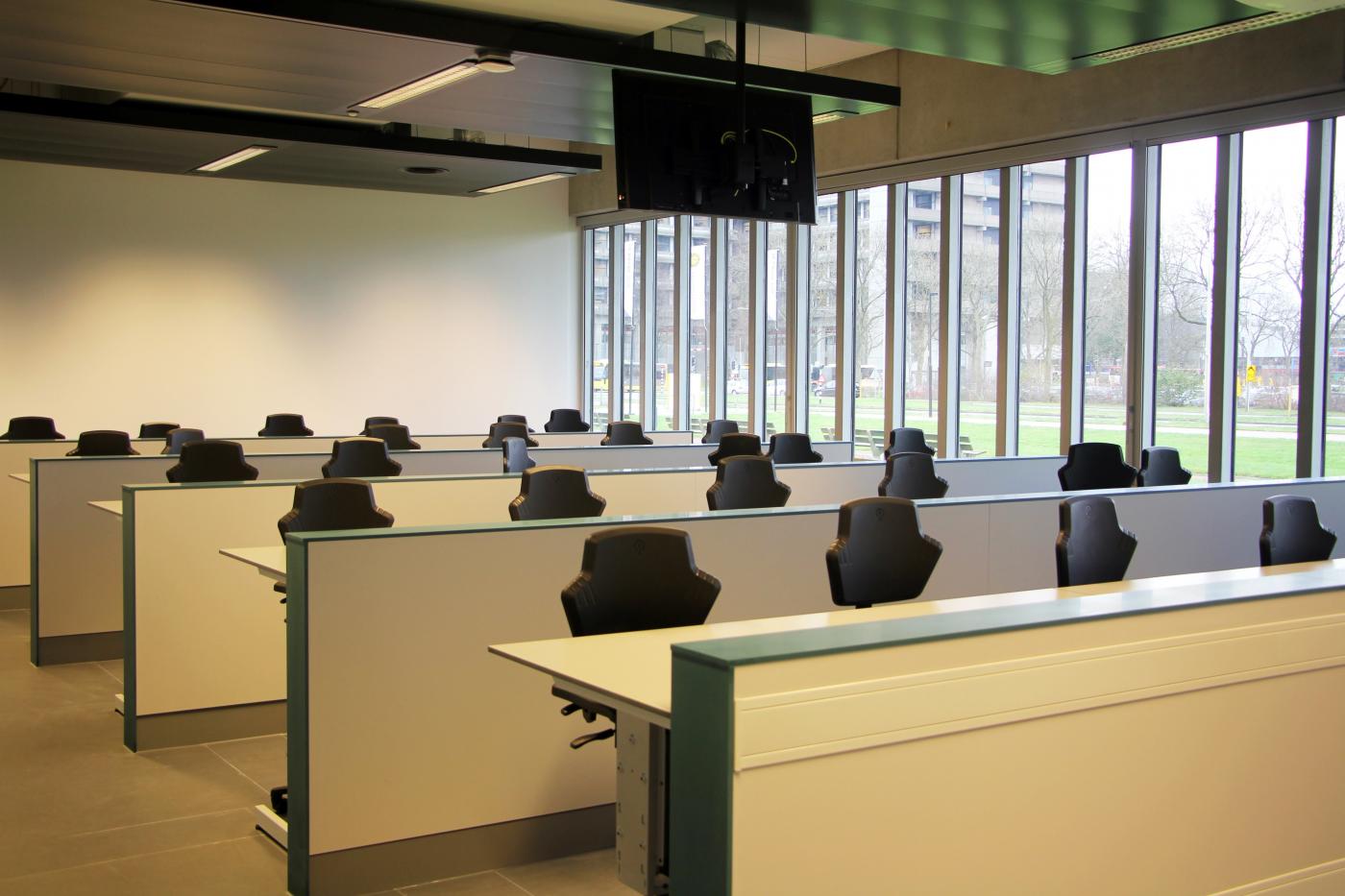 Not all seats may be occupied in a lecture hall due to the 'metre-and-a-half'-measure, photo DUB
In Utrecht University's corona update of June 4, the board makes it clear that for a small group of students education in one of its buildings will be possible again from June 15, as was expected. Even within the time zones set by the cabinet of 11 to 15 hours or after 20 hours. Students who have had to miss out on education because it could not be given online will be notified next week at the latest whether and when they can come to UU.
Travel
Because the Cabinet allows travel to most European countries again, teachers and students could also cross the border again for research and education such as fieldwork, internships, or residency internships. People are only allowed to travel to countries that have been given a 'code yellow' by the Ministry of Foreign Affairs at the time of travel. However, the university board warns to only go abroad if this is necessary. UU will not reimburse travel costs, as was the case at the start of the corona crisis, if students or staff have to be repatriated because there has suddenly been a negative travel advice due to, for example, another major outbreak of the corona virus. Students and researchers who do want to go abroad must discuss this with their tutor or supervisor. As announced last week, exchange programmes will not take place during the first semester.
Community building and location-based education
In the new academic year - the board hopes - certain teachers and students will also be able to come to the university for education. The Executive Board believes that the time zones within which education must take place will become broader again. The 'metre-and-a-half'-measure will still be in force, however, as a result of which only 10 to a maximum of 30 percent of the total education can take place on site.
Because not all students are able to come to the university due to the pressure on public transport and the 'metre-and-a-half'-measure, priority is given to compulsory courses that can only take place on site. This also applies to the education of first-year students because they still have to build up a bond with their fellow students and the university.
Students could come to the university for exams as well. What remains of previous decisions is that all lectures will be given online, even to first-year students. This so that the lecture halls can be used by smaller groups. An exception can be made for the University College in Utrecht and Middelburg. There, more students could come to the campus, because they do not have to travel to the campus.
Testing on Saturday
Regarding the times when students attend classes, the university board adheres to the timeslots that also apply right now. However, within the timetables, the avoidance of peak pressure will be considered. Students may have to come to the university on Saturdays to take an exam. This would concern exams in which many students take part.
Faculties will be given the freedom to set their own priorities as to which educational activities will be given on site next year, within the framework that applies centrally. These must be known by mid-June.