Will the USP have a rainbow bike path soon?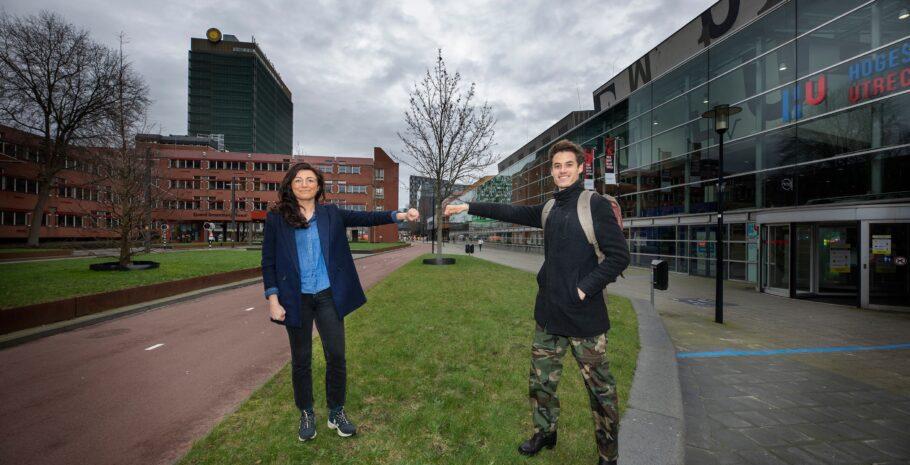 Melody and Elias in the Utrecht Science Park. Photo: Kees Rutten/Trajectum
Elias, a Social Work student at the HU, and Melody, a GroenLinks council member, want the Utrecht Science Park to have a permanent, colourful symbol of its commitment to inclusion and diversity. In their letter, they do not specify what the symbol should look like, but they told Trajectum that "a rainbow bike path going from the USP to the UMC would be great".
Elias approached the municipality of Utrecht first, but received "little response". He did not want to leave it at that, so he got in touch with Melody. "I thought it was a good plan and started to work on it with the council", she recalls.
The duo chose not to specify what the symbol should be because they do not want to limit the higher education institutions to a single idea. "I would also like to use other symbols to reflect diversity, such as specific flags of countries or symbols for disabilities," he told Trajectum.
"Eventually it should be a colourful symbol that draws attention to diversity and inclusion. What form it takes is up to Utrecht University of Applied Sciences, Utrecht University, and students", adds Melody.
Elias also finds it important that the institutions do not use the well-known rainbow flag which has come to symbolise the LGBTQ+ community, but rather an updated version including black and brown as well. Those colours would represent people with a darker skin tone. "We have to keep up with the times," he justified.
Positive message
But how would such a symbol yield a positive influence in the university? Elias explains that "the USP is a place where a huge number of students come together". Therefore, he thinks a monument to diversity would be "a good way to send out a message that can make an impression nationally and perhaps even globally. You show that everyone is welcome."
Melody also believes that the symbol, in addition to a solid diversity and inclusion policy, can lead to change: "The future of our society is taking shape at the USP. With this symbol, the university shows that it is a safe environment, where work is done on diversity and inclusion. Visible symbols like this can get young people talking."
This story was published first by Trajectum Online, HU's independent news platform.