Students, go get that shot!
We are worried about the upcoming months. Not only as students, troubled by the fact that more and more face-to-face classes are being cancelled, but also as council members, since the possible future scenarios are even more frightening. Establishing a Covid pass system (in which students and staff members would have to present a QR code to show they're either vaccinated, recovered from Covid, or tested negative) is not just expensive and difficult, but could also engender a division within the student population. We think returning to an exclusively online education is a very bad idea, now that its consequences on students' mental health are clear as day. That is a decision we hope never has to be made.
As we approach the second birthday of the novel coronavirus' arrival in the Netherlands, problems are arising again. Our institution is at the centre of society: we have an important role in scientific discussions and developments, and form a particular breeding ground for sharp minds to devise the right solutions. This central position has a physical aspect, too: the rising infection rates in the country have spread to the university's buildings as well, and from there the virus can spread to the rest of the country. That is why we have a huge responsibility for our behavior, and will try our hardest to contribute to a realistic way to keep this crisis contained. A high vaccination rate makes a difference, and lessens the chances of far-reaching virus-controlling measures at the university.  
Negotiating power
Indeed, there is also a strategic side to the choice of getting or not getting vaccinated. Every vaccinated person connected to UU in some way is part of an effort to strengthen the negotiating power of the Executive Board in talks with the government, who may or may not choose to enforce additional measures. It is important that we realize our Executive Board could be sidelined in the  decision-making process regarding a Covid pass mandate in our lecture halls. The Dutch government is currently examining a draft bill that will transfer this jurisdiction to the minister of health only. UU's Executive Board is opposed to any far-reaching measures such as a Covid pass mandate or the cancellation of in-person education, and justly notes that 90 percent of all students have already been vaccinated. If we have an even higher rate, there will be even less reason for obligatory Covid passes, so not getting the shot will inadvertently lead to the exact measures we would all like to avoid.
Our generation is paying a high price
Most students will in all likelihood not suffer too much from a Covid infection, while the restrictive measures do have grave consequences for them. It is therefore understandable that students want their old life back, with parties and get-togethers. But it is important for us to keep in mind that not every student attending UU or HU has a great state of health. There are people with a weakened immune system, teachers and fellow students who are very afraid of unvaccinated people. For extended family members, especially older ones who are not as strong as we are, a cold that seems trivial to us might lead to long-term illness, intensive care admissions, or worse. Not to mention long Covid and other indirect consequences of an infection. We must lessen the spread of this virus. According to most scientific studies, vaccination helps achieve that goal at least partly, while also decreasing the chances of an intensive care admission. Therefore, we declare that increasing the vaccination rate is an effective method for protecting those around us. We would gladly get the shot for that.
Fighting symptoms
A few weeks ago, an opinion piece on this website suggested that vaccination, as a reflection of a mentality that only fights the symptoms of nature imbalance, is impossible to connect with the aim for a better world. To be clear: we are not blind to these structural issues. We too would like to tackle the climate issue; we too would like to reduce the deforestation and loss of biodiversity as much as possible. Far more political steps should have been taken in Glasgow. At the same time, we think there is not a single reason why striving to eradicate these issues and fighting the Covid crisis can't go hand in hand. Getting the shot does not mean that you will stop advocating for the things you believe in, that you will stop recycling or whatever other human thing you do to combat climate change. Being so critical towards the vaccine's origin and the global situation in which it was developed will only lead to an unnecessary distraction from achieving this larger goal.
The sooner the better
The question remains: how do we proceed? Past pandemics, like the Spanish flu, only ended after causing millions of deaths, when herd immunity was finally reached. It seems logical for us to look for other possibilities, and vaccination is one of them. Vaccination led to the eradication of Poliomyelitis, best known as polio, a horrible childhood disease. It also contributed to increase life expectancy worldwide. In the current pandemic, it has proved itself several times by reducing the Covid death toll and intensive care admissions. The 'natural way' may sound beautiful, but actually has horrific consequences: enormous amounts of deaths and overcrowded hospitals that will be forced to leave people to their own devices.
(Text continues under the image)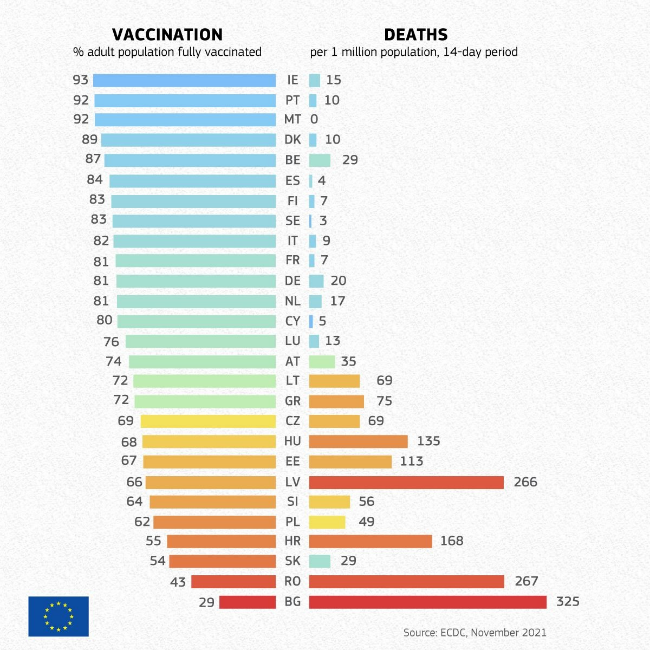 Conclusion
We must take the vulnerable people in our midst into account, and we have to take responsibility as members of society. In return, we should be able to expect a certain amount of freedom and good quality education.
To work on a better world, we must be able to focus on the causes of this pandemic: climate change, factory farming, loss of biodiversity etc. Our attention can only be pointed to these issues if we have room for good education and research. We have to alleviate the pandemic as much as we can. So, to any students who still have doubts: go get that shot!