'After the summer, the university won't restart – it will reset'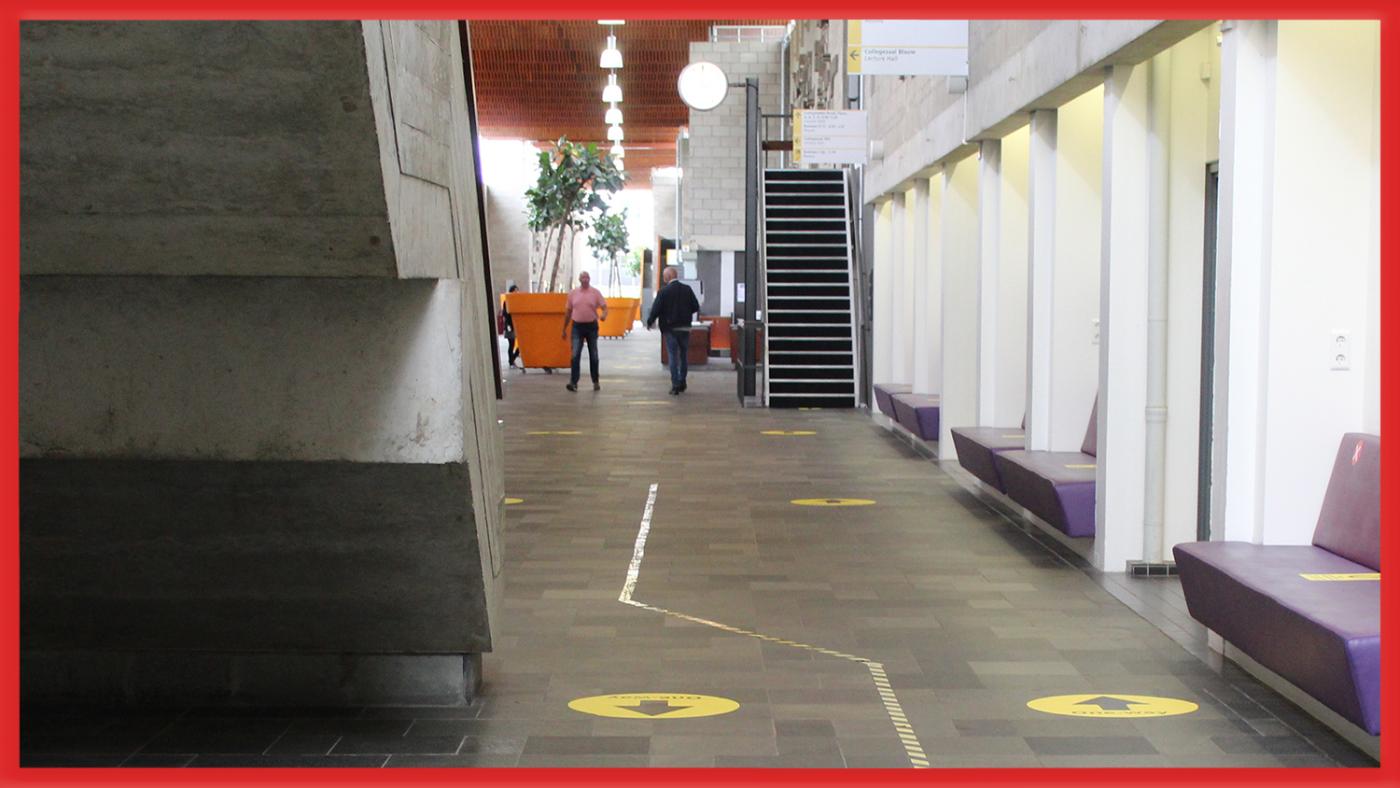 Na de zomer zal de inrichting van de gebouwen corona-proof moeten zijn. (Foto DUB)
Midway through March, the majority of employees and students had to start working from home. Online classes were created, employees worked from home, and raced from one virtual meeting to another. Vice president Annetje Ottow: "What we've heard is that people have worked incredibly hard to get this done. The boundaries between work and private life blurred. The workloads were high. They'd reply to emails while washing the dishes. And we've missed each other so. Everyone I speak with, says they're eager to see their colleagues again. Those chats at the coffee machine, the meetings in the hallways – they're so important."
Those chats at the coffee machine, the meetings in the hallways – they're so important
The question is whether this era of remote working will end after the summer. In the past few weeks, activity within the university buildings has slowly restarted. First, people who worked in labs were allowed to return to their workplaces; after that, students taking practicum courses could get back to it. Room was created for certain students to study in the University Library, and employees who need it can use flex workplaces. Is there more on the horizon?
"We can't go back to what it was like. We're not restarting to pre-corona times," remarks president Anton Pijpers. "There'll be a resit, in which life at the university will definitely still be different. That's necessary because we do need to adhere to the government's guidelines, as advised by the RIVM, the National Institute for Public Health and the Environment. Those 1.5-metre guidelines will be around for a while. We need to realise the virus can rear its head again at any time."
A work group led by Eddie Verzendaal, director of Facilities Service Centre, has calculated that the buildings have room for around 30 percent of employees. The lecture halls will likewise only be filled to a minimum capacity due to the corona restrictions. Verzendaal and his teams will use the summer to reopen all buildings and organise them in such a way that they follow the 1.5-metre guidelines.
You could think of solutions in which people work from home for an average of two days a week
Anton Pijpers: "That means we'll have to be very creative with the possibilities we have. We realise that community is crucial, and we want to create space for people to meet each other. That's important. But how will we do so and follow the requirements? You could think of solutions in which people work from home for an average of two days a week. If you assume 30 percent in the mornings and 30 percent in the afternoon, you've already created more workplaces. And we'll need to be more flexible in education, too. In order to offer enough education on location, we'll need to make better use of the existing 5pm-7pm timeslot. You can't ask that of teachers who have young children. But there are also teachers who don't object to teaching at that time, in the interest of the students. We'll need to use that."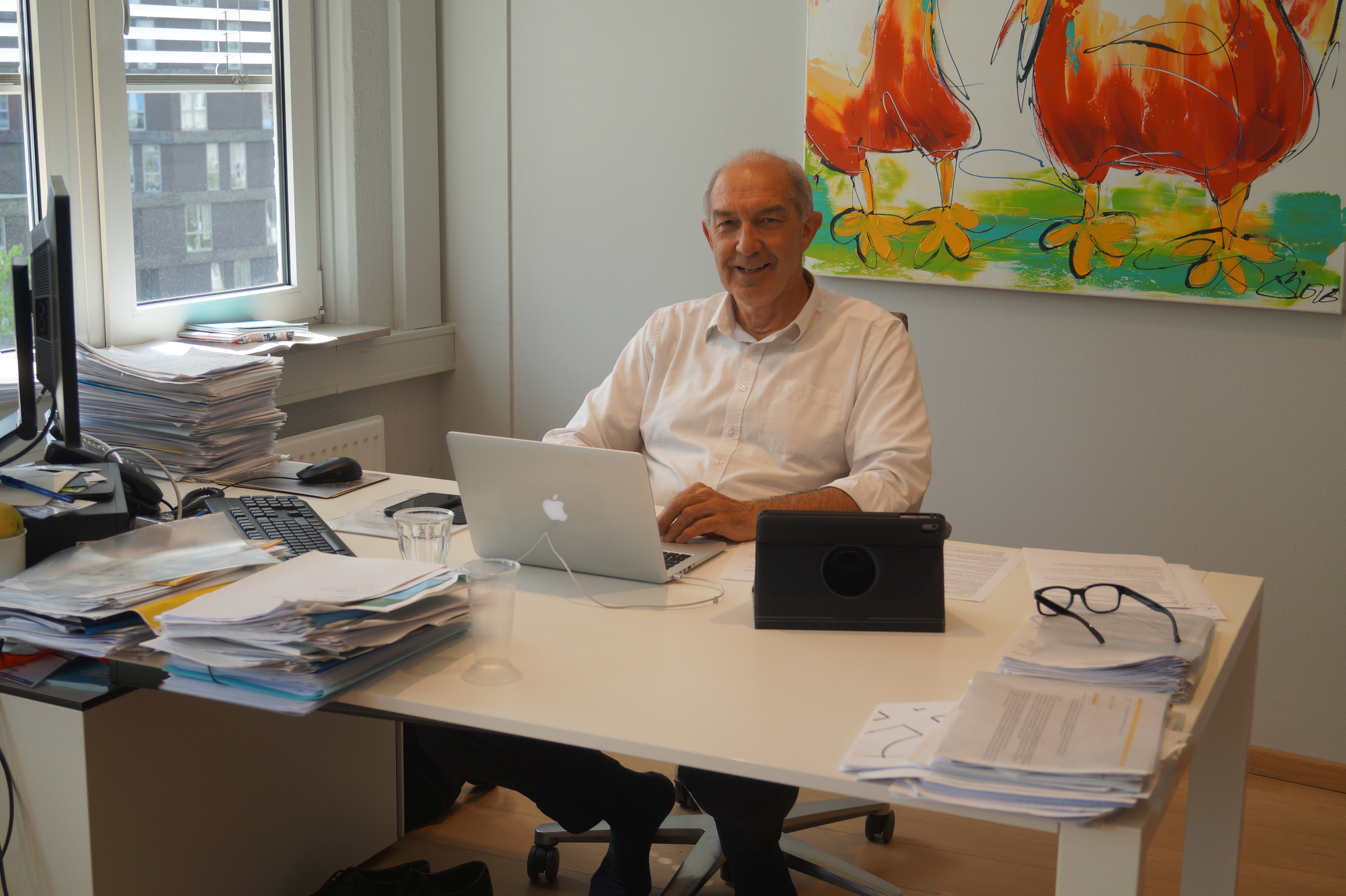 For the past few months, president Anton Pijpers worked almost every day from his office in the administration building. (Photo DUB)
Still, the president emphasises that it's important to look beyond the restrictions. "We can't, and don't want to, return to pre-corona times. With this resit, we also want to include the positive experiences of the past few months. The meetings with the VSNU – the national association of universities – are all virtual now, and they're going fine. Now, I don't have to travel to The Hague to attend them. That's efficient and sustainable. Of course, I do want to meet fellow administrators, but some of the meetings can definitely continue to be held online. Even when there's a vaccine or medication for corona."
We received a lot of feedback from the community, which we've used to adjust our policies
"Furthermore, during the crisis, we searched for direct ways to communicate. In our comprehensive crisis team, things were discussed fully and efficiently. The contact with the deans was a lot more direct, and with the weekly corona updates, we were able to communicate directly to all students and employees. Conversely, we received a lot of feedback from the community, which we've used to adjust our policies. Those short, direct lines of communication, and the trust we've experienced on both sides; those are positive lessons that we wish to retain after these corona times.
"Lastly, digitisation has strengthened enormously in the past few months. We can do so much more from home now, we're all working with Teams, we teach and receive virtual classes. It's clear that we're missing personal, live contact. It's equally clear how crucial that is. But some things can be done digitally without issue. And sometimes, we have to find hybrid solutions. Within the university, for instance, we're going to see whether we can create facilities that allow some people to be in the room during a meeting, and others log on to join."
We can be more serious about sustainability if we travel less
The new university also means that the strategic plan will be scrutinised from that same point of view. Annetje Ottow: "With regards to the values we have as a university, not a lot has to change. But the way in which we do things can definitely be done differently. We can be more serious about sustainability if we travel less, but it will also have consequences for the housing plan if we're going to spend less time at our workplaces after corona."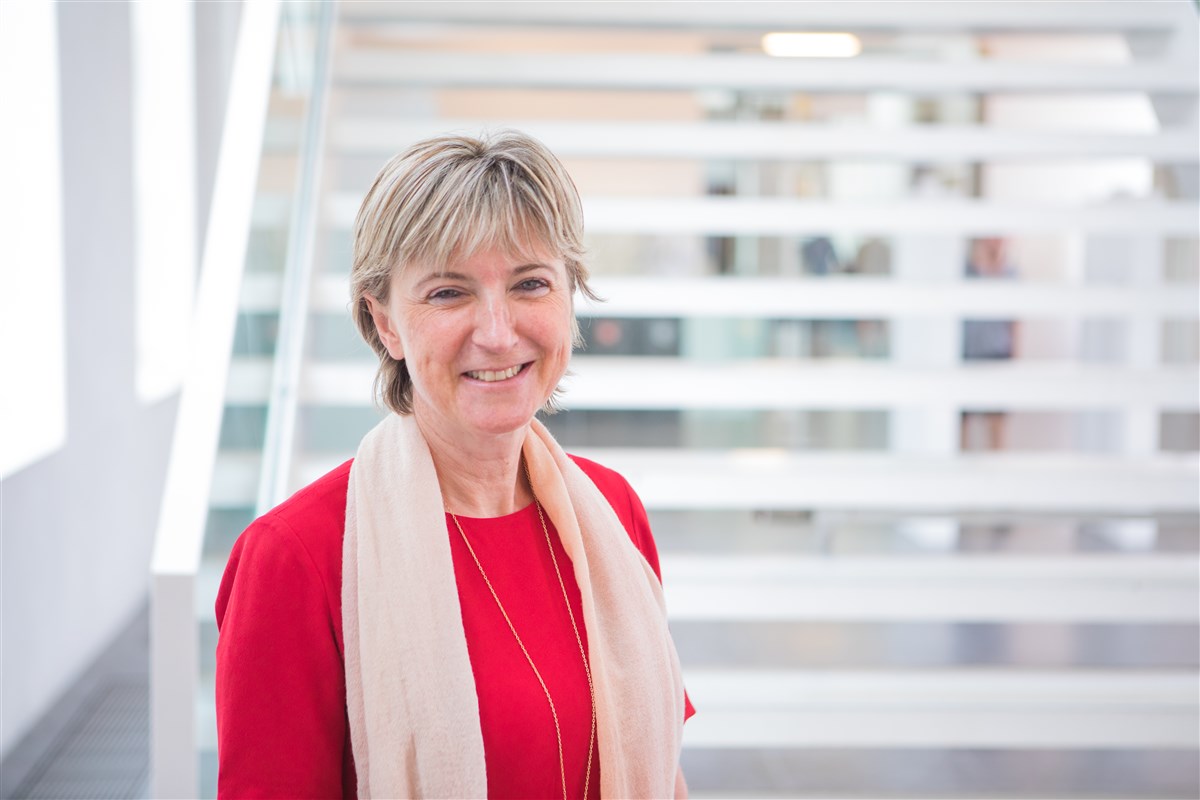 Vice President Annetje Ottow worked from home. "Everyone told me we miss each other so much." (Photo Arnoud Mooij)
For the universities, the crisis came unexpectedly. Suddenly, the buildings had to close. With the relaxations of the corona measures, the university is only benefiting minimally, as became clear from the conversation with rector Henk Kummeling. While secondary school is allowed to restart at full force after the summer holidays, universities and universities of applied sciences are only allowed minimal activity. Students are complaining. At the Utrecht Science Park, there are other companies as well, where more people are already working on location. Aren't we being too strict? And what about the government compensation?
I have discovered that the Ministry of Health, Welfare and Sport has been the leader in this crisis
Anton Pijpers: "We're a public organisation. It makes sense to follow the governmental guidelines and that we lead by example. In this case it meant working remotely, closing the buildings, and starting online education. The accessibility of the University Medical Centre was given preference, because health care is essential.
"With the VSNU, we've been in constant contact with the Ministry of Education, Culture, and Science. As universities, we were of one mind. We really lobbied for higher education. Sometimes, that went well, but there were disappointments, too. I have discovered that the Ministry of Health, Welfare and Sport has been the leader in this crisis.
"In terms of finances, the situation at the university is very different from, say, a café or restaurant. We could continue our work without being afraid of going bankrupt. The finances the government promised came in at regular intervals. If people were unable to do all their work from home, we didn't mind. Of course, there are additional costs. Right now, it's not clear how much money this period will cost us. It's also unclear what a potential recession will do to the government finances. For the semi-long term, that's a point of concern."
The university should prepare itself for a second wave
Annetje Ottow: "One thing we've been worried about at the university for the short term, were the temporary contracts of PhD candidates and Postdocs. We really fought for those. And on Tuesday, June 30, we decided as a board to establish a Covid fund. With that fund, PhD candidates and Postdocs whose contracts are ending and who've faced issues as a result of the corona crisis, can be eligible for contract extensions."
Last Monday, after being urged by students in the university council, the board made an additional 2.9 million euros available for education. Annetje Ottow: "We share the students' concerns about education. With this money, we state clearly that we find education of great importance. This period has cost a lot of energy. The workloads among teachers are high. We need to do something about that. After the summer, education will have to be organised differently. We can't continue the way we'd been doing. We'll also have to look at the combination of in-person and virtual education. That means our education can put that extra money to good use next year."
It remains to be seen how the crisis will develop. The university has to prepare itself for a second wave, says Anton Pijpers. He's not expecting another nationwide lockdown, but is taking into account the possibility of more regional measures until a vaccine has been developed. And that, he says, is likely to take at least a year. "The biggest advantage compared to March is that we're better prepared now. In that sense, we've learnt a lot these past months."
The university in times of corona
The university has looked very different than usual in recent months. The buildings were practically empty, education was provided digitally and meetings were held in teams. What did this mean for the UU? And what experiences do we take with us into the future? Various working groups have started working on these questions. In this articles, DUB, together with the UU administrators and the chairmen of the working groups, will look back and forward. The previous interview was with
 rector Henk Kummeling en
vice dean of Education at the Faculty of Law Elaine Mak
.