From chlamydia and scabies to classes at TikTok level
Campus columnist 2023: meet the five finalists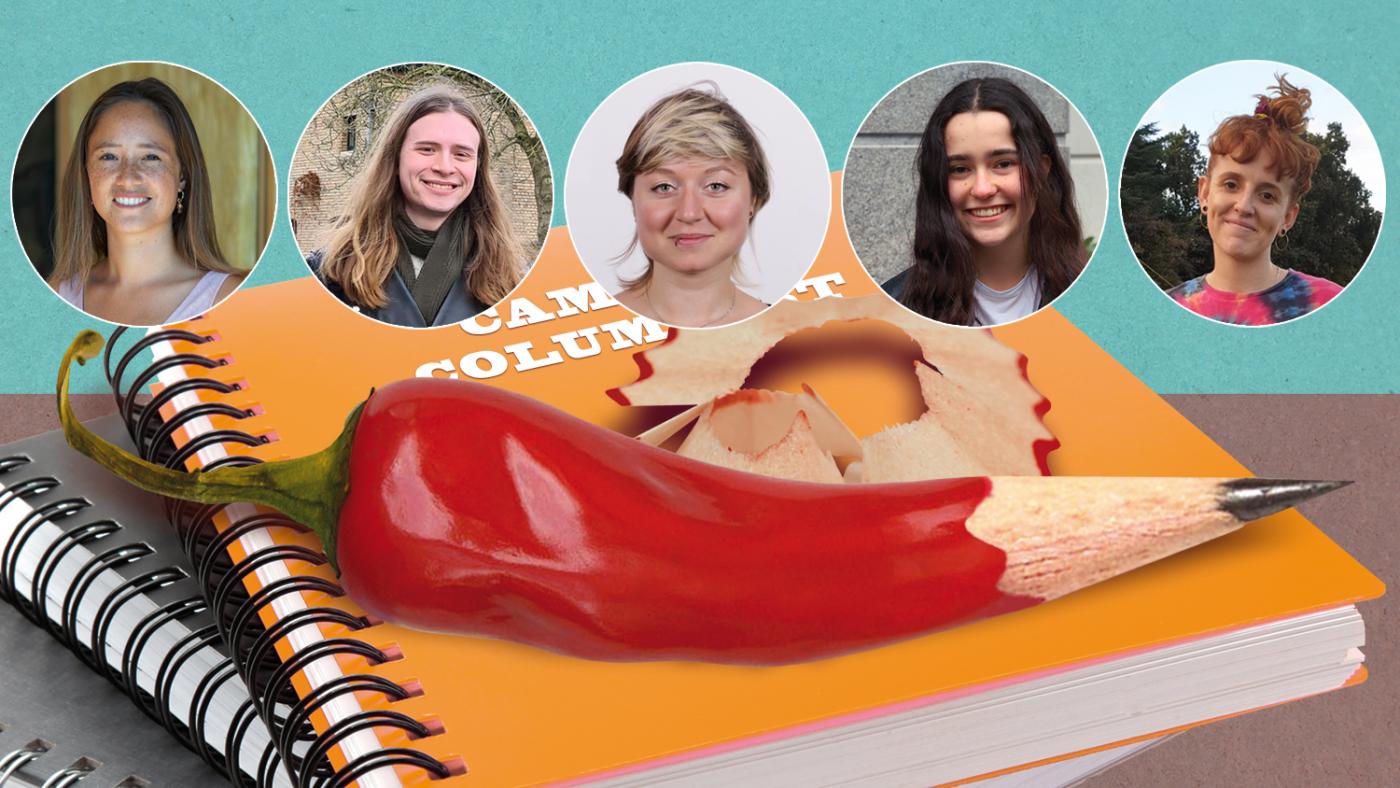 Post-pandemic, students are picking up where they left off. They're going back to class, looking for accommodation, hooking up... That's the main impression one gets from reading the columns submitted to the campus columnist competition this year. One of the contestants, for example, wrote about her roommates getting scabies, lice and chlamydia. Another one wrote about how inconvenient it is to go to a hospitering evening, when the members of a student home invite those interested in renting a room over for a selection process. There were also entries about being asexual and struggling with depression.
"What struck me is that this year's columns are full of loneliness, insecurity and doubt. It looks like students are struggling with the time they have lost to the pandemic," supposes one of the panel members.

Now that the finalists have been chosen, it's time for DUB's readers to read the best entry submitted by each one of them. Once again, there will be two winners: one who will write columns in Dutch for DUB's Dutch page and another one who will do the same in English. 
In total, eighteen people participated in this year's contest, twelve of whom wrote in Dutch and six in English. The panel of judges selected three Dutch-speaking nominees and two English-speaking nominees.
The winners will be announced on Wednesday, January 25, at DUB's New Year's reception. Both winners will receive the Erik Hardeman stipend, worth 1,000 euros, as well as the chance to publish a column on DUB every two weeks for the remainder of the year.
Without further ado, these are the three Dutch-speaking finalists
Charisma Hehakaya is the first nominee in the Dutch category. She has recently obtained a PhD from UMCU. Perhaps her name sounds familiar to you, as she was behind the initiative to create a fund for first-generation students. And that's exactly what she chose to write about in her shortlisted column: according to Hehakaya, first-generation students build bridges between different worlds.
The second nominee is Quintijn de Leng, who studies Social Geography & Urban Planning and works as a student assistant at Community Engaged Learning, an initiative from the university. In his nominated column Ode to the Slacker, he expresses all his anger against students who take advantage of others by barely working on group assignments. He says he is actually jealous of them, so much so that he explains what we can learn from free riders.
Irem Zoodsma, a student in Liberal Arts & Sciences, is the third finalist. This is not the first time she contributes to DUB. Irem has recently written a touching op-ed about test anxiety as well as a recollection of her experiences as an exchange student in Turkey. Titled The Time of Your Life, her entry is a critical piece about being a student in 2023, dealing with a jampacked schedule and classes at "TikTok level".
...And these are the English-speaking finalists
Helen Aadnesgaard, from South Africa, is a Master's student in Gender Studies. Her column Am I Dutch Now? describes how weird she felt when she first arrived in the Netherlands and how quickly that feeling dissipated. One year later, she caught herself missing the Dutch culture while abroad.
The second nominee is Luca Salman, who is pursuing a Bachelor's in English Language & Culture. Titled Loneliness as a Student, her column delves into the challenges of depending entirely on yourself for the first time in your life. In her view, although this can be intimidating and painful, it is also an opportunity to really get to know yourself.
How the contest works
This year, the panel of judges consists of Boban Braspenning, comedian; Stephanie Helfferichm, Project Manager in Public Engagement at the Centre for Science and Culture; Samuel de Weerd, a recent Master's graduate in Energy Science; and Ries Agterberg, DUB's editor-in-chief. 
The contestants were asked to submit two columns, which were anonymised before being presented to the panel members. DUB is publishing the best entries in each category today. 
Advertisement