International students give feedback
'The experience of living abroad actually saved my mental health'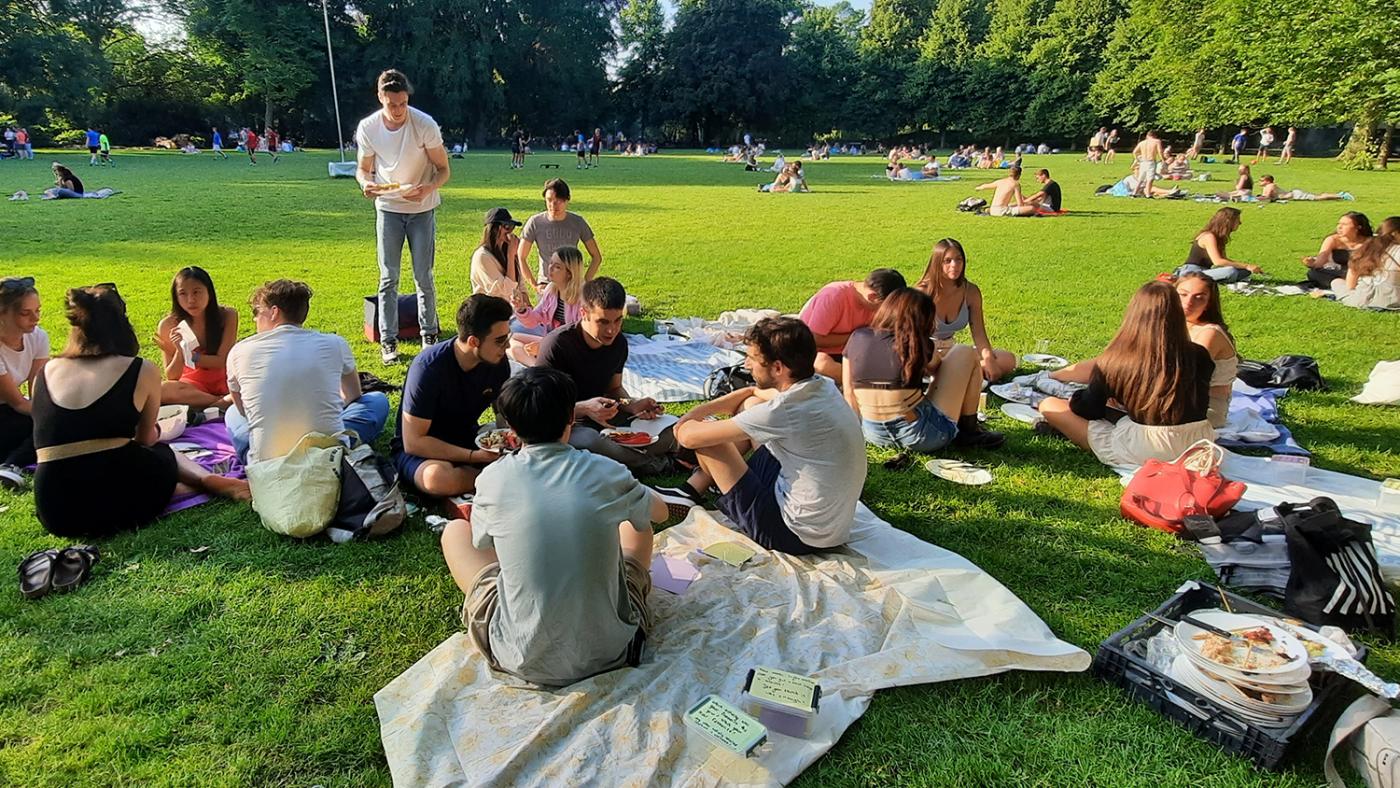 Photos: DUB
It's no secret that international students can feel homesick, depressed, and lonely.  But, once again, the Annual International Student Survey confirms it. Sent out by student organisations ISO, LSVb and Erasmus Student Network, the survey was answered by 229 students from 57 different countries this year. Even though this number is not representative, the organisations defend that the results are a cause for concern.
"It is extremely alarming that international students are finding things so hard," says Terri van den Velden, president of the National Student Association (ISO), to whom the Dutch government pays too little attention to this group. "They are treated as second-class students." This is not the first time the student organisations pull the alarm. Last year, as the country discussed the effects of the successive lockdowns on students' mental health, they urged the government to take a closer look at the situation of foreigners pursuing a degree in the country.
But not everything is doom and gloom. On June 29, UU, ESN Utrecht and BuddyGoDutch held a barbecue at Wilhelmina Park to ask international students for some feedback about their experience. The answers show there is another side to the coin. Exposing oneself to a different culture and an international academic community can also have a positive impact on someone's mental health. After all, overcoming such big challenges makes some people feel more resourceful, independent, and resilient.
"I've grown stronger and become a better version of myself," writes a Master's student from a country outside the European Union. "It was both scary and exciting. It changed my perspectives and the way I used to think about myself and my relationships", says a European student, also at Master's level. "It helped me to discover how it feels to live alone (sometimes cool, sometimes sad) and go out of my comfort zone. It was tiring, but also useful to make me realise I can overcome obstacles."
In addition, being part of a multicultural community can help international students put things into perspective. By exposing themselves to other cultures and points of view, some students can't help but reflect on their own feelings, values, and habits. "I was very sad before coming. Meeting new people motivated me and allowed me to get to know myself better," states a European exchange student. "It helped me spend more time with myself and relativise the things that happened to me," says another. "Meeting new people from different countries makes me learn a lot and makes me feel ALIVE!", writes a third one.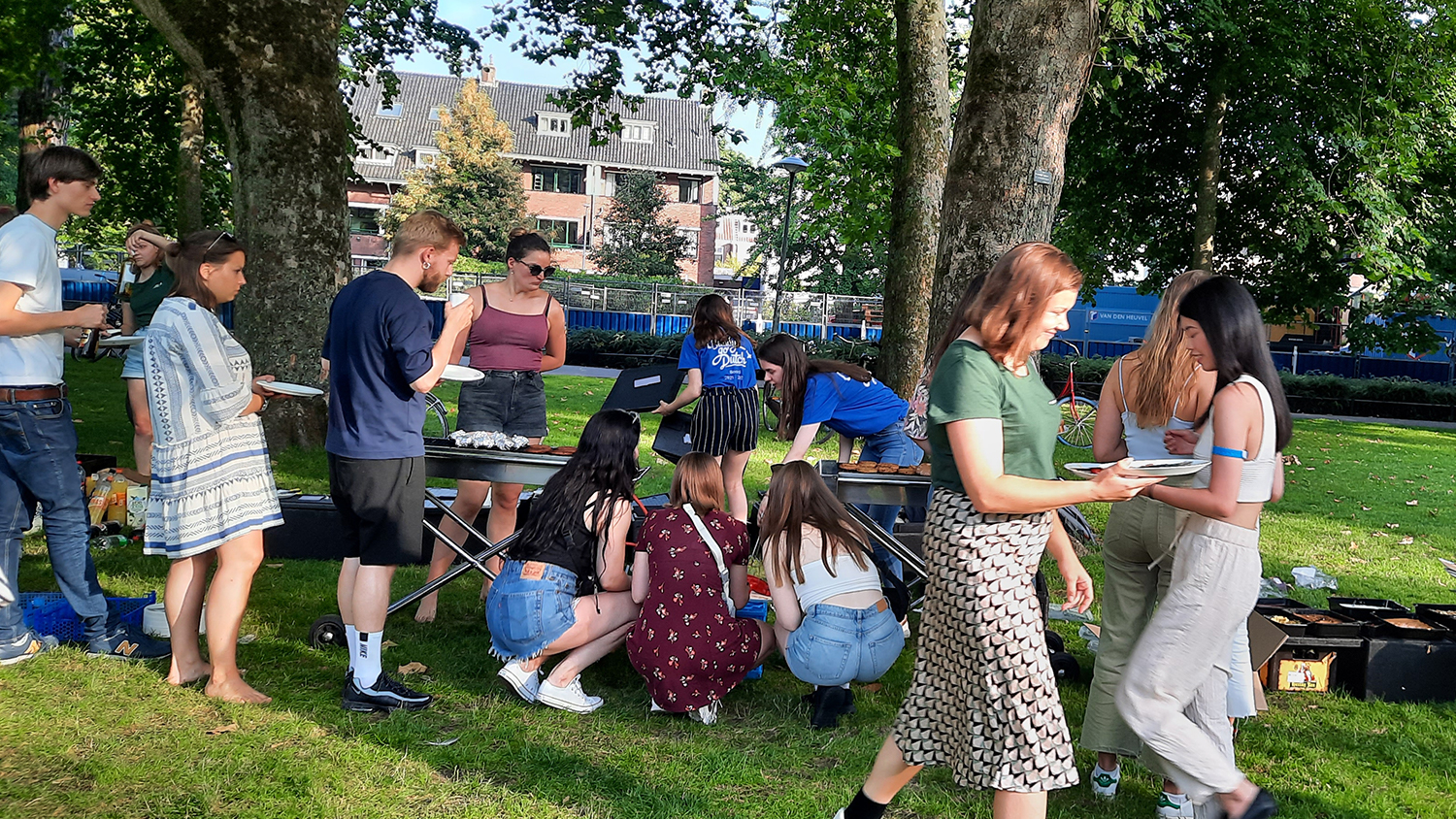 Free food
Held right after the exam period was over, the barbecue offered international students a chance to unwind and gather before going away on vacation or for good. Many of the attendants were exchange students, so they told DUB that a free barbecue seemed like the perfect way to wrap things up. "We think this is going to work better than just sending out a survey," explains UU's Warm Welcome Manager Olesya Bath as she pours drinks for the students arriving.
Upon arrival, each one of them was invited to write their answer to the question "What does 'home' mean to you?" on a paper plate. Later, as they munched their sausages and took a sip of the complimentary Prosecco, lunchboxes circulated with questions stuck to their lids. To answer, all students had to do was take a pen and paper, write it down, and put the message in the box. The questions ranged from more practical topics to more existential ones.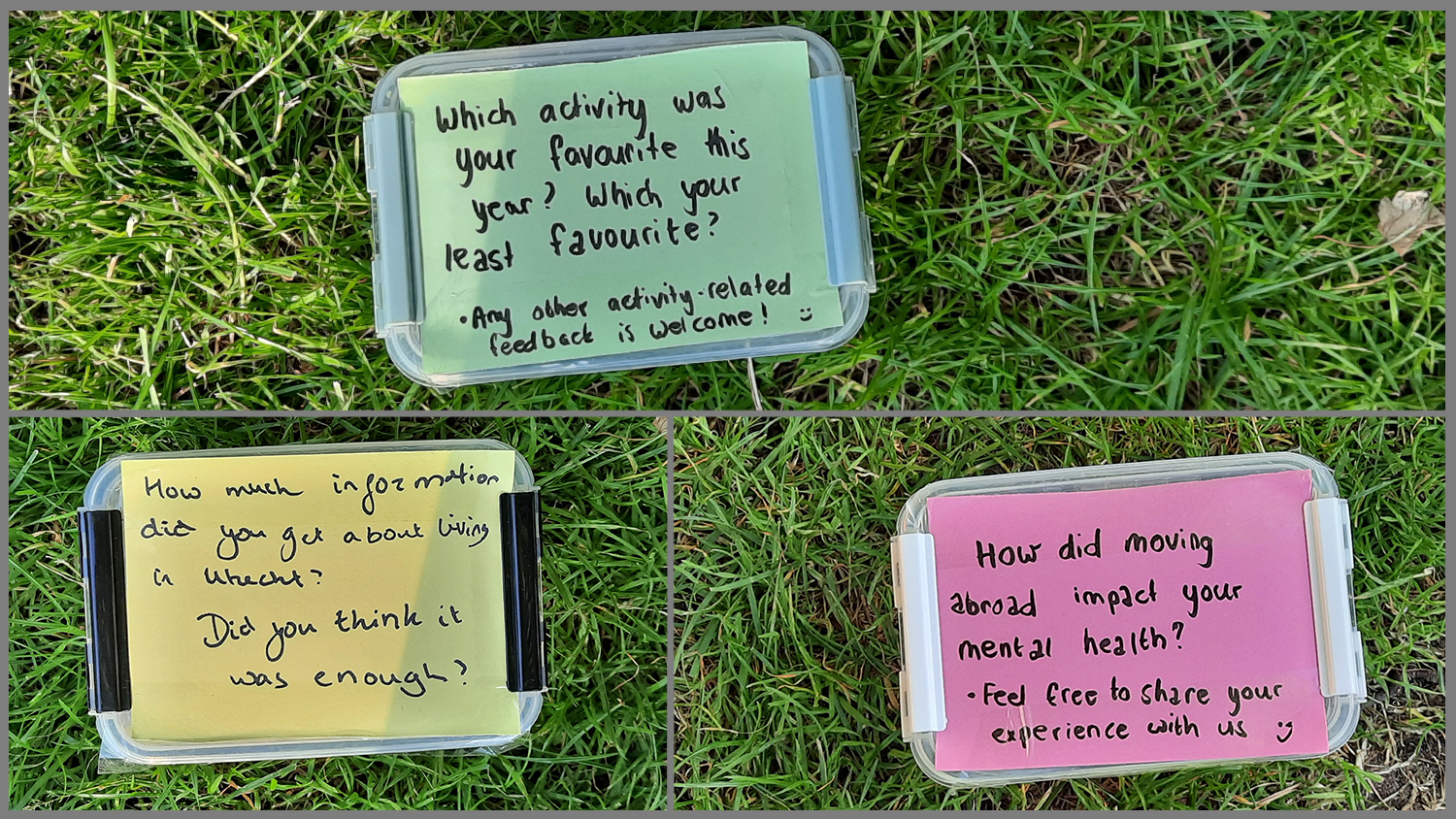 The beginning is tough
It should be noted that most students reporting positive mental health effects mention the new friends they made. In the latest International Student Survey, the average grade respondents gave to their social life in the Netherlands is eight. 
But making friends can be quite hard in the beginning, when international students are still adjusting to their new surroundings — and that's when mental health issues may arise. A non-European exchange student says: "It took me some time to adapt but then I connected with some people and it got easier". This person's answer is echoed by a European Master's student, who said things were "very bad at first. It was so difficult to make friends or meaningful connections. I felt lonely and it was very hard. Now, after 5 months, it's a bit better, but it is still hard to find people."
It doesn't help that the first three months following their arrival fall exactly in the autumn and winter. Several students reported feeling moody because of the weather. A Master's student from the EU says the winter blues hit her hard around February and the sadness only went away once she found a group of friends who made her feel appreciated. An exchange student from outside the EU provided a similar response: "I was super depressed for the first few months until I met my bestie Koko through BuddyGoDutch." For some students, the rough start can trigger a more serious reaction. "I think I already had some issues before, but I fell into a deep depression in the first year of my Bachelor's. I've been in therapy for two years now and feeling better," confides one of the respondents.
To Olesya Bath, these answers don't come as a big surprise because, as a former international student herself, she can relate to both sides of the coin. In her view, UU is "at the top of their game" compared to other Dutch universities when it comes to initiatives to improve students' wellbeing. "We have the Wellbeing Week, academic workshops, free coaching sessions... And it's all available in English", she cites.  That's why the Warm Welcome Team strives to make sure that these initiatives are visible and accessible to all international students, according to Bath.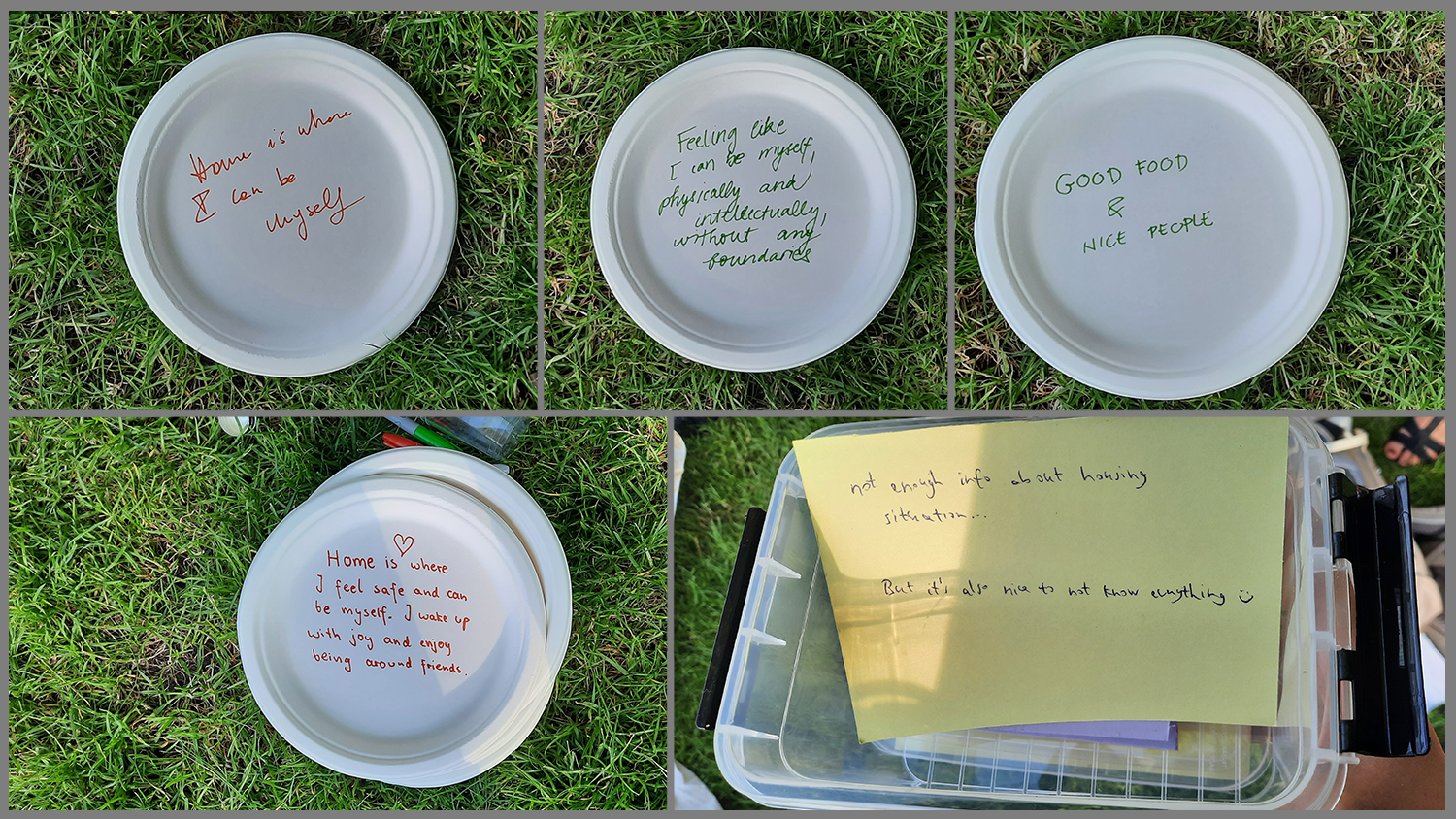 Learning Dutch helps
Another lunchbox asked international students if they feel integrated. In the Annual International Student Survey, half of the respondents stated they would like to be more in touch with Dutch students and one in four does not feel at home in the Netherlands. 
Again, these results echo previous surveys: year after year, it emerges that most foreign students feel pretty integrated into the international student community, but the Dutch student community is an entirely different story. The issue is more poignant for those who are staying here for longer, such as Bachelor's and Master's students.
"I feel semi-integrated because I haven't met a lot of Dutch people", says a Master's student from the EU. For another student present at the barbecue, not having a lot of contact with the Dutch students is reason enough to not feel integrated at all. 
This is an area in which UU's Warm Welcome team does see room for improvement. "This has been quite a common theme in the last few years," states Bath. A new 8-week Dutch course has been arranged for first-year students to follow prior to their arrival. The first students in this Dutch course are set to begin their studies in September. "We are also building free Dutch language & culture courses for students to follow during their time here," she adds. Finally, the Warm Welcome team plans to organise cultural activities and language coffee hours in partnership with ESN to help international students learn the basics of the Dutch language.
To Terri van Velden from ISO, this is another area in which the Dutch government could get more involved. "The integration between Dutch students and international students is not going to happen by itself. Many associations, fraternities, sororities and clubs are 'Dutch only', so international students do not join them."
Housing shortage can be a source of stress
The questions concerning the information received by the students about practical matters may seem unrelated to mental health at first, but the two are actually closely linked. "Knowing where to go to get a SIM card or what they need to open a local bank account eases the stress of the first few days. It helps international students settle and feel more in control," explains Bath. The Annual International Student Survey confirms the importance of good communication: the majority of respondents do not know that they are entitled to a student public transport card if they work in the Netherlands for 56 hours a month, for example. The rules concerning mandatory health insurance often make them confused, too.
To the satisfaction of the Warm Welcome team, most students who attended the barbecue said they were content with the amount of information they got from the university upon arrival, both through the orientation week (which is now called Welcome Week) and UU's website. However, several of them feel that the university should have provided them with more information and guidance on how to navigate the scarce housing market. After all, the competition is ferocious. "It was stressful to get into SSH," says an exchange student from the EU. "I was mad that the university posted a few weeks ago that international students that don't find housing should stay home — just don't accept more than you can handle!"
"We work closely with the Student Life & Mobility team to know what we can and cannot communicate but ultimately, it is they who manage this. There is plenty of information available online for the students and they are sent several e-mails over the summer period as well, with all the options available to them", explains Bath. "But the housing crisis is dire — so much so that, this year, we had to tell students to reconsider coming if they can't find a room — and, unfortunately, we cannot find housing for them."