Discussing failures
At Faal Festival, students break free from the pressure to perform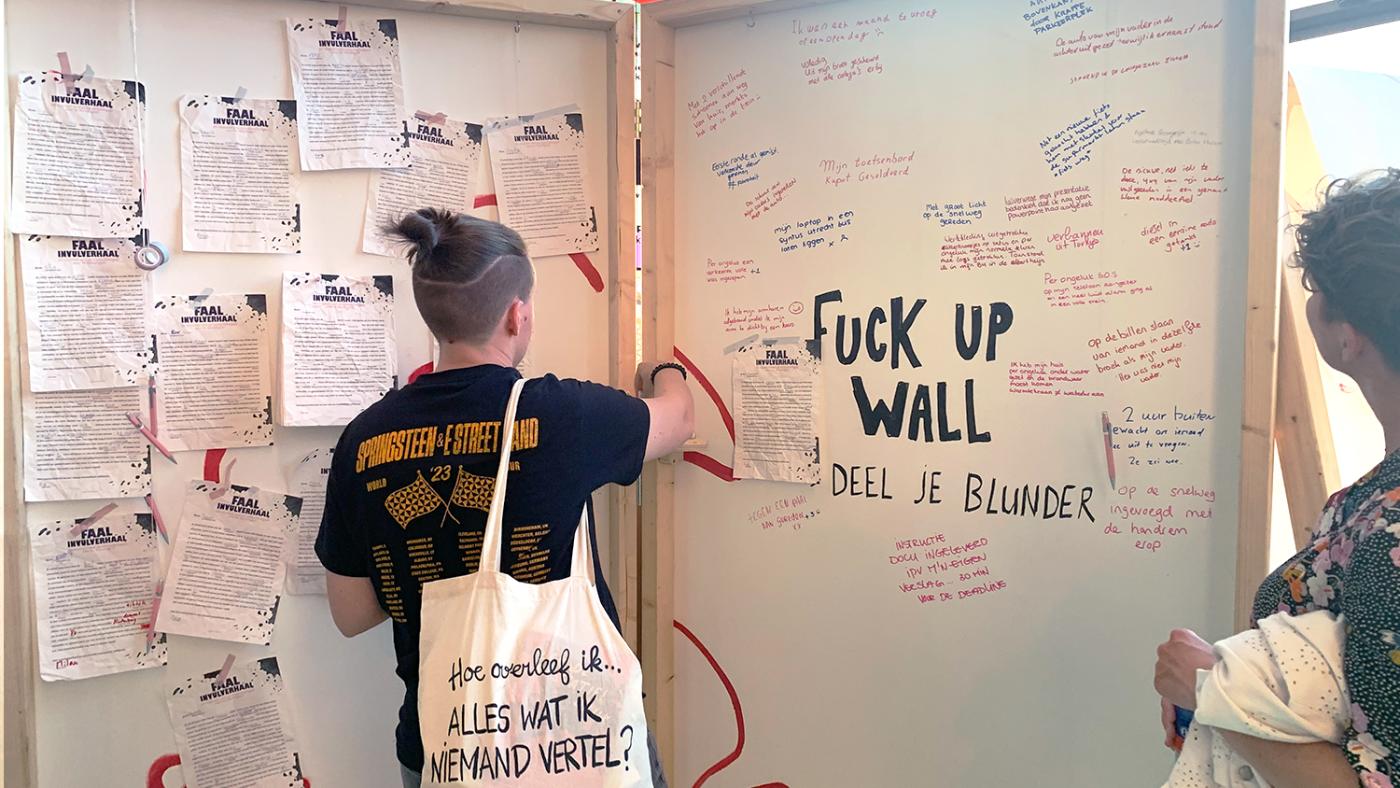 The so-called Fuck Up Wall at the Failure Festival. Photo: DUB
Everyone looks happy and perfect on Instagram but that's "all just hot air", according to alderman Eelco Eerenberg, the first person to share his personal failure story at the festival. He says he makes mistakes all day. He's got a button with the sentence "perfectionism, no thanks" on his jacket, although he admits to being pretty perfectionistic in his speech.
The most awkward moment in his political career happened when he got a complete blackout during an interview that was broadcasted live on television. Although the best reaction would be to say "Oh well, I guess I'll do better next time", the alderman thinks that "perhaps that would make you an overly polished, implausible version of yourself." In his view, it's better to stay sincere, even if that sometimes means that you failed.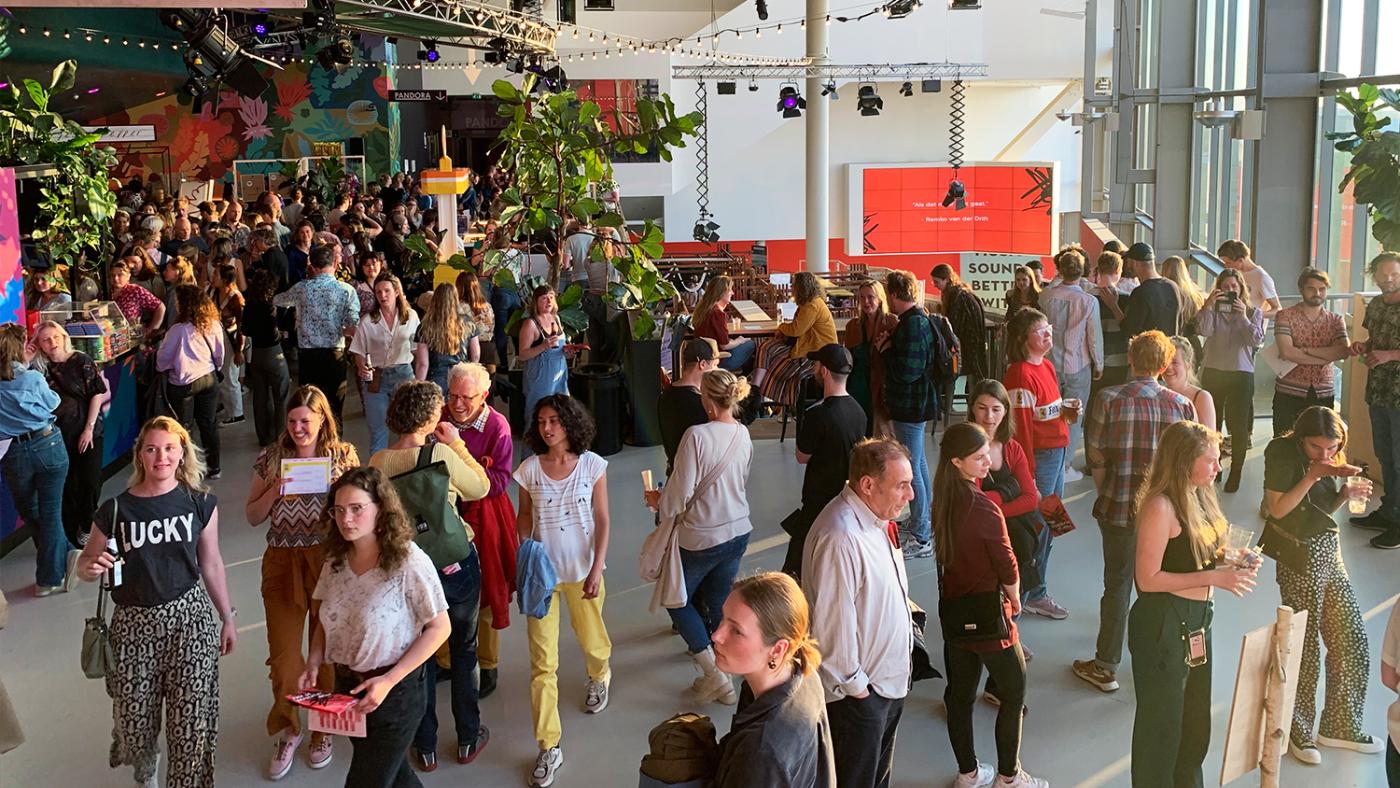 In addition to the lecturers, the public could also participate in a number of activists about failure.
The fear of failure also takes over writer Francine Oomen, who talked about the voice in her head that is constantly criticising things and what she does to stop it or at least ignore it as best as she can.
The audience cannot help but talk about their insecurities too. "Other students are getting better grades," says a visitor in the room, adding that it makes her wonder why she "can't do what her classmates can". That thought alone is enough to cramp her up, which is counterproductive in the end: she actually starts performing even worse.
Learning from your failures
UU is organising the second edition of the Failure Festival in collaboration with TivoliVredenburg and the Institute for Failure Studies. It's a festival "where doubts, insecurity and failure are put in the spotlight as normal human phenomena." It is meant to be an antidote to the rat race and the performance-based society we live in, encouraging the audience to no longer be afraid to fail.
In addition to the lectures, there are activities and interactive installations in which visitors are invited to fail. There is the Clumsy Speed Date Café and the We Cannot Draw Club, in which drawing is guaranteed to fail because of obstacle courses.
Artist Lot van Os is the brain behind the installations It's never too late pole and Happy Charge Station, where visitors hear kind messages through headphones. Van Os came up with this installation with the thought: "We're always charging our phones and refuelling our cars but what do people actually need to hear? Encouraging words and compliments!"
The idea for the It's never too late pole came later. "It's about doing what makes you happy. It can be large goals like bungee jumping or a trip around the world but it can also be something like 'having coffee with your neighbour.' Visitors can leave a parking ticket for everyone who's parking their goals. You can write out a ticket with a text that motivates someone else to pursue their goal."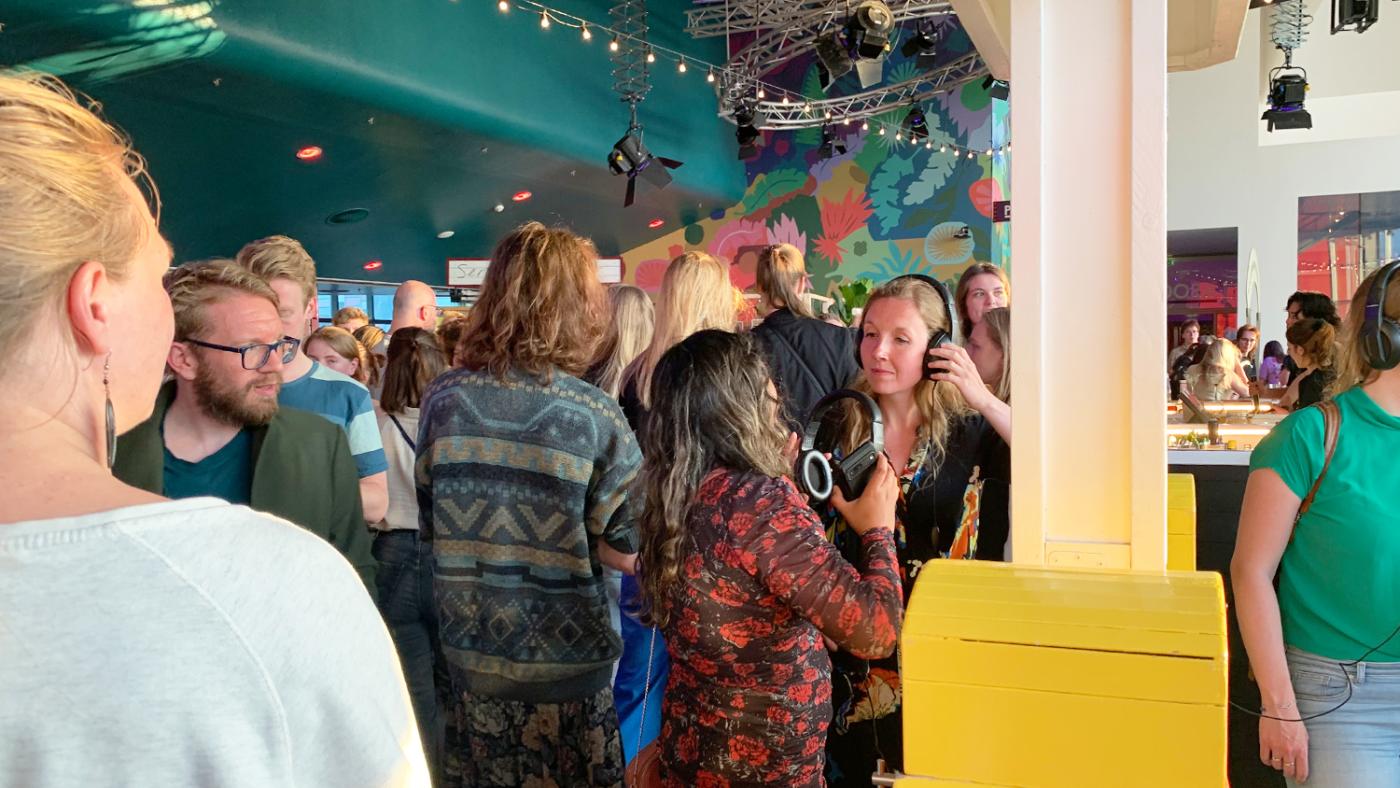 At the Happy Charge Station, visitors can hear encouraging words through headphones.
Asked whether they feel pressured to perform themselves, Biology students Linde and her friend Anneloes, who studies in Amsterdam, say "definitely" simultaneously. They won tickets to the Failure Festival through a university giveaway, so they didn't really know what to expect. "It's a lot of fun," says Linde, explaining that the festival is getting them to think. "We really want to get things right in one go but we actually also learn from failure. It's just that failure is scary." And that's why, as a society, we should talk about failure more. 
Successful speakers
The speakers at the Failure Festival were not just anybody. In addition to Eelco Eerenberg and Francine Oomen, former elite athlete Gregory Sedoc and speed skater Irene Schouten were invited to share their failures as well. Splinter Chabot, who already has his own talk show and wrote three books at the age of 27, interviewed Tim Hofman, who has just been awarded Journalist of the Year.
By featuring such successful people, the organisers aim to show that everybody messes up and feels insecure, perhaps even on the verge of giving up, sometimes — no matter how big or small they are. The organisers also think that watching successful people talk about failure makes them feel better about themselves. It is reassuring to know that they have the same moments of failure and disaster as you.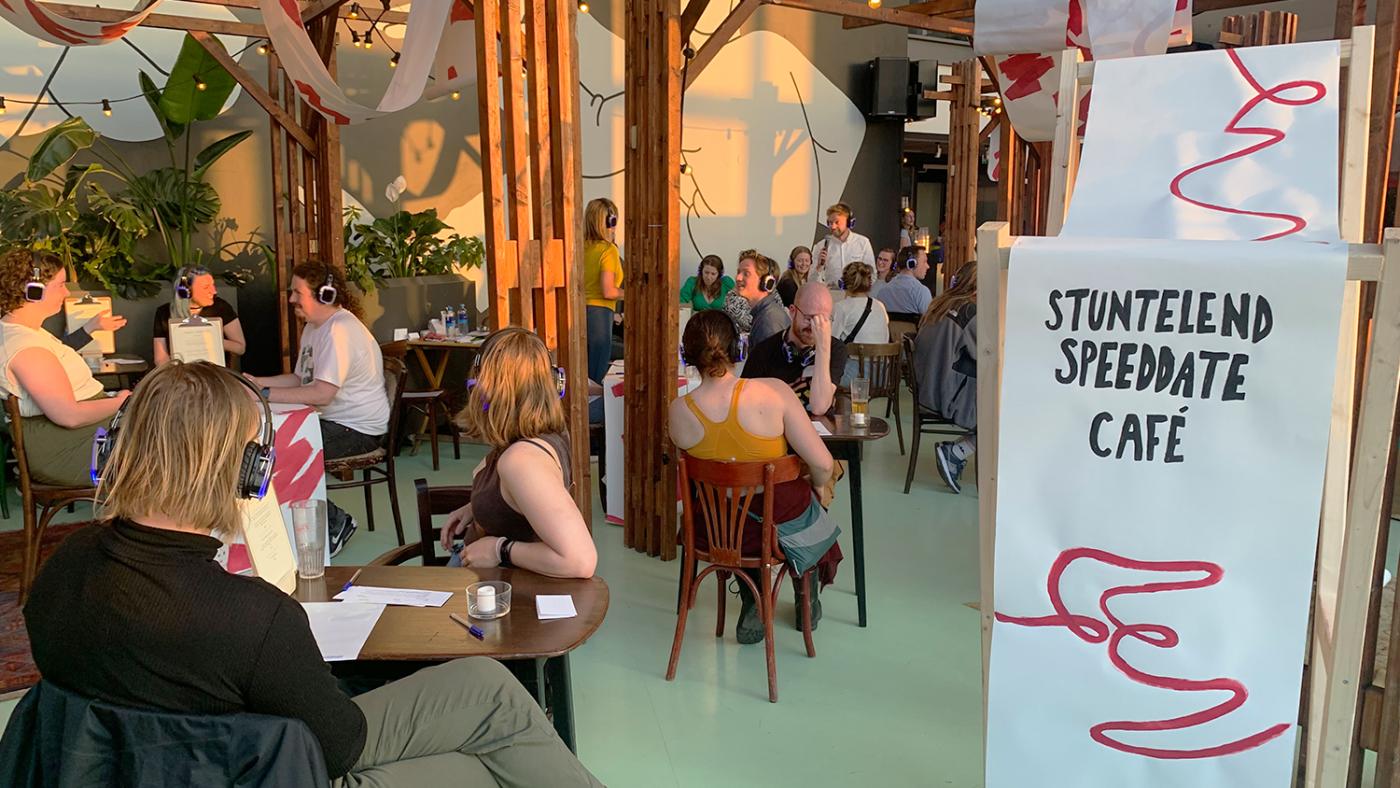 How about an awkward speed date at the Clumsy Speed Date Café?
When Geerlof de Mooij enters the stage near the end of the evening, it is clear how painful and awful failing can feel. Eight years ago, he was in the news he committed large-scale plagiarism while working as an intern at the newspaper De Volkskrant. He says the pressure had gotten the best of him. Onstage, he admits that he still finds it "a bit scary" to talk about that. He's always said "no" to interviews but the idea behind the Failure Festival appealed to him.
He was 19 years old when he ended up on the Economics desk. Never before had he written a news story, nor was he used to the high pressure of daily deadlines. It all started when he copied one sentence. "It was a very technical story," he says, and he wanted to edit it out at first but no one found out. After that, he started doing it more and more often.
Second chance
"I wanted to avoid making a mistake at all costs. Ironically enough, that's exactly what happened." Now he wonders why it mattered so much to him. "I wanted to be as good as the journalists who worked there and I put a lot of pressure on myself."
Eight years on, his life is looking a lot better: he got a second chance at the newspaper Noordhollands Dagblad. In that sense, the bad experience brought him something. He says his life has become more enjoyable because he no longer feels as pressured to perform.
In sum, the Failure Festival showed that we must all learn to fail a little bit. Geerlof's fear of failure caused him to do exactly that but it also taught him how important it is to not always want to perform your best. That might just be the real solution to our performance-based society.