New format
First-year international students acted as group leaders during Welcome Week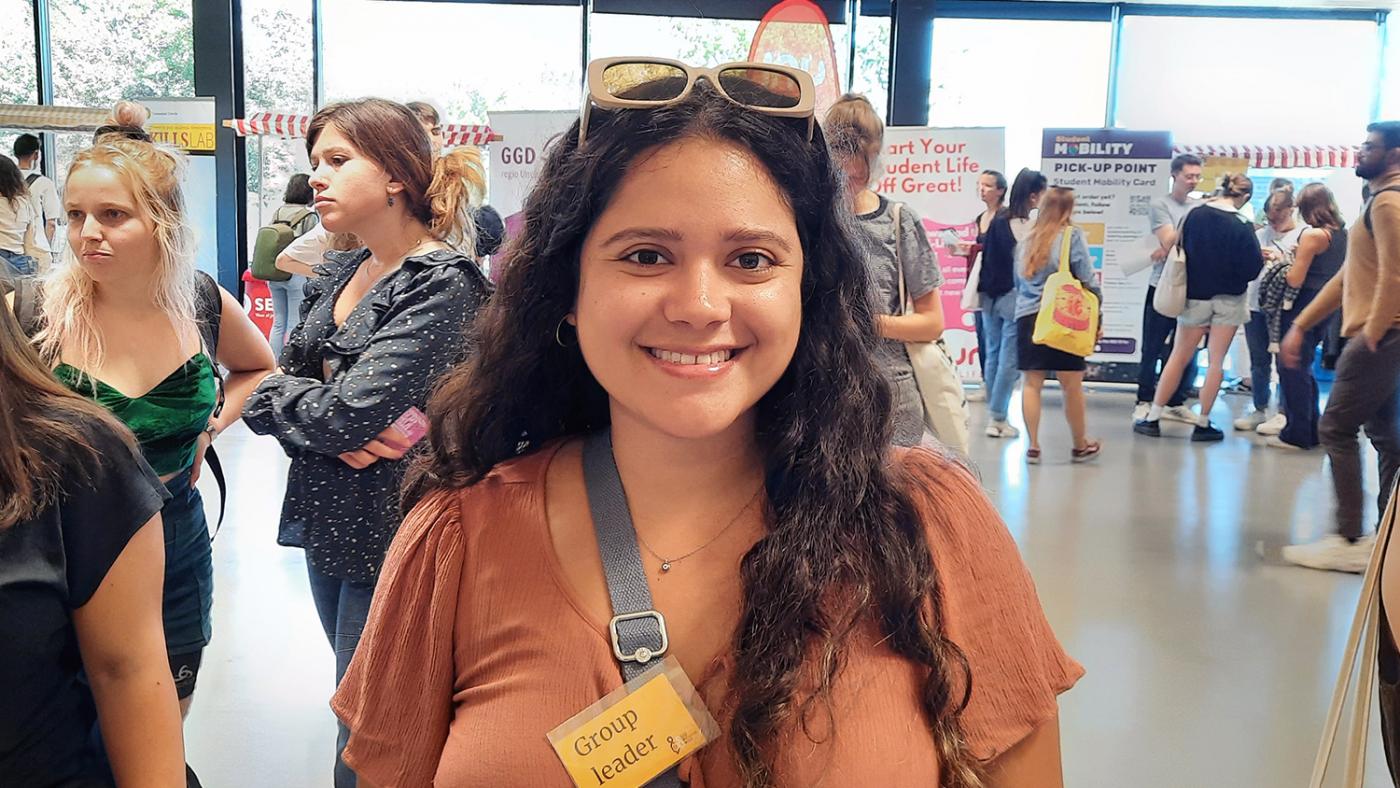 Master's student Kiara, from Peru, volunteered to be a group leader because she likes to help people. Photo: DUB
"I'm a little bit shy as a person", says Bachelor's student Evan, from France, who has just arrived in Utrecht. "I really want to step out of my comfort zone. I said to myself: being a group leader is the perfect opportunity to challenge myself, learn a lot of things and meet more people." Evan arrived in the city on Monday, August 29, the same day the Welcome Week started. "It was funny. Like, wait, I literally just got here and I'm a leader? But I wasn't nervous at all because I followed the training and my group also has a second-year Dutch student as a mentor. If I don't know the answer to a certain question, I can always ask her."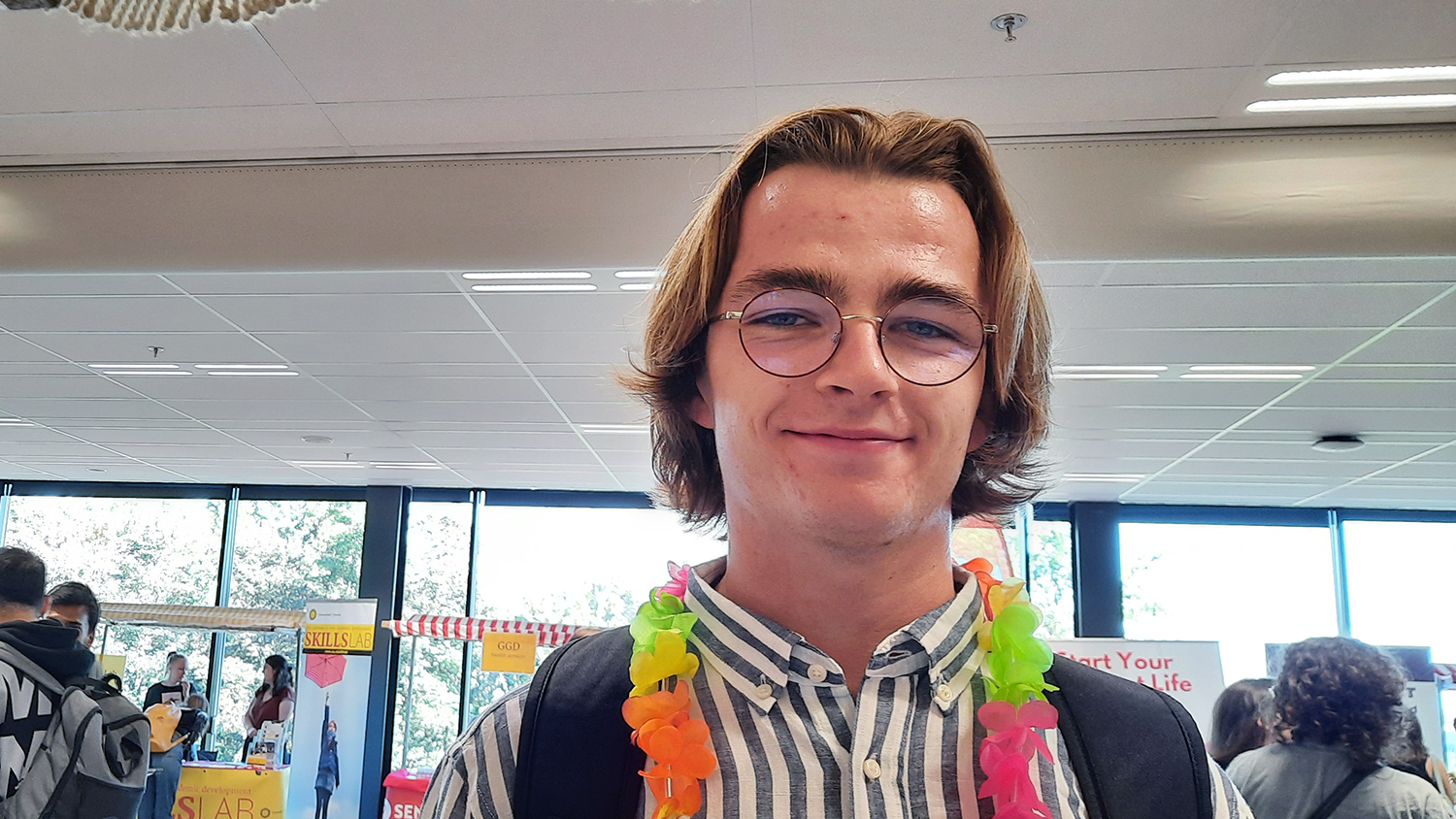 Evan wants to step out of his comfort zone. 
The idea to have first-year students in the position of group leaders occurred to Project Coordinator Eline Bollaart, responsible for organising the Welcome Week, while she was on her bike, cycling to the Utrecht Science Park and trying to figure out a solution for the lack of volunteers. The Welcome Week needed about two hundred senior students to help the recently-arrived international students figure out where to go and when, make sure they don't get lost during the city tour, help them mingle, and answer their most pressing questions about the university and the city.  Unfortunately, not enough senior students signed up for the role.
"I realised that incoming students could also do that. They're so hungry for information, so they could get extra training to know a few things about the event beforehand. We could actually turn this into a self-developing opportunity. That's why we've developed a programme for them which includes a picnic for the people already in Utrecht and a hybrid leadership training about coaching for young leaders and empathy as a leader. We've also created a WhatsApp group where group leaders can hang out."
The organising team then sent an e-mail to all 24,000 students signed up for the Welcome Week, saying the university had an opportunity for them to develop themselves and enrich their experience of the event. There was also a very attractive perk: free access to the final party. Applicants were asked for a motivation letter in which they introduced themselves. "Some students sent their CVs as well, but that was absolutely not necessary. We don't require them to have any previous experience," says Bollaart.
A hundred sign-ups in five days
The idea turned out to be spot on: in five days, there were a hundred sign-ups from all levels (Bachelor's, Master's and exchange). According to Bollaart, additional messages for social media had been planned, but they turned out not to be necessary. In the end, the Welcome Week could count on 150 group leaders, meaning that some groups had two leaders. "Some of them also have a senior student as a mentor, but unfortunately that wasn't possible for all groups. In the future, we would like every group to have a senior mentor as well."
The Warm Welcome team was initially afraid that the vast majority of volunteers would be Master's students, as they try to group participants according to their level (Bachelor's, Master's or Exchange). Luckily, that turned out not to be the case. Master's students formed only a slight majority.
According to Bollaart, two-thirds of the first-year students who signed up to be group leaders were already in Utrecht when the three-day training started. The rest followed it online. The ones who could be physically present for the training were invited for a picnic ahead of the event. Jackie, from China, was one of the students who followed the content online. "The leadership training taught us how to have empathy and how to involve all group members so they get to know each other more. I thought those would be useful skills to acquire. I had nothing to lose and it would be fun to see people arranging things behind the scenes. Why not?"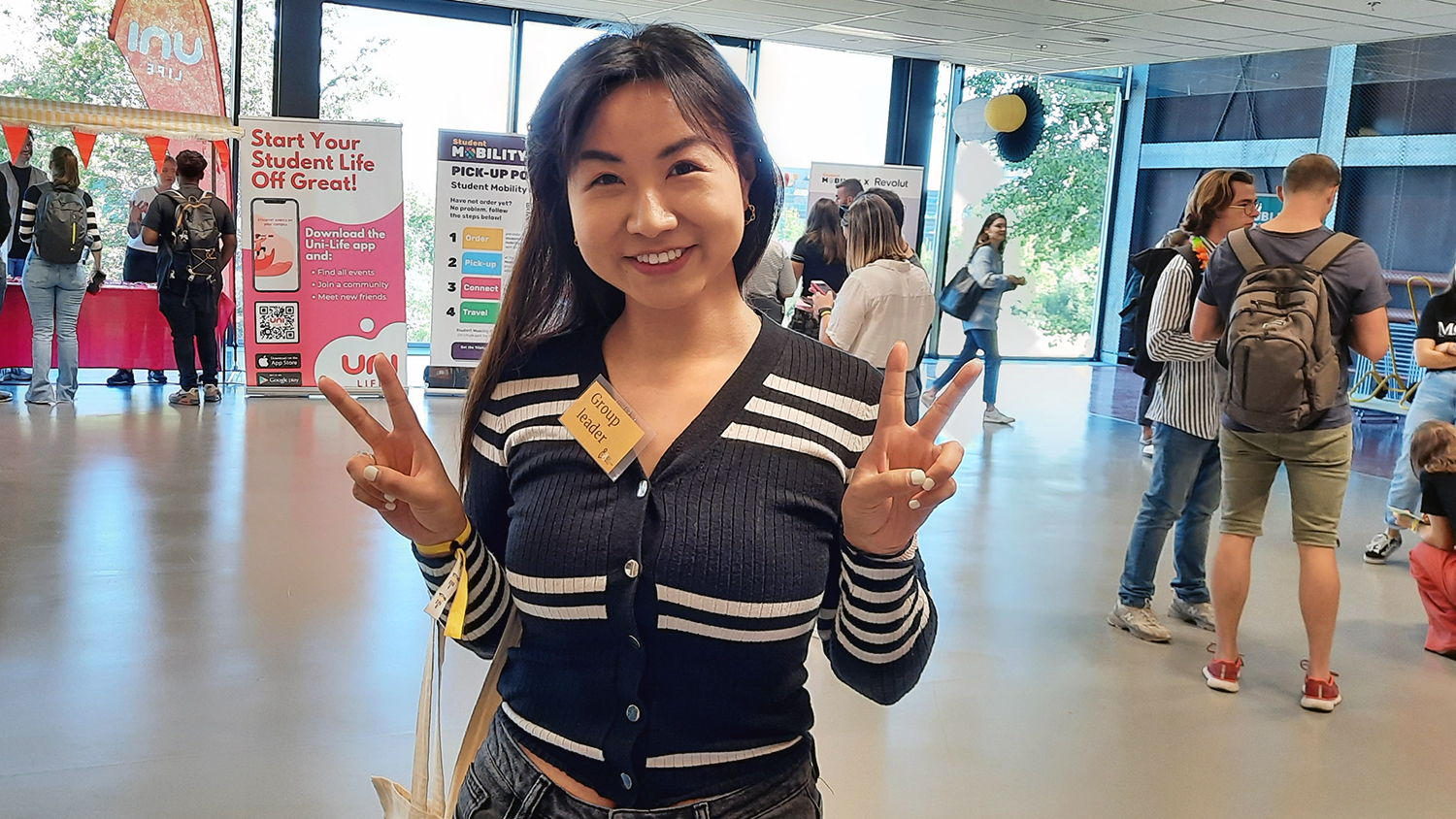 Jackie: "I thought it would be fun to see people arranging things behind the scenes." 
In addition to the WhatsApp group and the picnic, mentors and group leaders also helped each other and their fellow students by creating a shared FAQ document. Another online tool that comes in handy was Discord, a forum platform where the Warm Welcome team has a channel where students can answer each others' questions. The Welcome Week organisers could step in if no one knew the answer to something. Finally, there is a Welcome Week app with the programme and a checklist of errands international students must run upon their arrival in the Netherlands, such as getting a BSN number, a SIM card and registering with a family doctor.
Just someone who is there
Asked whether it isn't a lot of pressure for a first-year student to take on such a role, Bollaart says: "we always say: 'don't worry, you're just someone who is there'. They're not expected to know everything. It's actually nice if your group is led by someone who is on the same boat as you."
Group leader Jackie confirms: "Everyone knows I'm a newbie just as much as they are. To me, being a group leader actually eliminates a bit of the awkwardness of meeting new people. I am supposed to be the one in the middle, telling people to take a group photo and things like that." Evan, the shy French student, also thinks that the experience helped him meet more people than he would have otherwise.
Other students, however, volunteered because they are natural leaders themselves. Kiara, from Peru, who is in Utrecht for a Master's in Innovation Science, is one of them. During her Bachelor's, she chaired a few student associations and realised she had a knack for leading things. "I like to help people." Although she is happy to have volunteered, Kiara wishes she would have received more information from the Warm Welcome team ahead of the event, so she could perform her duties a little better. "I think we're kind of dispersed. Not having all the answers is a bit overwhelming sometimes. The training was well organised, but I think it is still lacking information. The same goes for the app. It's okay, though, I know this is how things go, there are always going to have mistakes in the process and then you sort them out the next time. I'm just trying to learn as much as I can so I can help others."
As this is the very first time that first-year students act as group leaders in the Welcome Week, Bollaart says the Warm Welcome team is going to evaluate the experience and ask leaders and mentors for feedback afterwards. "But, so far, there have only been advantages." The international students approached by DUB during the information market were unanimous in saying they like having first-year students acting as group leaders: even when they don't know something, it's nice to know someone is there to help figure it out.
Super mentors
In addition to group leaders and mentors, the Welcome Week also counted on three "super mentors": senior students who have volunteered in the event before. Dutch student Janine, who is in the second year of a Master's in Infection Immunity at the Faculty of Medicine, was one of them. "This is the second time I do this. It all started when other students from my Master's were answering first-year students' questions on the Discord channel and I realised that a lot of questions were easy for me to answer. Firstly, because I already live here and, secondly, because I speak Dutch and some of the websites don't have an English version. Some things would take them hours to find out, while I can figure it out in five minutes. The next thing I knew, I was answering everybody's questions! A lot of people asked me if I was going to be a mentor as well. I didn't even know what a mentor did, so I checked it out on the website and I was like: 'sure, that way, I can help more people'."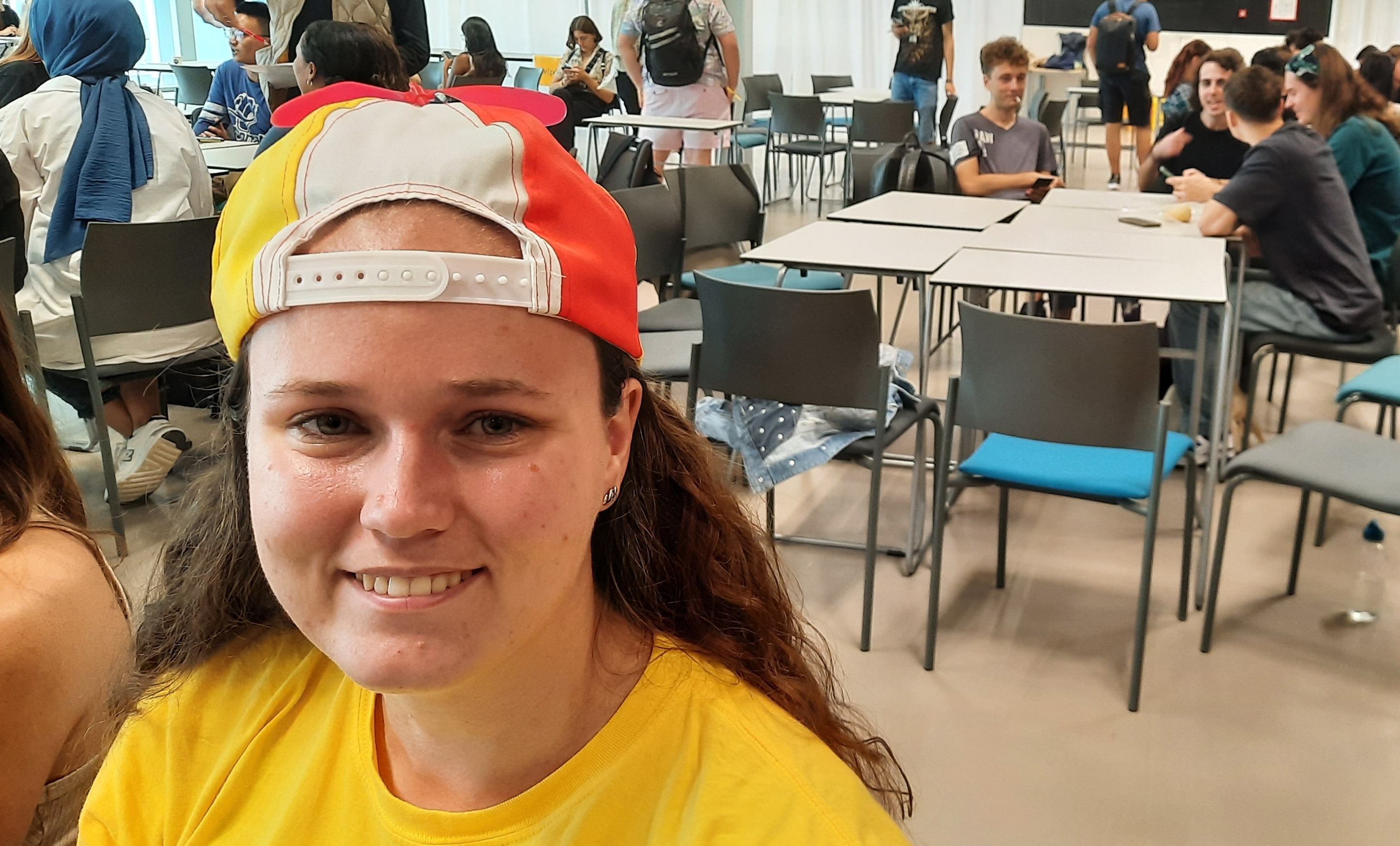 Dutch Master's student Janine wearing her 'super mentor' hat: "Some things take them hours to find out, while I can figure it out in five minutes". 
Janine likes the introduction of first-year group leaders. "I really like that there's somebody else helping. Last year, I did everything alone. I was responsible for a group of twenty people. It wasn't always easy to keep an eye on everybody and make sure everyone's needs were met." But she does think more Dutch students should volunteer as well. "I understand why they don't, though. It is the last week of the summer break, so most of them just want to have fun. But try to put yourself into international students' shoes: imagine moving to another country and nobody is there to help you and you just have to figure it all out by yourself. That would suck for you, too."
Advertisement