Former UU student complains:
'I didn't understand my own graduation ceremony'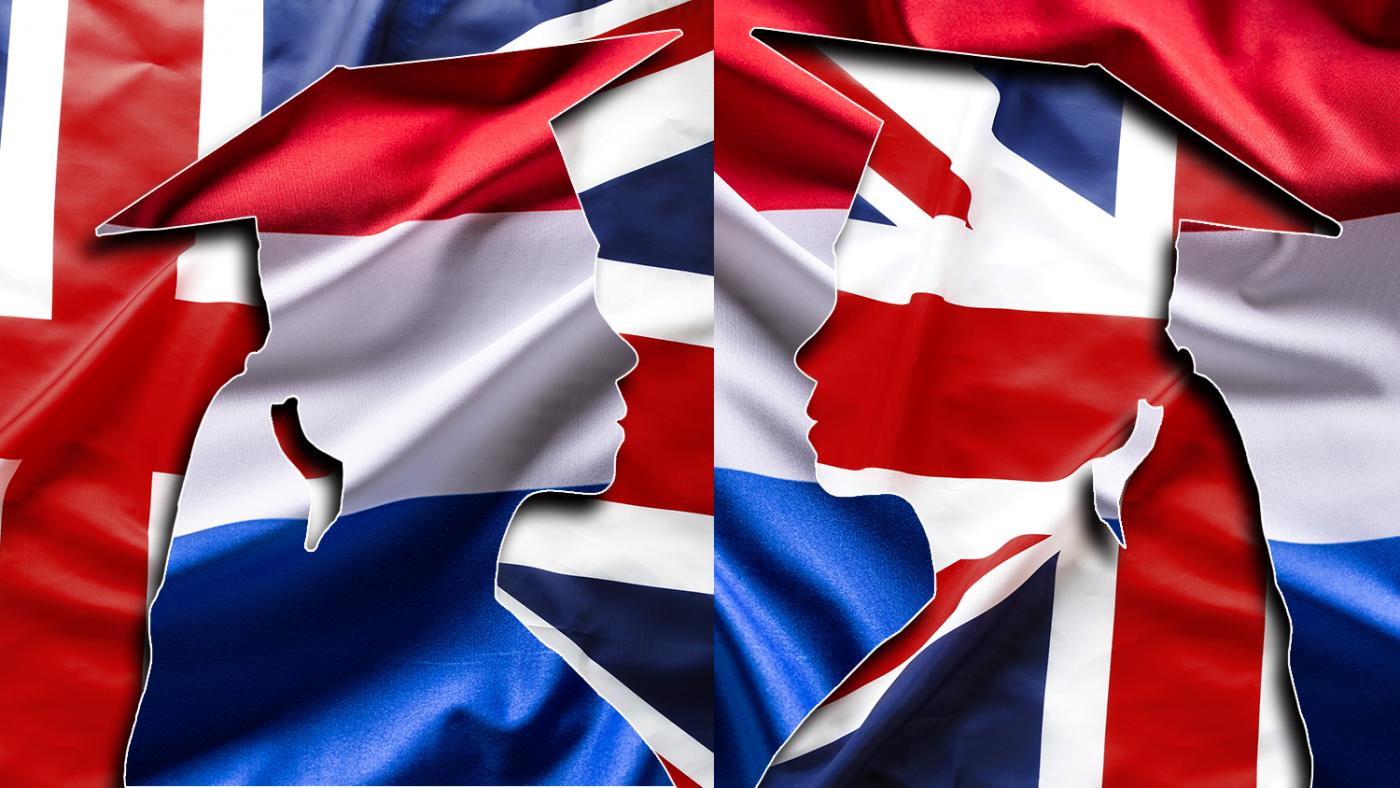 Photo: 123rf; Illustration by DUB
Victoria, who comes from Belgium and doesn't speak Dutch because her parents come from Spain and France, says she only understood the first five minutes of her graduation ceremony, which took place in October 2022. According to her, after those five minutes, the entire event was conducted in Dutch. "I was not even able to follow the instructions on what to do once my name was called. I just heard my name, stood up and awkwardly made my way to the stage, waiting for someone to tell me what to do. I hated every moment of it."
The graduate says the event was the last straw for her, as it was "but the last episode in a long string of similar occurrences" at Utrecht University. As an example, she mentions that Dutch videos and examples were often used in English-taught classes. "In my Phonetics class, for instance, they used a lot of Dutch examples to make the students understand the point the teacher was trying to make, except I wasn't able to understand it."  In another instance, a video made in English but dubbed in Dutch was used in a lecture about intercultural communication. Victoria claims to have written an e-mail to the teacher afterwards and he replied that she could have easily found the original version of the video on YouTube. "Why didn't he do that, then?" Victoria retorts.
"I have had to send e-mails to teachers and interrupt classes on countless occasions to fight for my right to understand the courses for which I had paid the same tuition fee as Dutch students," she concludes. The English Language and Culture Programme has been English-only (with the exception of translation courses) since 2019.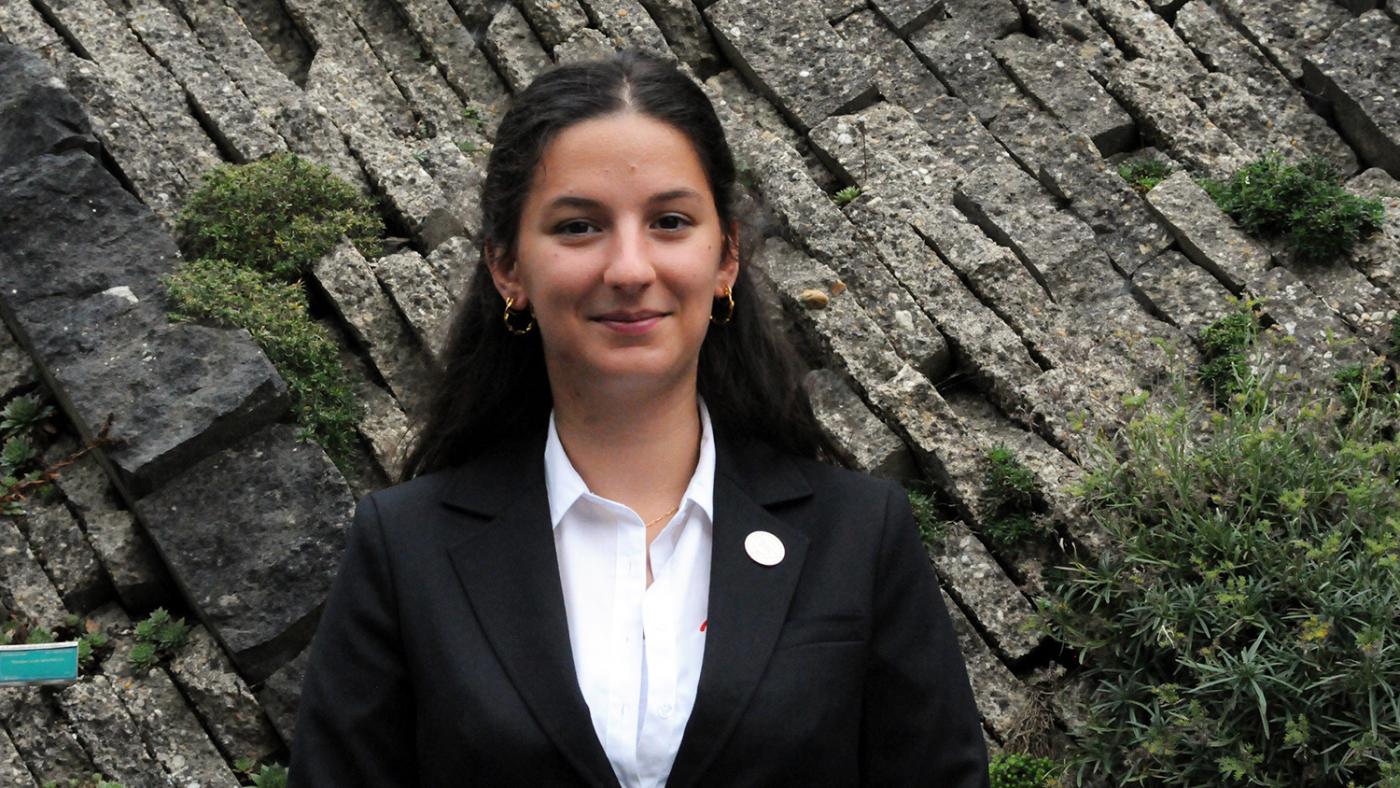 The UU alumna Victoria Bluriot. Photo: courtesy of the graduate.
'A simple mistake'
Victoria's graduation ceremony was conducted by Assistant Professor Rias van den Doel, chair of the Board of Examiners. He explains that all ceremonies are, by and large, bilingual – including Victoria's. "My predecessor used to conduct the main part of the ceremony in Dutch only. One of the first changes I made to the script was to make it more bilingual, which I understood to be in keeping with the English section's wishes."
Although an English-only ceremony may sound like an evident choice for an English-taught programme about the English language, Van den Doel notes that the majority of students are Dutch, which means that their family members might not be able to understand English. Last year, 79 of the 100 students admitted to the English Language and Culture programme were Dutch.
According to the new script, there is now a section in English and a section in Dutch, and the latter includes a short speech by Van den Doel. After that, all cum laude students are individually addressed by teachers in their preferred language. These speeches are not translated, so if most or all cum laude students choose to be addressed in Dutch, international students and their families will spend a long time without understanding what is being said. But the same goes for Dutch students' family members who don't speak English if most cum laude graduates opt for a speech in that language. "There is a recognition that there are multiple stakeholders, which makes it difficult to decide what to do," states Van den Doel.
The procedure is supposed to be explained in both languages as well. However, there was a problem with Victoria's particular session: "There were a couple of logistical issues that day, so I inadvertently forgot to explain the procedure in English," Van den Doel justifies. "It is extremely unfortunate that this happened and it will not happen again." A promise echoed by the coordinators of the programme, Onno Kosters and Koen Sebregts, in an e-mail to DUB: "The issue comes down to a simple mistake, swiftly remedied and unlikely ever to occur again."
In any case, Van den Doel, Kosters and Sebregts deny that there were only five minutes of English in Victoria's ceremony as the only cum laude student in that session was addressed in English. Kosters and Sebregts also stress that they support Van den Doel's bilingual approach to the graduation ceremony.
After the ceremony, Victoria sent an e-mail to the Board of Examiners to express her disappointment. They say they asked for her permission to forward the message to the complaints coordinator but the student didn't reply. Victoria claims not to have received the answer but she'd be hesitant about moving forward with a formal complaint either way: "I'm leaving the university anyway."
'What am I doing here?'
Victoria is not the only international student in the English Language and Culture programme who feels like they're missing out on some of their education because they don't speak Dutch. Chiara Palmeri, from Italy, is a first-year student in the programme. She echoes some of Victoria's complaints. "I think it's okay to have some Dutch in our programme once in a while, as we made the choice of studying in the Netherlands but the amount of Dutch used during lectures and seminars is more than 'some.'"
According to her, not only does this make the content more difficult for international students to understand but it also causes them to walk on eggshells regarding whether or not they should point out that they didn't understand something. "Being in a group in which 99 percent of participants are Dutch, except for me and another student, it makes me really uncomfortable when my classmates feel like they cannot speak Dutch to the professors just because of me, or when a teacher mainly gives Dutch examples by assuming that everybody is Dutch."
Another student partaking in Victoria's frustration is Jenny Biersbach, a third-year student from Luxembourg, who says her first-year classes had constant comparisons to Dutch pronunciation and grammar. Like Victoria, Jenny claims to have reached out to a teacher to let him know she was disappointed about how much Dutch was being used in class. He acknowledged the issue and said that things would be changed eventually. "But it was such a vague answer. I think most teachers' attitude is that there are so few foreign students that they don't really need to adapt themselves to us," she sighs.
Commenting on Jenny's remarks, the coordinators of the programme say they don't think such an attitude exists. "Many of our staff are non-Dutch and we don't know of any Dutch-speaking colleagues who would do this either."
Jenny continues by saying that Dutch sometimes makes its way to the syllabus too. "One of the compulsory courses I had to take last year included mandatory readings in Dutch. They said: 'oh, we didn't find an equivalent in English and we didn't feel like translating it, so try and see if you can understand it.'" This same course had a week about translations and one of the mandatory texts was a translation from Dutch. According to Jenny, when this text was covered in class, international students were told to look for a translation from a language they spoke "and see what they could do with it". The student felt like a fish out of water. "I was like: 'what am I doing here?'"
"It is true that we make constant comparisons to Dutch, though also to other languages," asserts Sebregts. "In my six Phonetics lectures, I make 12 references to Dutch, 8 to French and 6 to Spanish. Polish, Mandarin, Arabian, Russian, Czech and Inuit are just some of the other languages I make comparisons to. Out of the 259 slides that make up these lectures, 19 contain a comparison with, or some reference to, Dutch. There are no Dutch words on these slides that are not glossed or translated."
According to Chiara, the amount of Dutch is not excessive in any one course, but "a little bit here and a little bit there, it all adds up at the end of the day."
Last but not least, Jenny's unsatisfied with the course offer. In the last block, she took a Creative Writing elective because the only other course available was Dutch-taught. "It ended up being quite fun but it was not a course I would have chosen otherwise," says the student. Kosters and Sebregts explain that one of the programme's specialisation tracks has a choice of two courses in its fourth period, one of which is only open to native speakers of Dutch because it is about translating texts from English to Dutch. "In both courses, creative writing is a core element."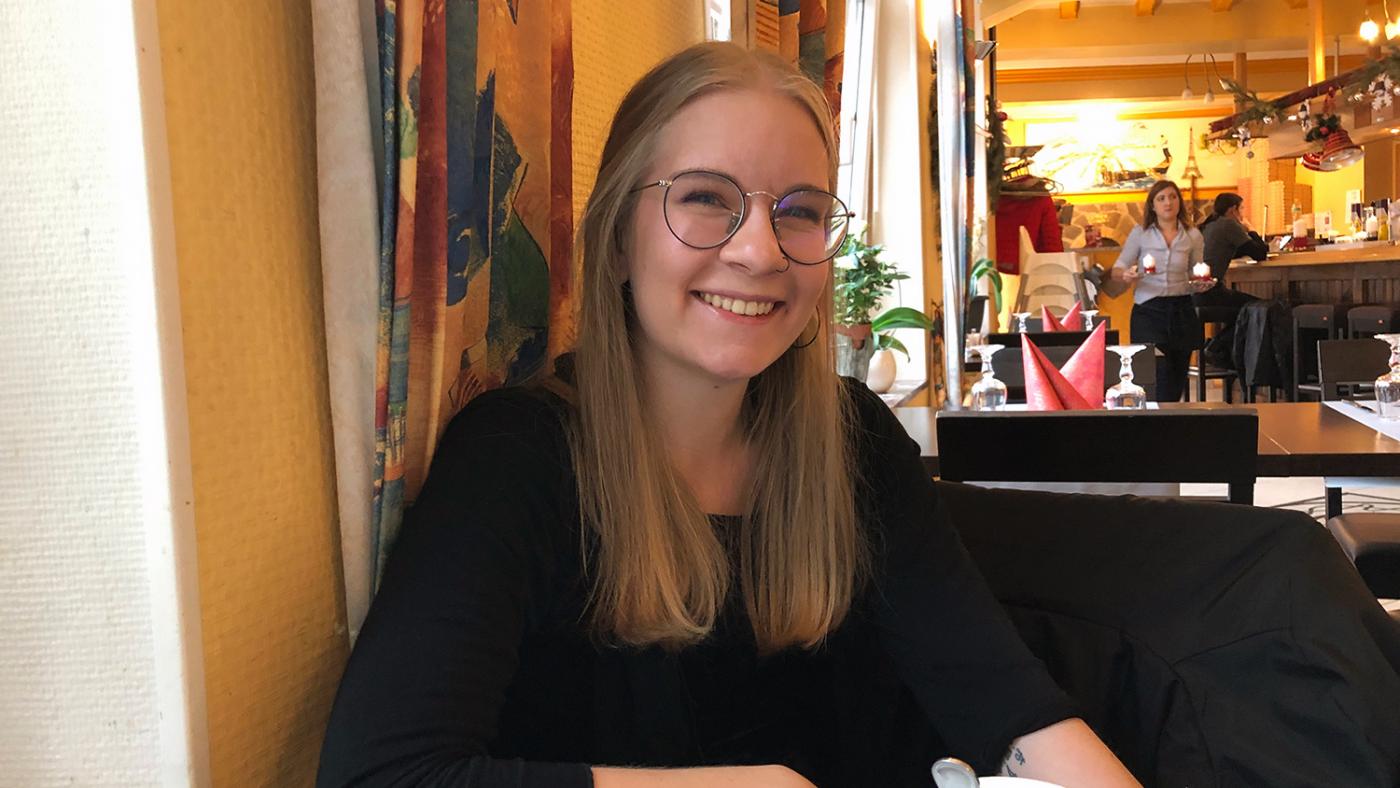 The third-year student Jenny Biersbach. Photo: courtesy of the student.
Ramifications everywhere
Both Victoria and Jenny underscore that the issue is not restricted to their programme. They see it as a structural, university-wide problem. As a member of a committee in her study association, Jenny received many e-mails in Dutch only from UU's administration. Some meetings with multiple committees were also conducted in Dutch even though those present knew there were students who might not speak the language.
As for Victoria, she once signed up for workshops organised by the Faculty of Humanities. There were both Dutch and English options, so she registered for the latter. Only to hear the instructors start the sessions by asking if anybody minded if they were conducted in Dutch. "It made me feel like such a burden. I felt as though I was forcing people to speak a language they don't feel comfortable speaking. But hey, I had signed up for the one in English. That's what they had offered!"

Van den Doel, the associate professor who conducted Victoria's graduation ceremony, is a specialist in English as a Medium of Instruction (EMI). He notes that English-taught programmes often involve more work and compromises than people assume. "It has ramifications everywhere, including graduation ceremonies. If you really want to do everything in keeping with all the different stakeholders' wishes, you need to allocate time and money to this. That's the hidden cost of EMI."
Advertisement