Swapping clothes at the Botanic Gardens
'If everybody swaps clothes, they'll always have something new'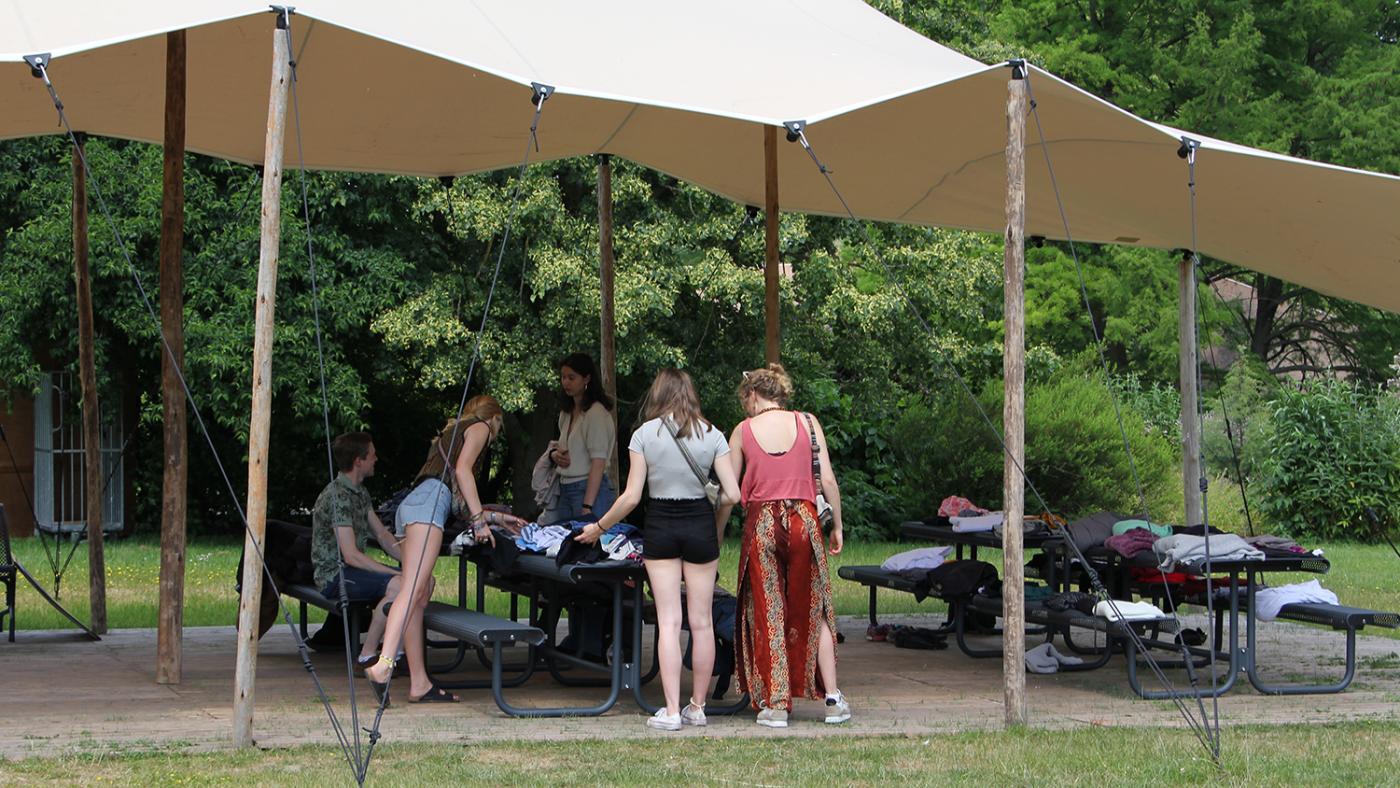 Photos: DUB
This is the fourth time that the Green Office and Thrift Shack organised a clothing fair on campus with the goal to show that second-hand clothing is a sustainable alternative to buying new. What is no longer fashionable for some may still be fabulous for others. Although the organisers had promoted the event on the Instagram accounts of both the university and the Botanic Gardens, they were still a bit anxious about whether or not people would show up.
"The last Thrift Shack happened in wintertime, at Educatorium," recollects Rob, a student in Global Sustainability Science who is volunteering for the event. "Hardly anyone showed up and I'm still trying to figure out why. People at Educatorium were either busy studying or had no interest in our clothes, which was a pity. After all, organising this takes a lot of work. If you look at it from a purely economic perspective, I'm not sure if it's worth the effort."
Fitting room
Even so, the organisers were hopeful because the sun was shining and no rain was expected that day — although such weather could work to their disadvantage too, as it was so hot that people probably preferred taking clothes off over trying clothes on. Fortunately, the organisers could use the big cotton tent in the Botanic Gardens for a friendly price, so there would be enough shade.
Underneath the tent, the organisers lined up a few tables where the items were neatly folded but displayed in a completely random way. The offer was comprised of clothes that didn't get sold in the previous edition of the event as well as of the donations made by students throughout the past three months. A wooden divider served as a fitting room.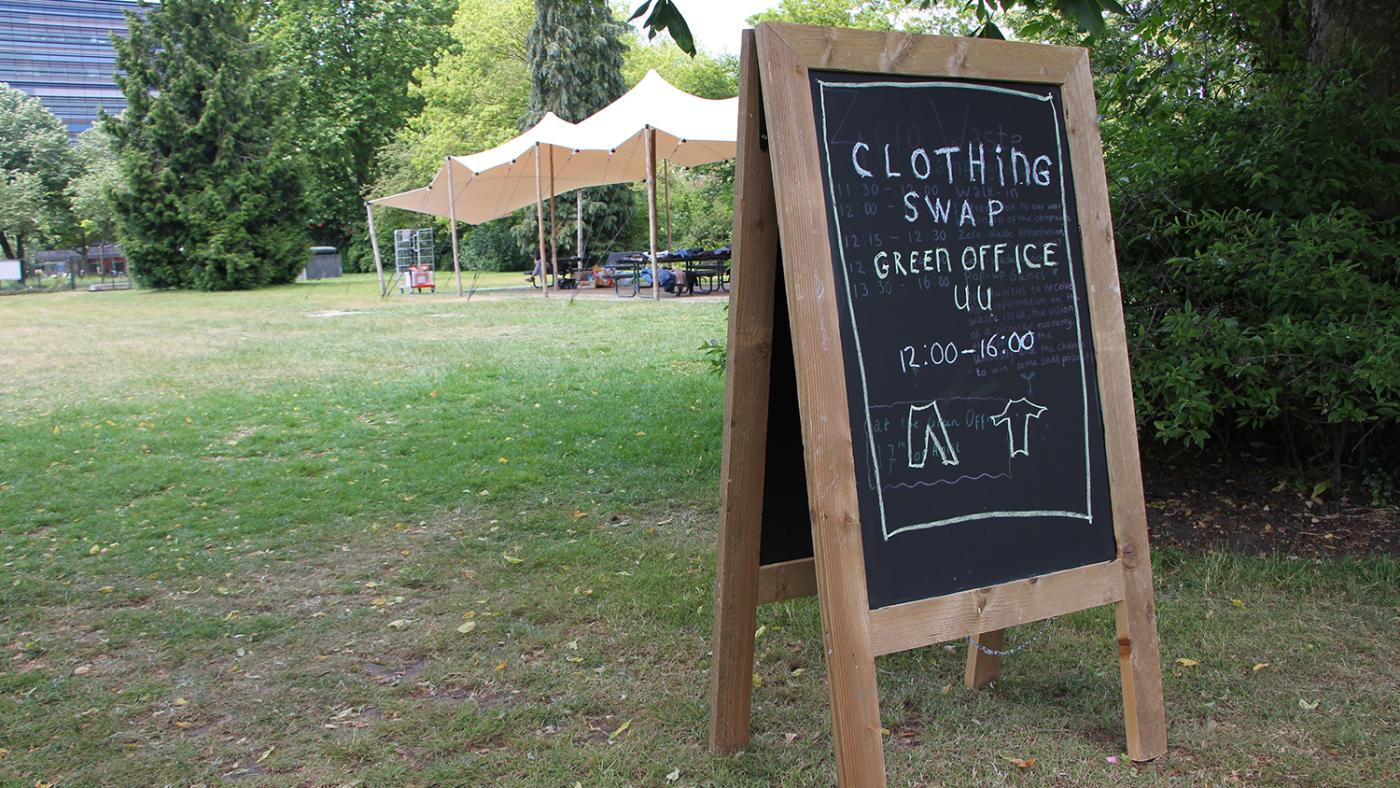 Vintage clothing is getting more expensive
The "store" opened in the hottest part of the day. The organisers hoped that students would stop by between classes, particularly those coming and going from the Koningsberger building, which was a stone's throw away. Things didn't take off immediately: customers trickled in and stayed an average of twenty minutes browsing through the clothes and sometimes even adding their own items to the pile. Some of them managed to find a second-hand item of their liking. Most customers were women, a trend also observed in the previous editions of the event, according to Rob. Granted, there was more women's clothing on offer than men's.
Although Julie, a student in Liberal Arts & Sciences, is an experienced thrifter whose entire wardrobe is second-hand, she wasn't able to find anything she liked this time. "The quality of the clothing is not as high here, compared to regular thrift stores. If you want to find a pair of Levi's, for example, you really have to take your time looking. That makes sense, considering everyone is welcome to bring what they want, even if it's old and full of holes. Besides, it's free, so we can't complain. At thrift shops, you still have to pay a considerable amount of money for second-hand pieces. They're getting more and more expensive."
Holes
Rob admits that the clothes donated did not go through a selection process. Thick jumpers are displayed alongside summer dresses, while blouses that are as good as new are side by side with stained trousers. "We take everything, even if it's all frayed. You never know, someone might find another purpose for it, like using the fabric to make something else."
Julie doesn't mind that the clothes aren't selected in advance, she actually agrees with Rob. "It's getting more and more popular to repair or design your own clothing. I even followed a few courses about that myself. Besides, what makes shopping for second-hand clothing so charming is the feeling of having found a treasure. You're going home with something no one else has."
Scabies
That's exactly what happened to her friend Sanne, who proudly shows us her "new" shirt — black, unisex, with a white print on the front. She brought some clothes she did not want anymore as well, for which she earned a small reward.  
Not everyone is a fan of thrifting, though. A Master's student in Bio Inspired Innovation is sitting on a bench in the Botanic Gardens. He prefers to enjoy the sun over going through piles of second-hand clothing. "I don't like swapping clothes. You never know if people washed them, which worries me given the scabies epidemic going on in Utrecht right now. Those creatures survive up to three days on our clothing, don't they?"
He gets an instant reaction from the woman sitting next to him on the same bench. "Don't be an idiot. You can put everything in the washing machine as soon as you get home. Even if there are scabies mites on the clothes, you're not going to get infected from quickly touching them."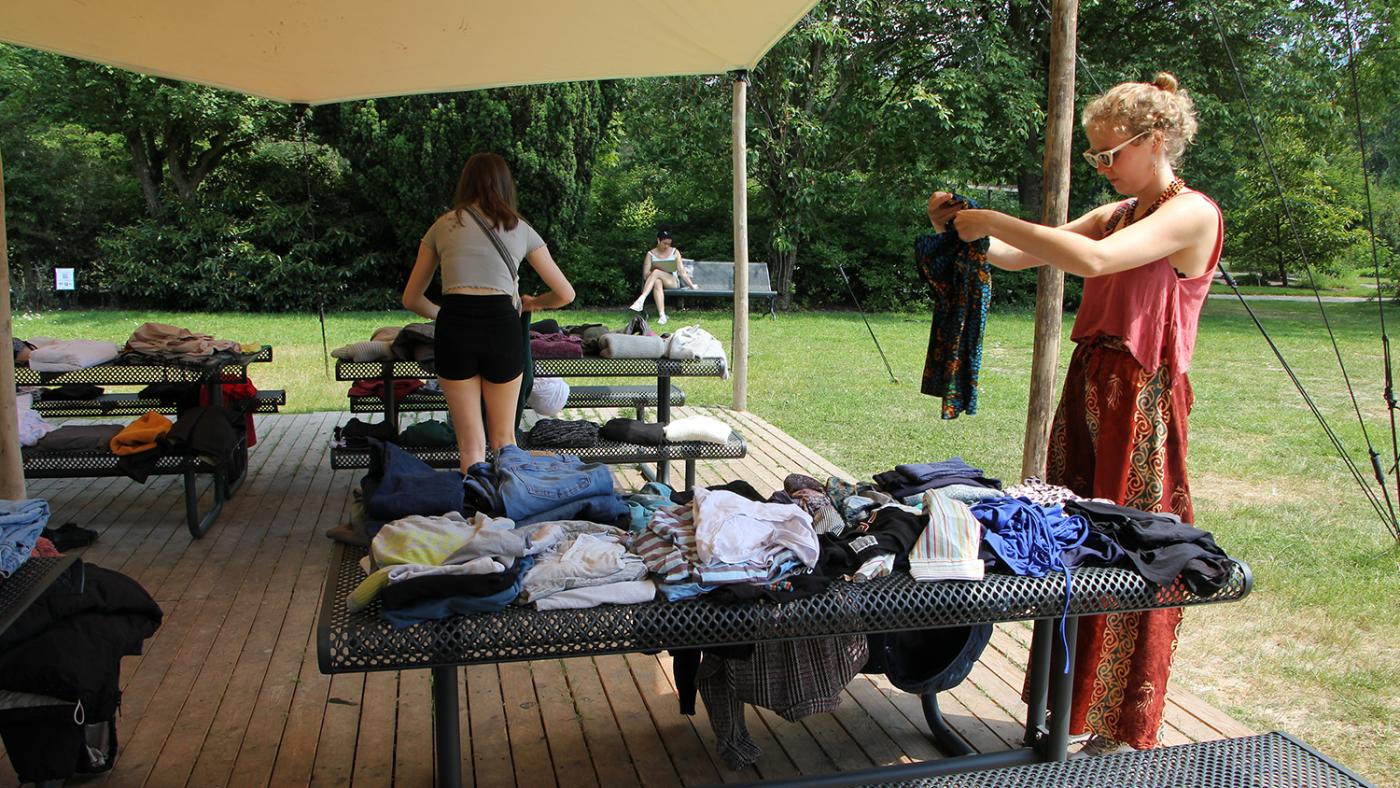 Emily, an Economics student who is volunteering for the event alongside Rob, has noticed that men are less likely to wear second-hand clothing than women. "I get the impression that they're more likely to think that it's dirty, even though that makes no sense."
The search alone is a lot of fun
Lilly, an intern at the Green Office of the Utrecht University of Applied Sciences, showed up as "just a customer". She is rummaging through the clothes excitedly. "I really love buying second-hand," she tells us. "The search alone is a lot of fun." She also brought a pair of trousers she doesn't wear anymore. "I bought it second-hand too, so this is actually third-hand. Perhaps even more. Isn't that great? If everyone swaps clothes, they'll always have something new." She manages to find a beautiful pair of blue trousers, albeit with a couple of white stains. "I'll just add some more stains to it, then it will look intentional."
Rob, who kept an eye on things the entire day, has a big smile on his face. With approximately sixty customers, of whom a few were able to find "a treasure" and take it home, he can officially say that this edition of the clothing market has been a success. 
The only issue is that, once again, there were a lot of clothes left. Up until now, all items that didn't get chosen after two consecutive editions were donated to thrift stores. But Rob hopes this will no longer be necessary. "We should actually have a fixed place on campus for second-hand clothing. Our other initiative, the Thrift Shack at Educatorium, where people can find all sorts of items, from mugs to keyboards, is going really well. People can bring and take used items there all year round. We are not allowed to offer clothes there, though, because that would attract mice and we're right next to the canteen. It would be nice if we could get another spot on campus for a little second-hand 'clothing store.'" 
Advertisement