Cash-strapped
'I'm lucky that my parents contribute'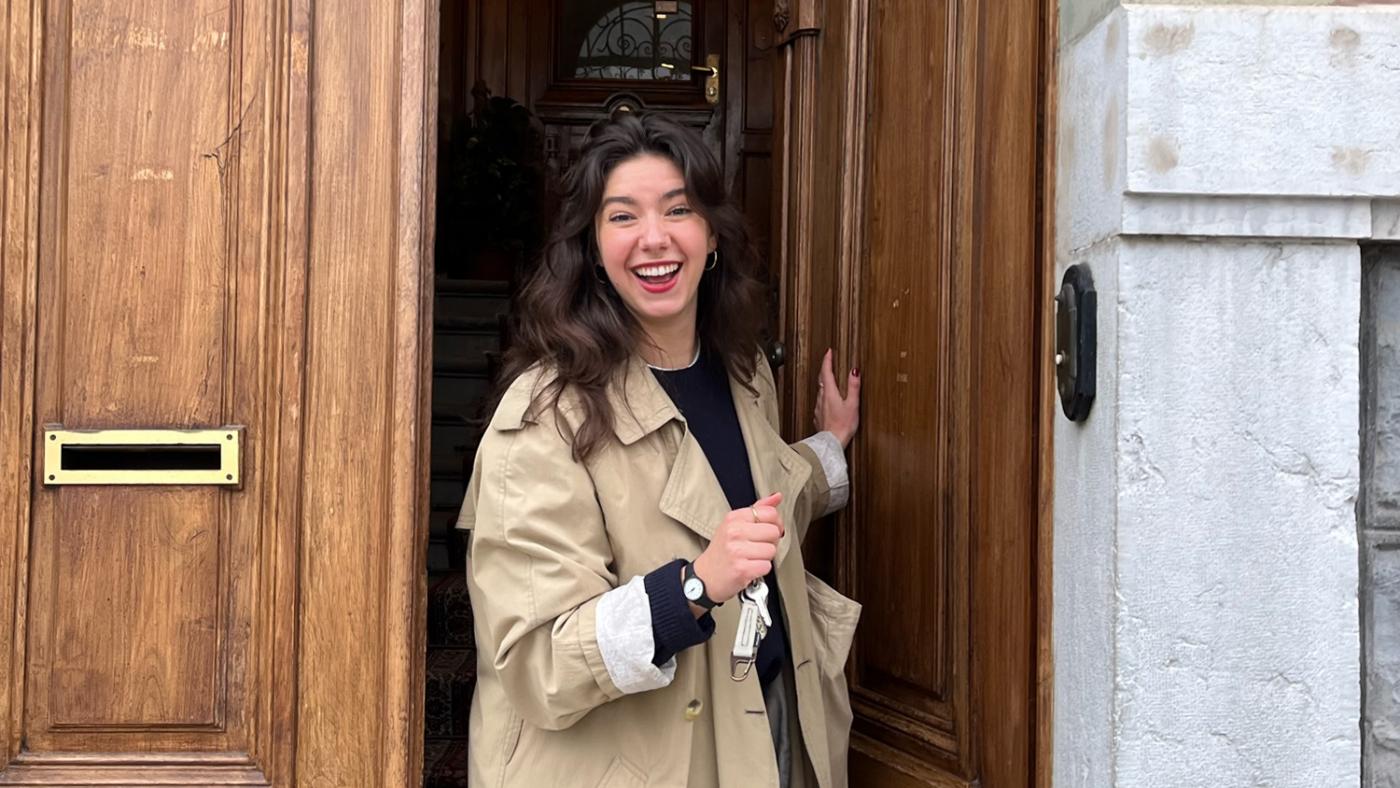 Photo: courtesy of the student
Life is becoming more and more expensive, perhaps even more so for the average student. But some students seem to lead luxurious lifestyles, with oat milk cappuccinos and craft beers on sunny terraces. How do they do that? Student Leonie Wechsler talks about how she manages to wine, dine and have plenty of fun.
Leonie is a fourth-year student who lives with on the UCU campus near Wilhelmina park. After a busy year serving on the board of an association, she's almost ready to graduate from her Bachelor's. Apart from her studies, she works in a clothing store two to three times a week, where she sells scented candles, accessories, and other knick-knacks. She makes around 500 euros a month.
Asked whether she ever worries about money, the answer is not too much. "Thankfully, I'm able to combine my studies with a job. I'm also supported by my parents. They pay my tuition and rent and they give me a monthly allowance of 500 euros." All in all, Leonie has a fairly generous budget, especially for a student. And she's aware of that: "I'm so lucky to have my parents' contribution as it enables to me live my life to the fullest, going out or having drinks and snacks without having to worry about money."
A low-cost posh meal
She does make sure to avoid any large, unnecessary expenditures, though. Due to the rampant inflation, she regularly makes a list of her cash inflows and outflows. That helps her see where her money goes.
Those lists show that food is her biggest expense, apart from tuition and rent. She spends around 300 euros a month on food, which she says is not surprising, considering she likes to cook for herself and her friends. When she cooks, Leonie uses as many leftovers from the fridge as she can so as to not throw away any food and prevents her expenses on food from becoming too exorbitant. Being a vegetarian also helps her save money: "I don't buy any meat of fish and rarely buy any meat alternatives."
When she does her groceries at Albert Heijn, a supermarket chain considered more expensive, she buys the products on sale. Leonie loves pasta, so her favourite type of sale is "buy one, get one free" on fresh pasta and pasta sauces. She's not the only one: offers like this get many students running to the supermarket.
Leonie also likes to go out. She's got several favourite spots around the city, such as Oude Pothuys and Nijverheid. But she's most often found at the bar of her study association. When she was a member of the board, she used to get a huge discount on drinks. "I paid one euro for a beer, which saved me a lot of money."
Vintage
In addition to eating well, this student has got another big hobby: thrifting for beautiful things. Leonie prefers to buy second-hand clothes because that's cheaper and better for the climate.
"It's more fun too," she adds. "When I'm abroad or in a different city, I'll always go and look for vintage shops. It often takes some effort to find something pretty but, if you succeed, it makes the visit even more special. My strategy is to think of a few brands or materials that I like before going to the shop and then keep them in mind as I browse." Her best find? "The trench coat I wear almost every day. I found it in Paris for 12 euros. I also recently found a cashmere jumper for only 10 euros."
Savings account
Each month, Leonie has around 200 euros left, which goes to her savings account. "I like having money saved. It gives me a sense of freedom. Say I've got any unforeseen expenses or I want to go travel. After my Bachelor's, I'm going to do an internship in Geneva, so I don't have any other travel plans for now. But, if things change, it's nice to have that option."

Monthly income:
1,430 euros (from her parents)
500 euros (work)

Monthly expenses:
660 euros (rent)
330 euros (tuition)
200 euros (insurance)
300 euros (groceries)
20 euros (public transport)
10 euros (subscription to the Groene Amsterdammer magazine)
50 euros (toiletries and beauty products)
50 euros (drinks, eating out)
200 euros (savings/vacation)
Advertisement