Dutch student writes handbook for internationals
'It would be nice if there would be more openness from both sides'
Janine Stienstra. Photo: DUB
"We love Janine," says the picture that illustrates Utrecht 2023, a WhatsApp group for international students who started at UU last year. It's easy to see why its 820 participants chose such a picture: whenever someone has a pressing question, it doesn't take long for Janine to appear with a clear, solicitous answer. She is the local who makes student life in Utrecht a little bit less daunting. And that's only one of the groups in which her presence is highly cherished.
It all started when Janine overheard one of her classmates mention a Discord server for foreign students. "I thought: 'oh, this sounds fun.' My Bachelor's in Biology was taught in Dutch, so I didn't interact much with international students. My Master's is in English but it has quite a small class: there are only 30 people each year. So, I thought it would be nice to get to know other people besides all the Dutchies."
Once she joined the Discord server, she noticed that its members often had questions about things like how to get a Dutch phone number or how to extend a student visa. "Those were easy things for me to answer because I'm from here. So, the answers are either obvious to me or I can Google them. But, for them, it is this gigantic struggle because a lot of the websites they need are only available in Dutch," she says. She soon took her help to WhatsApp groups and started volunteering as a mentor at Welcome Week.
Recurrent questions
After a while, Janine noticed that some questions just kept coming up again and again, especially on WhatsApp, where new members do not have access to the content that was posted before they joined. "The most frequent question is about the BSN number. Some people get confused because the appointment to register their address at the municipality is the same appointment to receive a social security number," says Janine. "They also get stressed out because they must have this appointment within five days of their arrival in the Netherlands. Others wonder if they have to register at the Immigration and Naturalisation Services (IND) as well."
Biking, public transport, and the rent and healthcare allowances from the tax authorities are other recurrent topics. Specific questions also tend to arise at certain times, such as the beginning of the academic year, when many international freshers have queries about Welcome Week.
Since some of the questions require long answers, Janine decided to write an FAQ document. "If I spent two or three hours writing such a handbook, it would cost me a lot of time but afterwards all I'd have to do is share the file with them and keep updating it," she explains.
She doesn't intend to publish the document in a more official way but she did share it with the team organising the Welcome Week, which created an app and a webpage with a comprehensive section featuring questions and answers, many of which are also on Janine's handbook. "The app is really elaborate and there are things I didn't even know existed, like a website to find a GP. When international students asked me about it, I would just type huisarts on Google Maps and look for something in their neighbourhood." She welcomes UU's initiatives in this regard. "The university is definitely getting more into it, which is a lot better because the information was scattered. People still get confused a little bit."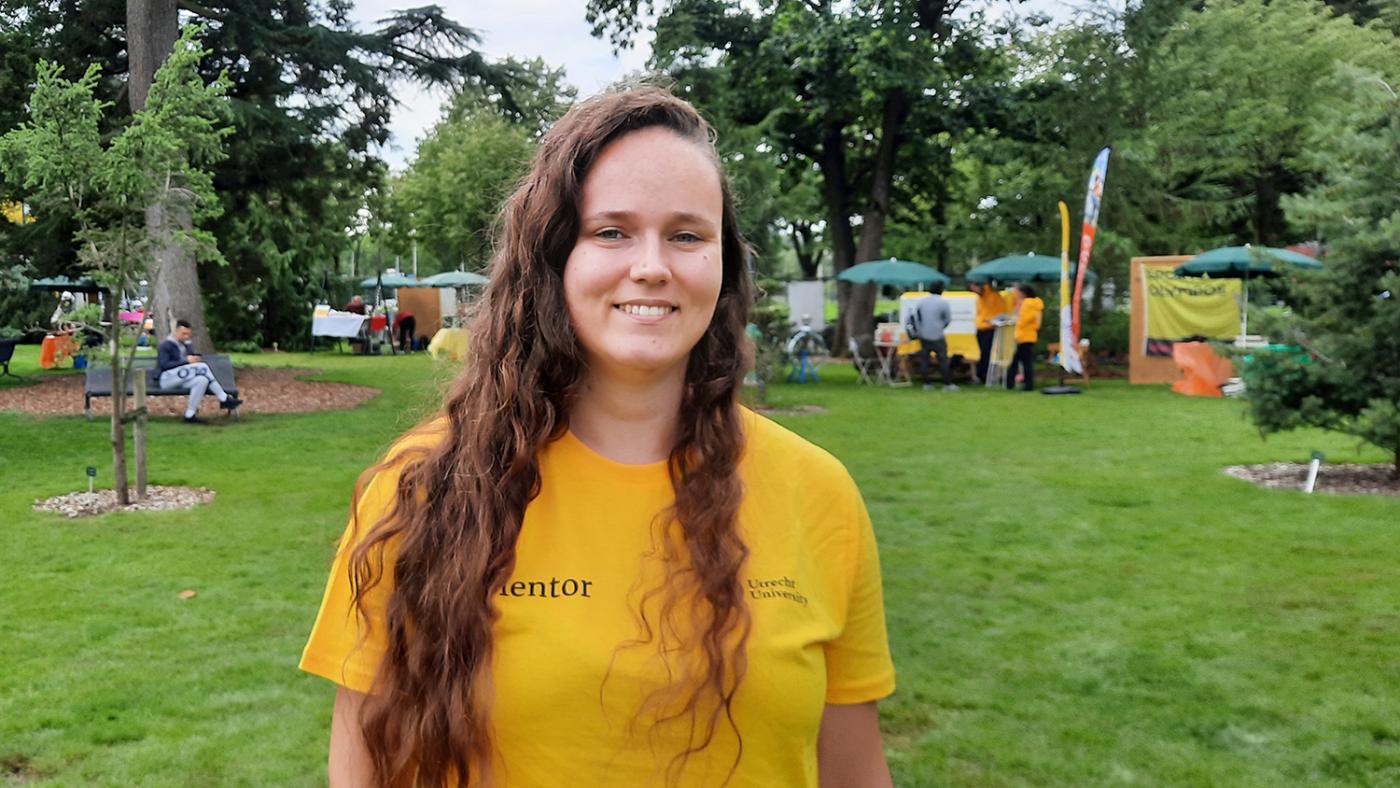 Rewarding
Janine doesn't set a specific time of the day to answer questions from international students, she just replies to them as they come and when she has some time to spare. Needless to say, things can get a bit hectic, such as when several people message her in three different WhatsApp groups and five others message her in private. "I have to hold myself back a bit. I tell myself: 'People can wait five minutes and I don't need to be rage typing, possibly making mistakes.'"
But it doesn't matter because helping international students is rewarding for her. "That's something that doesn't take a lot of time and it makes me happy to see other people happy," she says. Her initial goal of meeting more international people, back when she first joined the Discord server, has also been successfully met. Two of them even became close friends – and they still turn to her when they need help. "The other day, one of these two friends, who is from Brazil, asked me what would be the most appropriate way to give her condolences to a Dutch professor whose mother died. What is considered too much? What is not enough?"
Dutchies and internationals need to mingle more
Although Janine enjoys helping foreign students, she wishes there were more Dutch students doing the same. "There are others in the groups but I guess I'm the one who replies the fastest," she says. "I've noticed that a lot of people try to cling to me because I'm the only Dutch person they know, so they're like: 'Can we be friends?' and I can't take fifty more friends. So, I really advise them to mingle with the Dutch people in their programme. Just force yourself into their conversation, say hello, and ask if you can speak English. I know that doing that may be scary or not appropriate in your culture but, in Dutch culture, it's fine."
She thinks that Dutch students should be a bit more open to mingling too. "I think there are two kinds of Dutch students: those who are very open, so they interact a lot with internationals, and those who don't feel a need to do it because they already have a lot of Dutch friends. But you should see an international student as a person like any other, all you need to do is switch to English. If you're not that confident in your English skills, that's okay. You can just say: 'Hey, if something isn't clear, please let me know.' Talking to them will be a great way to grow that confidence, by the way."
The same goes for the international students who are learning Dutch. They often struggle to practice with their Dutch classmates because they will quickly switch back to English for the sake of convenience. "In this case, I'd recommend being more direct and telling Dutchies that you want to learn."
"It would be nice if there would be a bit of openness from both sides. But I know that taking the first step can be difficult," she concludes.
As for things the university could do to encourage Dutchies and internationals to mingle, Janine thinks "That's always a bit difficult because you run the risk of it becoming a forced thing. If it's forced, people will be less inclined to do it." She does have a tip for UU, though: make sure that Dutchies are aware of Goin', an app developed by students for all students admitted to Utrecht University to connect based on hobbies, interests, study and more. "People on WhatsApp always ask me why there are barely any Dutch students there. That's because they don't know about it!"
In September, Janine will start a PhD at the Faculty of Veterinary Medicine, which means this Welcome Week may be her last. "I will be no longer a student, so I'm not sure if I'll be allowed to continue being a mentor," she says. But one thing is for sure: she is not leaving the WhatsApp groups anytime soon. "I just hope that international students have a good time here."