Less room for fraud
SSH to show no mercy for graduates renting rooms illegally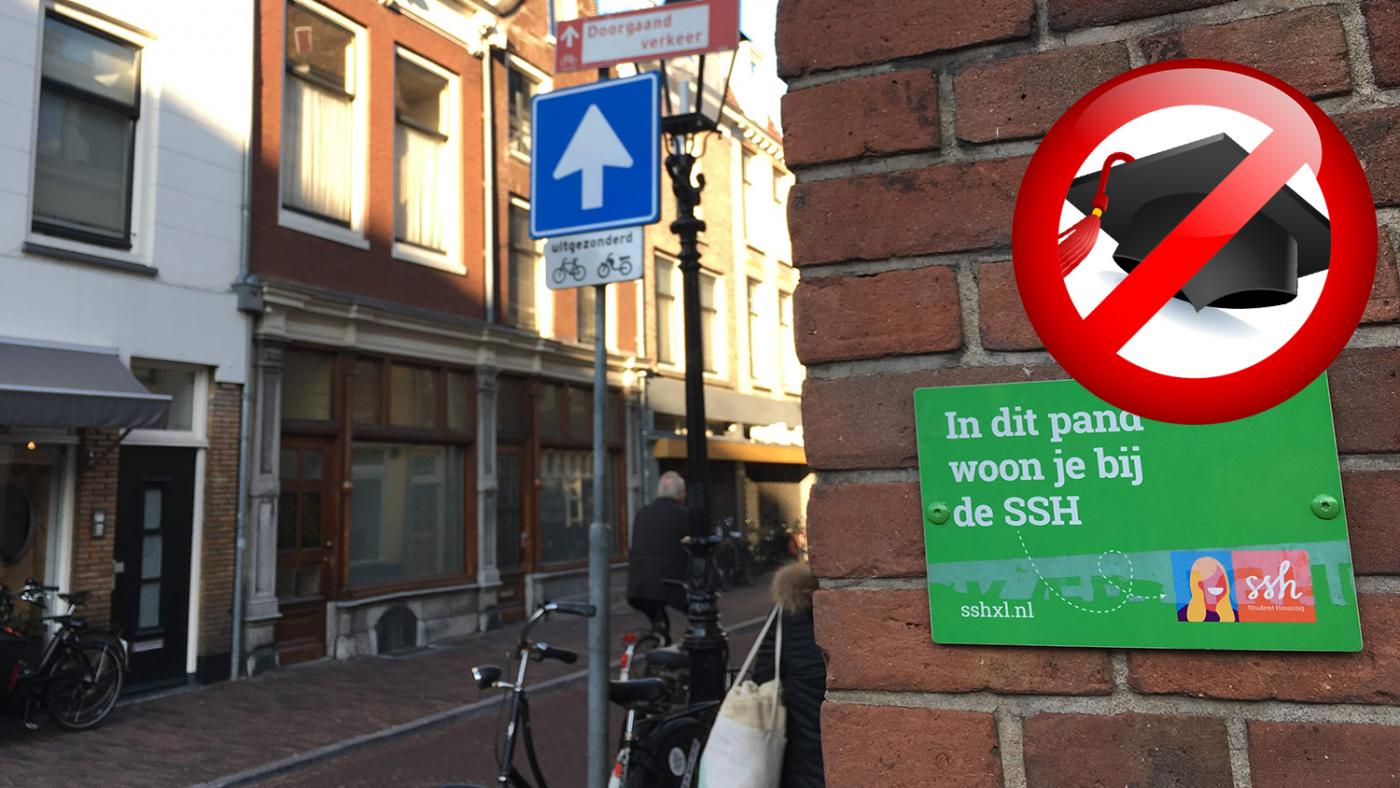 Photo: DUB
The shortage of housing is a huge problem in the Netherlands and the demand for affordable rooms is higher than it's ever been, not only among higher education students but also among graduates who are starting their careers. In 2019, DUB followed UU graduate Robert Urbascheck in his quest to leave his student room and find new accommodation. Needless to say, that turned out to be quite the task. "Income requirements. Tenant declarations. Waiting lists. Paid account after paid account for websites you don't even get a response from. Going head over heels to viewings that you don't even know are taking place until a few hours in advance. Hundreds of euros in 'brokerage' fees. Viewings with queues longer than those at the Efteling amusement park." These are just some of the barriers awaiting graduates looking for a home, according to Robert.
Dana*, a former student in Orthopedagogy, has gone through that hellish search herself. She used to share an SSH home with six other roommates and loved living there. After graduating, she considered committing fraud just to be able to stay in her room, but in the end, she didn't do it because she was afraid of being judged by her roommates.
Luckily, she managed to find a job right after graduating, earning enough to afford a shared house in the private market. Since she insisted on living in the centre of Utrecht, her rent went up from 300 to 900 euros, though. Although there are some advantages to the new house, such as a bigger living room and the fact that she only has to share the bathroom and kitchen with one other roommate, Dana finds that the cost-benefit has definitely dropped, compared to her SSH days: she no longer has a garden or roof terrace and the house is much noisier. "You can practically hear what the neighbours are saying," complains the graduate.
Moving on or staying put
SSH is looking to increase the number of apartments for graduates and starters, which is why it is currently building a new property named De Kwekerij (the Nursery) at Burgemeester Fockema Andreaelaan, where 244 extra apartments will be ready this summer.
Gerrit* has just completed a Master's degree in Educational Sciences. He hopes to eventually move to one of SSH's homes for graduates because they will be much more affordable than private rental properties. Anyone can apply to live in these apartments, as long as they are younger than 27. However, the waiting lists are long as the demand greatly exceeds the supply.
Gerrit is allowed to live in his SSH house, located at Wilhelminapark, for one more year. He works three days a week as an elementary school teacher, earning a net salary of approximately 1,000 euro's a month. He manages to save a small part of that amount because his rent is low, but that would no longer be possible if he were to move elsewhere. With a student debt of more than 20,000 euros, buying a house is not in the cards either, at least not in the foreseeable future. "I understand why people are committing fraud to keep their SSH registration. But I wouldn't dare to do that."
Desperate measures
With all the horror stories from graduates who just cannot find a house, it's no wonder that many often dread having to leave their SSH room. Many of them do not refrain from recurring to illegal avenues to avoid getting a letter telling them they have one year to move out.
Graduates can fool SSH in several ways. The first option is to "simply" prolong their studies by registering for another year without attending any classes. That is the legal way. One of the illegal options is to enrol in an additional programme. Once they upload the proof of enrolment on the SSH website, they immediately deregister, therefore getting their tuition fees refunded for the remainder of the year. Another illegal way is using Photoshop to edit an old registration certificate for the degree they've already completed.
Gap year
Madelin* is one of the people who committed fraud to stay in her SSH room. She didn't do it because she graduated, but rather because she took a break from her Bachelor's to have a gap year. That turned out to be a two-year gap, but even so, she thought it wasn't fair to be forced out of her room because she was certain that she would pick up her studies again, eventually. Madelin uploaded the registration certificate of the previous year. "If they ever notice, I'll just say it was an accident and then I'll upload a fake certificate."
She doesn't have a heavy conscience and would do it again if she had to. "I think there are people in their forties and fifties still living in SSH homes, with an indefinite contract that they got before the campus contract was introduced. That's why it's so difficult to get a room — not because of people like me who are still students or have just graduated," says the student. Her strategy ended up working: even with an outdated certificate, she was able to keep living at SSH during her two gap years. Now, she's living in the same room legally, as she's finally returned to her Bachelor's programme.
But you're probably asking yourself: how could an outdated certificate go unnoticed?
New system to give fraudsters a harder time
Currently, it is up to the students themselves to indicate whether SSH may automatically verify their registration with the university, explains Madelon van Gameren, press officer for SSH. Only those who refuse to do so must upload their proof of registration in PDF format each year, which is subsequently checked manually by SSH. "Up until now, this manual verification was conducted once a year at a random time. It's a process that takes a lot of time and effort, which is why we're working on automating it."
A new system, made by Surfconext, is set to be introduced in October, according to van Gameren. "This company works with all educational institutions. Students will choose the institution they study at from the list. Then, they will be redirected to Surfconext, which will confirm whether the person is actually studying and pass this information on to us. This is going to make it much harder for students and graduates to commit fraud, not to mention it will save us a lot of time."
According to van Gameren, there is no truth to Madelin's argument that SSH rooms are scarce because of 40-somethings on indefinite contracts. "In 2009, we instituted that students had to sign a campus contract in order to live at SSH. This contract states that after graduation, tenants may stay in the house for a whole year. That's so they have enough time to find a proper home. This contract also applies to people who were already living at SSH on a contract for an indefinite period. So, there are no more people in their forties living in student homes."
She concludes with a clear message for fraudsters. "If we catch anyone committing fraud, we will immediately inform the police and all legal costs will be recovered from the fraudster. I understand that the housing shortage is extreme, but the rooms we offer are really only intended for students."
---
*The names of the students are fictitious because they would rather stay anonymous. DUB knows their real identity.