Student homes confused about corona rules: 'Is everyone supposed to quarantine or not?'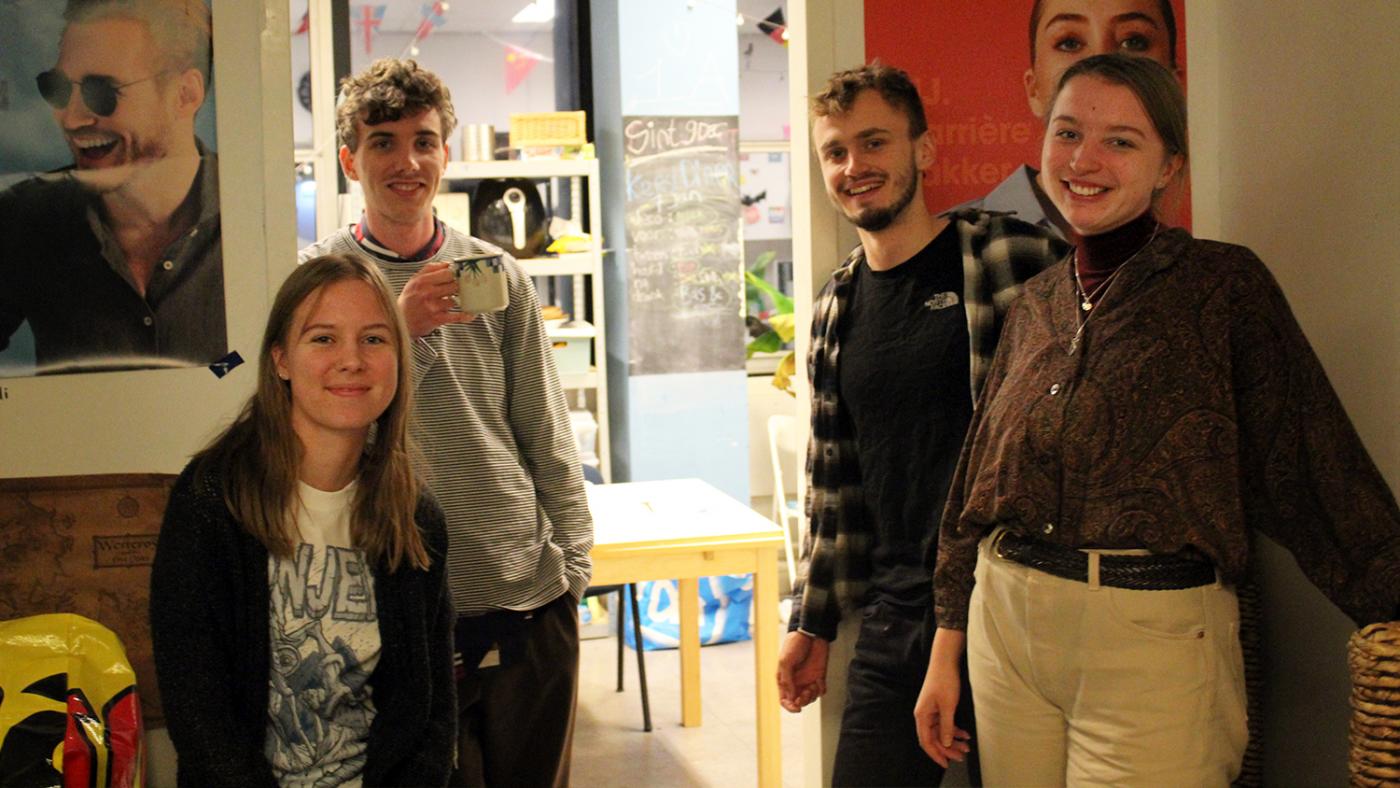 The residents of student house Huize Zeven Dagen. Photos: DUB, Marieke Braat
Fleur, Jelmer, and Noor live at Huize Goudwijk, a student home with 25 other residents. It's a beautiful building at the edge of the Wilhelmina park. "Wait here," Jelmer says when he welcomes me in the charming hallway with stained glass doors. "You're technically not allowed upstairs." After some deliberation, I obtain permission to advance to the living room upstairs, albeit under a few loud objections. After all, my presence could potentially mean a week of quarantine.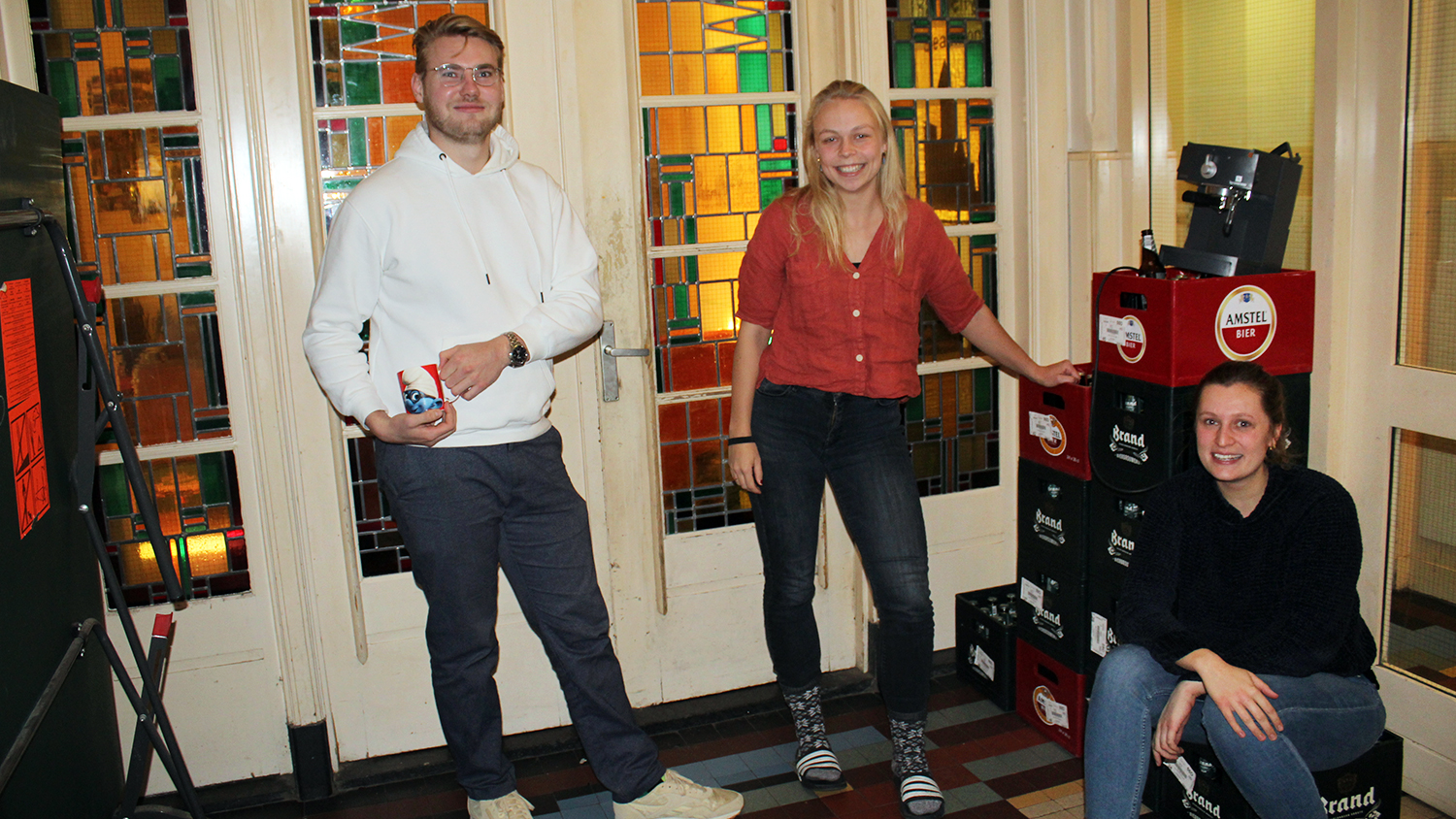 "We're a big house, so the fear of catching corona and being the one who infects your roommate is very much present. Your behaviour directly influences 25 other people," Fleur says. Although none of them has had corona yet, all three students have had to quarantine once, a period they vividly remember. "The first day was especially intense," Fleur recollects. "You're dependent on others for everything and, for several days, your entire life is restricted to eleven square metres." Noor didn't like it either. "I had breakfast, lunch, and dinner at the same desk where I studied. I sat in the same chair for twelve hours a day."
"The RIVM rules are super vague"
The students at Huize Goudwijk would prefer not to let corona in. To limit the number of visitors in the house, every resident is only allowed to bring one person inside, and they're not allowed in the living room, just their friend's room and the basement. "We've also got sort of a common space here, but if you have a visitor, you have to make a reservation to use that room," Noor explains. Jelmer adds: "If someone has a fever or a headache or a positive corona test, then they have to isolate in their room. We'll reserve a toilet and shower just for them. In addition, everyone who's spent 15 minutes or more in close proximity to that person will have to stay in their room, but we're not going to quarantine with the entire house."
Although the rules are clear, they weren't easy to come up with, says Fleur. "The guidelines set by the National Institute for Public Health (RIVM in the Dutch acronym) are super vague, in my opinion. We have to keep 1.5 metres away from each other, but we should also stay home if someone has corona?"
Jelmer agrees that the rules don't make much sense for student houses. "If we're not a household, then each one of us should be allowed to invite three people in for Christmas, right?" Fleur: "That's why we decided to create our own rules. Everyone has a different point of view about this, which does generate some tension sometimes."
In case of doubt, they usually call the GGD Health Services, but Noor feels they're just improvising as well. "If you call twice, you'll get two different answers. It would be nice to have clear guidelines for student homes."
Student homes are considered households now
Until December 1, student homes were not officially seen as households, but still couldn't welcome more than three guests. The government also recommended everyone to stay home if a housemate had Covid. These recommendations have led to strange situations, in which students were fined if they went outside together, but then dined together at the same table after returning home.
Now, student homes are officially seen as households: students don't have to keep their distance from each other if they live at the same address, both indoors and outdoors. But the students living in Huize Goudwijk already saw themselves as a household before the change. "Our rules for visitors are relatively strict compared to those of other student homes, I think. So I like that I can at least have dinner with my housemates, or watch a movie together. Otherwise, it would be way too depressing," Jelmer explains. Fleur can't help but agree with him: "Human beings simply need social contact. Closing yourself off goes against your nature."
It's impossible to follow the one-and-a-half-metre rule 
The residents of Huize Zeven Dagen, located in the Oog in Al neighbourhood, agree. Jade, Stella, Tim, and Tijn live on a dorm-like hallway with thirteen others. "It's nearly impossible for us to keep distance from each other," stresses Jade. "Not just in terms of space, but mentally as well. Our social lives are already on hold, so if you're not even allowed to see your own housemates, then you feel lonely very quickly." Tim notes that the housemates also share a kitchen and a bathroom. "So, even if we were to keep our distance, if someone had Covid, we'd still run the risk of touching the same kettle. That's why we'd rather be safe and just stay home, so we can enjoy meals together."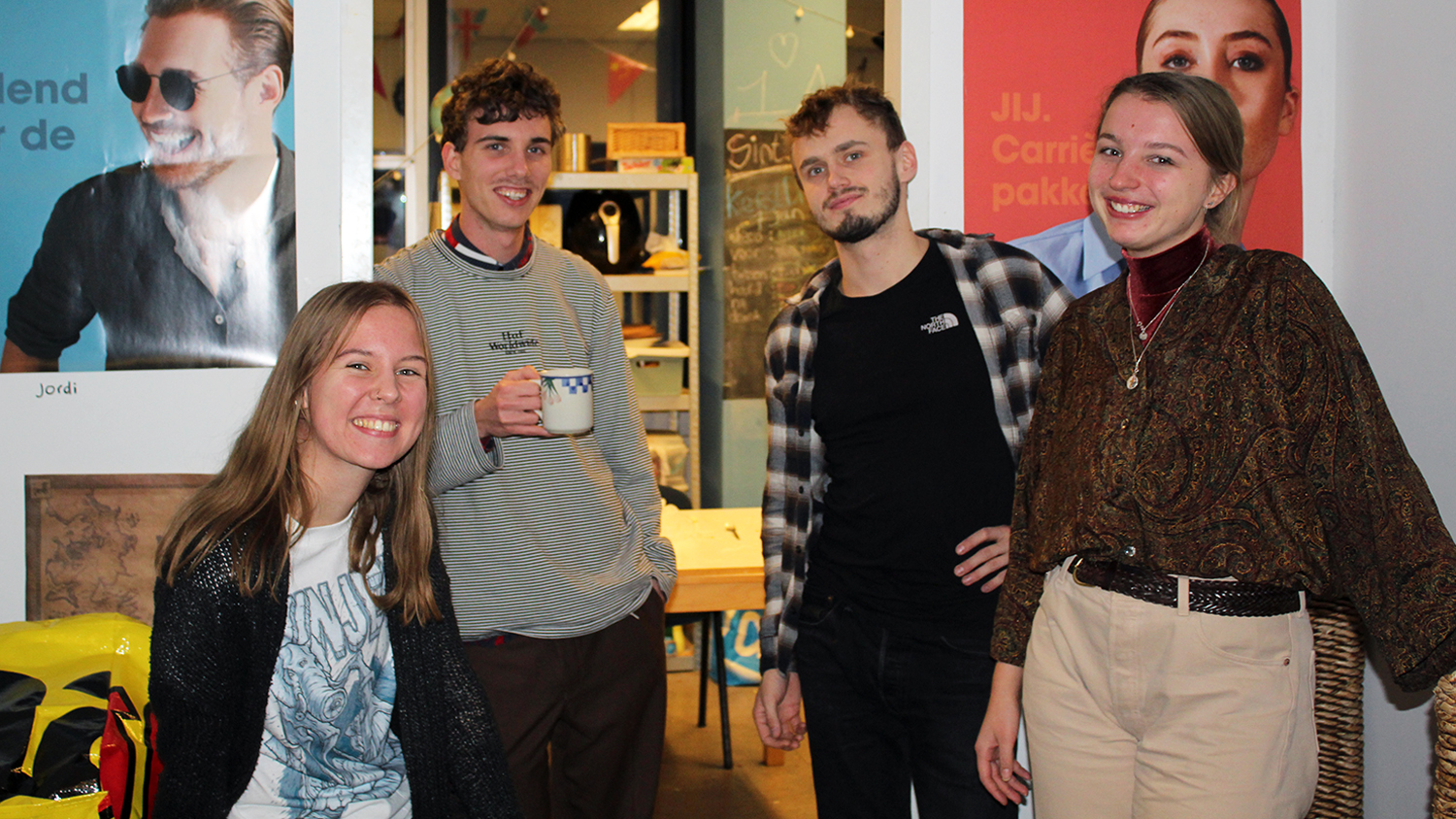 Jade, Stella, Tim and Tijn also know what it's like to spend days on end stuck in their room. The entire house has had to quarantine twice so far. "The first time was because one of our housemates had corona and the second time was because someone had to wait five days for their test results," Jade explains. "The GGD said we didn't have to quarantine, but we decided to do it anyway."
"Every time you call the GGD, you get a different message," she complains. Tijn acknowledges that it's impossible for the GGD be consistent "because every student home is different." Still, he thinks they could communicate to students more, giving them advice about what to do in certain situations. "For instance, they could decide that, if you share a kitchen with someone, you should quarantine if they have corona, so you don't have to keep your distance from them."
Huize Zeven Dagen decided to create a schedule for outside visits to ensure a maximum of three guests per day. Relationships don't count: boyfriends and girlfriends are always welcome. All guests have to use a separate toilet and are not allowed in the living room.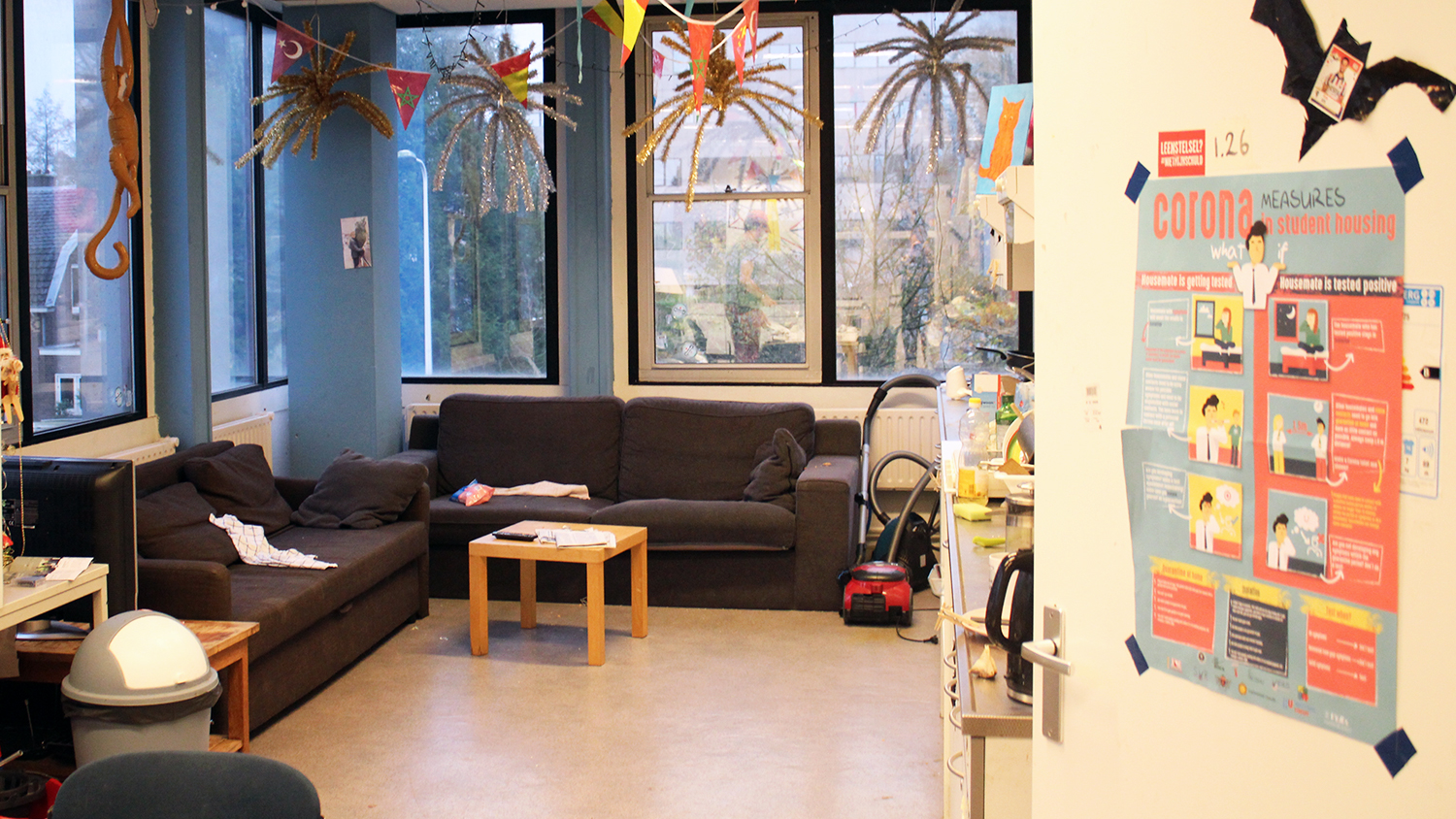 GGD says it's true that different housemates get different advice
Asked by DUB, the GGD says it's understandable that students are confused about the ever-changing regulations. Custom solutions remain the norm, even with the new rules that went into effect on December 1. After all, each home is different.
If a housemate tests positive for Covid, then the situation will be assessed individually in the contact tracing investigation, says the GGD. The decision of who has to quarantine depends on with whom they share facilities, and whether or not they have recently spent more than fifteen minutes beside the infected person. That means that their advice can differ per housemate, indeed. Click here (link in Dutch) for more information about what to do if your housemate has Covid.
Christmas dinner cancelled
Although the students don't like remembering their quarantine time, they're still willing to do it again if necessary. Tijn: "It's pretty doable to stay home for a day or so if someone's unsure whether they got Covid or not because the tests are so much faster now. If we had to wait for days on end, like we did a few months ago, then it would be undoable." Jelmer from Huize Goudwijk would also be willing to quarantine again, even though he hasn't sure if he'd ever be able to go through the same experience when he came out of quarantine last time.
Considering the stricter rules currently in place, Huize Goudwijk has decided to cancel its annual Christmas dinner. Instead, they're organising a Christmas market in the garden. "Most housemates are going home for Christmas, but will keep distance from their parents," Fleur explains, adding that the student home usually throws a large New Year's Eve party, "but obviously we're not doing that this year." Huize Zeven Dagen will be celebrating New Year's Eve, only without visitors. After all, you can still have fun with your housemates only.
Their tips:
Even though every house is different and not everyone has the luxury to have a garden or a lot of bathrooms, Huize Goudwijk and Huize Zeven Dagen have some advice for other student homes:
·       Make sure there are clear rules in place that everyone agrees with, so there is no confusion and housemates can be held accountable for their actions. If the GGD can't create a consistent policy, then you've got to do it yourself.
·       If the house has multiple toilets and showers, reserve one for people with Covid-19, one for people awaiting test results, and one for people in quarantine with no symptoms. It's also nice to have one exclusively for guests.
·      It's nice to keep having dinner together. That way, you'll continue to see other people and not everyone has to go to the supermarket every day.