UU and activists organise 'Helpathon' to reduce the number of laboratory animals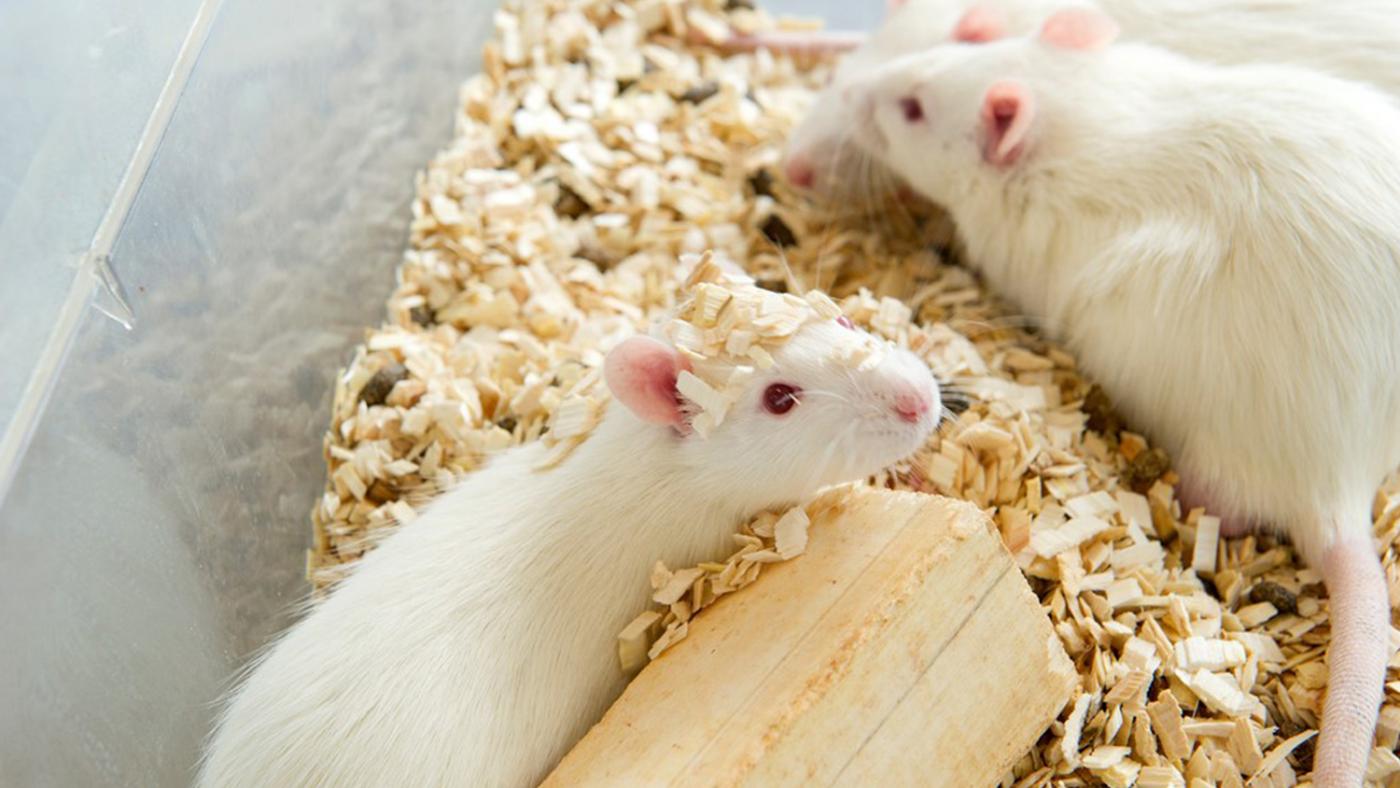 Mice used for scientific research. Photo: Thomas Dobber
For a long time, animal activists and scientific researchers were diametrically opposed with regard to laboratory animals, but over the years, this relationship has changed. For example, the Faculty of Veterinary Medicine has been working with the Proefdiervrij foundation since 2010. The foundation started the initiative to donate deceased pets to science and has been raising money for the plastination of deceased animals since the beginning of the 21st century. Plastination is a technique that preserves animals by injecting silicones into them. These animals can then be used in veterinary education for many years. Thanks to these initiatives, fewer laboratory animals are needed.
The collaboration with Peta and Animal Rights came later on. Both action groups are fundamentally opposed to animal testing and have been campaigning against it since 1980 and 2009, respectively. Janneke Hogervorst, from Peta, and Jen Hochmuth, from Animal Rights, both have a doctoral degree in life sciences, and completed a masterclass on how to organise a "helpathon" in 2020. A helpathon is a meeting in which a group of interested people discuss an issue together. The participants can be from any background and so, they do not necessarily have to be scientists or be directly involved in the subject. Anyone can sign up to think about a particular question as part of a group.
"One of the assignments for this course was to think about what kind of helpathon you'd like to launch yourself", says Hogervorst. "We wanted to start one in collaboration with Utrecht University to reduce the number of laboratory animals." They opted for Utrecht "because a few years ago, the chair of the Executive Board expressed the intention to significantly reduce the number of animal tests. The institution is currently working on it, but we also heard that they could use a helping hand."
Hochmuth adds that, in her experience, the scientists who are intrinsically motivated have already started to look for alternatives to animal testing themselves. "The aim of the helpathon is to find a solution to ensure that scientists who are not (very) familiar with alternatives are automatically informed of them as soon as they think they might need to test on an animal for their research. We think this can be realised by reshaping the policy on animal testing."
Animal testing has not decreased in recent years
To organise the helpathon, Hogervorst and Hochmuth contacted Daniela Salvatori, a Professor at the Faculty of Veterinary Medicine. She is also the chair of TPI Utrecht (TPI stands for Transition to Animal-free Innovations), a collaborative partnership between UU, the Utrecht University of Applied Sciences Utrecht and UMC Utrecht. Salvatori's dream is to drastically reduce the number of animal tests, preferably to zero.
At present, the Netherlands uses approximately half a million laboratory animals each year. This includes animals used in scientific experiments and animals needed for educational purposes. These educational purposes include students carrying out procedures such as taking blood samples or taking temperatures. In 2020, UU and UMC Utrecht conducted over 20,000 animal tests. Most of the laboratory animals are mice, but the institutions also use zebrafish, chickens, rats, cattle and – to a limited extent – cats, dogs, birds, goats, pigs and rabbits. "Not included in these figures are specially farmed animals that end up being killed because they turned out not to be suitable for an intended test after all", says Salvatori.
Salvatori is worried about these figures, not in the least because she knows that some animal tests are unnecessary. "For example, medicines for humans are often tested on mice. After this test phase, they sometimes turn out not to be effective in humans after all. Although mice and humans are 95 percent alike, they are still too different. In hindsight, we can conclude that the tests on mice were unnecessary. We need to find a better alternative."
Salvatori is looking for ways to cut down on the use of laboratory animals in both research and education. According to her, Utrecht is at the forefront in that field. "In 2016, the government said that by 2025, the Netherlands should be leading the transition to animal-free innovation. In 2019, UU accepted the university-wide challenge to come up with methods to make all of its research animal-free. Because we're not just approaching this issue from the perspective of life sciences scientists, but also, for example, from an ethical point of view."
It starts with the students
According to Salvatori, it is important to educate scientists about alternatives to animal testing. It starts with the students, she says. They should be introduced to animal-free testing innovations at the earliest possible stage in the curriculum. Currently, students of Veterinary Medicine already practice animal anatomy using plastinates. As of recently, they can also use virtual reality to study animals. For example, they can use VR goggles to study the vascular or muscular system. Salvatori adds that surgical operations can be practised through VR as well.
Considerable strides have also been made in scientific research, she says. For example, instead of using laboratory animals, researchers are now using organoids grown in the laboratory from human or animal stem cells – a so-called in vitro method. However, despite the existence of alternatives and the desire to reduce the number of laboratory animals, it is worrying that the number of laboratory animals has not decreased in the last five years, she says.
Salvatori has also started to engage students to think about this issue. In collaboration with the universities of Eindhoven and Wageningen and UMC Utrecht – which, together, form the alliance – the course Replacing animal testing was launched in February, challenging 50 students to think about replacement methods for laboratory animals.
Absolutely everyone is welcome at the helpathon
The professor is pleased with the helpathon that UU is organising in collaboration with the two action groups. Together with the President of the Executive Board, Anton Pijpers, she recorded a video in which they call on interested people to sign up for the online meeting. The question drafted by TPI Utrecht is as follows: 'Can you help us develop concrete policy measures to accelerate the transition towards animal-free innovation at Utrecht Science Park?' "We hope to find the answer more quickly by getting more people to focus on this issue."
Janneke Hogervorst and Jen Hochmuth are looking forward to the online meeting. "We're very excited about the outcome of this meeting. As anyone can join in, we have no control over who will participate and how they will tackle the question. But that's precisely what a helpathon is all about. It helps create incidental opportunities that can lead to beautiful and surprising answers to the question. That's why everyone is welcome to join."
Professor Daniela Salvatori and UU President Anton Pijpers would like to invite everyone to help find an answer to the question 'Can you help us develop concrete policy measures to accelerate the transition to innovations without animal testing at the Utrecht Science Park?' The helpathon takes place on May 17 from 9:00 am to 5:30 pm. The meeting is held online and the working language is English. More information can be found here.
Advertisement