UU calls for project prioritisation to relieve workload, but choices are tough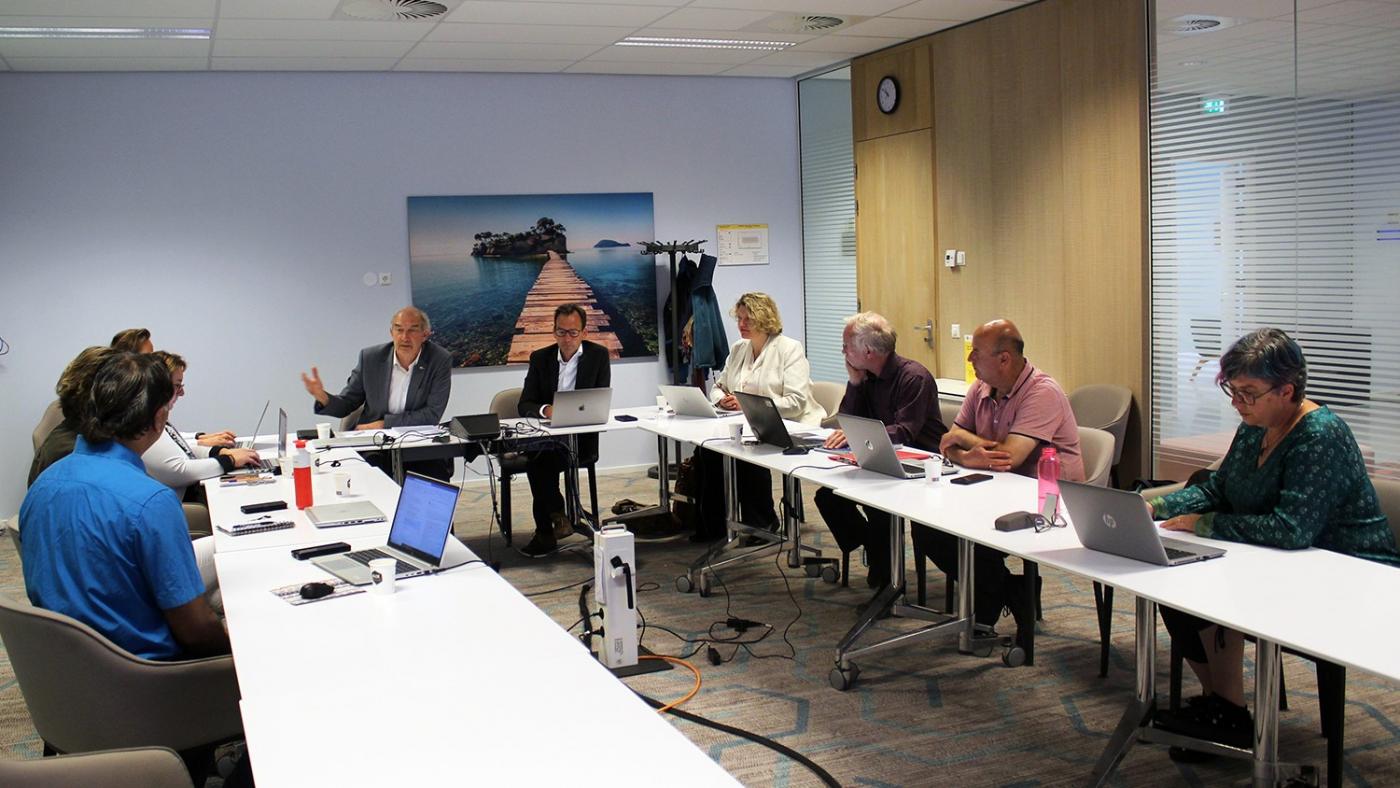 UU President Anton Pijpers explains the plans to restructure the UBD. Photo: DUB
Anton Pijpers' announcement during a meeting of the Employees' consultative body Corporate Office on 31 March came as a bolt from the blue.
The University Corporate Offices are going to be dissolved
. The Secretary-General will have a more strategic role and will therefore be given the title of University Secretary. The directors of the University Corporate Offices will fall directly under the Executive Board and will be directly accountable to the portfolio holder. Pijpers says that this will give a much clearer insight into the actual workload. This will also enable the Board to set priorities more effectively.
The question that hangs over this decision is why it is necessary to implement an organisational change for this working method at all. What are the benefits of turning the Corporate Offices into collaborative domains and creating the position of a University Secretary?
"Every week, the Board makes several decisions which we know will result in work for a whole group of people", explains the President of the Executive Board, Anton Pijpers. "However, we don't always know whether all this work can actually be carried out and whether or not this will place too great a burden on the organisation. 'So now we have to do this on top of everything else' is something we hear on a regular basis. I feel responsible for that. How can we ensure that people don't feel like they're being overburdened with tasks all the time?"
Communication lines
The Board believes that the solution lies in shorter communication lines between the various Corporate Offices, the faculties and the Executive Board. This should start with the directors of the units that currently make up the University Corporate Offices, which will soon be known as the collaborative domains. This working method has been tried and tested, he says. "During the pandemic, we held daily one-hour meetings with all the directors who were directly involved. This allowed us to work very quickly. We discussed who takes on what tasks, and who is responsible for what. That worked very well at the time and we want to hold on to those positive developments. We're now working on a form of consultation in which everyone is involved in the same discussion. We will tell each other where the problems lie so that we can tackle them together. This means shorter communication lines with the people in the workplace; these will be our opportunities to receive feedback."
This allows for better monitoring of the workload and faster work. As an example, Pijpers points out that when it comes to accommodation, no less than four of the Corporate Offices are involved: "Real Estate & Campus, the Facility Service Centre, ITS and Finance. During a consultation with all the directors, you'd be able to ask each of them about the problems they encounter. What can we do about that? What choices can we make? What has priority and what doesn't?"
Another example involving the entire university is the desire to further develop the collaborative education programme with the universities of Wageningen and Eindhoven. "Everyone agrees that this is a very good idea. We think it's important and it's also attractive for students because it offers them extra options, but if we really want to achieve this, all sorts of arrangements have to be made. That means work for the Student & Academic Affairs Office, for ITS, for Administration – and if you have to arrange accommodation, that means the Finance Office should be involved as well. Many of the Corporate Offices are involved at the facilities level alone. The same idea has to be discussed with the deans, vice-deans and faculty directors, so this has a very broad scope within the organisation. If this is what you plan to do as Executive Board, you don't want the people in IT to say: do we have to do that on top of everything else? I want the IT director to tell me: 'Hold up Anton, we can do that, but that means we won't be able to do something else for a while.' That way, you can have the right conversation. That's also possible now, but you would only be consulting with the IT director, whereas the new organisation will allow you to consult with all the directors of the current University Corporate Offices and all the faculty directors at the same time. Then, we can make a joint decision about what we're going to do."
Saying no
Choosing to put projects on hold – temporarily or otherwise – is not the university community's strong suit, Pijpers knows. "Everyone is ambitious, driven and feels responsible." The Board now wants to draw up a manageable to-do list for the university. Recently, all the deans and directors held a private meeting to discuss how to tackle work pressure. "Janneke Plantenga told us that the EDI [the university programme Equality, Diversion & Inclusion led by Plantenga as Diversity Dean – Ed.] deliberately chooses to work on a maximum of three projects per year so that these projects can actually be realised without increasing the workload. I think that's a good example, we want to be able to make similar choices for the entire university."
A good place to start is by looking at the ambitions in the current Strategic Plan. This plan is drawn up by the university every four years and contains a large number of objectives for UU and its faculties. The current plan runs until 2025. "It contains 49 action lines. The latest report states that 46 action lines have already been initiated, ranging from small to large projects. But with everything that's coming our way, is it even possible to achieve our ambitions by 2025? For example, our researchers have also received a great deal of money from the Growth Fund, and we have to make room for this as well. The question we're asking ourselves is how we are going to achieve our ambitions laid down in the Strategic Plan. The only way to do that is by setting priorities. Which of these things comes first? For example, we might decide to start with twenty ambitions and then see if we can add a few new ambitions the next year. In other words, we have to make choices, so that by 2025, we can say that we've achieved our goals."
How to choose between all the university's projects and tasks is still under discussion. The deans and directors agree that this is a necessary thing, but everyone thinks that their own project should be prioritised. This makes it difficult to make choices. Initially, those with final responsibility will have to make these choices, but ultimately, it's up to the Executive Board, of course." The aim is not to make the university a more directive organisation, says Pijpers. "What we want to do is make a priority list and give priority to a number of projects. We intend to do so in consultation." The Secretary will have a key role in this. "They will act as the director of our strategy and will be responsible for keeping the Board on task. If we come up with a plan, the Secretary has to say 'do keep in mind that...'"
Ambition
What if the Board were to come up with a less ambitious Strategic Plan? A solution might be to implement fewer educational changes or submit fewer research proposals. "We have to be ambitious in our objectives", is Pijpers' response. "What we can do is take a critical look at the order of implementation and the pace at which we do things. Again, I want to stress the importance of prioritisation." Prioritising is also essential in education, Pijpers believes. Especially when it comes to ICT. "We're going to be working hard on this prioritisation in the coming period. That might mean that we have to decide not to participate in certain projects." As for research, UU is following national developments. The university is trying to limit the applications for research grants from the Netherlands Organization for Scientific Research (NWO) or the European ERC. "Perhaps we should be a little more selective when it comes to submitting research proposals, because we have to be able to provide the necessary infrastructure and support."
Co-participation councils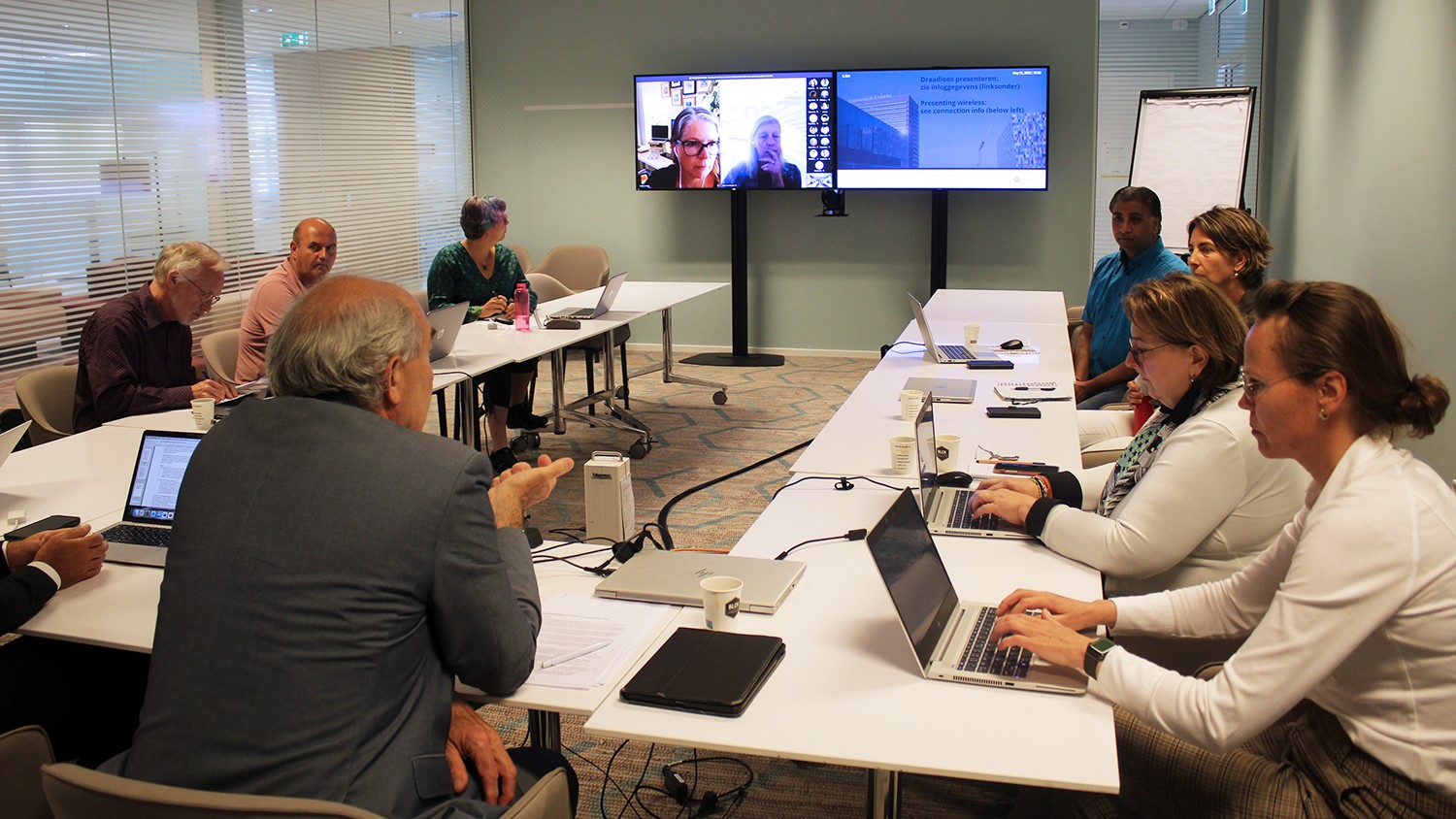 The new working method of what is now still known as the University Corporate Offices is scheduled to be implemented in September. It had previously been announced that this would happen in June, but that proved to be too short notice. In the meantime, all plans will still be discussed in the University Council and the University Labour Representation Board, in which the university cooperates with the unions. The organisational changes will also be discussed in the Employees' consultative body in order to gain more advice from staff representatives. The consultative body does not have the right of consent, as this reorganisation will not result in employees losing their jobs. And although there will be no forced redundancies, it is unclear what the consequences will be for the way the Corporate Offices work at the moment. "We're currently looking at how the consultation structures are set up within the Corporate Offices. Our Offices work well together and we want to keep it that way. Another thing we need to look at is how we're going to coordinate finances and employee participation; because we don't want to set up a consultative body for every Office. This is something we're going to discuss with the Employees' consultative body."
It is important, says Pijpers, to keep communicating with the Employees' consultative body. "They are our eyes and ears in the workplace. We want to know how people react to our plans. If everyone is saying 'this is a bad plan, we should do it differently' and people come up with good suggestions, then we adjust the plans. You have to take each other very seriously, it's no different than if we had the right of consent. But in the end, the decision is ours."