A UU Master's without speaking English? This Colombian student dared to dream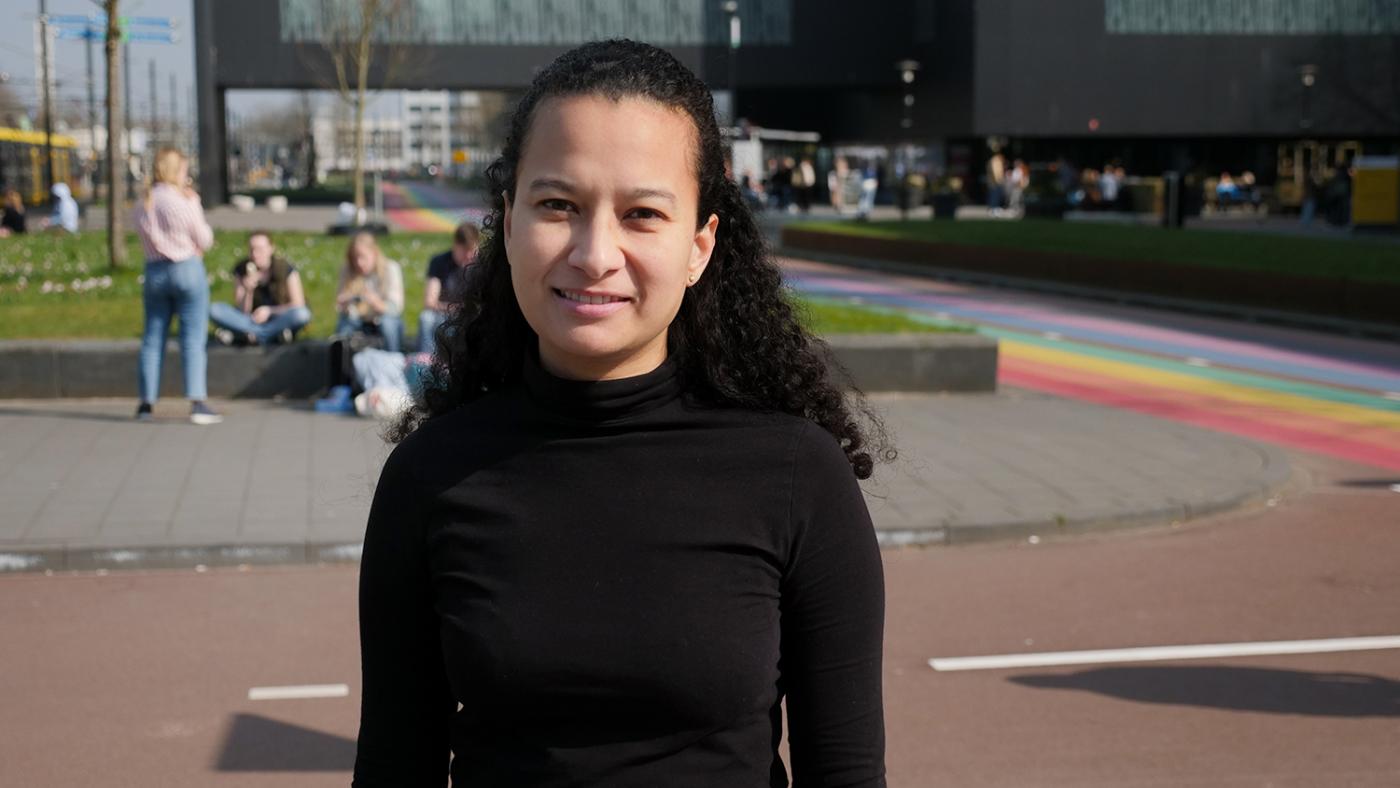 Photos: Pit Albert
"I was born in Medellín, but my family soon moved to Caucasia, in northern Colombia. It was a poverty-stricken place and my household was no different. My mother was a single parent: my dad left when she was pregnant with my baby sister. I have a brother as well.
"Just to give you an idea of how poor we were, my sister and I only had one pair of shoes and one school uniform, so we had to share. My sister studied in the morning, from 6:30 am to 12:00 pm, and I started studying at 1:00 pm, so every day she would run back home to give them to me. We lacked a lot of basic things back then, but I still have good memories of my childhood.  
"When I was nine, my mom moved to Aruba for work, as it was hard for her to find a job in Colombia. She asked me if I wanted to go with her, but that would require learning a new language. I really didn't want to be the oldest child in the classroom. So, we stayed in Colombia with my aunt. 
Looking back, I think I was crazy to even consider becoming a doctor
"When I finished high school, I decided I wanted to be a medical doctor. I was inspired by my great-grandma, who was a self-taught midwife. She assisted in so many births in our town. I wanted to change my life, my sister's life, and change other people's lives too. There was just so much poverty around me. 
"Looking back, I think I was crazy to even consider becoming a doctor, given the conditions we were living in. But my mom totally supported me. She said: 'If you want to be a doctor, then we're going to do our best to help you'. A year later, I got a scholarship from the government and started studying medicine in Medellín.
"The university was extremely challenging. I came from a small town and suddenly I was at this big, private university, in a big city. All my classmates came from families with money, which made it somewhat hard to make friends. They always had plans like 'we're going to this disco' or 'we're going to this restaurant' and I kept saying 'I can't'. At some point, they just stopped inviting me altogether. But, academically, the university was really good for me because I learned so much. I only had one challenge: I absolutely had to finish school in six years, as the government would not cover my tuition fee any longer than that.
I felt like my hands were tied, I couldn't help people
"In my second year, I started going to the hospital and my mom gave me a white coat and a stethoscope kit. It was a really simple one, while all the other students had a proper coat and a proper stethoscope. So I started saving, saving, saving until, eventually, I managed to buy them in my fourth year. I remember that day vividly. I was so happy.
"After that, I worked as a general practitioner for five years, first in a small hospital in a rural area, and then in Bello, a city close to Medellin. On paper, the Colombian health system is perfect, but in reality, it doesn't work. It was so frustrating to tell patients that they needed a certain medicine or a certain test, and then hear them say in the following appointment that they couldn't get the test because the first possibility was six months to a year from then. I felt like my hands were tied, I couldn't help people. That's when I had the idea of getting a specialisation, something that would make me feel more useful. I decided to do either public health or epidemiology because these fields enable you to impact the lives of many people.
"I started looking for options in Colombia, but then I got married in 2017 and my husband got accepted for a PhD position in Geophysics in the Netherlands. I had two options, then: I could either join him, learn English and only then apply for a Master's degree, or I could stay in Colombia and try to balance between work and study. To be honest, I was pending more towards the second option because I really didn't want to be unemployed and depend on my husband financially. My mom depended on my dad and then suddenly he left her and I saw how much she suffered. But then I started Googling and I learned that the Netherlands is actually one of the most renowned places to study epidemiology in Europe. Win-win situation, then.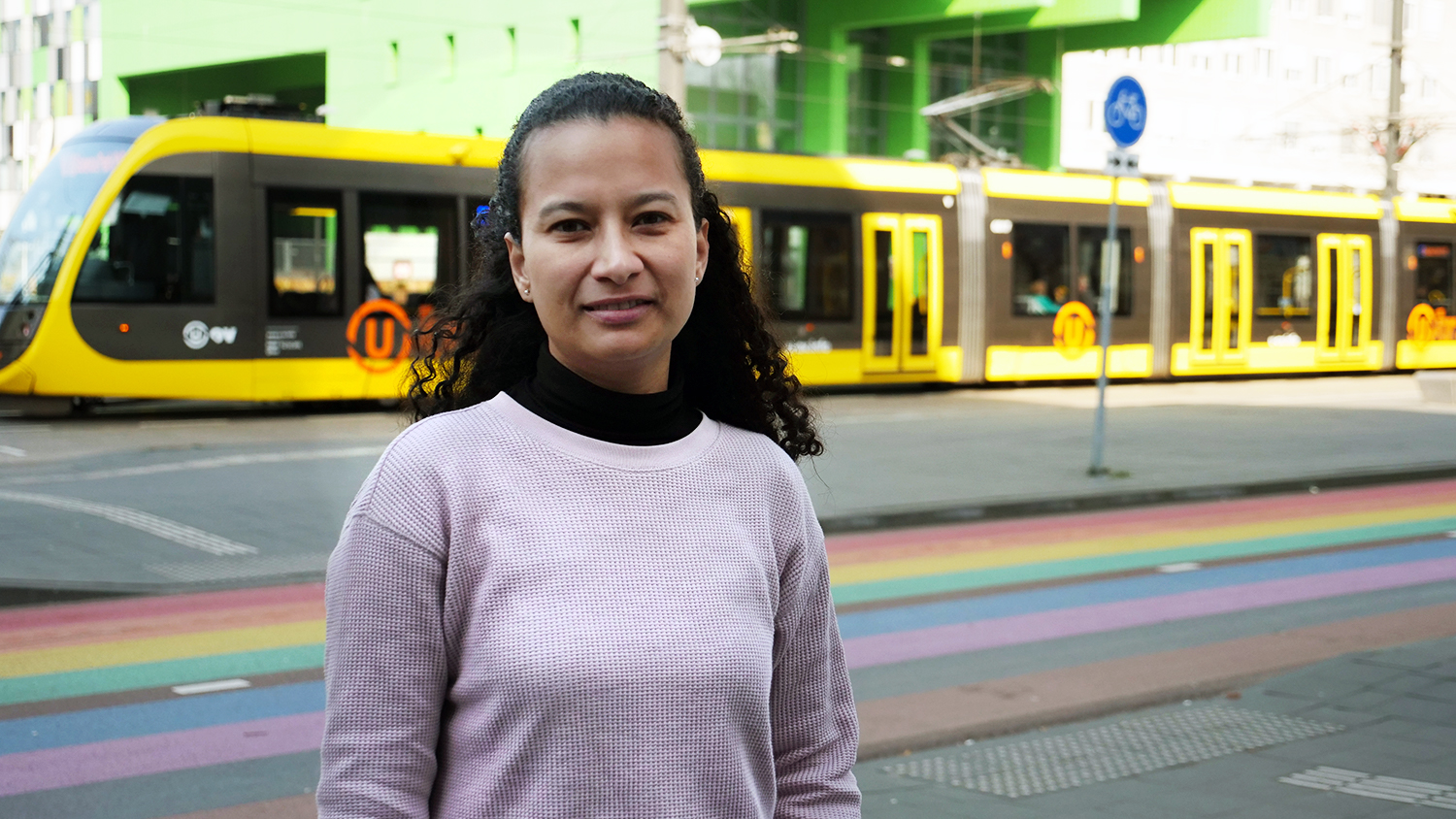 Those families turned out to be a blessing: they helped me so much with the language
"When I first moved here, in December 2018, my English skills were slim to none. I was basically silent all the time. But I had to get an IELTS (International English Language Testing System) score of at least 6.5 in two years, as that was the only requirement I was missing to be accepted to the Master's and we only had a four-year visa. Therefore, I had to use my time wisely. Whatever job I found, it would have to be something that would help me with my English.
"Babysitting seemed like a great idea, as I would learn English at the same time as the children would be learning to talk. Besides, kids never judge you. If you make a mistake, they don't bother, they just move on. I found an ad on care.nl posted by two American families – they were friends – that stated 'English is a must'. I applied saying: 'listen, I don't speak English but I have a little sheet here that explains why I'm doing this and why your kids will be safe with me'.
"Those families turned out to be a blessing because they helped me so much with the language. I worked with them for a year and a half, until August 2020. The kids were around one year old when I started babysitting them. Communication was a bit chaotic at first, but a kid's brain is a sponge, so if I couldn't say something, sometimes I would just speak Spanish with them. I stayed with the kids from 8:00 am to 5:00 pm, and then I took English classes at UvA and later at Babel. It was tiring, but so exciting at the same time. The first time I managed to take a call, I was ecstatic because I used to be so afraid of not knowing what to say on the phone.
"In April 2020, I took the IELTS for the first time, but I failed over my writing skills. But then I took it again two months later and I passed! I started my Master's at UU last September. At the beginning, I failed every single one of the first six exams I took because I still had a hard time understanding things, especially online. Sometimes I couldn't understand half of the class. My study advisor said: 'your fellow students are like a Ferrari and you're a Beetle'. But I was like 'hey, that doesn't mean the Beetle can't make it there!'
If you're dreaming of something that seems too difficult, believe me, there is always a way
"I'm currently working on my thesis and part of it has been published by a journal. I'm researching differences between women and men with regards to cardiovascular problems, in particular peripheral artery disease. The diagnosis usually comes later for women than for men, and we also see more amputations among women. I'm trying to find out whether these differences can be attributed to women being treated differently at GP level. 
"In March 2021, my name was announced among the six winners of the Rosanna Fund Scholarship, which is awarded to promising female students each year on International Women's Day. I didn't think I had any chance at winning, really. I compared myself to the previous winners and thought 'wow, they are amazing! They have so many achievements and I only have my Bachelor's'. But my friends insisted that I should apply. They said: 'You don't see what we see'. I'm so grateful for this grant. I got 5,000 euros, which I'm going to use to pay part of my tuition fee. Since I'm from a non-European country, I pay the higher institutional fee. I do it by instalments. We paid the first year with a loan taken in Colombia and the second year is being paid with savings from babysitting, which I still do on Wednesdays.
"If possible, I would like to do a PhD in the Netherlands. I would like to keep researching differences between women and men. So much of the available research is based on men only. I love it here. People complain about the weather, but I don't mind it, and people are so nice to me here.
"If you're dreaming of something that seems too difficult, believe me, there is always a way. Don't listen to the people trying to discourage you, saying you're not good enough, or you're too poor, or your dream is impossible. Just believe in yourself and go for it. If you don't succeed, at least you have tried."