Chairs prepare to leave
'We're not a good role model for students', say outgoing LSVb and ISO chairs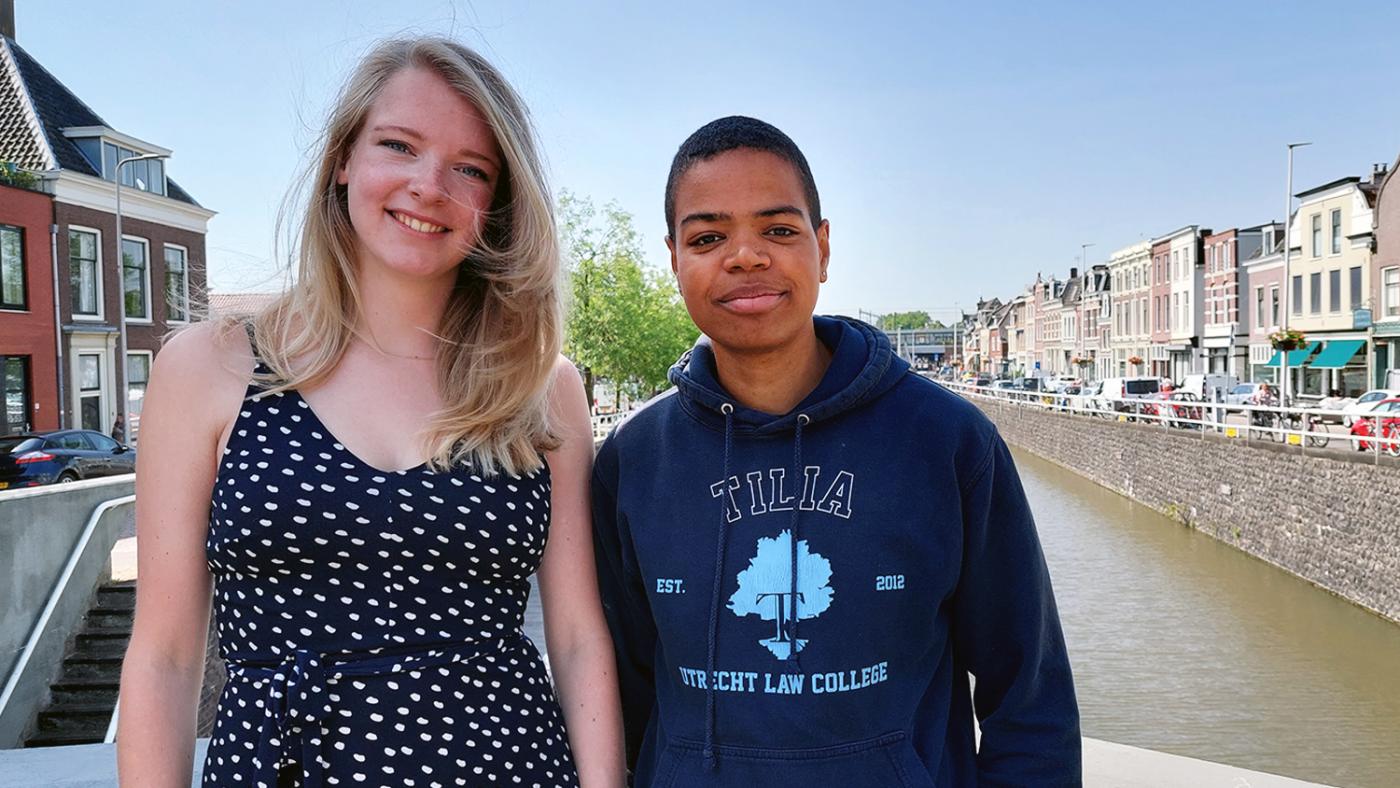 Lisanne de Roos (ISO) and Ama Boahene (LSVb). The latter is wearing a hoodie from her student association, Tilia. Photo: HOP
It was an eventful year for the national organisations representing the interests of students: the measures to combat-19 in higher education have been put to a halt and the Dutch government has announced changes regarding the loan system and the basic student grant. We went down the memory lane with Lisanne de Roos (23), chair of the National Students Association (ISO in the Dutch acronym) and a student in Leiden, and Ama Boahene (24), chair of the National Student Union and Law student at UU.
How do you look back on the Covid-19 restrictions at the start of the academic year?
Lisanne: "It was a particular start. We had to get to work right away because we didn't know when higher education institutions would be allowed to reopen in the summer. Fortunately, our predecessors had already done a lot of preparatory work, but we were also aware that reopening everything is not as easy as one, two, three."
Ama: "You never know what is going to be influential or not. We read what the media said about this and I believe it did have an effect. It also immediately fueled the collaboration between us, because we saw each other in a lot of consultations."
Both your organizations represent university students nationally. Do you see each other as colleagues or as competitors?
L: "We are concullegas (Dutch expression that mixes the words "competitor" and colleague", Ed.), but with an emphasis on the colleague part. But that changes every year. In the beginning, I would sometimes see Ama in the media and think: 'I would have liked to do that too'. But, at the end of the day, she just tells the story really well and we are trying to achieve the same goals."
A: "I can relate. When you're just starting out, you're a bit more insecure about what you're doing and how to do it. But that fades away after a while. In the end, we are not always in each other's way and we do things our own way."
You shed a lot of light on the topic of students' mental health. Do you think they will be okay now that the lockdowns are over for the time being?
L: "It is a misconception that students' mental health is directly connected to the pandemic. They had problems before the pandemic as well."
A: "Take, for example, the pressure to perform and all the things students have to juggle: financial worries, side jobs, room shortages. The narrative that it's all our own doing, whether things are going well or not, doesn't help either. Young people have not bounced back fully yet, after the lockdowns. Many of them learned to study in a different way, namely at home, from a laptop."
How do you keep your head above water with such a busy year?
L: "We are actually not role models at all: we do everything students shouldn't do if they want to take good care of themselves. Of course, we do have fun as well, but our roles entail a lot of hard work. It does help that we do it with a team, though. Sometimes, others would take the press telephone from me, so that I could catch my breath."
A: "Similarly to ISO, we have a coach with whom we can talk about challenging situations we might encounter in this job. That helps you sort things out for yourself. We just go through so much. I wrote down a lot so I won't forget all that happened."
You've certainly gone through a lot. The loan system was abolished, for example. Do you think you had a lot of influence on that?
L: "It was almost a day job to fight the misconceptions about students, such as 'all they do is whine as everything was a lot worse in the past'. We don't win anything by comparing generations. The statistics show that things are not going well. We have published a study about the mental health of students in debt. These are concrete things we can exert an influence on."
A: "Our protests made sense, for sure. In February, we organised a huge protest in Amsterdam, right after the coalition agreement was signed. It is not surprising that the turnout was lower at this month's protest. But we've been hearing that students are getting discouraged. Does protesting make sense? Are we being listened to? Their trust in politicians is dropping."
L: "Yes, we see that despondency is increasing. The new basic grant is disappointing, the compensation for the unlucky generation is disappointing, the fact that student debt can get in the way of a mortgage is disappointing."
Nevertheless, more and more students are enroling in universities. Do you think they have a bright future ahead of them?
L: "Yes. We must not forget that higher education is very good in the Netherlands. But that does not alter the fact that there are things that should be improved."
A: 'Don't forget that being a university student is fun too. We just have to make sure it stays that way or becomes that way for everyone. However, I am concerned about how bright their future will be, considering their financial situation."
What does your own future look like?
L: "I am enrolled in a Master's degree in Public Administration and I am already looking around the labour market. But, first, I need a break."
Ama is not yet sure what she's going to do. She is still in doubt about whether she will return to her Master's degree in Criminal Law. "I'm going to take a break first, that's for sure! I don't have any concrete plans, but I've been thinking about teaching and I might go into politics or journalism later on."
Author: Josefine van Enk (HOP)