The Promising Fifteen of 2021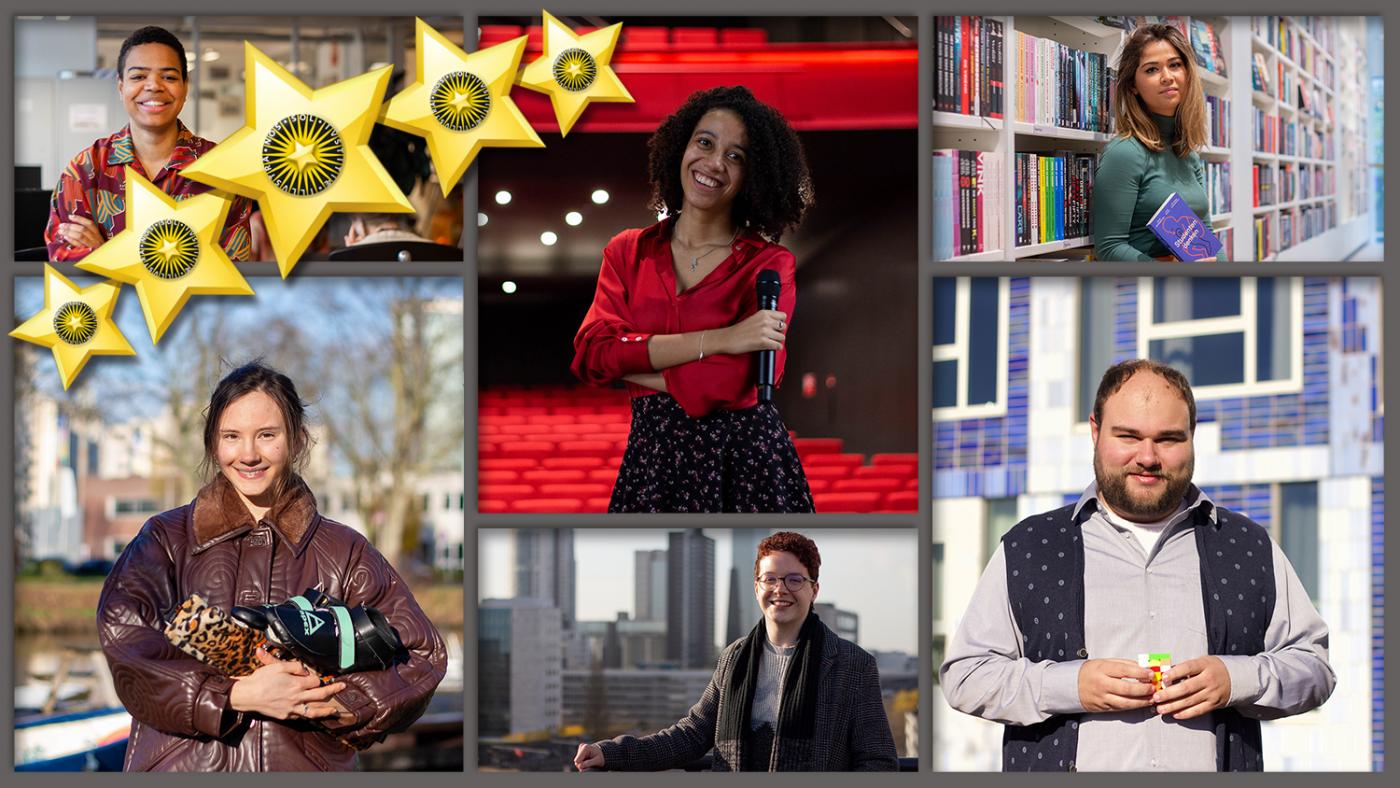 'I want to keep my options open for the future'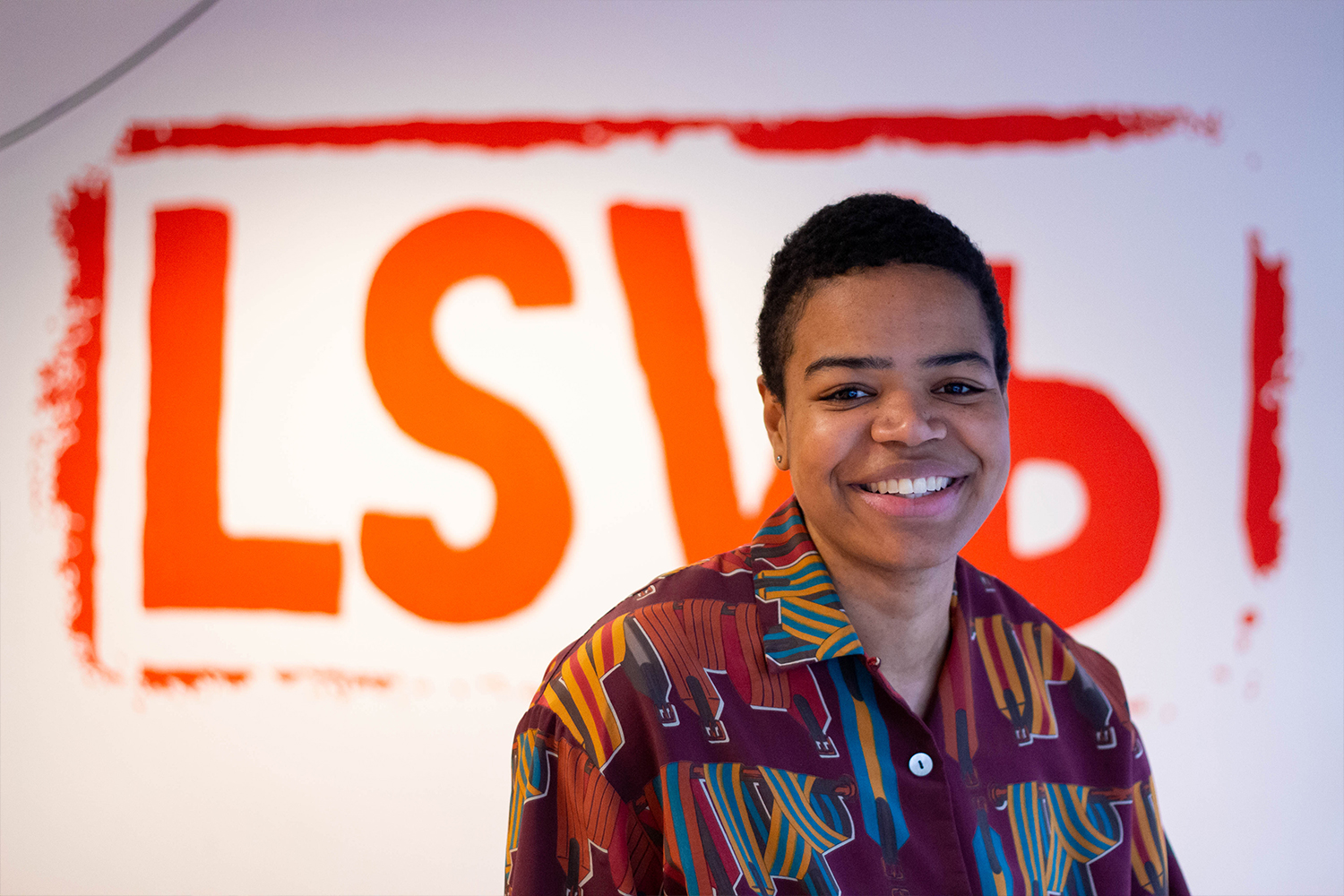 As chair of the National Student Union (LSVb in the Dutch acronym), Ama Boahene (23) has been in the limelight this year: in her role, she is frequently asked by media outlets to comment on higher education developments on behalf of students. She would like to use her position to address political issues such as the accessibility of education.
Ama is used to voicing her opinions, as she participated in moot court competitions at the Christian Gymnasium she used to attend in Utrecht. As a high school student, she won the prize for best speech in the TV show Op Weg Naar het Lagerhuis (Towards the House of Commons, Ed.) in 2015.
It comes as no surprise that Ama chose to go to Law school. "I noticed right away that Law was a fun degree. Law school attracted me because it's small and I identified additional opportunities to engage in debates and getting to know law practice."
Although she is currently enrolled in a Master's in Criminal Law, she is not sure about working as a lawyer. "Art, journalism and politics are interesting too."
In fact, Ama completed a preparatory course at the Utrecht University of the Arts (HKU) in 2019. At the time, she served as an intern at the embassy of Ghana, the country her father is from. "I enjoyed that a lot, but careful diplomacy is not my cup of tea. I'm not fully satisfied until I can create freely and can stand up for what I believe in."
What are your goals for next year?
"Firstly, I'd like to get rid of the student loan system. We have momentum, so that looks like an achievable goal. Plus, the students who joined higher education institutions after the abolition of the basic student grant should be compensated somehow." 
What did you want to be when you were a child, and why?
"I wanted to be a poet or movie director. That's because of my need to be an independent creator."
Who is your hero or source of inspiration?
"I really admire professional athletes who persist despite injuries. Footballer Tessel Middag, for example, who got to Manchester City from ADO Den Haag and had to miss the European Championships in her home country because she tore her ACL."
What does your dream home look like and where is it?
"This generation's graduates are happy to be able to buy a house at all. I'm not that demanding, but would like to live in Utrecht or Rotterdam." (RA)
---
'UU should do more to bring Dutch students and international students closer'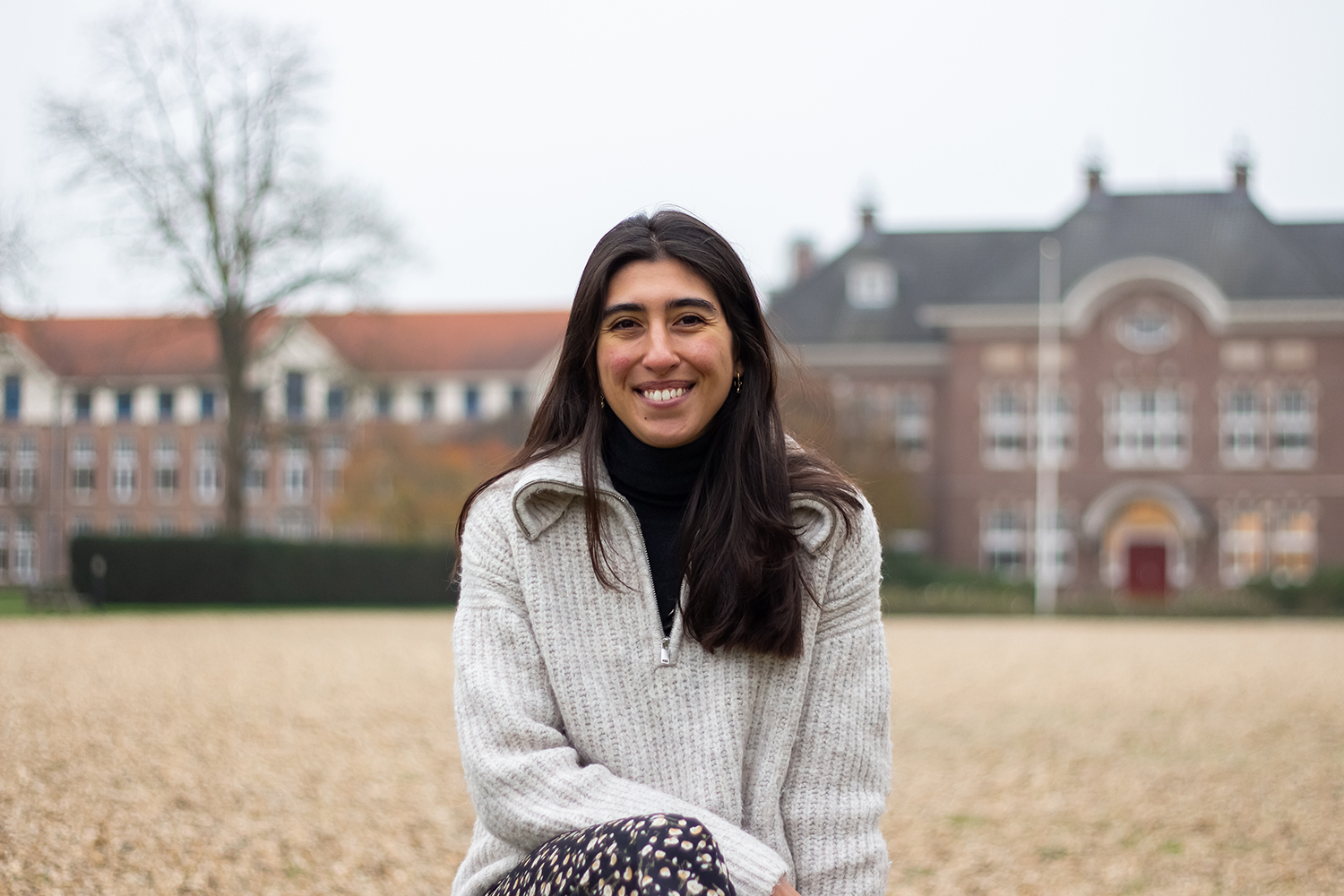 Andreia Duque (25) comes from Portugal and just got her Master's in Economic Policy. She was one of the first international students to join the University Council in 2020-2021. During her term, she made a passionate defense of internationalisation, and caused quite a stir with an op-ed on DUB in favour of changing the language used in the council meetings to English.

"Just offering programmes in English is not enough. There should be an international atmosphere", she argues. "For example, why is the UIT Week in Dutch and internationals get a separate introduction later?. Why not have a bilingual event in which everyone truly mingles?"

Now, Duque is a junior lecturer at UU, teaching Introduction to Economics and Introduction to Finance and Accounting. "I often have to call out my students because they speak Dutch a lot in class. The purpose is that you grow. You're already fluent in Dutch, so you don't have to practice it."
So far, teaching is going "great", she says. But her dream is to become a politician. "I want to represent people and make sure that everyone has the same opportunities. But I still need to read and learn a lot first."
What is your main goal for next year?
"Becoming an active member of a political party. Probably a European one, like Volt."
What did you want to be when you were a child?
"A prime minister or a hairdresser. They're more similar than you might think: hairdressers serve people, working to make them feel good."
Who is your hero or main source of inspiration?
"Lately, the two people who have inspired me the most are Volt Netherlands founder Reinier van Lanschot, for his eagerness of having a better Europe, and Belarus activist Svetlana Tikhanovskaya, for the fearless way she fights for democracy and, therefore, equality of opportunities."
What does your dream house look like and where would it be?
"My dream house is the easiest house to clean! Very minimalistic, I don't want to live in a huge house. The only thing that has to be big is the living room, because I want to have a lot of people over and cook for them. The house would be in front of a beach and it would have a lot of kids in it. Like… four. I really want to be a mom!" (MvE)
---
'I'm having a fun and illuminating gap year working as a journalist'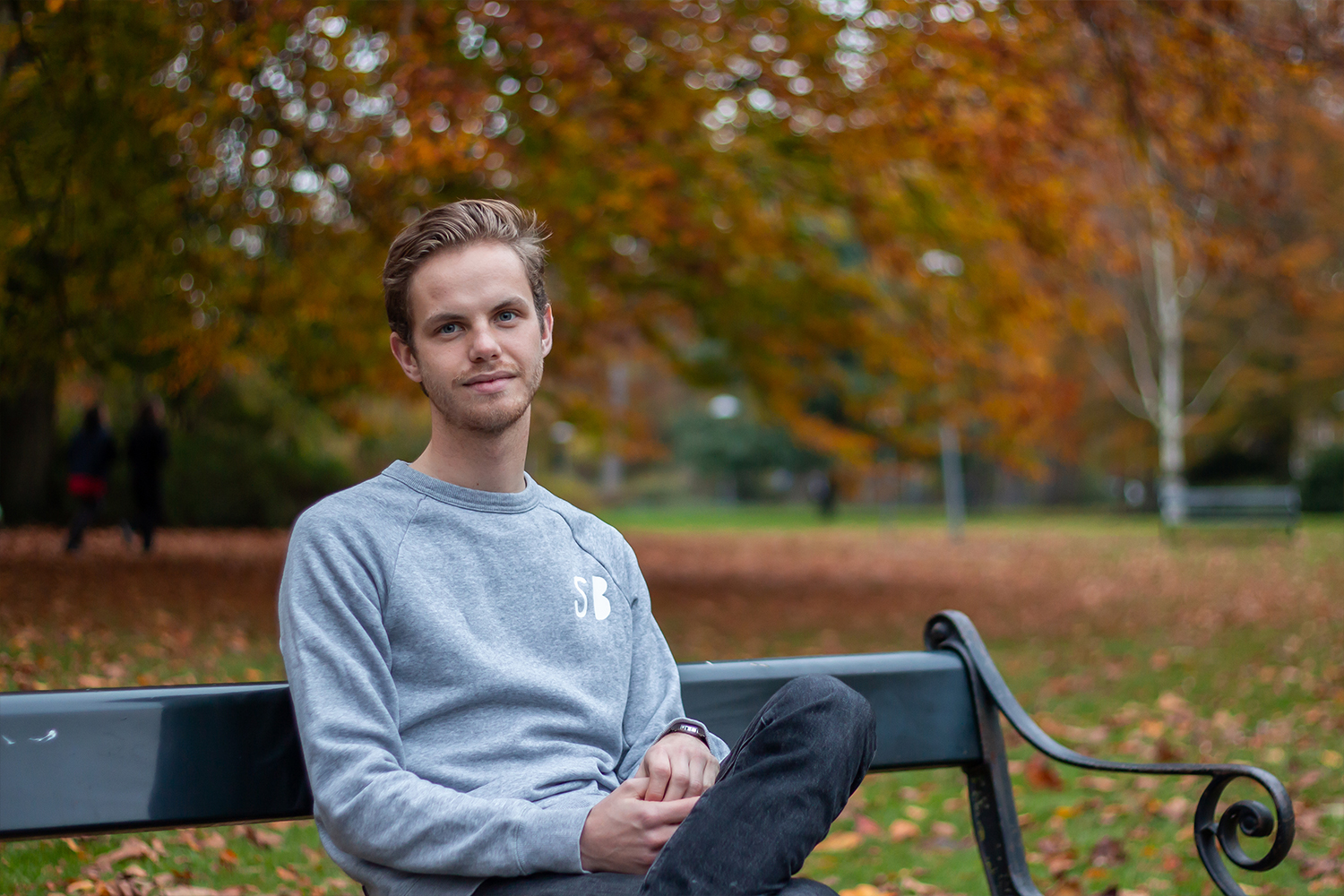 Bram van Duinen (22) won the Bachelor's thesis prize in his faculty, thanks to his use of a computer model to trace the origins of washed up plastic in the province of Zeeland. He loves fundamental physics, but is also glad to use his knowledge to raise awareness about problems and come up with solutions for them.
That's why he chose to participate in the social entreprise set up by student network Enactus. Alongside five fellow students, Bram developed a board game aimd at elementary school students called Klimaatjes (which translates as Climates, a word play with the word "mate", Ed). "We've created a fictional city where pupils can embody the role of a city ruler. They have to design the city in a sustainable and green way, but they are faced with all kinds of dilemmas along the way, which offers them a multitude of points of view." The successful project was nominated for a Young Impact Award.
Nevertheless, Bram and his colleagues decided not to develop the project further, selling it instead. Now, he is enjoying a gap year before embarking on a Master's degree. But, if you think he's been doing nothing, nothing could be further from the truth: Bram is working as an intern at the science section of Dutch newspaper NRC Handelsblad, writing about climate change, physics, and astronomy. "I would like to make complex sciences easier to understand and relevant for everyone."
What are your goals for next year?
"I'm aiming to run a half marathon and I would also like to travel to South America."
What did you want to be when you were a child, and why?
"When I was young, I wanted to be an astronaut. Outer space is so fascinating. Actually, I'd still like to do that, but being claustrophobic is a complication."
Who is your hero or source of inspiration?
"I admire Angela Merkel. She is a physicist that managed to combine her technical knowledge with social understanding, which is quite a feat."
What does your dream home look like and where would it be?
"I don't necessarily want a big house. Somewhere in the city is fine. Someday, I would like to have an Eames Lounge Chair, a black leather design chair that costs about 5000 euros." (RA)
---
'It was only after I saw my performance on TV that I realised just how many people had watched it'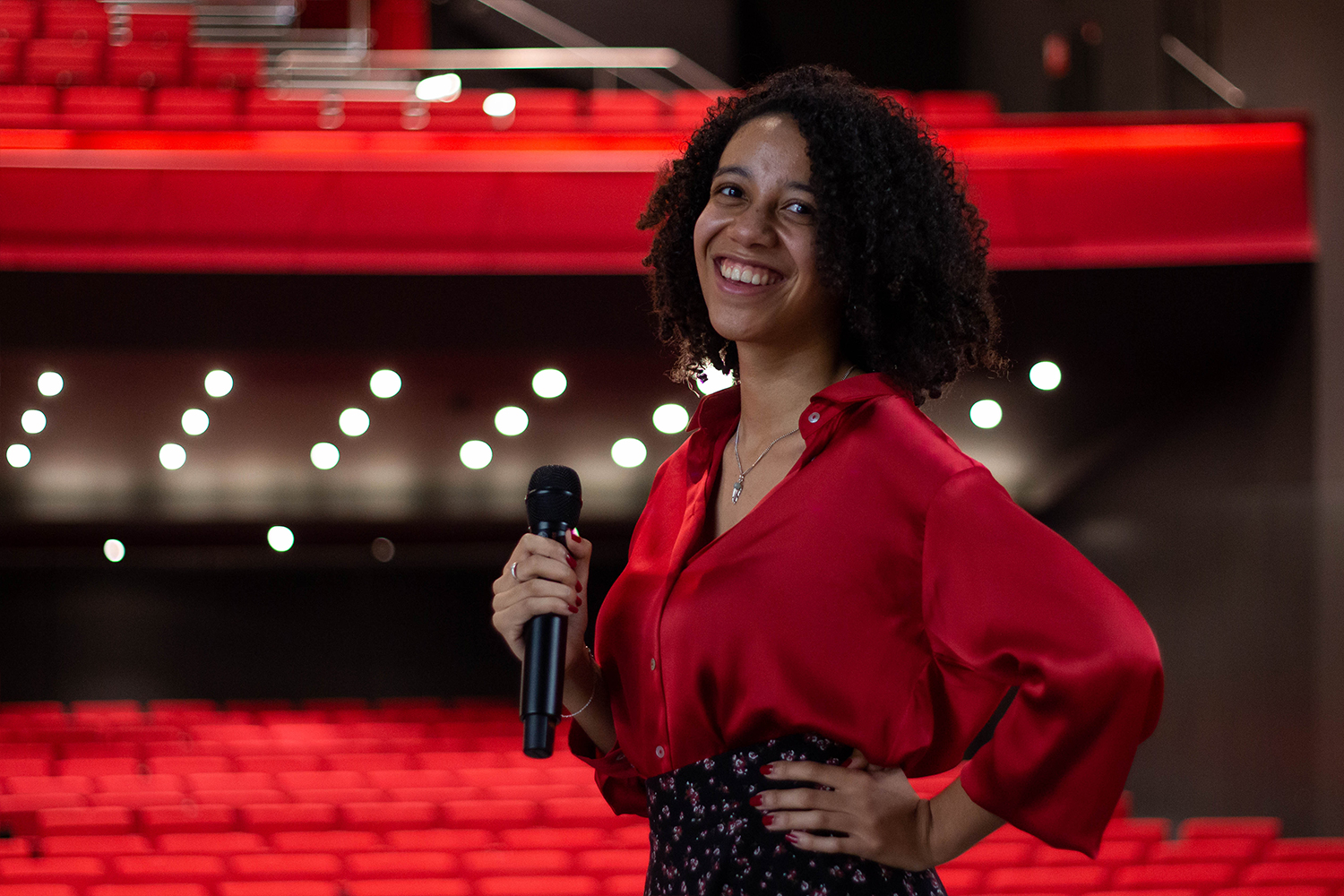 The Belgian girl band K3, originally formed in the 90s, evokes childhood memories in 23-year-old Chanel Sam. The magical feeling their songs give to Dutch-speaking children was the reason she decided to join talent TV Show K2 searches K3 earlier this year. 
The live performances on TV were nerve-wrecking, but "very cool" and Chanel ended up ninth in the competition. So, now, she's gone back to her original plan: becoming a scientist. Enrolled in the first year of the research Master's in Neuroscience and Cognition, Chanel also serves as an intern at a the hospital, where she conducts research on the effect of sleep on brain development in premature babies.
"I am a neuroscientist who sings about rainbows. I want to show that science is cool, and break the stigma that a scientist is nothing but a bookworm," says the student.
The world of television has made an impression on Chanel, who dares to dream about hosting a show about science for kids. So, who knows, perhaps we will see her again someday on TV.
What is your main goal for next year?
"Next year, I want to finish my Master's. Additionally, I would like to improve my singing abilities and find out whether the television world is something for me."
What did you want to be when you were a child, and why?
"I wanted to be all sorts of things. First, I wanted to travel the world as a stewardess, then I got interested in becoming a scientist and then I decided to become a chef because I loved being in the kitchen. I think I will always keep on dreaming and I'll always chase what makes me happy."
Who is your hero or source of inspiration?
"My parents. They are a dream combination together. My father is the hard worker who only wants to make his family happy. My mother is the far too sweet, caring woman who you can always count on. I am very proud of them and want to be like them."
What does your dream house look like and where would it be?
"Definitely a farm outside the city, with meadow and animals: cows, sheep and perhaps two goats. No chickens. Maybe I will even turn it into a children's farm so that everyone can come visit my animals. (IH)
---
'The biggest heroes are those who dare to speak up'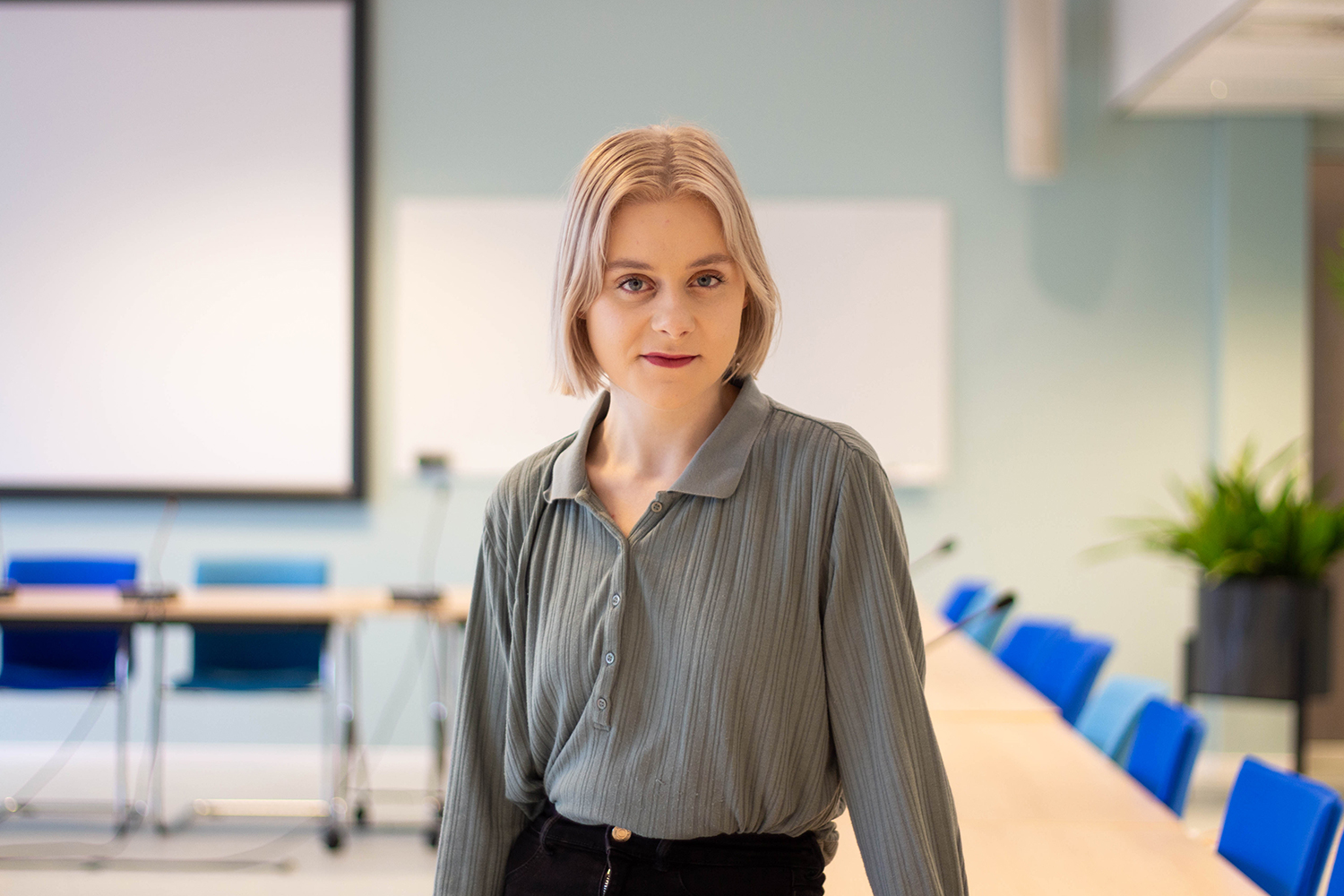 Co-determination is very important to Media and Culture student Chiara Stam (22) as she has developed a strong bond with the university in the five years she's been enrolled in it.
She is incredibly committed to her fellow students, who, in her view, struggle with things that should be done differently. For instance, she knew the university provides counselling to those suffering from mental health issues, but students are often unaware that this service exists, so they have no idea where and how to seek help.
She applied to become a candidate for the council of the Faculty of Humanities, representing student party Lijst Vuur, in the academic year 2020-2021. Prior to that, Chiara had served as chair of the student association Akt. Upon getting elected, she was hoping to bring students closer to the faculty council, a goal she believes she has successfully achieved. She was the chair of the student section of the council for one year.
In that period, Chiara noticed that the true decision-making happens at university-level, rather than art faculty level. That's why she decided to run for the University Council. As the leader of Lijst Vuur, she got the majority of votes and became the only member with a preferential seat.
It took her a while to grasp what had just happened. "It wasn't until DUB's article came out, saying that I was 'the biggest vote-getter of the year', that I thought: 'wow, how did that happen?" Chiara's biggest motivation is the fact that she was chosen by students to represent them. She says she is immensely grateful for that.
What are your goals for next year?
"I want more people to hear about the council. Some of the things the University Council has achieved benefit us every day, like the possibility to pay for the tuition in installments."
What did you want to be when you were a child, and why?
"As a child, I wanted to be a musical actress, so much so that I took some serious steps towards that goal. I've followed a musical preparatory course in Tilburg and I have acted in musicals too. Most of them were staged in Antwerp."
Who is your hero or source of inspiration?
"That's a hard one. They used to be actors, but right now I'm inspired by the people around me. Now that I have a seat in the University Council, my source of inspiration are the students I meet and speak with. The biggest heroes are those who dare to speak up."
What does your dream home look like and where would it be?
"There are lots of places where I'd like to live for a while, like Canada, Scandinavia, and Poland. I'd love to share an apartment there with my girlfriend." (SL)
---
'We need a better housing policy, so we can put an end to this crisis'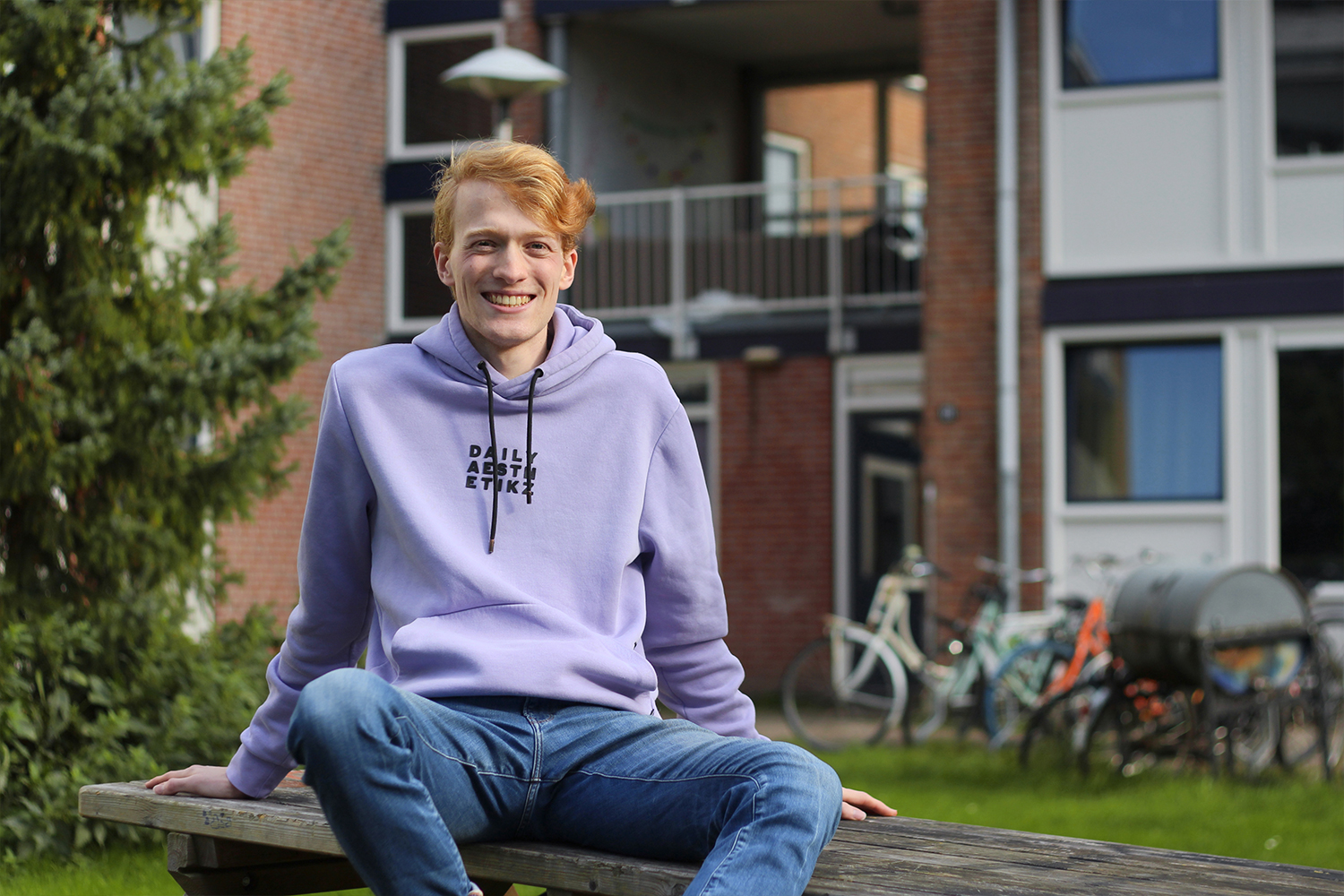 Daan Roovers (23) started his Bachelor's in Chemistry in 2016. Six months into it, he moved to a student dorm at the IBB housing complex. It didn't take long for him to become active in the housing board. "I felt the need to do something social next to my studies. I found out about it via email. A housing board is fairly informal, it's like half drinks and half serious, with meetings and discussions with all kinds of important people, from the local police officers to the municipality."
After two years, Daan spotted a vacancy at BoKS, the tenants association for all those living in properties of student housing provider SSH. Daan was planning to take a year off, but he got intrigued by the vacancy. He also decided to register for the Master's programme in Molecular and Cellular Life Sciences. "I cancelled my gap year because of BoKS. I learned a lot from the work I did for them. It's something I enjoyed, and something that can be very useful," says Daan. 
But he has recently quit the position to fight for the same principle at LOS, a new organisation representing student tenants at national level. "It's essential that student tenants are heard on a national level." Daan's work on behalf of student tenants has been so remarkable that he was one of the winners of this year's Student Awards.
What are your goals for next year?
"I'd like to see LOS, the national organisation to represent student tenants, making a name for itself as one of the national representatives. I want to break the mold by working with policy makers and participating in discussion tables, showing that the presence of a single student, for appearance's sake, is not enough."
What did you want to be when you were a child, and why?
"I didn't have any obsessions as a child, and that sounds so boring! I wasn't focused on becoming an astronaut or a supermodel. I thought: 'we'll see. It'll come to me in time'. I took everything step by step."

Who is your hero or source of inspiration?
"Kim Putters, the director of the Netherlands Bureau for Economic Policy Analysis (CPB), inspires me. He's gay and very successful. That inspires me because it shows me that you can be successful and different."
What does your dream home look like, and where would it be?
"It has to be affordable, with a mortgage that's available to someone on a regular income. Okay, slightly less realistic: in a big city like Amsterdam, in a beautiful, busy neighbourhood. It has to feel like a community, at least. A lot of people think the IBB is ugly, but it's one of the best places because the street feels like a community." (RW)
---
'I always try to see the bright side of things'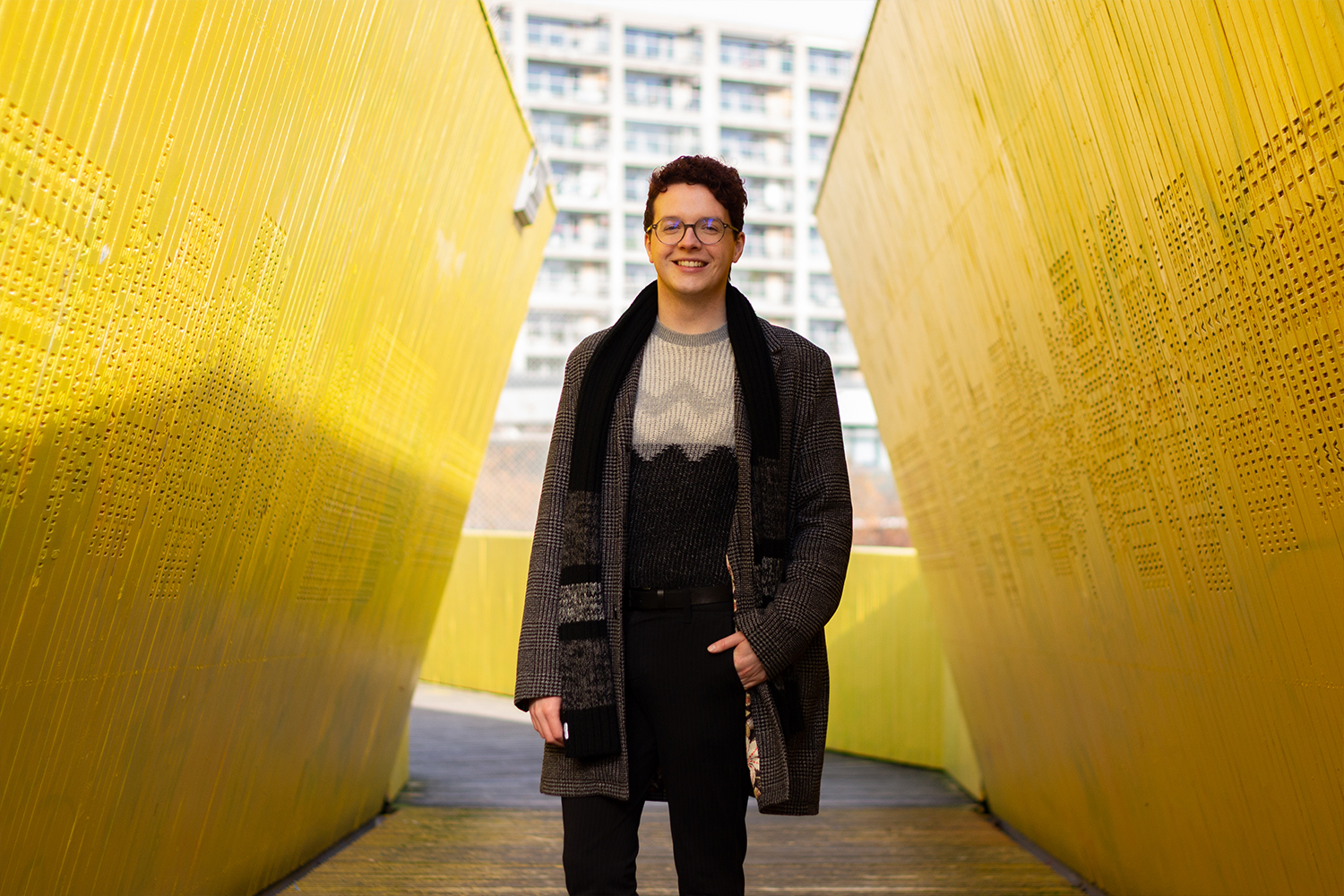 Fabian Lips (25) is the proud founder of Erasmus Pride, an association for LGBTQ+ students in Rotterdam. In 2014, he was studying at Erasmus University and he missed having a cozy place where LGBTQ+ people could share experiences.
Fabian doesn't consider completing three Bachelor's and two Master's degrees in seven years an extraordinary achievement. In his view, anyone good at studying and with a high IQ can do it. He also does not think it's remarkable that he did that while working as a student assistant, joining boards and commisions, and taking care of his chronically ill father and sister.
Of course, not everyone agrees with him on that. This year, Fabian won the Katadreuffe prize, an honour conceded by the faculty of Law, Economics, Governance & Organization, where he obtained his second Master's degree. Fabian was recognized not only for his academic accomplishments, but also because they happened despite a turmoil in his personal life. He split up with his partner and his mother died of cancer right after he started his third Bachelor's. All this emotional stress led him to develop a burnout syndrome. "There were high highs and low lows – I've gained a lot of life experience."
What are your goals for next year?
"That's a hard one, because I always make five-year plans. But, next year, I want to take working out more seriously. I don't necessarily want to become muscly, but I would like to keep my health in check."
What did you want to be when you were a child, and why?
"I've wanted to work for a bank since I was a kid. That is why I chose the double Bachelor's Economics & Law and the Bachelor's in Fiscal Economics at Erasmus University. Afterwards, I completed a Master's in Financial Economics alongside a Master's in Law & Economics in Utrecht. I completed my studies on August 31, and on September 1 I was already working as a policy officer at ABN Amro in Amsterdam. I'm where I'm supposed to be."
Who is your hero or source of inspiration?
"That's very cliché, but... Lady Gaga. Especially her song Hair, where she sings about executing change. If you want to change things, you can. Whenever I'm in a negative spiral and want to change it up, I get a different haircut. The rest just follows."
What does your dream home look like and where would it be?
"One of the thatched houses at the Rietplas in Houten, with gardens bordering the water. I want to have a family and that is a beautiful space for children to grow up. The houses there are expensive, though: they're being sold for 1.5 million euros at the moment." (GK)
---
'I've never had a goal in mind'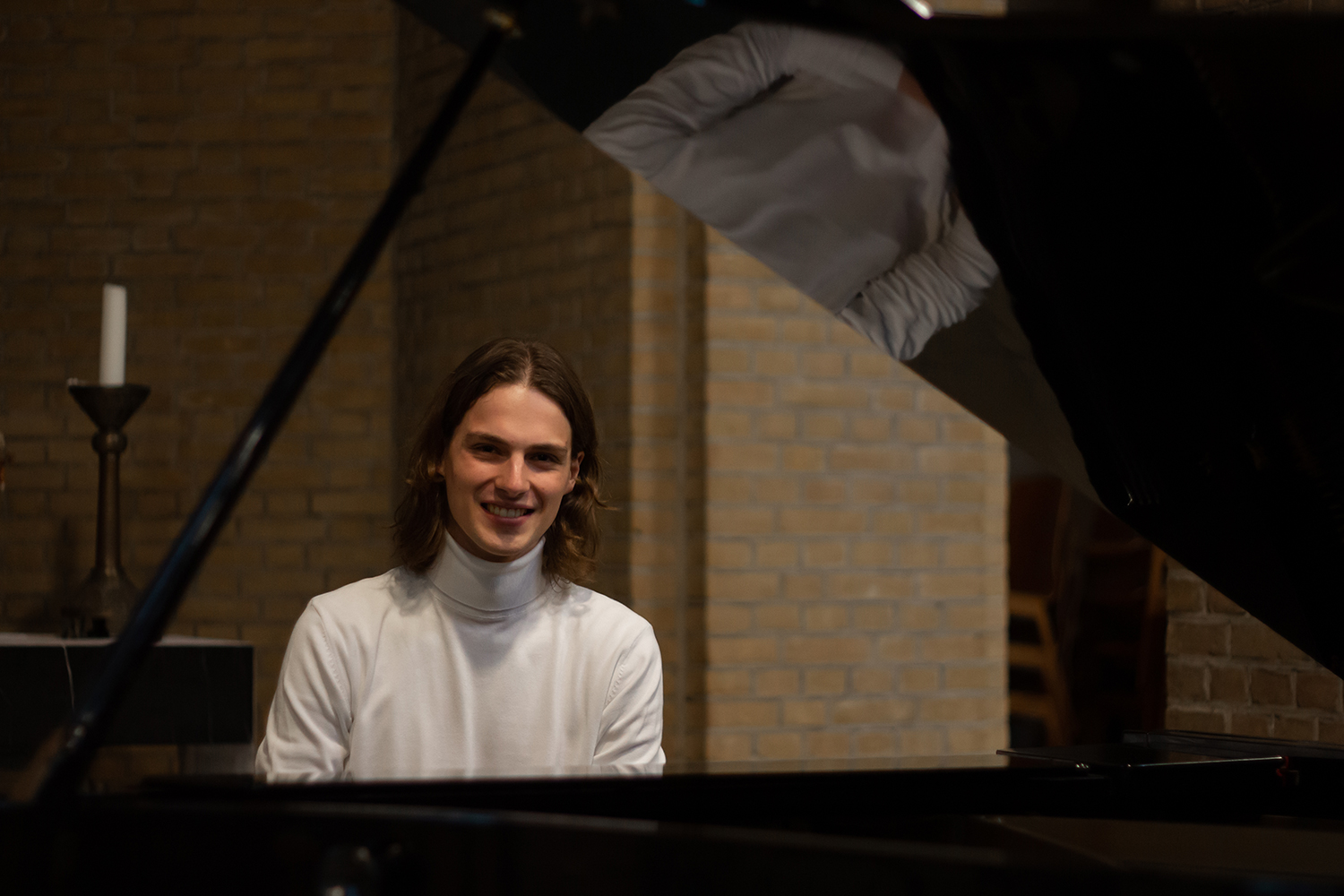 Jesse Bruul (21), student of Governance & Organization, works as a model. He was scouted by Known Model Management in 2018 while on his way to a piano lesson. He was traveling from Den Bosch to Amsterdam, where the lesson was going to take place, but missed the train in Amsterdam Zuid. Someone approached him while he was waiting on the platform. That was the start of the modeling career that took him to Paris, London, Rome, Milan and Tokyo. Bruul has worked for luxury brands such as Valentino and Dior, and was featured on the pages of Vogue and GQ.
Next to his modelling career, Jesse is a gifted organ player and concert pianist who plays professionally. He often practices organ playing in empty churches. After finishing high school, Jesse decided to be a full time model. At first, he combined modelling and music, but ended up discovering that the latter was more of a hobby to him.
Jesse was in London for a modelling assignment when Covid broke out in the Netherlands. He was able to come back to his home country at the last moment. The pandemic meant less modelling gigs for him, as Jesse doesn't want to risk getting stuck abroad. That is why he chose to enroll at UU. He is enjoying his new life being a student, with occasional modelling jobs in between.
What are your goals for next year?
"I don't have a goal and actually never really had any goals. I try to live in the moment and trust my feelings. So far, that has led me to a lot of good experiences."
What did you want to be when you were a child, and why?
"I did not have a profession in mind, but I'd always wanted to do something with music."
Who is your hero or source of inspiration?
"I think that would be Japanese fashion designer Yohji Yamamoto. He has treaded his own path for his entire life, and has come up with revolutionary collections since the seventies. He designs all kinds of things, from oversized winter coats to interiors and Lamborghinis. Last year, I had the opportunity to work with him and it was one of the most beautiful experiences I've had, career wise."
What does your dream home look like and where would it be?
"Abeautiful chalet in the Swiss Alps because I love mountains. I also think that would be a quiet place where I could make music." (SL)
---
'It was pretty stressful to interview a member of Parliament for the first time'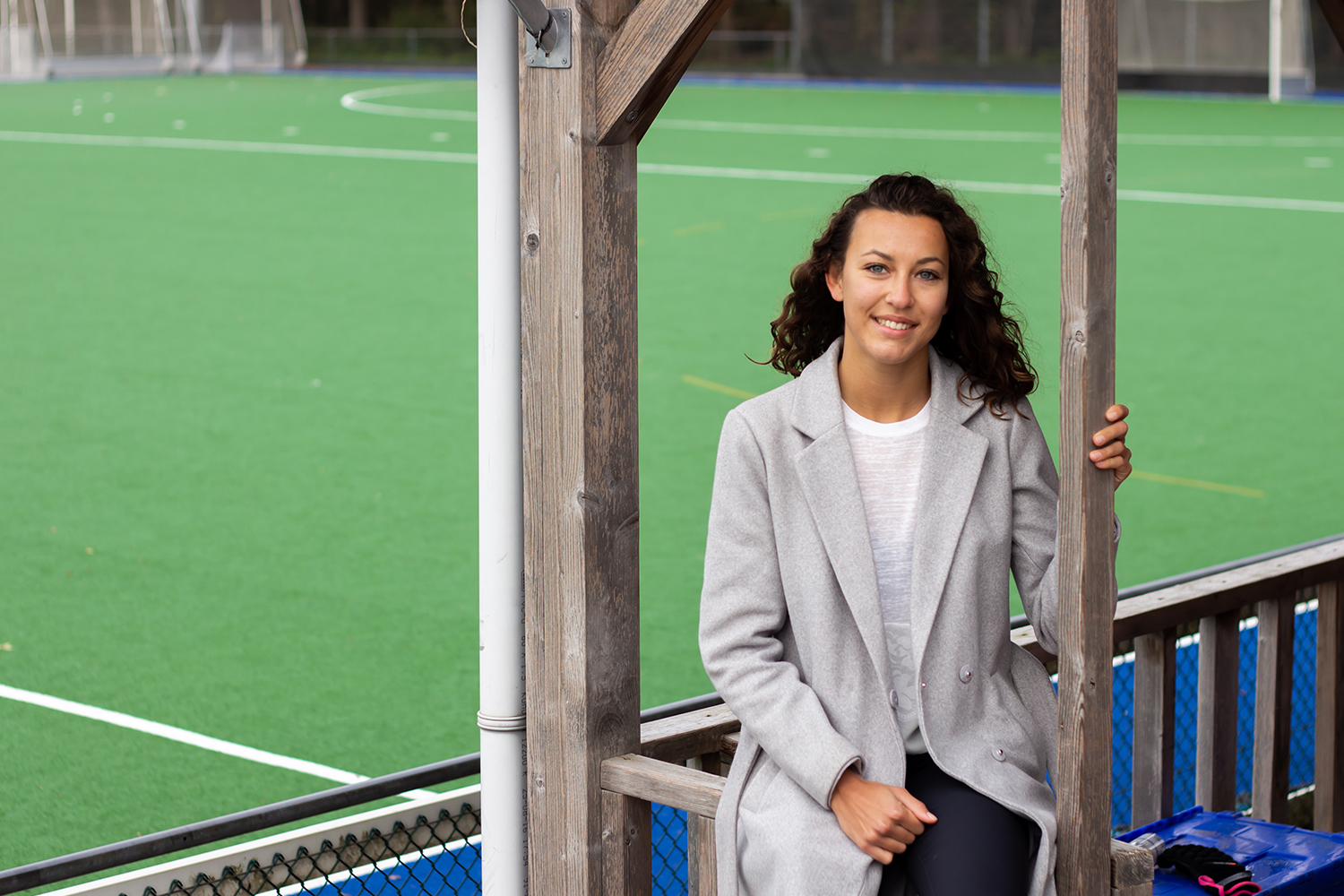 Since the beginning of the year, Jitte Jennekens (24) has been occupying the position of student minister of Healthy Living in the first student cabinet. She's also a third-year student in the Research Master's programme in Regenerative Medicine & Technology.
The student cabinet started as a promotional event in the run-up to the parliamentary elections, held in March. The idea was to draw more attention to science and education. But the student ministers enjoyed their positions so much that they decided to remain devoted members for the entirety of the year. Together with thirteen other ministers, each one of them representing a different Dutch university, Jitte wrote a coalition agreement enumerating solutions for the rising long-term costs of health care and climate policy, among other issues.
The student ministers have been pushing to get scientific insights included on the political agenda. "The younger generation is not represented in politics, even though we are worried about the future of the Netherlands too. I think it's important to think about long-term solutions, and we are just as good at that as people who are twenty years older than us."
What are your goals for next year?
"I want to finish my Master's and I would like to do a second internship abroad. As for the subject, I'm thinking about tumor immunology, the science of decreasing or combatting tumors. I also want to run a marathon. I meant to do that this past year, but it didn't happen because of Covid."
What did you want to be when you were a child, and why?
"That used to change a lot. For a while, I wanted to be a pediatrician, and then I wanted to be a pilot. I've also wanted to be a hockey player for the Dutch national team, but I wasn't good enough. Halfway through high school, I started thinking about becoming a researcher."
Who is your hero or source of inspiration?
"I don't have just one hero, I'm rather inspired by ambitious people in general. People who have achieved a lot in their fields, people who want to improve something in this world. I'm motivated by the idea that one person can make a change."
What does your dream home look like and where would it be ?
"I would actually just want to keep on living in Utrecht. I don't need a big house. Living close to my friends is the most important thing to me, I wouldn't be able to leave that behind anytime soon." (IH)
---
'You can't explain complex conflicts in a simplistic manner'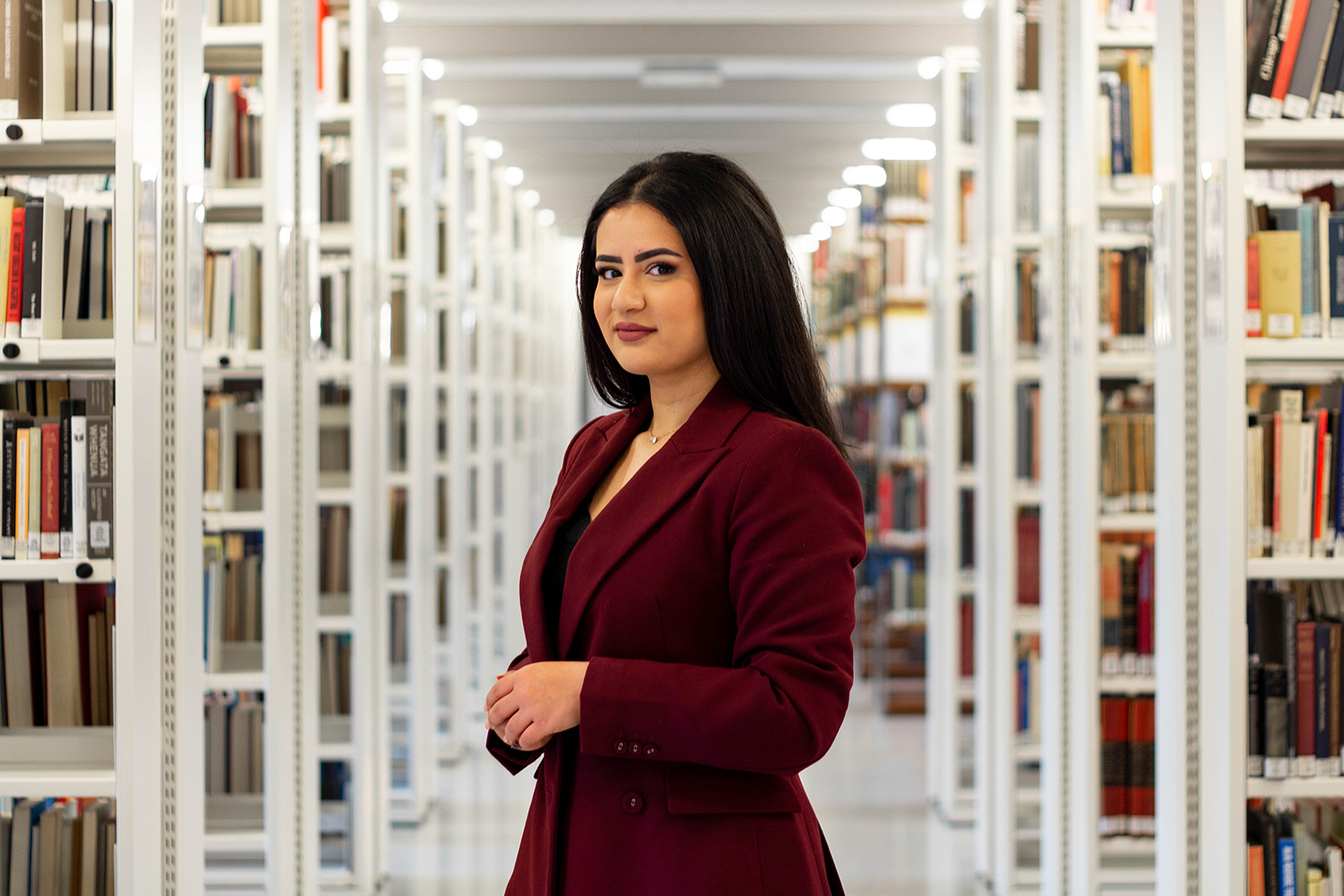 Khatera Shaghasi (24), recently graduated from the Master's in Conflict studies and Human Rights, made waves earlier this year when, alongside other Afghans, she started a petition asking for Afghanistan to be placed on the list of unsafe countries. The petition was presented to members of the Dutch parliament. Khatera was born in Pakistan, after her parents fled Afghanistan to escape the Taliban regime. She came to the Netherlands as a baby.  
"My academic choices are closely connected to my background and personal development, ," she says. "I was influenced by this transgenerational trauma that we always carry with us, and of which I wasn't really aware growing up. The TV in our home was always on with CNN or another news channel, for example."
It was only last year that she joined the public debate by writing opinion pieces about the situation in the country and women's rights. The idea to make a petition and organise a protest came when the Taliban took over the country again. "We decided to raise our voice for the Afghans there, but also raise awareness about the refugees here in the Netherlands, There are people who have been living in the Netherlands for seven or eight years and they still don't know what is going to happen to them in the future."
What is your main goal for next year?
Get a job. I am really interested in public policy and journalism.
What did you want to be when you were a child?
A teacher and a lawyer. I was always between those two. I really liked my teachers when I was young, so I wanted to be like them. As for lawyers, I don't know, maybe it was because of the movies in which they all look so cool.
Who is your hero or main source of inspiration?
Lately I've been really into the spiritual master Rumi. I'm inspired by his journey and worldview. His belief in unity inspired me not only spiritually, but also to see the interconnectedness of worldly matters, which in a sense is a form of intersectionality."
What does your dream house look like? And where would it be?
I would like to have a small, cute house near the mountains, with a big kitchen so I can bake cookies. Oh my, I guess to have that dream come true I'd have to leave the Netherlands! (MvE)
---
'My achievements are not a matter of luck'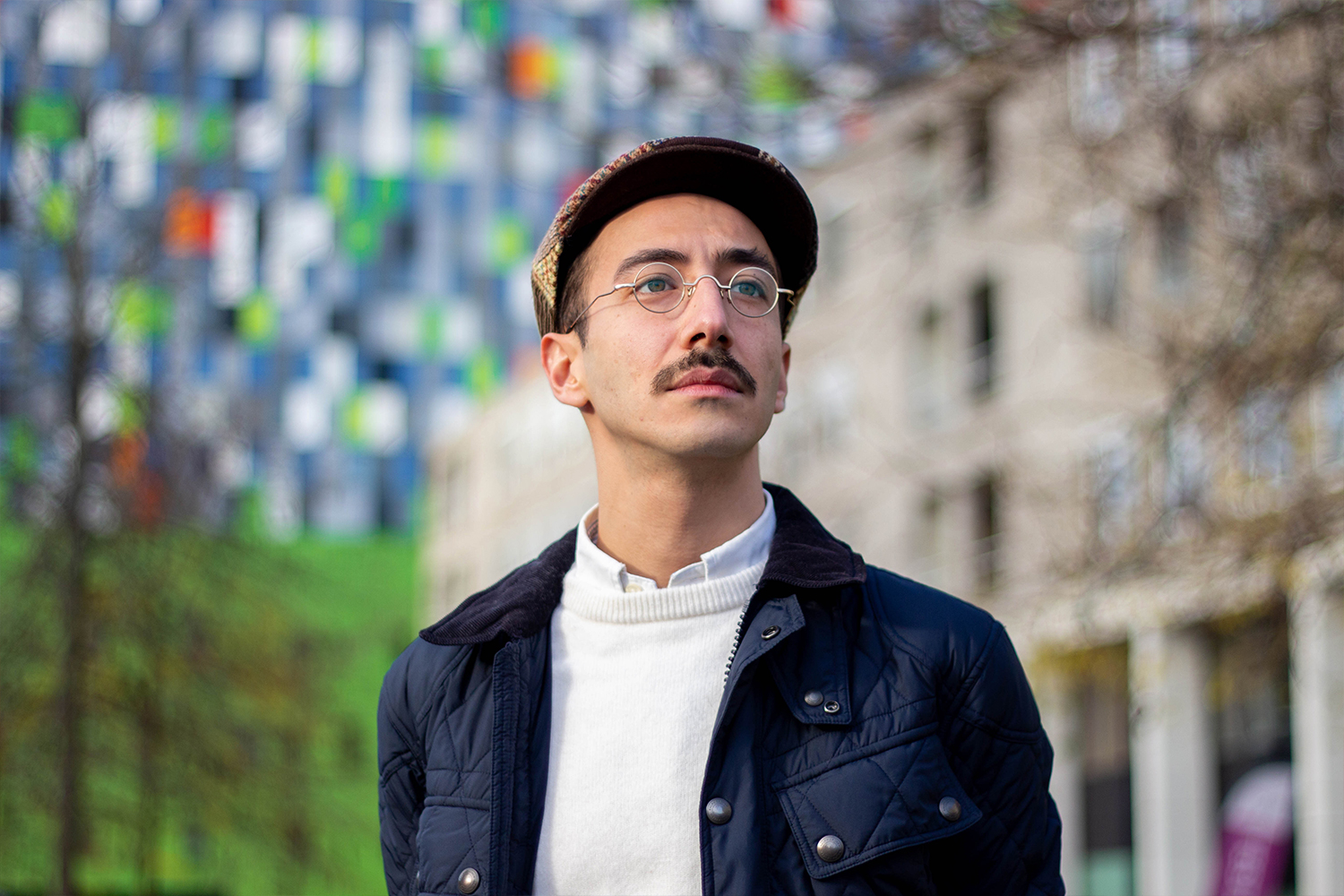 Although he is still pursuing his Bachelor's in Economics, Kinan Alajak (26) is already a successful social entrepreneur and former researcher of the department of developmental psychology, where he's worked on the Karakter project. Until he was twenty years old, Kinan lived in Damascus, where he studied Information Sciences and English Literature. Since arriving in the Netherlands, he has achieved quite a lot. "Some say I'm lucky, but I work day and night. It is not a matter of luck."
Kinan is the co-founder of The English Academy for Newcomers, an English language school for highly-educated migrants looking to advance their academic and professional careers. Until September Kinan was also the director of the academy, but he decided to step down to focus on his new project, the Refugee Wellbeing and Integration Initiative (RWII), a foundation of which he is founder and director. RWII is a research group that monitors the wellbeing of refugees. Kinan was nominated for REBO's Societal Impact Award in 2018 and 2020 for both organisations.
So, what does the future hold for him? "Planning is everything, a plan is nothing," he says, quoting former US president Dwight Eisenhower. "But I would like to stay in a position where I can be some kind of observer, like a watchdog. Like I do now with the RWII."
What is your goal for next year?
"After a promising pilot, my team and I want to introduce RWII to the market, and make it financially sustainable."
What did you want to be when you were young, and why?
"I wanted to be a medical doctor. My mother was a paediatrician and I watched her work with these crying babies, trying to figure out where their illness was. She was solving mysteries. I thought that was incredible."
Who is your hero? Who inspires you?
"My hero is someone who actually manages to live according to their nature, fulfilling their purpose. Like a stoic. Sometimes that takes a lot of compromise."
What does your dream house look like and where would it be?
"A small penthouse in a high-rise building in nature. In Berlin. I want a secluded place to read and write, but at the same time I want to be amongst other people, and hear what they are talking about." (JS)
---
'You don't realise how small you are in the universe''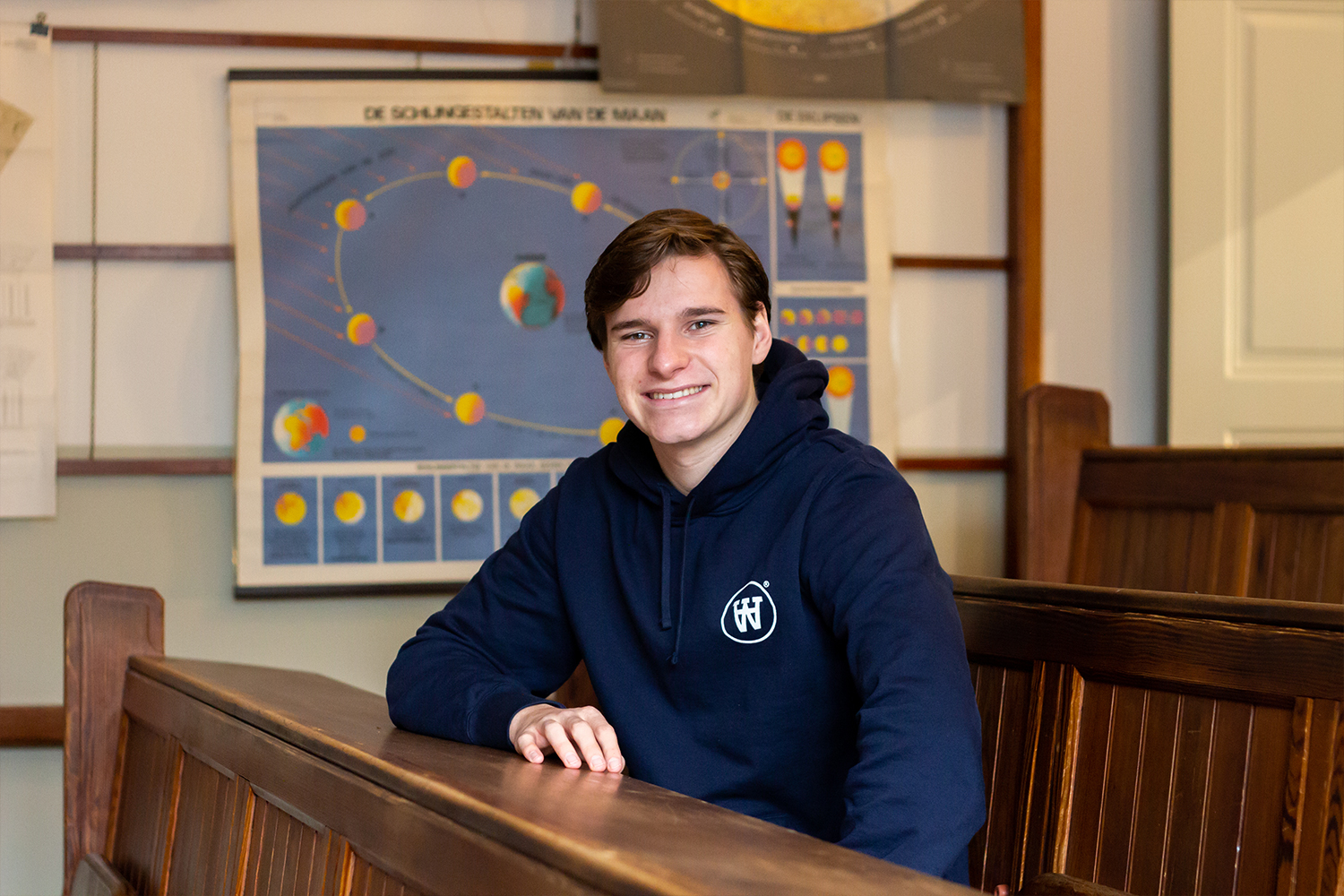 Ever since he was a little boy, Oliver Daemen (19) has been fascinated with space. When the first-year students of Nature Sciences & Innovation Management was eight years old, he wrote a bucket list and going to space was the number one item. His childhood dream came true on July 20, 2021.
Daemen travelled to space as the youngest astronaut ever, alongside Amazon founder Jeff Bezos in the mogul's rocket. He got the opportunity to join the flight after bidding 28 million dollars in an auction. The flight was heavily criticised, but to Oliver, it was an amazing experience to become weightless in just three minutes. "I'd fantasised for so long about what space would be like, but once you're there, it's incomparable. You see how small you are compared to everything else."
Apart from being the youngest person to ever leave the Earth, Oliver is also chasing heights by flying small airplanes. He got his pilot's license last year and joined Utrecht University this year. Whether his studies, which delve into the application of innovations in society, will lead him to space again, it remains to be seen. 
What goals do you want to accomplish next year?
"I want to obtain my propaedeutic degree. I also hope to get further with flying. I've got my basic license now, but I'd like to obtain my acrobatic license as well. That would mean I'd get to make loop-the-loops in small planes, which would be awesome."
What did you want to be when you were younger, and why?
"Way back, when I was around eight, I wanted to be an inventor. I liked playing with electricity and designing things. Later on, I wanted to be a pilot and an astronaut."
Who is your hero or your main source of inspiration?
"I don't have a single hero or source of inspiration, but I was really inspired by the stories I heard from the astronauts and shuttle commanders I spoke with. They told me how they piloted the shuttle, and how they worked in space by themselves in a white suit during their space walks. When you hear that, it makes you feel like you're a child again."
What does your dream home look like, and where would it be?
"John Travolta has an amazing house in Florida. His home looks like an airport and is designed like a terminal, with a few airplanes as well. I'd love to have something like that. Maybe I'd like to live in the USA in the future. The regulations for flying aren't as strict there." (IH)
---
'I've always known I wanted to go to university'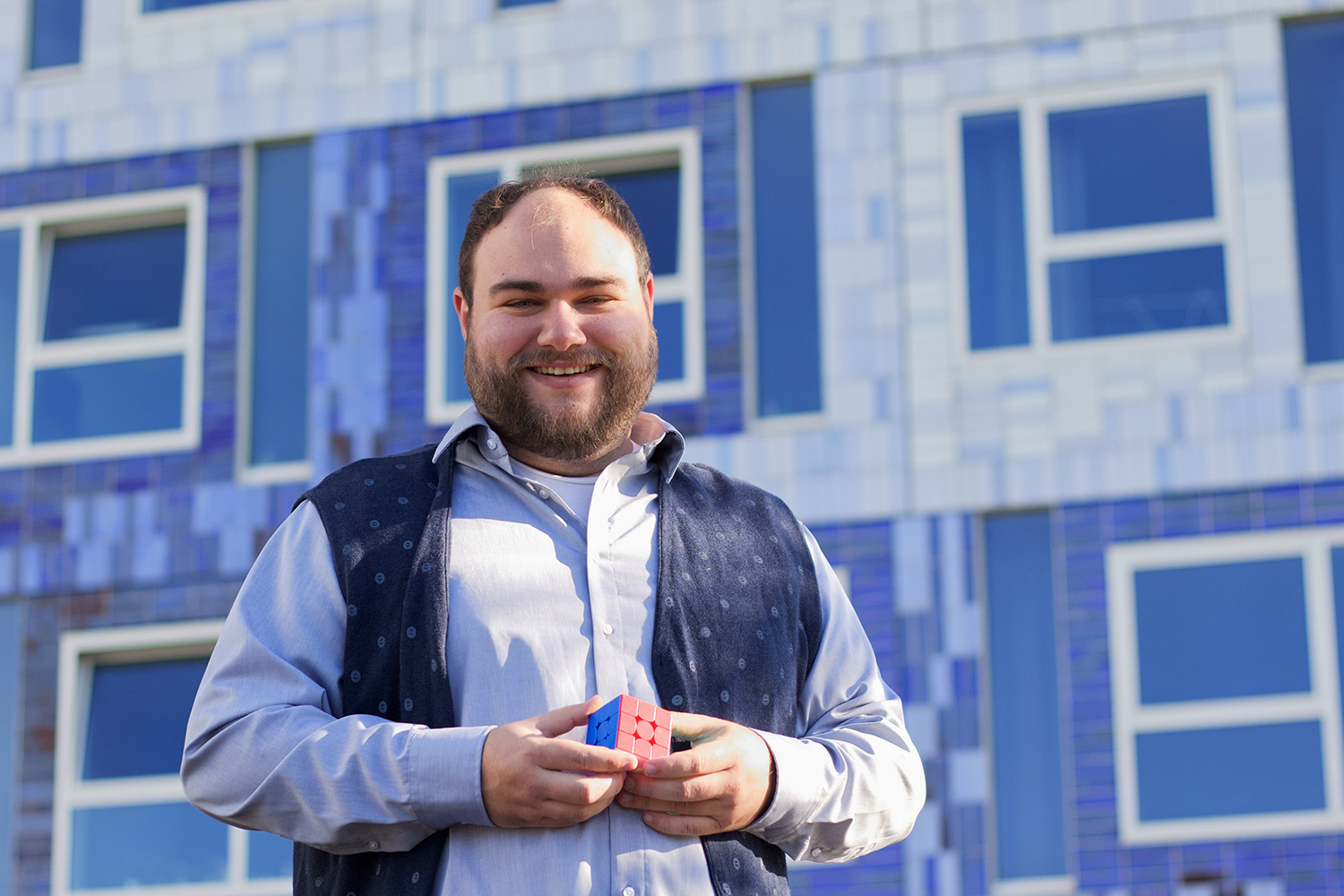 Underdog Robin Verstraten (25) is proving everyone who ever doubted him wrong. Back when he was a teenager, he was advised to go to a VMBO high school, which is the lowest level of high school in the Dutch school system. But now Robin is a PhD candidate and even Nobel Prize winner and MIT professor Frank Wilczek is impressed with his work.
In 2021, Robin won the UU student award for best Master's thesis. Titled The Fractional Langevin Equation, the research discovered a new state of matter: Time Glass. Simply put, Time Glass is glass that switches between the liquid and solid state through time.
A true hard sciences student, Robin used to struggled with texts when he was younger, which was partially due to his dyslexia. "The biggest compliment the thesis award jury gave me was that it was well-written", celebrates the PhD candidate. In addition, Robin's road towards the university was also marked by obstacles related to a since-repealed autism diagnosis. 
Robin has also won awards with his hobby, speed cubing, which consists in solving several Rubik's cubes as fast as possible. He broke the national record in 2020 by solving a Rubik's pyramid in 2.6 seconds.
What are your goals for next year?
"Getting my driver's license."
What did you want to be when you were a child, and why?
"An architect. I used to love drawing. I probably drew a lot of buildings that would instantly collapse if built."
Who is your hero or source of inspiration?
"My mother. She really taught me how to persevere. Without that, we wouldn't have gotten far."
What does your dream home look like, and where would it be?
"With the real estate market the way it is, I'd be happy just to have something with a roof. But I'd prefer a small home surrounded by nature, somewhere in the Netherlands." (EdK)
---
'Now I feel pressured to perform, but that can be a good experience, too'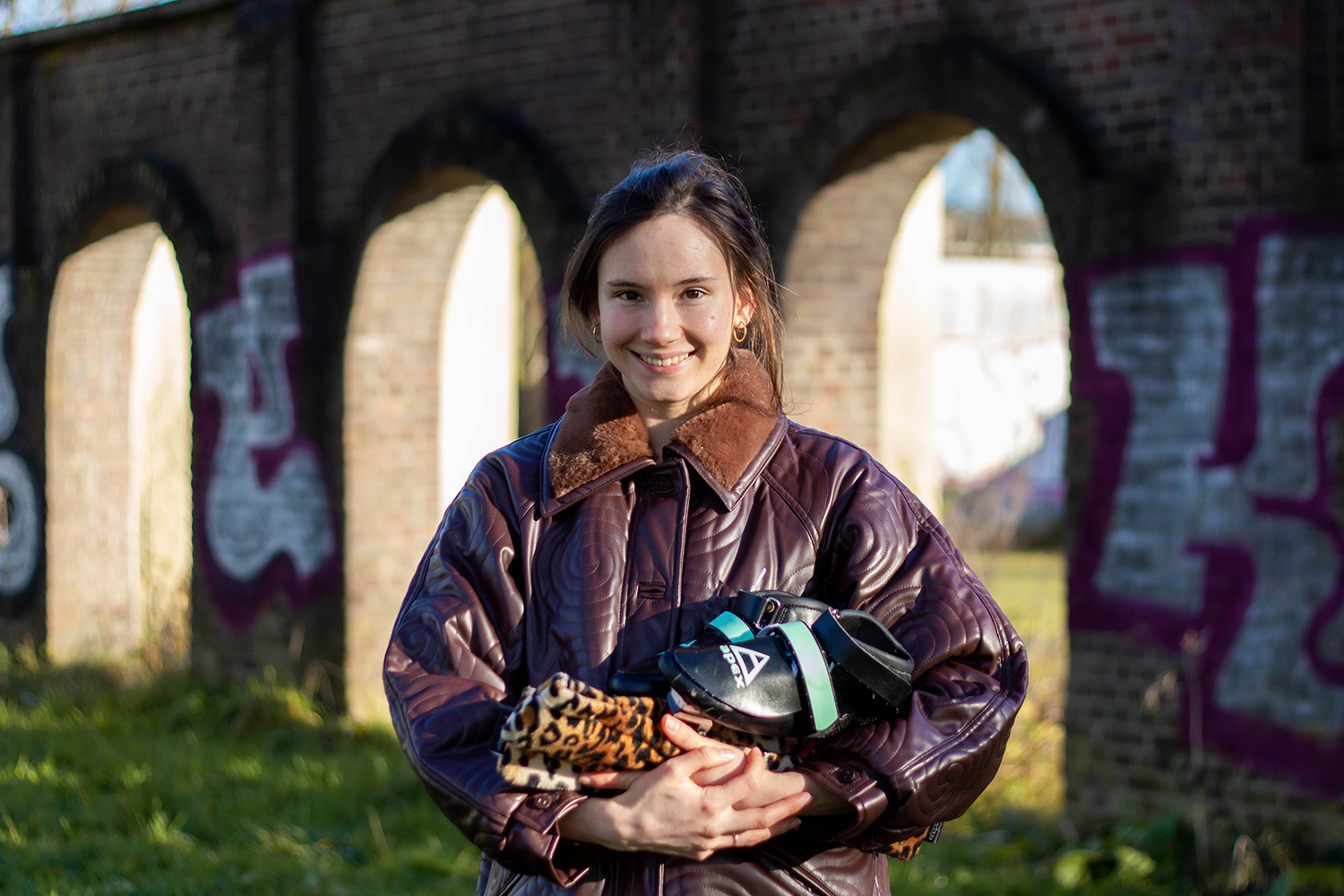 In the last World Short Track Speed Skating Championships, which happened in Dordrecht, here in the Netherlands, Liberal Arts & Sciences student Selma Poutsma (22) won a gold medal with the relay team and a bronze medal at the 500 metre speed skating. She hopes to repeat the feat at the next Winter Olympics, which will happen next year in Beijing.
Four years ago, she did not make it to the Olympics. Back then, she skated for France because she was attending a boarding school in that country at the time. "That was a pity, but I was very young. This time it's for real!"
In her first year at the university, she spent some time rowing for Triton before returning to short track speed skating. The high speed and hurtling through the turns don't seem to fit her thoughtful character, but that is part of the challenge. "It's scary, but super cool too."
After Beijing, she intends to catch up on her studies. Selma specializes in French language and culture. Later on, she considers working in Dutch-French relations or going back to France. But for now, being a successful skater is her biggest goal. "I'm not done with the sport yet."
What are your goals for next year?
"All my focus is going to short track speed skating in Beijing, but I would also like to improve on the 400 metre track. The combination with speed skating works very well for me."
What did you want to be when you were a child, and why?
"A ballerina. Sports and arts have so much in common, and ballet still fascinates me."
Who is your hero or source of inspiration?
"I don't have one. I can admire people, but will mostly rely on my own philosophies."
What does your dream home look like and where would it be?
"Do you know the house from Sex Education, the Netflix show? That's what I want. A Swedish-type house built with red wood, that's my favorite style. I'm not sure where it should be yet." (XB)
---
'I like thinking about questions other people don't consider often'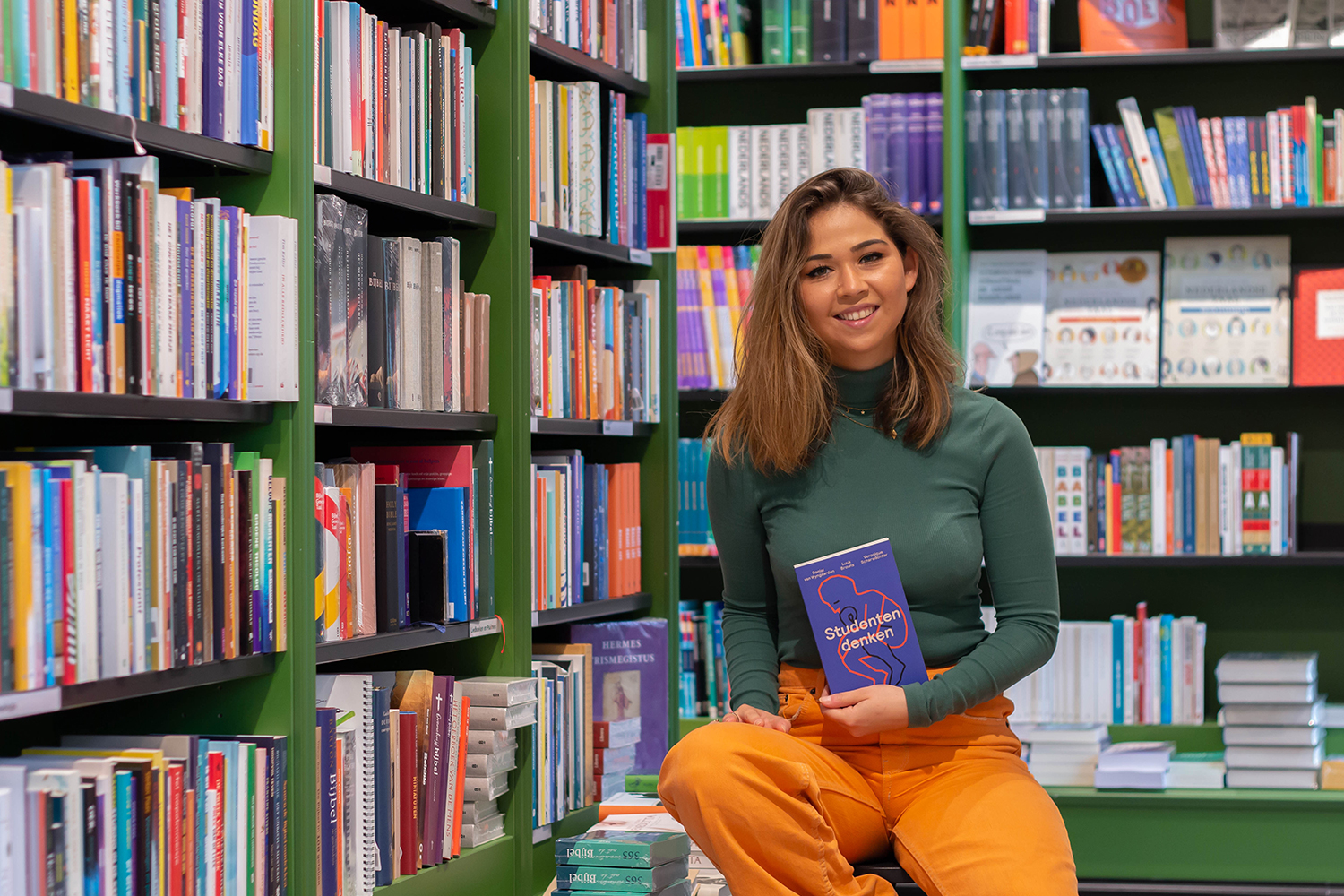 Veronique Scharwächer (23), a student of both Language and Culture and Philosophy, Politics and Economics, wrote a book titled Studentendenken (Student Thinking, Ed) alongside two other students. The book came out right before Covid-19 broke out, but became more relevant during the pandemic, leading Veronique to give a presentation at the event Generatie Lockdown (Generation Lockdown), held earlier this year at Tivoli Vredenburg. In her presentation, she talked aboutthe philosophical insights students can take away from these times , in which many are feeling lonely or have lost sight of their reason for living.
Thinking about what makes life worth living is a daily exercise for Veronique. She has plenty of questions left, one of them being: why is she such a perfectionist in her studies? Now that she is writing two theses, she is on the edge of burning out, but she doesn't want that to happen again. "My resistance to this performance-driven society is growing. Up until now, I'd planned everything in my life, but now I'm done with it." She has a podcast called Lifehack, the podcast (in Dutch) for which she is trying out other people's lifestyles.
After graduating, Veronique would like to travel before deciding if she prefers to follow a research Master's programme or do something practical in the field of sustainability. She might write a book about that question. "I really liked the combination of the personal and the philosophical upon writing my first book."
What are your goals for next year?
"Actually, I don't want to have a goal for a while, after I finish my studies in the summer. I'll go traveling, to Canada at least. And perhaps I'll write a book about the performance driven society."
What did you want to be when you were a child, and why?
"I didn't have a clue. I liked writing stories and I thought it would be super cool to see an actual book of mine in stores. But I didn't think I'd be a writer."
Who is your hero or source of inspiration?
"While writing Studentendenken, I was inspired by Albert Camus. In The Myth of Sisyphus, he writes that life is dreadful and brings on suicidal thoughts. But then he turns it around. By creating his own perspective and becoming an 'absurd hero' in his own story, he can make life livable again."
What does your dream home look like and where would it be?
"It should be a very sustainable house, with a garden, a vegetable garden and a vineyard, too. There should be nature and a beach nearby. It could be in Canada or Scandinavia, but also in the Netherlands." (XB)
---
The photos of these 15 promising studetns have been taken by Tara van den Broek, a student of Law and Psychology. Having developed an interest in photography from an early age, Tara has been working as a Content Creator for Utrecht University for over a year. Although she loves both of her fields of study, she's been working hard to establish herself as a photographer. We highly recommend checking out her Instagram account.