Meet the students behind DUB's new podcast
'Why do I stay glued to my phone for so long even though I don't want to?'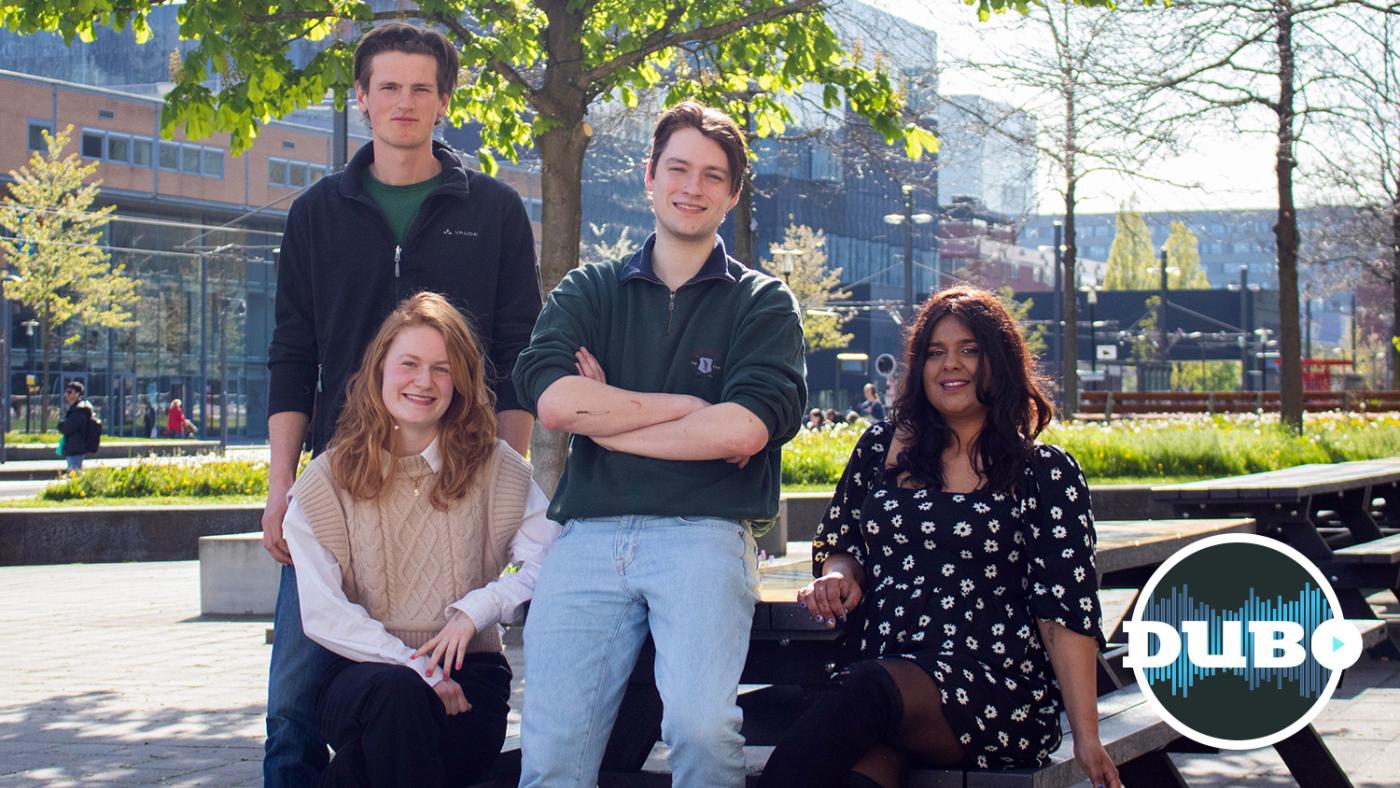 From left to right: Lou, Jente, Robert and Sheetal. Photo: DUB
To produce this new podcast, DUB searched for students who were passionate about podcasts and who would like to discuss a topic of interest to UU students. Many students replied, suggesting a range of different topics, such as whether or not college is the time of someone's life, how hard it is to enjoy Utrecht's nightlife when you don't drink alcohol, or how to position yourself in the labour market if you're an idealist. We've ended up choosing four hosts. Each of them will make an episode about the topic they suggested. 
Podcasts are very popular among students. Our four hosts listen to them regularly. "To me, listening to a podcast means challenging myself. I get acquainted with topics I wouldn't normally encounter," says Sheetal Ramdas, a fifth-year student of Artificial Intelligence. Her favourite podcast is True Crime, about unsolved crimes. Jente Smit, a third-year student of Media & Culture, likes to listen to podcasts because experiences and tips can be shared easily through this medium — with the added bonus that this is often done in a more playful and personal way than in written articles. She often listens to Boos, a podcast by the Dutch TV host Tim Hofman.
Inspiration box
The other two students have previous podcast experience. Lou Boshart is a third-year student of Liberal Arts & Science majoring in Cultural Anthropology. He loves working with image and sound, so much so that he's produced a series of podcast episodes to capture students' lives during and after the pandemic. The last episode was called Domme dingen doen & gratis eten (Doing dumb things & eating for free, Ed.).
Robert Mazier is a third-year Media & Culture student who's made a series called Inspiratiebox (Inspiration Box, Ed.), in which he lets himself be inspired by a work of art. He's also produced Voor het slapen gaan (Bedtime stories, Ed.) in which he narrates long stories with background noises, to help listeners fall asleep. "In hindsight, it was hard to organise things well in terms of copyright, so I pulled the plug."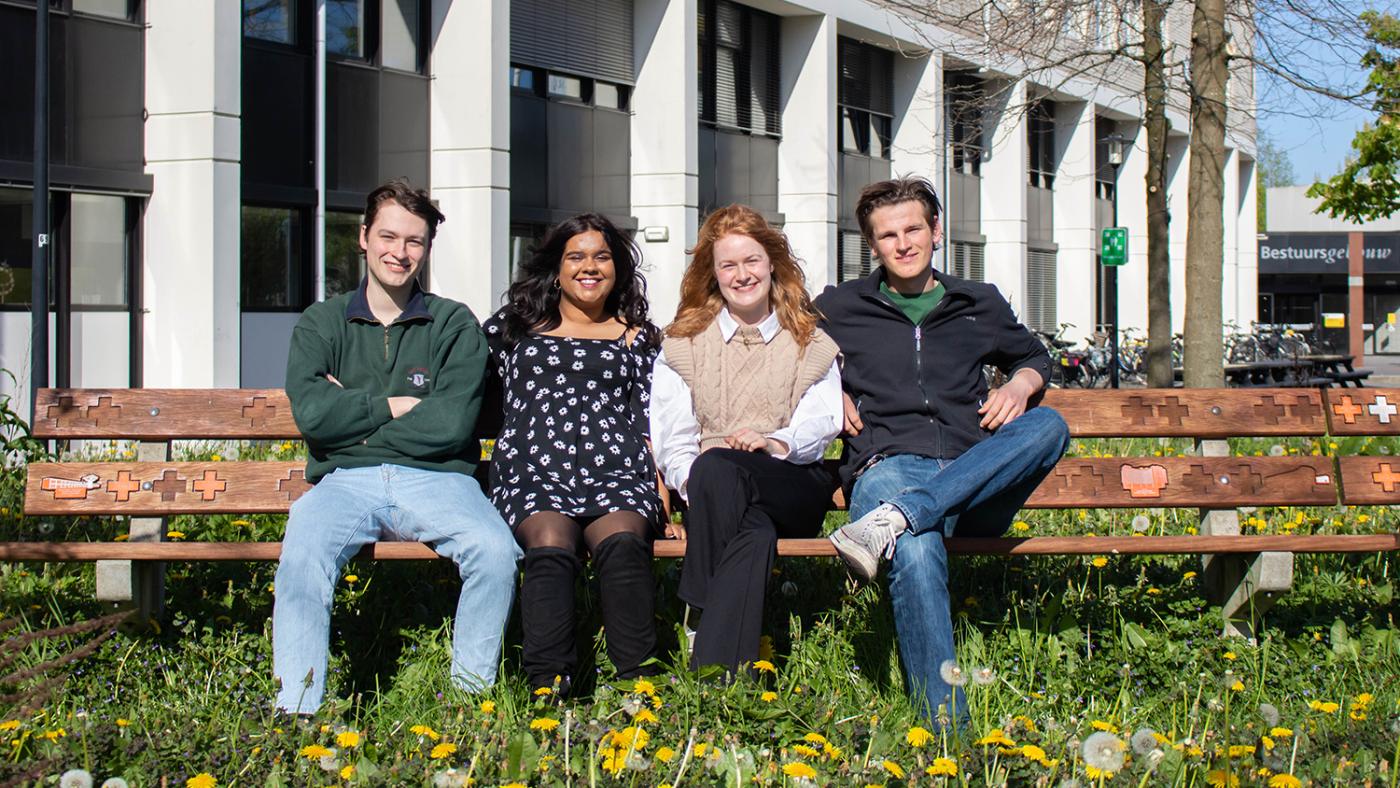 Mental health
DUB's podcast is far from the only one in which UU students share their experiences. Studententijd (Student Times) is now hosted by two UU students. There's also Keuzecast (Choicecast), Mentalitijd (Mentalitime), which covers mental health, and StudentenPodcast (Student Podcast), to name but a few.
DUB's project is partially funded by the NPO fund, which the university received from the ministry to cover initiatives to improve students' mental health after Covid. 
Normalising drug use
Each one of the four students suggested a topic that intrigues them. Robert wonders why drug use has become more and more widespread among students. He says that drug use is strictly forbidden in his student association, Unitas, but during Covid, designer drugs were present at a lot of house parties. He says they're everywhere. "Now that the pandemic is over, those students are going back to the clubs and they want to use drugs there too," he says. "Why is that happening and what are the consequences of normalising these drugs? Are they harmful or not that bad? These are the questions I intend to explore in my episode."
Sheetal will address quite a different problem. "When I grab my phone to quickly look something up, in no time a couple of hours fly by. I end up on Instagram and watch one reel after another. I know I'm not the only one struggling with that. Why do we get addicted to these platforms so quickly? Due to her studies in Artificial Intelligence, she is curious about the tricks algorithms pull to encourage such addictive behaviour and whether there are ways to escape from this addiction.
ChatGPT, the new Google
Another hot topic is the use of ChatGPT. "The first response is highly defensive. Is it fraud? But ChatGPT can also offer new opportunities," says Lou, who is looking to explore to what extent tools like ChatGPT are the new Google. In other words, is that how we will gather information in the future?
Jente will delve into the experience of studying at a university while having ADHD, particularly the experience of female students. She knows from experience that things are not always well organised. "I would like to recognise students with disabilities for the challenges they face. I could have used some recognition myself over the past three years." Her episode aims to provide useful tips to study successfully.
The four episodes of our new podcast will be posted at one-week intervals from Tuesday, June 13, onwards. Apart from the podcast itself, each one of the four students will write a column on their topic of choice, which you will also find here, on our site.