Three student associations about their favourite pubs
'You can act crazy but make sure you do it for you'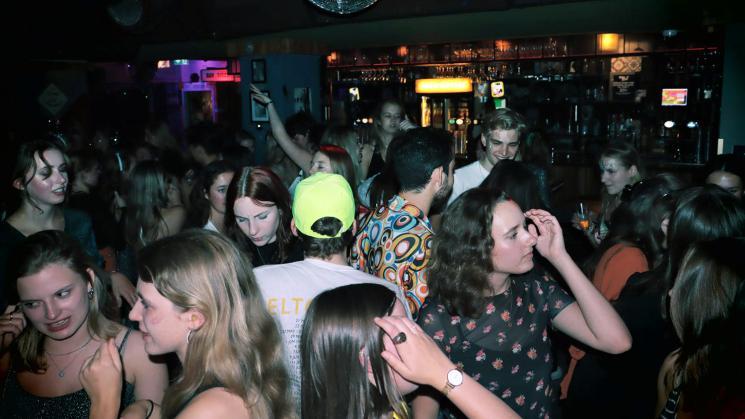 Back & Forth, the pub where USV TwintigTwintig hangs out. Photos: courtesy of UHSK, USV TwintigTwintig and U.H.S.V. Anteros
There were 110 cafés or pubs in the city centre of Utrecht in 2010 but that number has since dropped to 88 (link in Dutch, Ed.). Some pubs close down because they are not financially viable as businesses, while others disappear because people prefer to hang out at restaurant terraces rather than traditional pubs. But student pubs are still around, which is not surprising, considering many student organisations don't have buildings where they can organise events for their members. They have to rely on cafés nearby instead. DUB spoke with three such student associations.
---
UHSK hangs out every Wednesday at Stadsgenoot
'The only brawls we have happen during the annual bingo night'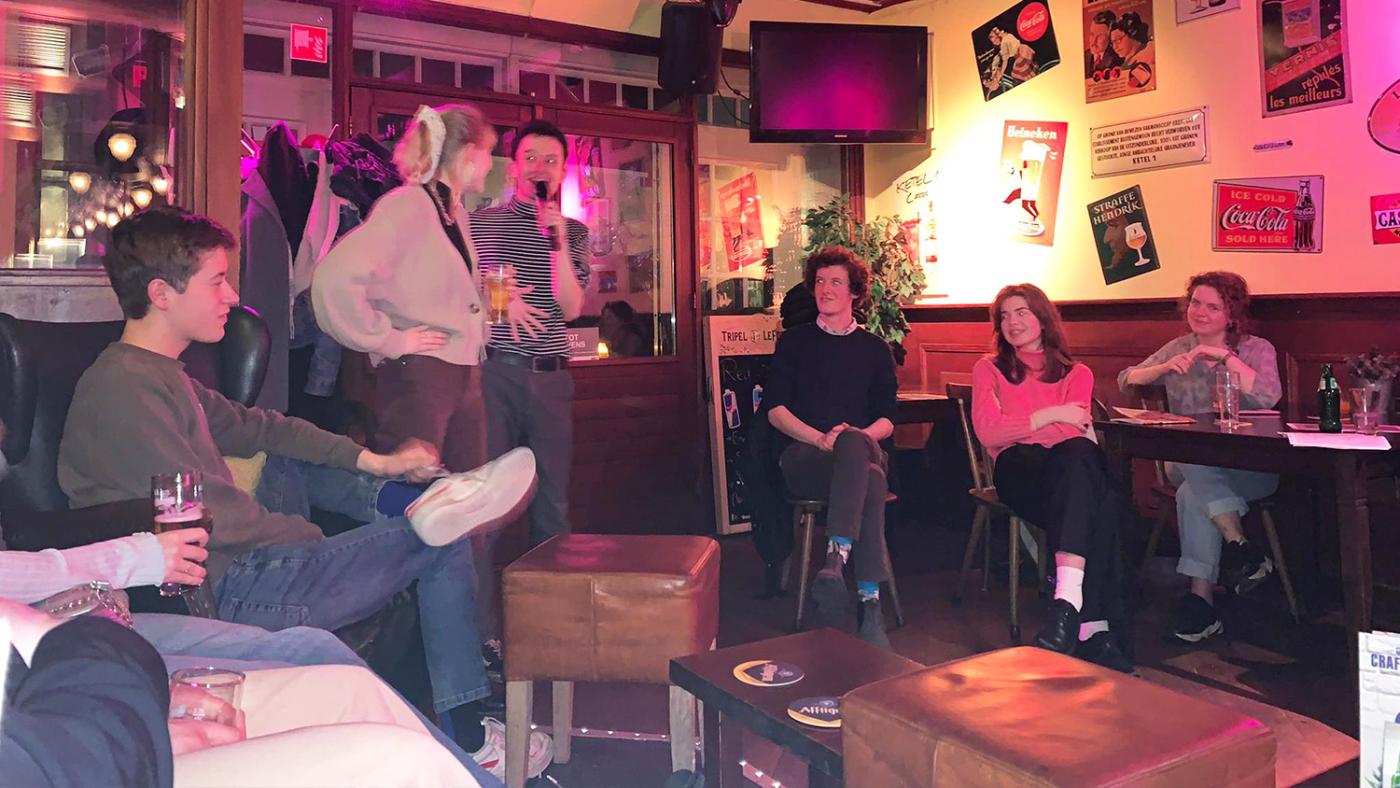 The members of UHSK, the study association for the History programme, feel so much at home at De Stadsgenoot that they call it their "home base". That's where they go out for drinks every Wednesday evening, and they stay there until late. UHSK members get a ten-percent discount on beers and they also have a signature shot. "When I walk in, they ask me right away if I want the usual," says Jona, a member of the association's board. "The staff knows the names of most of our members." Tristan, who is also part of the association's board, adds that UHSK members go to De Stadsgenoot often, not just for the gatherings organised by the association. "They don't have a kitchen, so we're allowed to bring in snacks. Committees usually get a pizza or döner nearby and then go De Stadsgenoot to eat and have a drink." Their birthday parties are also regularly organised at the pub. It works both ways, actually: when the pub celebrated its 20th anniversary, UHSK's board was invited.
The pub can't be rented out, which means it's always open to other customers. Another student association has drinks there as well once a month, and they do it at the same time as UHSK. "That goes quite well, they are very friendly," says Tristan. "The pub has its regulars but they also know when the students will be there, so they usually don't come on those nights. They prefer coming on weekends."
Jona swears there is no conflict with other customers. "When I do come here on a weekend, I have a chat with the regulars and that's fun." Tristan says that the only brawls take place during the annual bingo night. "One of our members once bought six bingo cards and didn't win anything, he was so bummed out," he recollects with a laugh. Two freshmen won everything that night, so "they were welcomed into the rest of the group right away," jokes Jona.
Regular bartender JJ de Heer knows the group well. Around 15 years ago, the pub decided to open itself up to students. Their main motivation was financial, of course, but they also just wanted to help students out. "There are plenty of pubs in town that would rather not welcome a group of 20 students. I can imagine what it's like to not feel very welcome in some places," De Heer says. "But they're a fun crowd, we're happy to have 'em."
For De Heer and the team, it's important that everyone feels welcome at the pub. "If a group of students is making other patrons not feel welcome, it doesn't work for us. We want to have an ambience where everyone feels comfortable."
"Students don't have to act crazy here in an attempt to impress others. Sometimes, some of them will try to prove themselves during the first few gatherings of the year, so they display some rowdy behaviour. They bet on who can drink the most shots, for example. But you don't need to do that at our pub. You can act crazy but do it for you, not to impress others. That way, we'll like you best, other associations will like you best, and you will be the best version of yourself."
---
Student association USV TwintigTwintig are regulars at Back & Forth
'This is a pub with a frat house vibe'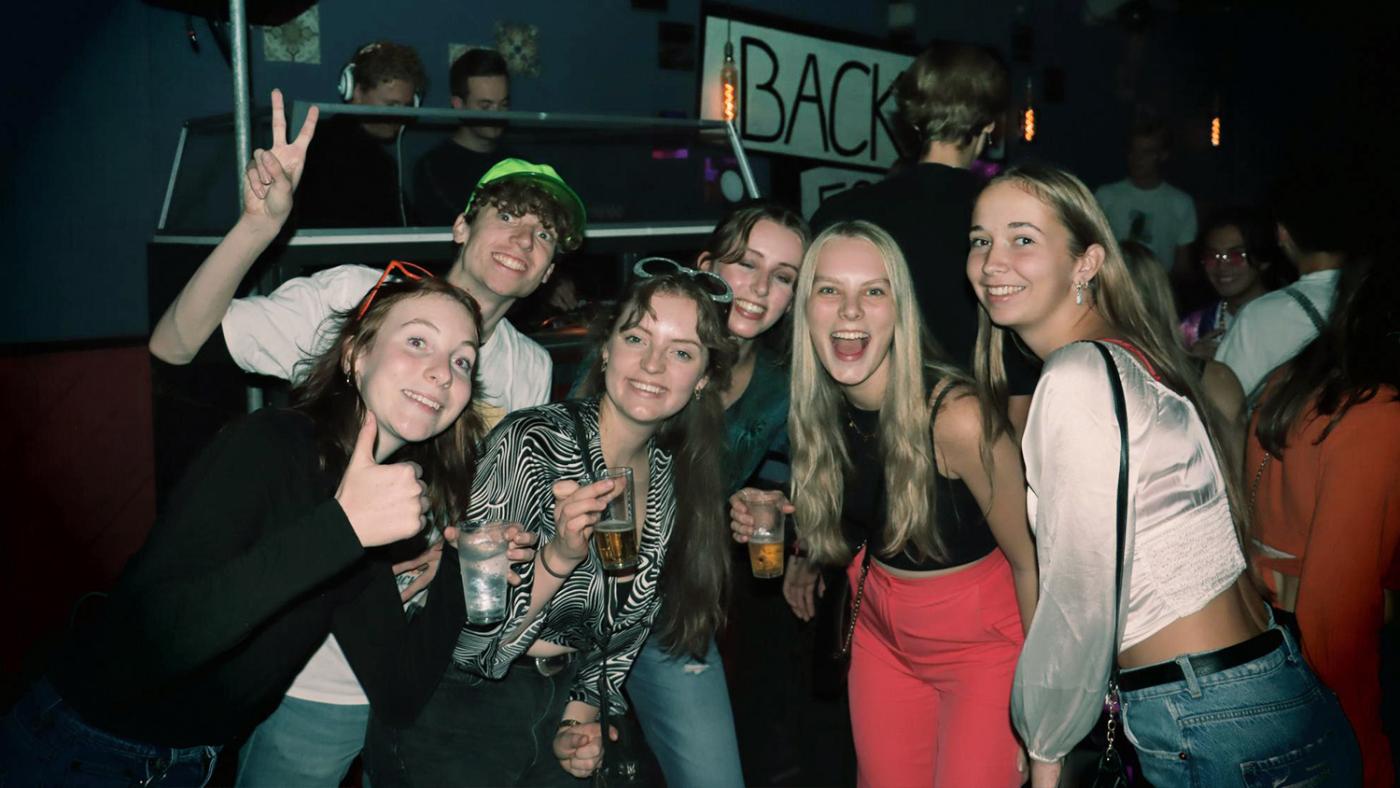 USV TwintigTwintig, a student association with a laid-back atmosphere and around 180 members, invites its members for a drink every Tuesday night from 9:00 pm until midnight. The location? Back & Forth, a café near Neude Square. This is a young association, which has only been around for a few years. "We used to go to café Rex but our group got too big for that place," explains the association's president, Monique.
Thanks to another member, they got in touch with the owner of their current spot. It wasn't all smooth sailing, however, as USV TwintigTwintig had a number of requirements. Monique: "Apart from drinks, we also organise other types of activities. So, the pub has to allow that. Our Drinks Committee will come up with themes, or organise suitable activities around a certain night – which can be anything from karaoke to pub quizzes. On those nights, we'll need microphones and TV screens."
Although USV TwintigTwintig doesn't have its own building, having the exclusive use of the pub on Tuesday night makes members feel like it's their own frat house. "Tuesday nights are for our members only, so no one else comes in. The regular bar staff knows most of our members by now," says Monique.
Contrary to other student associations, the members of TwintigTwintig have barely any obligations. "We want everyone to feel welcome, and it should be their choice how often they join us." This means that attending drinks isn't mandatory, "but it is fun if they will show up often, of course." The cost of a pint of beer at Back&Forth makes showing up a good idea: only 1.90 euros.
When the association is there, the pub's ambience gets a little different. Normally, Back & Forth only accepts customers older than 24 years old, which means that many of the association's members are too young to go there on other days.
---
Student association Anteros made the LGBTQIA+ bar Bodytalk their meeting point
'Those who come here for the first time get a bar buddy'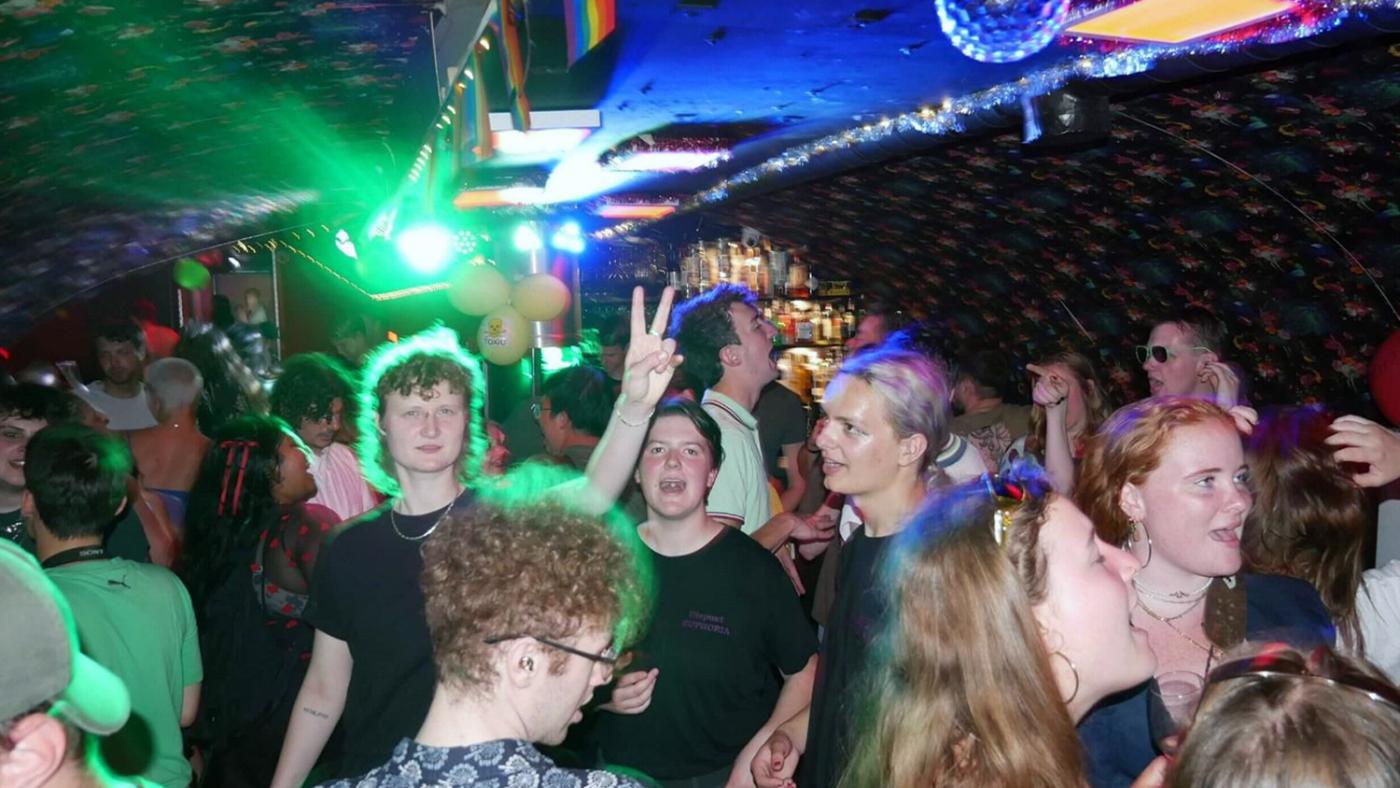 UHSV Anteros is an association for LGBTQIA+ students. Every Wednesday evening, they have drinks at Bodytalk café, a gay bar described by the association's president, Azra, as convivial, fun and open. "I always tell people that they should come at least once," Azra says. "Everyone dances with each other, it's so easy to chat to people."
Anteros' members go to BodyTalk on other nights as well. "Every time the association organises an activity, those who would like to have drinks afterwards usually head to Bodytalk. But our members can be seen here on weekends as well, when the place becomes more of a club than a pub."
The bar is open to anyone on Anteros' drink nights. "Many people know that Wednesday is the evening when the students and young people are there. People come because they know that Wednesday evenings are fun, even if they're not a member of our association, or have nothing to do with us at all. It's not unusual for someone to accidentally stumble upon our drinks night, see how fun it is, and then join our association."
Azra doesn't think that Anteros' drink nights deter older people from going to the bar, although they tend to be a little separate from the other customers. "Young people will be on the dancefloor while the older ones tend to hang out at the bar."
A 'bar buddy' system makes sure that drink nights are accessible to everyone. Bar buddies are experienced members who are assigned to people joining for the first time. The buddy can help introduce them to people, answer their questions, and tell them more about the association. "It can be scary to come to an event when you don't know anybody there," Azra acknowledges. "In fact, going to a gay bar can be scary in itself, especially if you don't have a lot of experience with that yet."
The bar has a discount for members of the association. All they have to do is show their membership card. With this discount, a beer costs 2.70 euros. "But it's getting harder and harder for the bar to maintain this discount because of inflation," Azra observes. The members who attend drink nights often do not have to show their cards as the staff knows who they are, adds the president.
The weekly drinks start low-key, with people just catching up. "As the evening goes on, the ambience turns into a dance club, so people will dance a lot." This transformation surprises other associations that come for a visit. "There is barely any dancing on their drink nights."
Bodytalk's owner, Feibe Zweers, has a close relationship with the association, so much so that members call him "our honorary member". He likes that the association comes to the bar every week. "It's a nice addition to our regular crowd. And because they're young, they bring some new life into the bar. They really add something new. I see a lot of those students visit our bar on other nights, too."