Attitude towards internationals in student homes seems to be changing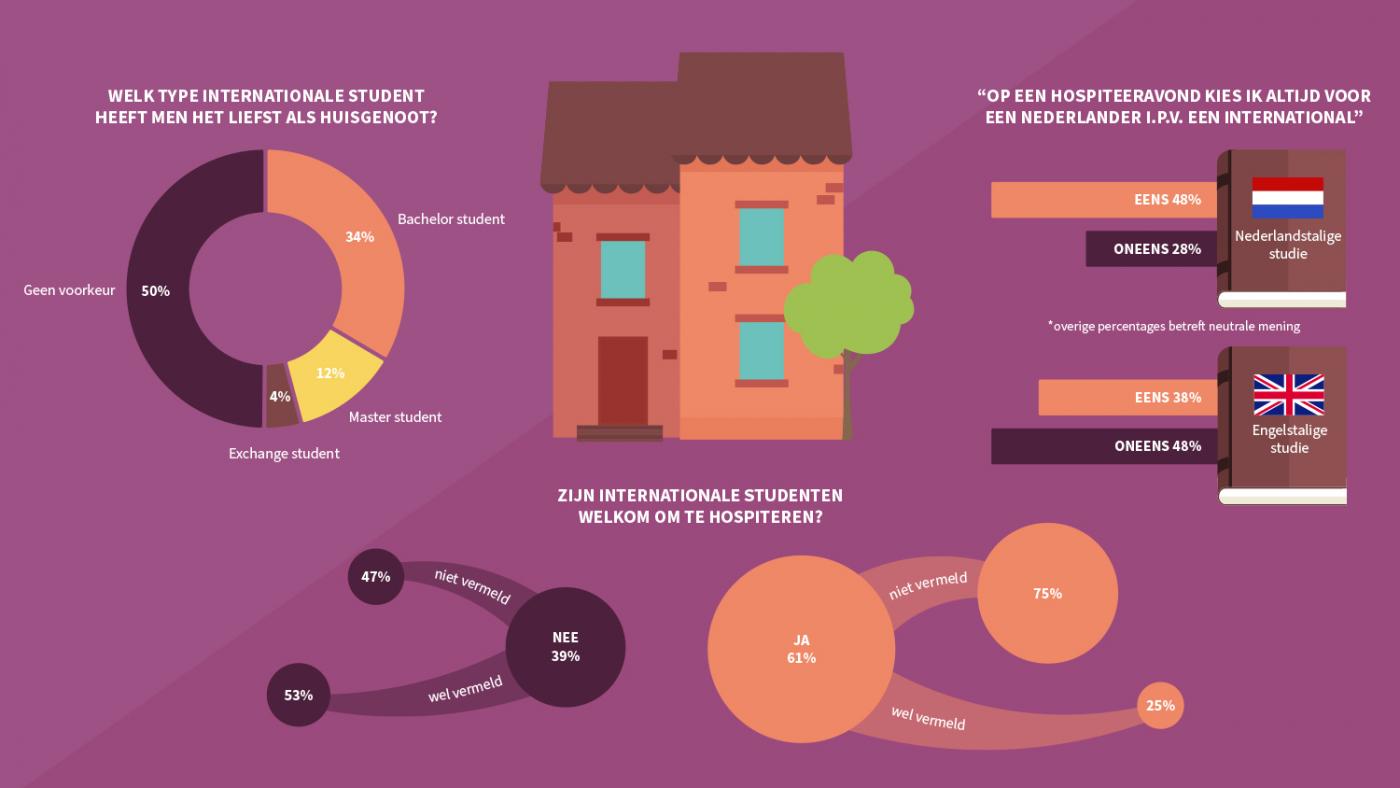 Would you prefer Dutch housemates only, or are internationals welcome in your student home? DUB and Trajectum, the news site of Utrecht University of Applied Sciences, sent out a survey in October to Dutch students in Utrecht with these questions, to see how welcome international students are. Students of the Minor programme Data Visualisation & Infographics composed a questionnaire, collected the data, and created several infographics with the outcome.
In total, around 360 students participated in the survey. A remarkable majority of 61 percent say internationals are welcome to come to their interview nights. When it comes down to choosing during those interviews, 55 percent say they wouldn't exclude the international. This is in contrast to the number of 'housemate wanted' ads posted almost daily on Facebook and other media that include, in all caps, the text 'NO INTERNATIONALS'.
Full Bachelor's or Master's
The respondents who'd welcome an international in their home, prefer to have a student doing a full Bachelor's or Master's programme. Only 4 percent of respondents indicates a preference for a short stay student. These international students stay in the country for no longer than a semester, to take a number of courses. Multiple students responding to the survey indicate that this type of student won't be in the Netherlands for long enough. By the time they're used to the home and our culture they're getting ready to leave again, respondents say.
Attitude changed after negative experience
The students who participated in the study, had the opportunity to fill in a personal response as well, about why they would or would not want to live with international students. One Master's student, who says they prefer to live with Dutch housemates only, says what many are thinking: "By the time they understand how things work in our home, they've left again."
But this isn't the only reason, because linguistic and cultural difference also pose a problem in student homes. "Even though I'm studying English, I still struggle with communication. Even if we both spoke perfect English, we might not always succeed in understanding each other." His experience with several short stay internationals has changed this student's opinion. "At first it seemed like fun, to learn from a different culture, and to speak a lot of English. The latter turned out to be quite the obstacle, though. Plus, a foreign student is often in the Netherlands for a very short period, making it hard to build a connection. It's a shame that this is how I feel, because I think everyone deserves a place to live. But living with an international costs a lot of energy."
Attitude changed after positive experience
One Bachelor's student at Utrecht University of Applied Sciences has also changed his opinion: he's become more positive about having an international as a housemate. ""A few months ago, an international student moved into the student home where I live with fourteen people. During the interview night, I wasn't too eager about living with a foreign student. My English isn't all that great, and I didn't feel like having to speak a different language at home."
When an international was chosen as a housemate after that interview night after all, he felt the language barrier. "Whenever I encountered her in the house, we'd just say hi. I hated that so much, that I started a chat. That's how I found out she's actually nice, and it doesn't matter one bit that my English isn't perfect." He now knows it's 'fine' to live in a home with an international.
Turnaround since 2017
In 2017, the ISHA – International Student Housing Assistance – also conducted a study on the living preferences of international and Dutch students. That study showed that around three quarters of Dutch students would prefer not to share their homes with internationals. Just like the case is now, the most important reasons given were linguistic and cultural barriers. Considering the outcome of the DUB-Trajectum study, it seems as though there's been a turnaround.