University Corporate Offices
Consultative body rejects organisational changes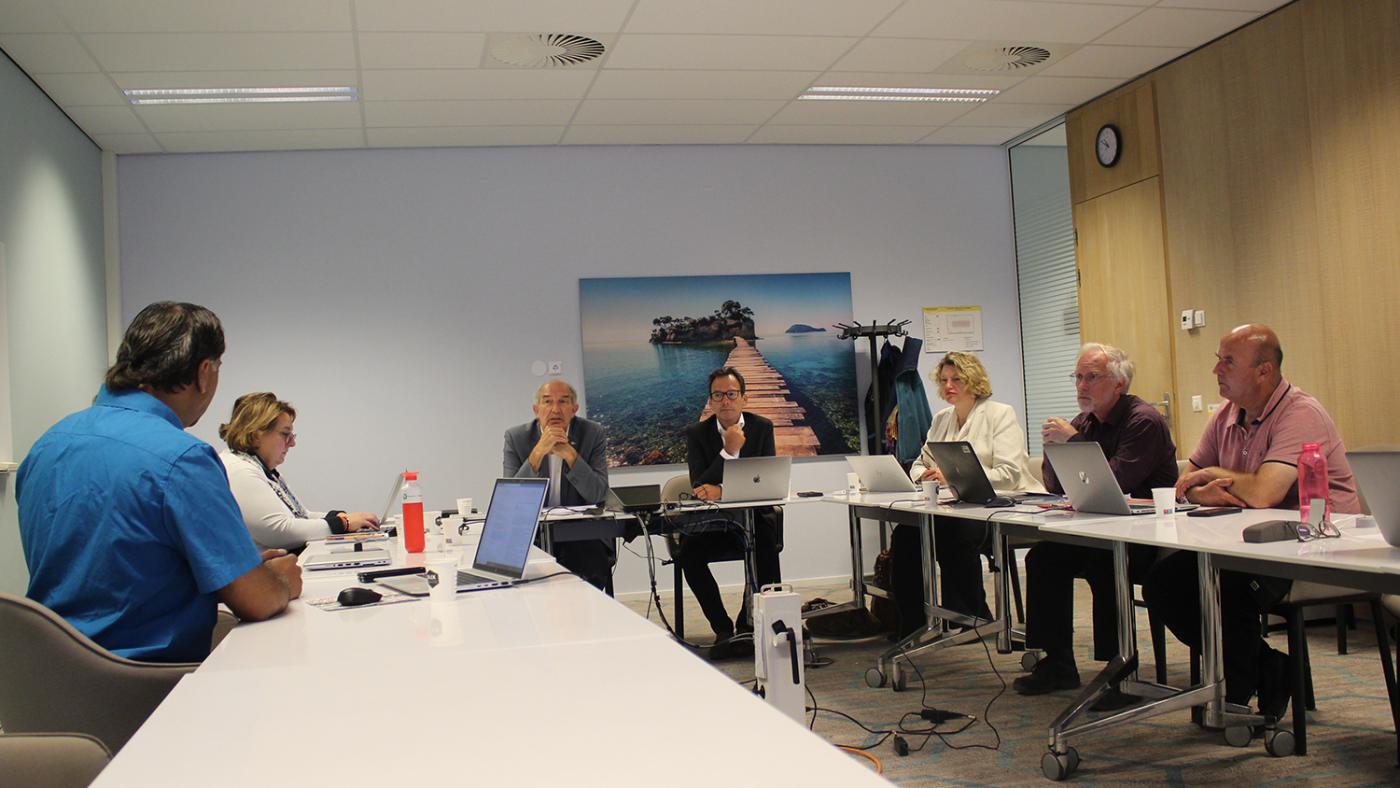 Meeting of the consultative board held in May 2022, with Anton Pijpers and Leon van de Zande at the head of the table. Photo: DUB
The plan was to dissolve the University Corporate Offices and abolish the position of General Director. In this new structure, several directors of the University Corporate Offices will become the responsibility of specified board members. The change was meant to be implemented from September 1 onwards.
The main goal behind these changes is for the Executive Board to manage things more directly. Thanks to the shorter lines of communication with the separate directors, the members of the board believe they will become more efficient in making necessary adjustments when executing plans. This will also enable them to realise more quickly when workloads become too high. In addition, a new position, called University Secretary, would be created to advise the board members on how to achieve the goals set out in the Strategic Plan.
Critical
The Employees' consultative body has been critical from the start about the proposed organisational changes, which reflects watercooler talks in which employees did not understand why the changes were necessary. Even after several meetings with UU President Anton Pijpers, the employees' council does not see any advantages to the changes and still wonders why the endeavour is necessary.
They also think the plan is not concrete enough and wonder whether the new structure will really "shorten communication lines", lead to more "decisiveness" and lessen the workload. Finally, they are very critical of the way representative councils will be organised in the future. Although there will still be a consultative body, it is not clear how it will function.
In the last meeting of the consultative council, held on June 21, 2022, Anton Pijpers was again asked whether the Executive Board had evaluated different scenarios and had picked the best option Pijpers responded that they had looked at the way other universities are organised, but they did not investigate different scenarios. "We chose this but things could have gone a different way."
Internal review
In the last meeting between the University Council and the Executive Board, held on June 27, organizational changes were on the agenda. The council members also wondered whether the changes were essential. They raised the same questions and got the same unsatisfactory answers by Pijpers. Staff member Joop Schippers mused aloud: "We don't know anyone who is enthusiastic about the plans. Are we on the right track?"
After an internal review, the employees' consultative body met on Thursday, July 7, and announced a negative opinion about the plans. Among other things, their written advice said: "There are no reasons to assume that the intended goal can be achieved through these organisational changes, not to mention there are no reasons to assume that the intended goal cannot be achieved with a different scenario."
The intended secretary leaves UU
In the meantime, the employee the Executive Board wanted to name the new University Secretary — the current director of the University Corporate Offices, Leon van de Zande — quit his job. He is a member of the working group preparing the organisational changes. A message posted on the Intranet (a Solid ID is required to access it) says that Van de Zande thinks it is time for "a new challenge at a different organisation", after having worked at UU for 25 years. On his decision to forego the position of University Secretary, he says: "It is a beautiful task. The proposed changes caused me to reflect and I came to the conclusion that it would be better for someone else to become the secretary."
UU President Anton Pijpers regrets Van de Zande's departure. "I will miss his keen eye, his strategic insight and his sense of humour. I would have loved to go on collaborating with Leon in the role of Secretary, but he made a different choice. I wish him all the best."