UUinActie not coming back to UU Council
Council elections offering fewer and fewer options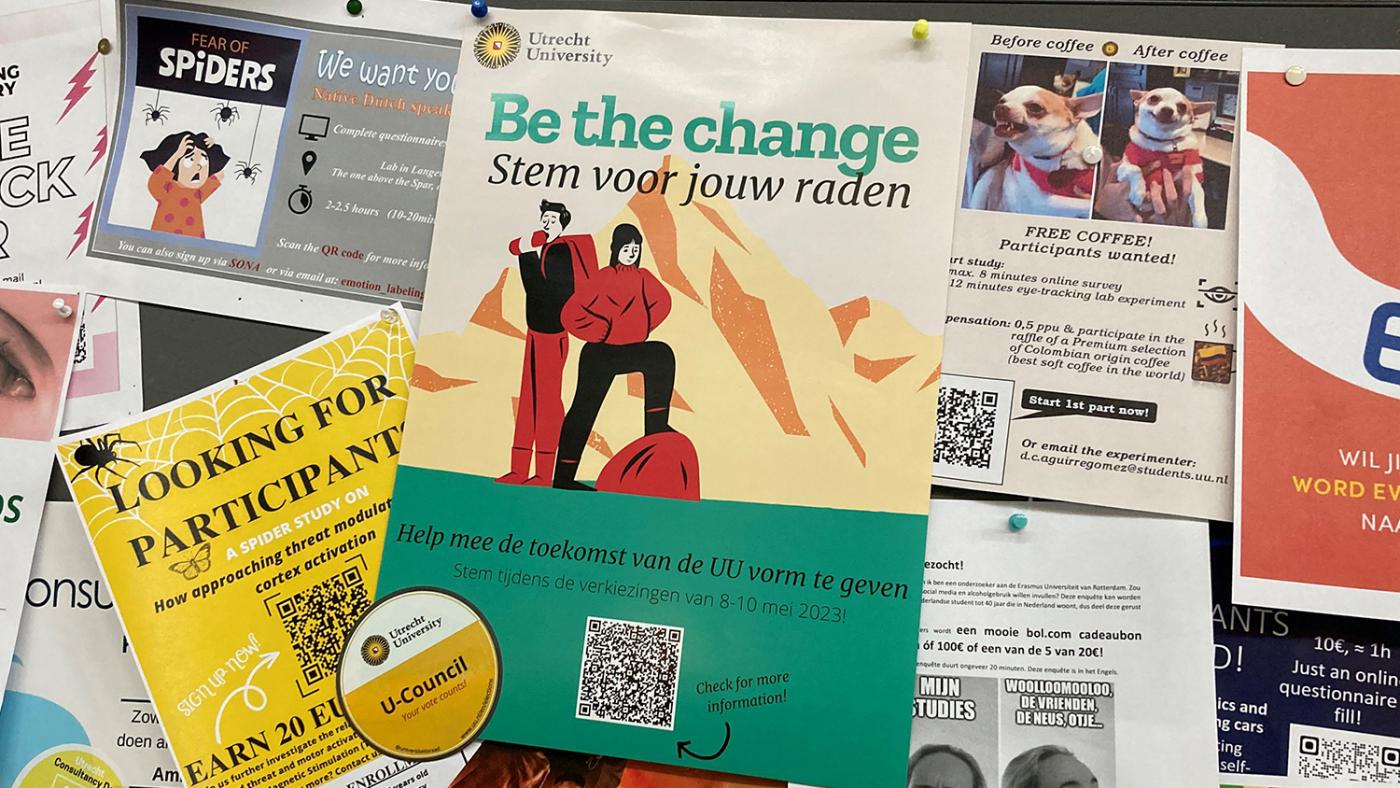 Elections for the UU council and faculty councils start today. Photo: DUB
The elections for the participatory councils are taking place from May 8 to May 10. Both students and employees are running this year. All UU employees can use the digital ballot box to vote for the University Council, and most students and employees can also vote for their faculty council. This year, there will be no elections for the personnel section of the faculties of Social Sciences and Science, as well as for the employees' council of the library and the University Corporate Offices.
"If there are no elections for your 'own' council, you can still vote for the university council," stresses Wim de Smidt. "I suspect that colleagues sometimes forget about that." De Smidt is sure he will be getting a seat on the council next year. "This year, there were only three candidates for the four Service (OBP) seats. That's how I know that I will be part of the council anyway."
To guarantee a proportional representation of UU's staff, there are four "districts" in the staff section: Service Departments (OBP), Humanities and Social Sciences, STEM Sciences and Veterinary Medicine, and Medicine. Candidates must be found for each one of these districts but voters are not tied to any district: they can vote for whoever they want. "Service staff can vote for scientific personnel." 
Although there will be no elections for the Corporate Offices, the fourth seat is not going to be unoccupied, he assures. "That one seat will go to scientific personnel in order to occupy all 12 staff seats are taken."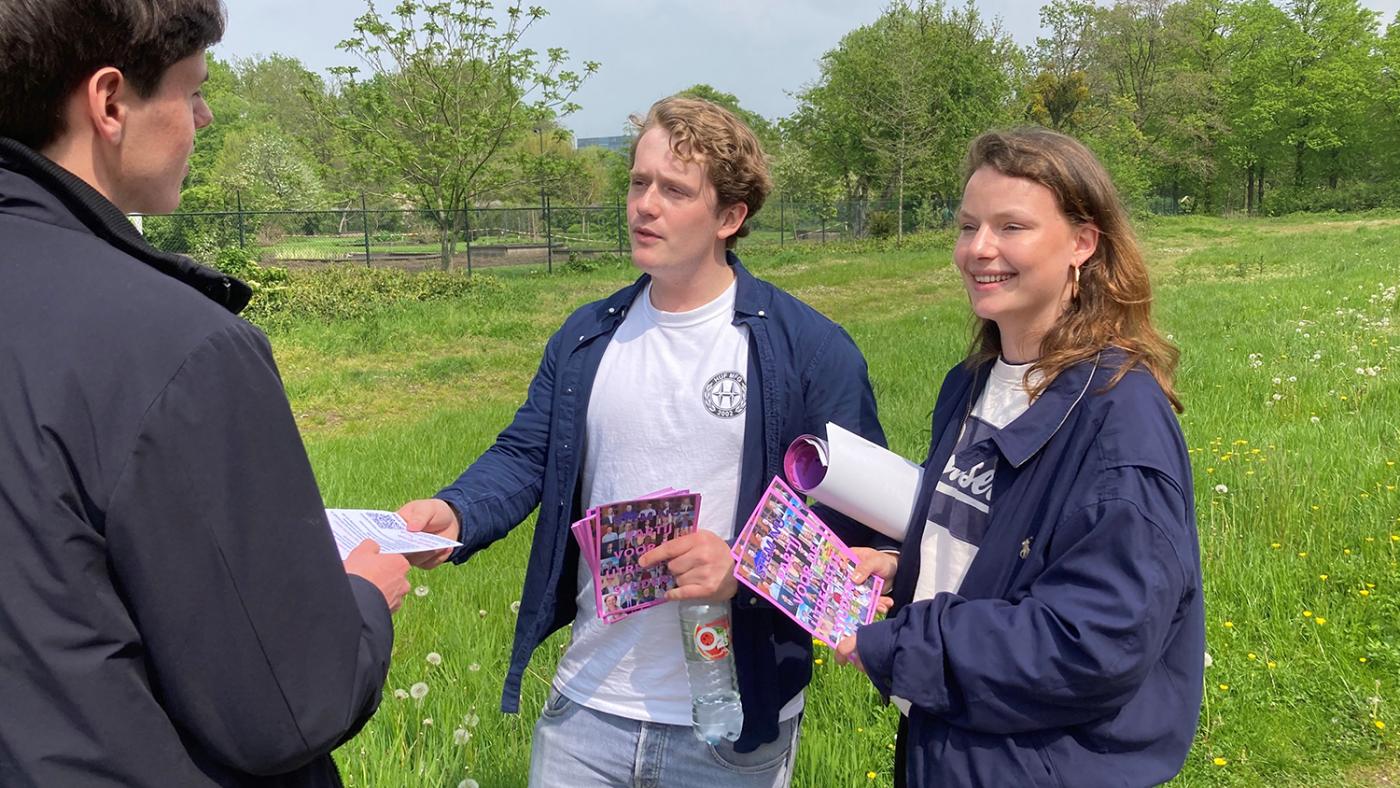 University Council: Vuur, PvdUS, Vlam and UPP will but UUinActie will not
This year, students can choose between the parties Vuur and PvdUS in the University Council, just like last year. UUinActie and De Vrije Student stepped out of the elections last year because they couldn't find any candidates. But Vuur and PvdUS also have a hard time finding students interested in dedicating an entire year to the university council. Each party has thirty students on their list, but most of them are not actually interested in joining the council. Those looking to know the differences between the two parties can make use of a website that aims to help them in their choice.

Employees also have only two parties to choose from: Vlam and UPP, a party representing PhD candidates. There is a website to help staff members make their choice as well. UUinActie does not have any candidates for the staff section either as they were not able to find anybody. "Unfortunately, work pressure is such as problem that it affects the deployment of employees for council work. Combined with the personal circumstances of the current members of UUinActie, this made it impossible to find colleagues willing to be elected," writes Katell Lavéant, who is leaving the council a little bit earlier because she took a new job at the University of Amsterdam. the other council member from UUinActie, Jochem Hung, is going on a sabbatical. 
The party made its debut in the University Council in 2019, championing the causes defended by the protest movement WoinActie, which fights against the underfunding of higher education, work pressure and excessive overtime. Remarkably, the party presented both staff members and students as candidates, scoring seats in both sections.
Leavéant adds that his years working in the council were not lost. "Our party managed to achieve a number of goals in our fight against work pressure and overtime but we hope that the next council continues to dedicate itself to issues that UUinActie still considers relevant and urgent, such as work pressure, social safety, and democratisation at the university."
Empty seats
The question is whether all seats in the University Council are going to be occupied. Both student parties succeeded in finding six candidates who are sure about working in the council, but if one party scores seven seats, they will have to figure out who will occupy the remaining one. Last year, Lijst Vuur won seven seats even though they only had six candidates. They ended up giving in tha seat to PvdUS, who had only won five seats. That is allowed, according to the regulations, which were adjusted a few years ago to make sure that as few seats as possible remain empty.
That's why Wim de Smidt knows for sure that the empty Corporate Offices seat will go to scientific personnel. Together, employee parties Vlam and UPP have twelve candidates running for eight seats. De Smidt attributes the fact that the Corporate Offices were not able to find enough candidates to ignorance. "A lot of people are afraid of getting too much work, but only one day is assigned to council work. Your team is financially compensated for it, so that you can either work an extra day or someone else can take over some of your tasks." He does admit, however, that working for the UU Council often takes more than just one day.
Another reason is that employees from the corporate offices are afraid that the UU Council will conflict with their day-to-day work. "If you're a director's adviser, that is true. You might have to criticise your own advice in the council. But that's not the case for all the support staff, evidently. I am myself an HR adviser at the Faculty of Law, Economics and Governance, so I step aside when related topics come up and I dedicate myself to other issues. But if my colleagues at the council need an explanation of how certain things work at HR, I do help them out."
Complicated formulas
The district system — which also exists within several faculty councils for both student and employee representatives — also leads to rather weird elections. Take the Faculty of Science, for example. This year, all students from faculty are invited to vote but at least one seat is sure to stay empty. How come?
That's because, in that faculty, each department is assigned one seat in the council and there is also a seat for operational management in the employee section and a general seat for students. This amounts to 14 seats. If there is more than one candidate for a district, then they hold elections.
There are no elections for staff members. Two seats even remain empty: physics and business management. Elections are held for the students, even though one or two seats remain empty. Pharmacy and Mathematics didn't present any candidates but Biology has two candidates even though there is only one seat. The candidate with the fewest votes will have the choice to join the council anyway because of the seat emptied by Pharmacy and Physics. "All things considered, it isn't actually necessary to hold elections but that's what the rules say we should do," says Mies van Steenbergen, from the electoral committee of the Faculty of Science.
A pretty similar story is going on with the student council of the Faculty of Medicine, which does not have a council comprised of students and employees. The staff members are part of the works council, which is why there is only a student council with nine seats, shared among the districts of Medicine (5), Biomedical Sciences (3) and Clinical Medicine (1). There are no candidates for the latter and only two people are running on behalf of Medicine. Even so, elections will be held for all students from the three programmes because there are six candidates for the three seats assigned to Biomedical Sciences. The three candidates who don't get elected can occupy the empty seats from Medicine anyway.
---
A closer look at Faculty and Work Councils
There are a total of 151 seats on the faculty and work councils, as well as the council of the University College Utrecht (UCU). Some of these seats will remain empty: at least one seat on the Works Council of the University Corporate Offices, one seat on the Student Council of Medicine, and two staff seats and one student seat on the Faculty of Science.
This is where students and staff members can vote
Those from the Faculty of Humanities can make use of a digital ballot box to vote for their own faculty council. 21 students are running, sixteen of each representing Lijst Vuur and five of which representing De Vrije Student. Together, students hold twelve seats that are not divided into districts, as is the case with the staff section. All employees are allowed to vote for the faculty. There is a choice to be made for the districts of History & Art History and Media & Culture Studies. Both districts have two seats on the council and three candidates have come forward for each district. For the other districts, there are as many candidates as seats.
There are sixteen seats to be allocated in the Veterinary Medicine council. Eight for the staff section, four for Bachelor's students and four for Master's students. There are elections for both staff and students. Employees can choose from ten colleagues. 

At the Faculty of Law, Economics, and Governance, all students and employees are allowed to vote. There are 12 seats for staff members and 12 for students, and they are divided into districts. Elections will be held for the staff representatives of the Law district, as well as for the Governance district. There are just enough candidates for the number of seats assigned to the other districts. Elections will also be held for the students of these two districts: Lijst Vuur is competing against the study association JSVU for the six Law seats and against Usbo for the three Governance seats on the council. Economy has just enough candidates for the three seats.
The council of University College Utrecht consists of four seats for staff and four for students. The student elections have already taken place because UCU's academic year is structured a little bit differently than the rest of UU. There were six candidates for four positions. Employees can now go to the polls and choose from five candidates, who are competing for four seats.
This is where all students can vote for the faculty council
At the Faculty of Science, employees do not have to vote as there are five candidates, all of whom will get a seat. Two will remain empty, though: that of Physics and that of Operational staff. Not enough students are interested in joining the Faculty Council. There are no candidates for the Pharmacy and Mathematics seats. Two candidates have applied for the only seat allocated to Biology, which is why elections will be held after all. In total, there are seven seats for employees and seven for students.
Students are also allowed to vote in the Faculty of Medicine, where staff members join the Works Council and the students have their own council, in which there are nine seats to be distributed among the districts of Medicine (5), Biomedical Sciences (3) and Clinical Healthcare (1). All students from the three programs are welcome to vote. Two students have applied for the five seats of Medicine, os they are guaranteed a place in the council. There is no candidate for the seat assigned to Clinical Healthcare. Six candidates applied for the three seats of Biomedical Sciences, which is why elections are being held. 
Geosciences has eight seats for staff and eight for students, divided into districts. There are only elections for the student section and all students can vote for their favourite candidate from the Earth Sciences & Physical Geography district. There are two seats available and five candidates. For all other districts, there are just enough candidates for the number of seats. There are also exactly enough candidates for the number of seats for the staff section.
Social Sciences has fourteen seats on the Faculty Council. There are just enough candidates for the seven seats of the staff section, but eight candidates have registered for the seven seats assigned to the students. 
Here, there will be no elections
One seat will remain vacant on the Works Council of the University Corporate Offices next year as only eight candidates were found for the nine seats.
The Works Council of the University Library has seven members. Exactly seven candidates have applied for the next term.