Hybrid interviews can avoid 'meat inspection' when choosing roommates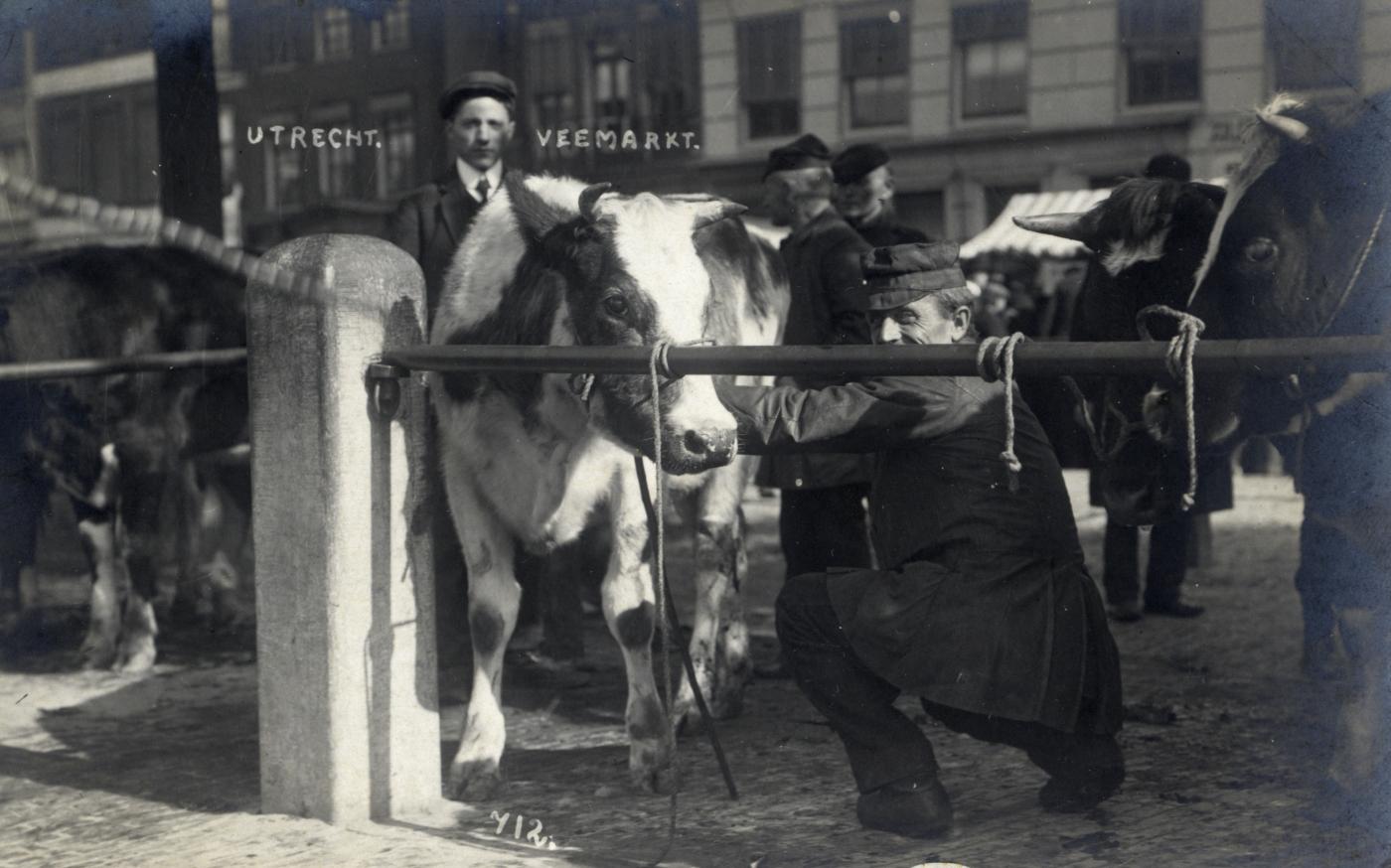 Veemarkt op het Vredenburg begin 20ste eeuw. Foto: 124994 / Utrechts Archief
Uncomfortable, tiring, and stressful. That's how the majority of students in Utrecht feel about the process of getting a room (Hospiteren in Dutch), according to the report Hospiteren in Utrecht authored by student union Vidius.
A total of 196 students and alumni answered the survey. Most respondents said that they had to go through seven interviews on average before getting a room – although one respondent went through no less than 35 attempts. Student houses welcome an average of seven potential roommates in an evening, but some go as far as inviting seventy candidates all at once. One of the respondents once went to a hospiteer meeting at a student association that lasted five hours.
Drinking culture
In the study, respondents compare these evenings to "meat inspections". They also stated that they strongly prefer an approach in which candidates aren't invited in large groups, but rather in small groups of no more than three people.
Many respondents also struggle with the drinking culture present in many homes, and they feel student houses should be more considerate of first-year students, who often still live with their parents and have to spend a lot of money on commuting. Since most hospiteer evenings start quite late, first-year students are at a disadvantage.
"Less alcohol and more respect for the person who comes to interview for the room", advises one of the students who participated in the study. "If you travel from Groningen for two hours, and everyone's drunk, that makes you think: 'is this it?'"
According to Vidius, an online preselection could prevent such "meat inspections" and unnecessary travel for those who live far away. Several respondents suggested the same idea when asked how the process could be improved. "That way, you don't have to spend three hours travelling and clearing your entire evening for an interview where you have a 10 percent chance of actually getting the room", one of them says.
At ease
Because of the pandemic, many student houses have turned to the Internet to select new roommates, which adds to respondents' enthusiasm for the idea. The Vidius study shows that most students who had to interview online this past year are reasonably satisfied with the process.
They reported feeling much more comfortable being interviewed online, which is probably due to the fact that many online interviews occur between the housemates and a single candidate, or a limited number of candidates. Whereas in-person hospiteer evenings can be rather chaotic, in an online environment the communication flows better and the conversations are more structured.
Even so, student homes want to meet the potential housemates in person before making their final decision. Room-seekers find it equally important. A hybrid form of hospiteren, with an online introduction followed by a meeting in real life, could be a good solution, Vidius suggests.
Not inclusive
University council member Stephan Verhulst recently wrote an op-ed on DUB calling for an end to the hospiteer system. He says most houses tend to subconsciously choose housemates who resemble the students who already live there, which isn't very inclusive.
The respondents of Vidius' study agree. Many have mentioned that most student houses are reluctant to accept housemates who aren't Dutch. In the conclusion of the report, Vidius calls for an open attitude towards international students.