Just a little while longer until life at UU can be almost fully resumed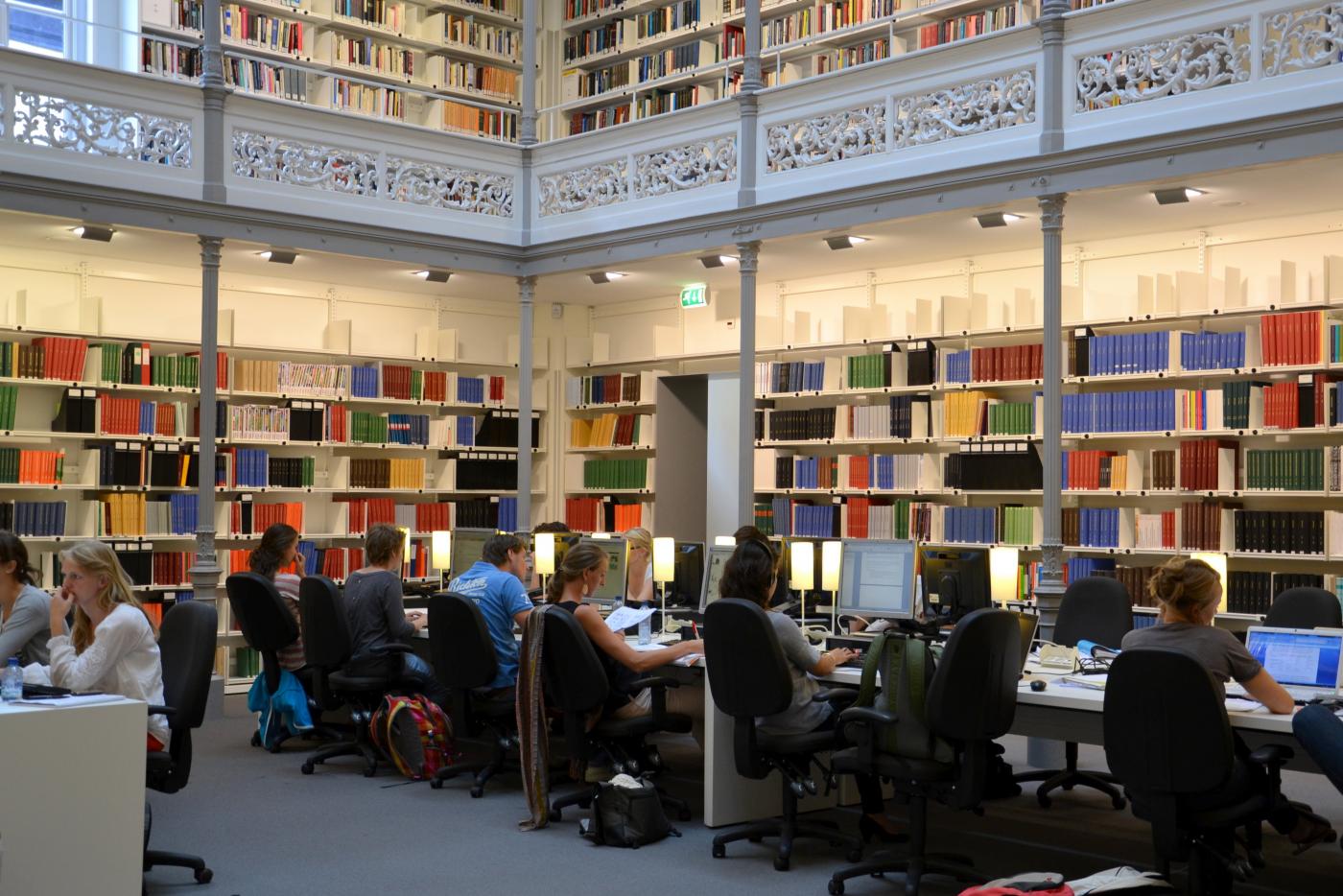 We'll soon be doing this again: studying shoulder to shoulder at the library. Photo: DUB
This academic year already started in a much more optimistic way than the previous year ended. The student buzz is back to the three campuses, with first-year students being given a tour and lots of classes taking place on location again, to the joy of many. Now, the Dutch government has taken an extra step: as of Saturday, the 25th, universities will be getting rid of the six-feet (1.5 metres) rule, meaning that lecture halls, study rooms and offices can be used the way they were before Covid started controlling our lives.
The Covid update sent by the Executive Board on Thursday, September 16, already mentioned that many things would go back to normal. The only thing that's not clear yet is how the university is supposed to manage events attended by considerable crowds. Dutch universities are still discussing this with the Ministry of Education, Culture and Science. They expect to have clearer guidelines later this week. 
According to the board, there are still some things to consider. For example, although all study places will be available again starting September 25, the students will have to book their spot. To make sure that the study schedule doesn't have to be completely rearranged yet again, the lecture halls won't be able to be fully used until block 2. The Covid stickers will remain on the floor as well, at least for the time being. UU is going to remove them, but that will take some time.
Respect each other's wishes
Staff members are also allowed to work at the office again. This already applied to those who were not able to work from home, but starting the 25th of September, everyone is welcome again. Because the cabinet has advised to work from home whenever possible, only going to the office when needed, the Executive Board assumes that most UU staff will be at the office only once or twice a week to "consult, meet and cooperate." Faculties and services should make agreements about this, so the hustle and bustle is spread throughout the week.
The three-member board also asks all students and staff members to respect each other's wishes. If a teacher wishes students to keep a six-feet distance, then this wish should be respected. The same thing applies to other staff and students. Everyone's free to wear a face mask if they want to. In addition, the board would like to see everyone regularly taking a self-test before going to the campus, including those who are fully vaccinated. If you still want to get vaccinated without an appointment, you can can do so on Wednesdays at the GGD vaccination station at Utrecht Science Park.
Students that are having trouble with the new rules because of their own vulnerable health or that of a roommate, are still able to make agreements about this with their study advisors or supervisors. For those who would like to know how to act in a certain situation, the university has also drawn up a Q&A, answering frequent questions.
At the end of the e-mail, the board reminds all UU staff of the rules still in place: cough and sneeze in your elbow, wash your hands, do not shake hands, and open the windows if you can.
Advertisement