Law professor brings art installation 'The Whale' from Bruges to Utrecht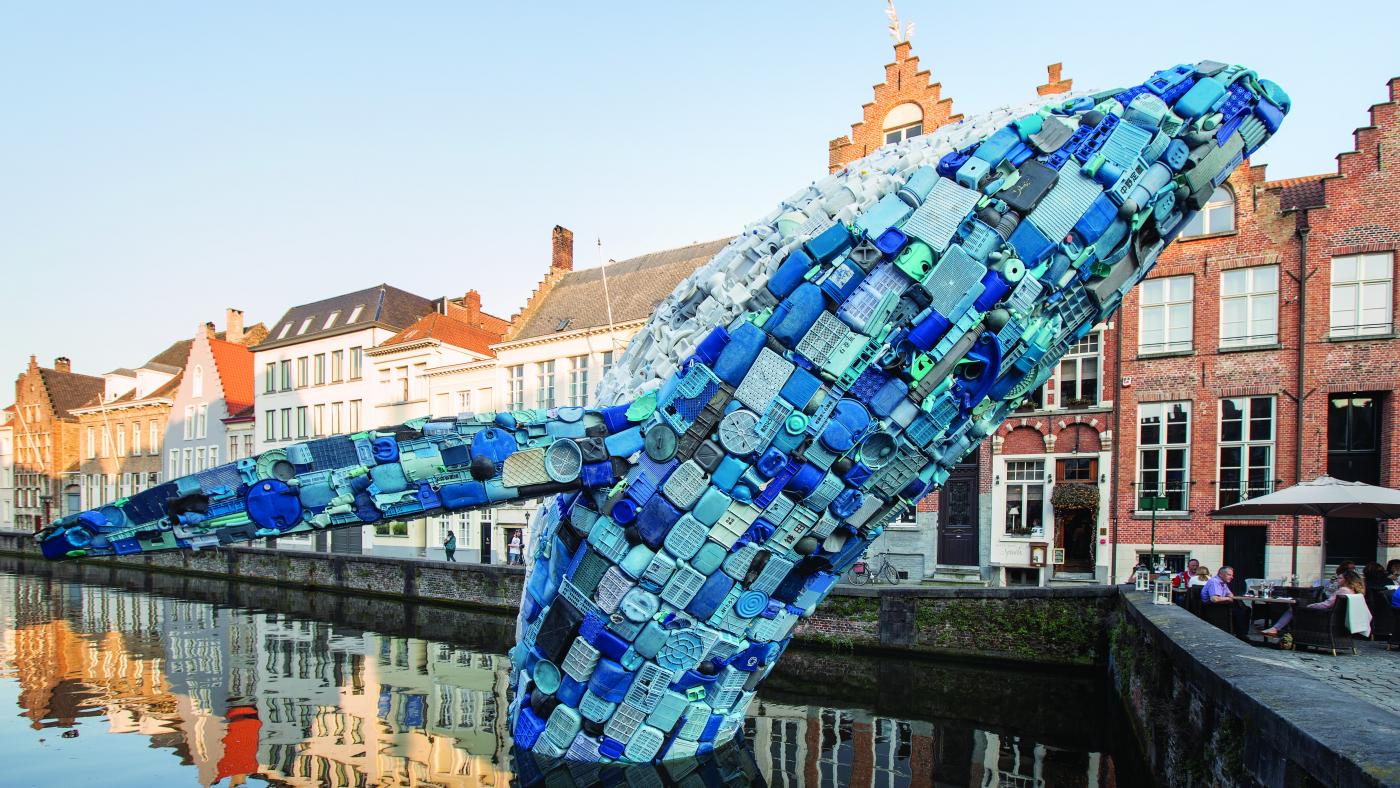 Triennial 2018; STUDIOKCA – 'Skyscraper (the Bruges Whale)'
Law professor brings art installation 'The Whale' from Bruges to Utrecht
The whale, or, as the artwork is officially called, The Skyscraper, is an art project created by architecture firm Studio KCA from New York, for the BrugesTriennial. More than five tonnes of plastic waste collected from the beaches of Hawaii was used to create the artwork. It breaches out of the water, eleven metres tall. "An impressive sight to behold," says Marleen van Rijswick, who had a view of the Whale in the Bruges canal from her hotel room. "It's absolutely enormous, and I think it has a very positive vibe."
She managed to be the first person to loan the work from the Bruges museum. Early next year, the artwork will be the centrepiece of many activities related to sustainability of both the university and the partners who have joined the art project, which portrays the plastic in our oceans. One of the activities that fit in with the whale is the Sustainability Conference organised by Utrecht University,  and the Impact Night organised by the Faculty of Law, for the UN World Water Day on March 22, 2019. Students will organise debates with the whale partners and scientists. The whale will also play a part during the Meet the Professor event on March 29, when UU professors will teach at primary schools in Utrecht.
Art made from plastic waste
Van Rijswick, professor of European and National Water Law, concerns herself with the question of how law can contribute to sustainable water management. She is the leader of the Utrecht Centre for Water, Oceans and Sustainability Law. In that capacity, she visited a conference on sustainability in Bruges this summer. The whale peaked her curiosity. "It turned out to be an artwork. From up close, you can see it's made from plastic laundry baskets, jerry cans, crates, and other kinds of rubbish. It was there to call attention to the plastic pollution in our oceans."
She instantly wanted to bring the work to Utrecht with her. "The whale is a true eye catcher. With this artwork in one of our canals, you have a great starting point for discussions about waste, about plastic soup in our oceans, plastic beads in our drinking water, but mostly: how to prevent plastic from ending up in those places. That's our shared responsibility." But her ideas on what you can organise with the whale as major draw for the crowds go far beyond that. "Eventually, you end up with the question of how to transition to a sustainable society, which is a question many scientists in Utrecht concern themselves with. I hope we can get young people involved in this as well. I'd love to hear from them how they think we can realise this transition. What triggers young people to live more sustainably, or to handle waste more consciously? What makes them do things differently?"
Enthusiastic
Back in Utrecht, her idea was received with enthusiasm. The Faculty of Law and Utrecht University embraced the plan. "As a faculty, we work on the societal impact of education and research. With this project, we can literally show something in the field of sustainability. And eventually, that will yield all sorts of results for research and education alike," says Mirko Noordegraaf, vice dean societal impact of the faculty.
Colleague Rebecca van Musscher was appointed programme manager, and she started a search for external partners who were also interested in organising an activity during the time the whale is in Utrecht. One of these important partners is TivoliVredenburg: it's in front of this building the whale will find its temporary home. "It's a location 38,000 people pass by every day," says Janneke Plantenga, Faculty of Law dean, who's very enthusiastic about her professor's initiative. "We're also linking our sustainability conference to this project."
Other partners followed: both the city of Utrecht and the province, Water Board De Stichtse Rijnlanden, RIWA, Renewi, Sweco, and ASR Insurance. "They have all taken on their part of the responsibilities, be it handling the permits, insuring the artwork, or transport," says Van Rijswick. Although borrowing the artwork is free, there are other costs involved, which are paid for by the partners. "One thing I love about this, is that as a university we try to get the whole of Utrecht involved in this project. We, as university, are giving something back to the city. Everyone can see what's being done with the tax money the university depends on. The whale belongs to all of us."
On the Facebook page for the Humanities Faculty council, the question was raised whether the university should be spending 'tens of thousands of euros' on a project like this. Mirko dislikes the suggestion. "As a faculty, we consciously made the decision to show the societal impact of our research and education more often. That's an investment with many benefits. For example: we link the project to several public activities, in which we provide information about sustainability. We also collaborate with many partners, which will lead to new research projects, or courses for Life Long Learning. Additionally, it's a relatively small investment in terms of money. With transport and insurance, the project costs a few tens of thousands of euros, most of which is financed by our partners."
The whale will stay in its spot for half a year. After Bruges, Utrecht is the first stop in the artwork's world tour. Marleen van Rijswick: "I was the first who asked about it, yes. The whale turned out to be the property of the Bruges museum, and they loan the artwork to several countries in the next few years, such as France and Japan."