New academic year: as much on-site education as possible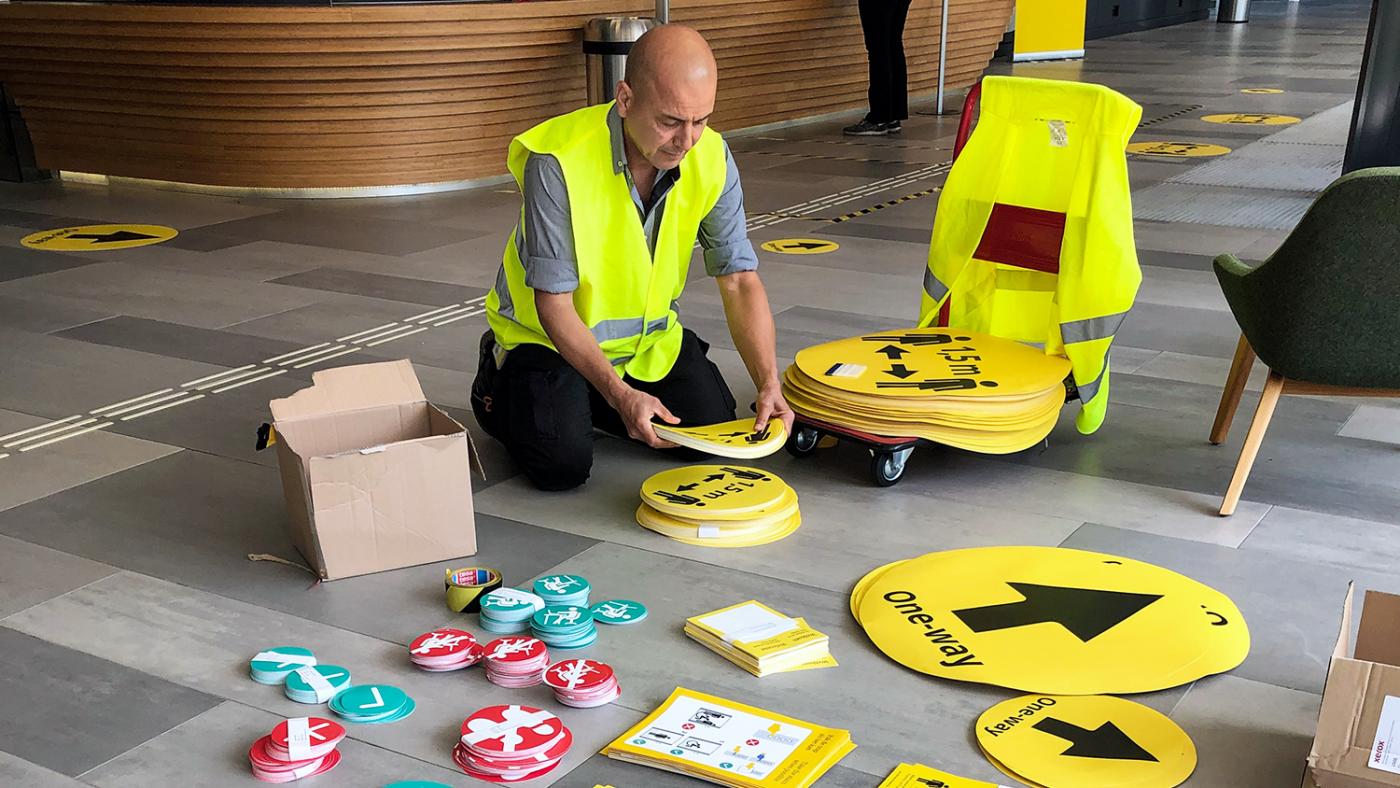 Buildings will reopen one by one because they still have to be made corona-proof. Photo: Onno Tijsma.
In the corona update sent to all students and employees on Thursday, the three administrators in the executive board say they're happy with the relaxations of the corona rules for higher education. Although the 1.5-metre and mobility regulations do cause restrictions for the UU, a lot is still possible. In the first block of the new academic year, for instance, more in-site education will be possible than had previously been assumed. The exact possibilities are still being investigated, as they vary per building. On average, each building can house about a quarter of its regular capacity.
No weekend classes
For the creation of the schedule in the UU timeslots for classes in De Uithof, Utrecht University also has to discuss with Utrecht University of Applied Sciences and other institutions at the Utrecht Science Park. They need to ensure that not all students and employees will be commuting to the campus at the same time, causing the roads and public transportation to become overcrowded. Although minister Van Engelshoven said (in Dutch, ed.) on Wednesday that higher education will be allowed to schedule classes on Saturdays, the UU will not do this. The weekend will remain education-free, except in incidental cases where large-scale exams cannot be scheduled anytime else. Those exams will then take place in the Jaarbeurs.
More opportunities for in-person meetings
The press conference of Mark Rutte and Hugo de Jonge also included good news for the first-year introduction periods. This Utrecht Introduction Time (UIT) was only going to take three days instead of its usual five, with the activities mostly taking place online. But the way things are looking now, the UIT participants would be able to come to Utrecht to meet up in person in smaller groups. The relaxations of the regulations also offer more opportunities for study programmes' introduction weeks. The UU will stick to a maximum of 100 people during indoor activities, because the UU will not perform health checks.
More study places and workplaces available
Although the main rule for students and employees still calls for them to work and study from home as much as possible, more and more buildings are reopening for studying and working. Last week's update already announced (in Dutch, ed.) that PhD ceremonies, studying, meeting, and working will be made possible for a small group of people, starting July 1; now, the Executive Board has announced that a lot more employees will be allowed to return to their offices. All buildings will reopen in the near future. This will be done building by building, because they still have to be made corona-proof. Only a fifth of the building can be used. It's expected that the first faculty building will open on July 6. Employees will receive an update from their own department or faculty on whether they will be allowed to work at the office again.
As had been announced, the number of study places will be increased. From June 29 on, the University Library in the city centre will have 57 study places available; the Ruppert building in De Uithof will have ten. The University Library will also extend its opening hours: from 8.30 am to 5 pm. From July 6 on, another eighty places will be added in the University Library in De Uithof. After that, more study places will follow in the faculty buildings that are reopening. Students will be able to reserve places for a maximum of four hours. The study places in the Ruppert building will be distributed by study advisors for students who can't study at home.
PhD candidates and PostDocs
On Wednesday, minister Van Engelshoven promised to accommodate PostDocs and PhD candidates if they are unable to complete their research within their contract's allotted time because they've experienced delays as a result of the corona measures. In its corona update, the UU also mentions it will find arrangements for the extension of their contracts. Decisions and further information about the conditions will follow next week, the board writes.
The new initiatives have been included in the so-called roadmap on which the UU updates its information on how it handles the relaxations of the corona measures.